Travel
| Hocking Hills
Hocking Hills 2018 Trailfest Celebration
In honor of the National Trail System's 50th anniversary, the Hocking Hills hosts a five-day showcase of nature, adventure and the open road.
April 2018
BY Jamie Rhein | Photo by iStock
April 2018
BY Jamie Rhein | Photo by iStock
The North Country Scenic Trail winds thousands of miles, from the edge of North Dakota's Lake Sakakawea to just beyond the western border of Vermont, passing through seven states along the way. Once the path crosses into the far northwest corner of Ohio, it follows the Buckeye Trail for hundreds of miles, dipping into the southern portion of our state before cutting north and east toward the cliffs and gorges of the Hocking Hills region.

Summer and fall are popular times of the year to visit the scenic area located about an hour's drive south from Columbus, but so is spring, as the snow finally recedes and gives way to the beauty of the new season.

"With waterfalls at their most active, wildflowers blooming and trees budding out, it's a great time of year to visit," says Karen Raymore, executive director of the Hocking Hills Tourism Association.

April 25 through 29, the Hocking Hills hosts the 2018 Trailfest Celebration, a multifaceted event to mark the 50th anniversary of the National Trails Act of 1968, which established National Scenic Trails and National Recreation Trails. In 1978, President Jimmy Carter signed a bill that created National Historic Trails as well.

Hocking Hills' 2018 Trailfest Celebration includes a variety of guided hikes to some of the region's most famous sites, as well as lesser-known ones. The five-day event coincides with Urban Air Appalachian Adventure, during which more than 75 Airstream trailers will converge on downtown Logan, and a celebration of Emma "Grandma" Gatewood, one of the Buckeye State's most celebrated hikers.


Legendary Hiker

In 1955, Emma Gatewood left her home in Ohio's Gallia County for a 2,050-mile walk that made history. The mother of 11 and grandmother of 23 took on the Appalachian Trail with Keds sneakers on her feet and a homemade denim bag slung over her shoulder. Her gear was not much more than a shower curtain, a blanket, a Swiss Army knife and a flashlight, leading some people she encountered during her journey to mistake her for a drifter.

Gatewood started at Mount Oglethorpe in Georgia and reached the top of Maine's Mount Katahdin five months later. At age 67, she was the first woman to thru-hike the Appalachian Trail. Even today, only one out of four people who set out to hike the entire trail consecutively actually finish it. Gatewood took on the Appalachian Trail two more times during her lifetime, as well as 2,000 miles of the Oregon Trail. Plus, she embarked on many hikes within Ohio, taking solace in the woods and leading others outdoors as well.

The Hocking Hills region pays homage to the pioneering hiker, whom the Ohio General Assembly honored in 2012 by declaring April 27 Grandma Gatewood Day. This year's Hocking Hills tribute to Gatewood includes a screening of the documentary "Trail Magic" and a talk and book signing by Ben Montgomery, author of Grandma Gatewood's Walk: The Inspiring Story of the Woman Who Saved the Appalachian Trail. Montgomery is Gatewood's great-great-nephew, but he didn't know much about her life until he dove into her journals and scrapbooks and interviewed her four living children.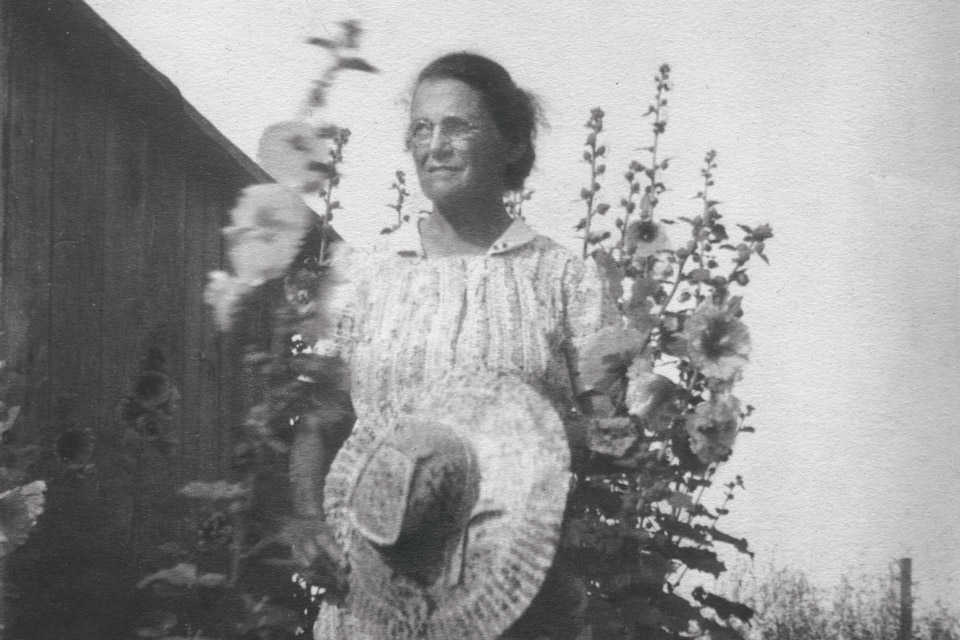 "I knew based on her journal there were spots I wanted to see," says Montgomery, who completed sections of her hikes himself. Among his favorites are the trails Gatewood hiked in Ohio. To finish his book, Montgomery went on the annual 6-mile winter trek from Old Man's Cave to Ash Cave now known as Grandma Gatewood Trail.

"One of my favorite spots on Earth is the gorge near Old Man's Cave," Montgomery adds. "There's a sacred element."


Trail Mix

Those who want to explore the Hocking Hills on foot during Trailfest can choose from a variety of guided hikes. Although some require preregistration, others are available for same-day signup, with six to 10 of the latter offered each day of the event.

Lengths and difficulty range from a moderate 3-to-4-mile, deep-woods hike to a more strenuous 6-mile hike from Ash Cave to Old Man's Cave. The most seasoned hikers can register to earn the North Country Trail Association's 50-Mile Challenge Patch by covering the entire Old Man's Cave zone.

"The appeal of Trailfest hikes are that they give you beautiful scenery second to none and also background on who actually builds the trails," says Pat Quackenbush, naturalist for Hocking Hills State Park.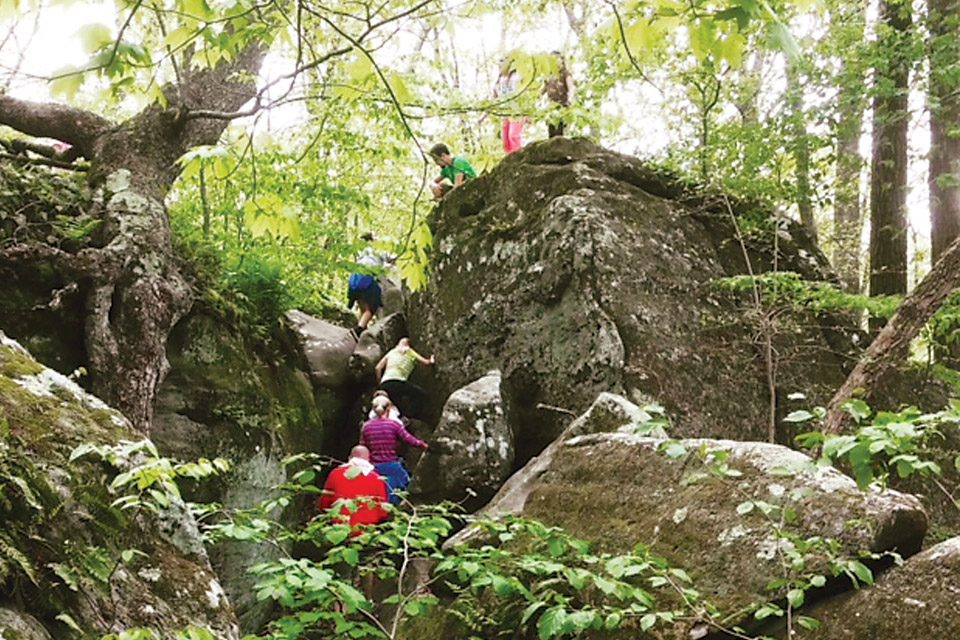 In addition to getting people outdoors, Trailfest aims to also heighten environmental stewardship and add to attendees' hiking know-how with a full slate of talks and workshops. On the all-day "Little Cities of Black Diamonds Tour," participants visit the village of Shawnee to learn about the coal-mining history of the region. Other talks include "Newbie Guide for an Overnight Hike," with tips on gear, packing, tent setups and how to use a camp stove, as well as "Citizen Scientist on the Buckeye Trail," where participants learn how to record biodiversity, plus how to map and share their findings via social networking.

For modern-day hiking inspiration, take in Chuck and Beth Hewett's talk about their book, Wandering Ohio: A Buckeye Trail Thru-Hike. The couple covered the more than 1,400-mile Buckeye Trail — the longest loop trail in the nation — during the course of 76 consecutive days in 2016.

Quackenbush says the talks and workshops are essential to connecting the scenic beauty with "knowing the importance of how to protect it so others can enjoy it.


Road Trips

Although many like to explore on foot, the only way to take in the whole of America's natural and cultural wonders is to hit the road, perhaps towing a made-in-Ohio Airstream trailer behind you. The iconic, polished-aluminum trailers and touring coaches are manufactured in the Shelby County village of Jackson Center, and more than 75 will pull into downtown Logan during Trailfest.

"People are coming from as far away as Minnesota, New York, Wisconsin, Florida and Canada," says Kirk MacKeller, the event's organizer.

The Urban Air Appalachian Adventure, essentially a downtown campout, provides the chance to chat with Airstream owners and peek inside their trailers and coaches, which range from brand-new models to 1950s classics. Music, craft demonstrations and a beverage garden with beer, wine and moonshine are all part of the fun, plus you can expect plenty of story swapping from the Airstream owners in attendance.

"Airstreamers tend to be artsy people," says MacKeller. "They are photographers. They spin wool and knit, some travel with a small loom. … They have these trailers and want to do things with them and make friends from across the country."

For registration, an event schedule and other information about the 2018 Trailfest Celebration events, visit buckeyetrailfest.org.