Travel
| Family Fun
Entertrainment Junction, West Chester
Billed as the home of the world's largest model train display, this Butler County destination immerses visitors in America's railroading history.
November 2013 Issue
BY Ryan Honeyman | Photo courtesy of Entertrainment Junction
November 2013 Issue
BY Ryan Honeyman | Photo courtesy of Entertrainment Junction
Large, tree-covered hills stretch toward the ceiling, and a sign proclaims you're entering the early period of railroading, 1860–1900 — a miniature world inhabited by farmers and families, loads of livestock and meticulous attention to detail.

On one hill, keen eyes can spot the orange glow of an artificial fire in the middle of a miniature campsite nestled alongside the tracks. It's these sort of whimsical touches that show how much care has gone into creating Entertrainment Junction's 25,000-square-foot display celebrating 150 years of railroad history.

The G Scale model trains grab the most attention though, twisting and turning through the sprawling environment as they traverse tunnels, bridges and trestles. Some engines pull a long line of multicolored rail cars. Others buzz along towing just a few. They move seamlessly, often stopping just in time to avoid a collision at a crossing.

It's a feat that may seem marginally impressive until one learns there are more than 1,200 cars running at any given time — all controlled by more than 40 computers housed beneath the fabricated hills and streets. Laid end to end, the winding tracks would stretch more than two miles.

It's clear that owner Don Oeters had a very specific vision when planning the centerpiece of his elaborate attraction, located along Interstate I-75 just north of Cincinnati: immersion.

"I was looking for something to do after retirement and I always loved trains and grew up around trains," he says. "I wanted to create a unique, unusual and fun experience that you couldn't find on just any corner."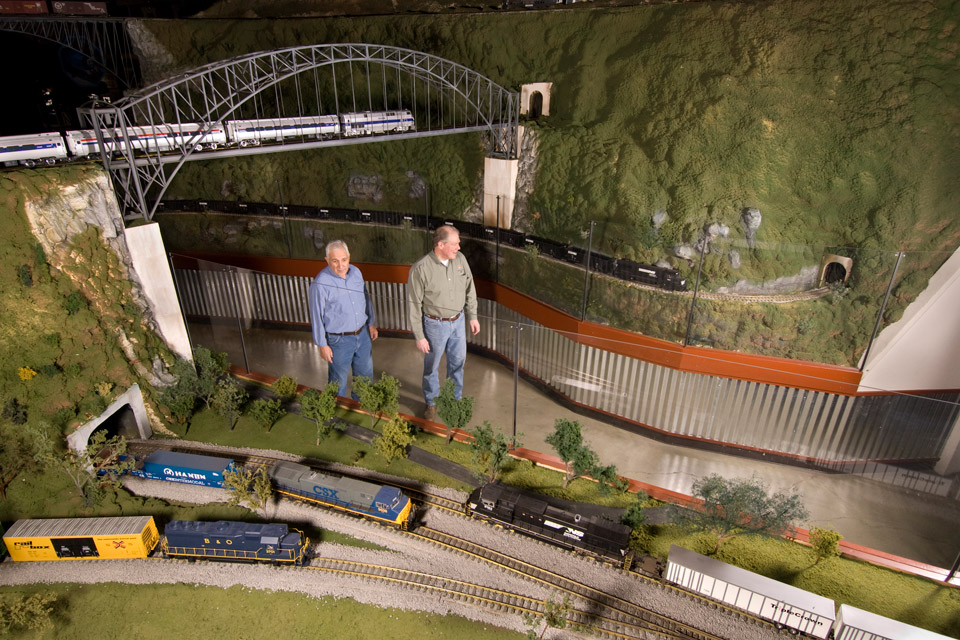 Traditionally, model train displays are set up so that visitors tower over them, like giants in a field of miniatures. Oeters' intent was to build a detailed, lively world and then put visitors right in the middle of it. It's what makes the place such a fascinating experience.

"We've hosted birthday parties for young children and one for a 95-year-old man," says Entertrainment Junction general manager Bill Balfour. "We've had visitors from every state and more than 37 countries."

The pathway that guides visitors through the history of railroading, depicted at 1/24 scale (each train car is approximately the size of a loaf of bread), eventually takes visitors through the 1940s–1950s and 1970–present day. As it does, the rustic look of late 19th and early 20th century America gives way to sleek cityscapes, streets lined with cars and crowded rail yards.

Oeters, the former co-owner of Watson Pools and Spas in southwest Ohio, got the idea for his model train attraction off the ground by making the rounds to train-enthusiast groups several years ago and gauging their interest in helping him. He spent around $10 million to ready the space and buy materials. Construction began in 2007, and Entertrainment Junction opened in August 2008.

"Many of our displays are built by volunteers," Balfour says. "For them, it's a way to enjoy their hobby and it's constantly evolving as they add more details to the buildings and scenic areas. … We also receive a lot of donations from people who want to share their collection with others."

Volunteers such as members of the Greater Cincinnati Garden Railway Society have been vital to the attraction's success. The organization's president, Larry Koehl, says between 125 and 150 members helped lay out the track, design the environment and construct the controls.

"Many people are fascinated — even if they're not aware of it — with trains of all sizes and seeing miniature replicas," Koehl says. "It's a great feeling to have people admire your work."

The youngest visitors may not be as impressed with the hours poured into making such an immersive world, but they can still have fun at Imagination Junction. The adjoining indoor play area offers climbing walls, tunnels, slides and train-themed sets from the popular Thomas & Friends series.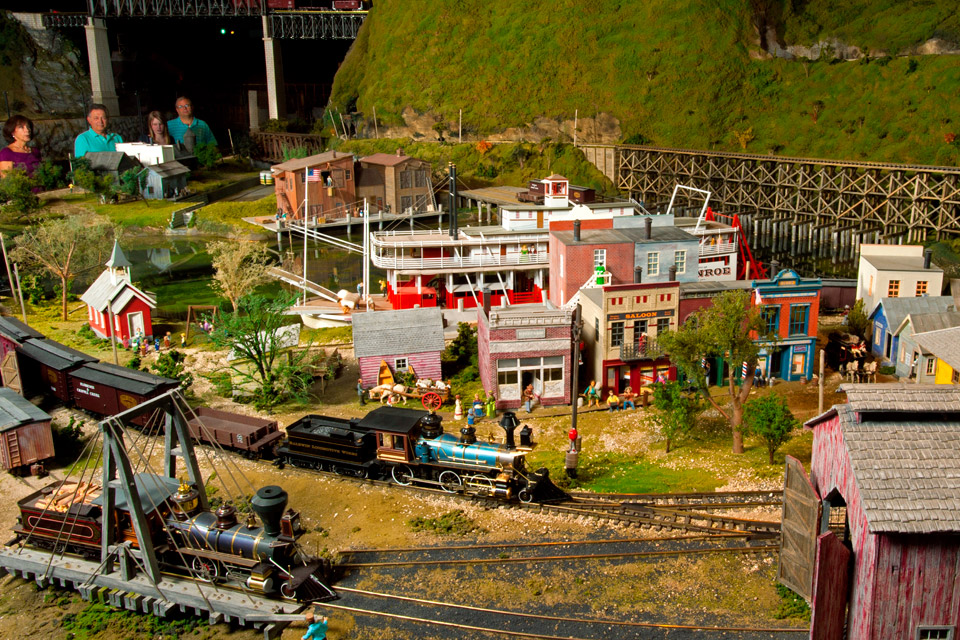 Outside, kids can run their own mini locomotive on a hand-cranked cart that navigates around a 300-foot track, or ride with a group on an electric train, which runs along a 1,000-foot track behind the building. A second attraction — the Amaze-N-Funhouse — offers a circus-style funhouse experience for a separate admission price.

But it's the model trains that connect across generations. The second floor provides visitors an expansive view of the massive train display below and houses Entertrainment Junction's new addition: a recreation of the original Cincinnati riverfront amusement park, Coney Island, complete with rides that visitors can operate by pushing buttons.

In development and production for more than eight months, the fun amusement park replica was completed in July. A Ferris wheel spins, racecars tear around a track and a large, wooden Shooting Star roller coaster sends carts barreling down the hill through twists and turns, replicating the park as it was in 1965.

"I remember riding the Shooting Star at Coney Island 22 times in one day with my cousin," Oeters recalls. "The exhibit is made up of 1,000 square feet of miniature rides, and really has the 'wow' factor, making it a spectacular sight to see."

Ohio Magazine editorial assistant Lauren Cohen contributed to this story.

Entertrainment Junction
7379 Squire Ct., West Chester 45069, 513/898-8000, entertrainmentjunction.com
Hours: Mon.–Sat. 10 a.m.–6 p.m., Sun noon–6 p.m.
Admission: Train Journey: adults $12.95, seniors (65+) $11.50, children 3–12 $9.95, children 2 and under free; Amaze-N-Funhouse $9.95 (A-Maze-N Funhouse opens one hour later most days and closes one hour early during the school year)