Travel
| Family Fun
Family Getaways in Stark County
Embrace together time with one of these four outings that are sure to delight the kids ones in your life.
August 2018
BY Nicholas Adkins | Photo courtesy of Sky Zone Trampoline Park
August 2018
BY Nicholas Adkins | Photo courtesy of Sky Zone Trampoline Park
Fun Takes Flight

Some people don't have the good fortune of living within a short drive of an indoor trampoline park, but Stark County is lucky enough to be home to two of these playgrounds.

North Canton's Skymax Trampoline Arena provides nearly 12,000 square feet of trampolines with a dodgeball arena and slam-dunk basketball to go along with its 40 trampolines for freestyle jumping.

"We do everything based on being one of the more family-friendly trampoline parks," says Skymax Trampoline Arena general manager Mike Risden. His says his park boasts some of the most competitive pricing for trampoline parks in northeast Ohio, and he prides himself on that as well as the fact that Skymax is independently owned.

The county's other trampoline park is Sky Zone Trampoline Park, which has a larger facility at 24,000 square feet. Sky Zone offers the same features as Skymax with the addition of a suspended Skyladder and a gladiator-style jousting game.

"Our motto has always been 'awesome, healthy fun,' " says Sky Zone events manager Tony Zampieri.

Both parks offer birthday party specials and provide families with all the high-altitude fun they can handle. Skymax Trampoline Park: Call or visit website for pricing and hours; 7585 Freedom Ave., North Canton 44720, 330/966-4503, skymaxarena.com; Sky Zone Trampoline Park: Call or visit website for pricing and hours; 4381 Whipple Ave. NW, Canton 44718, 330/538-8300, skyzone.com/beldenvillage

---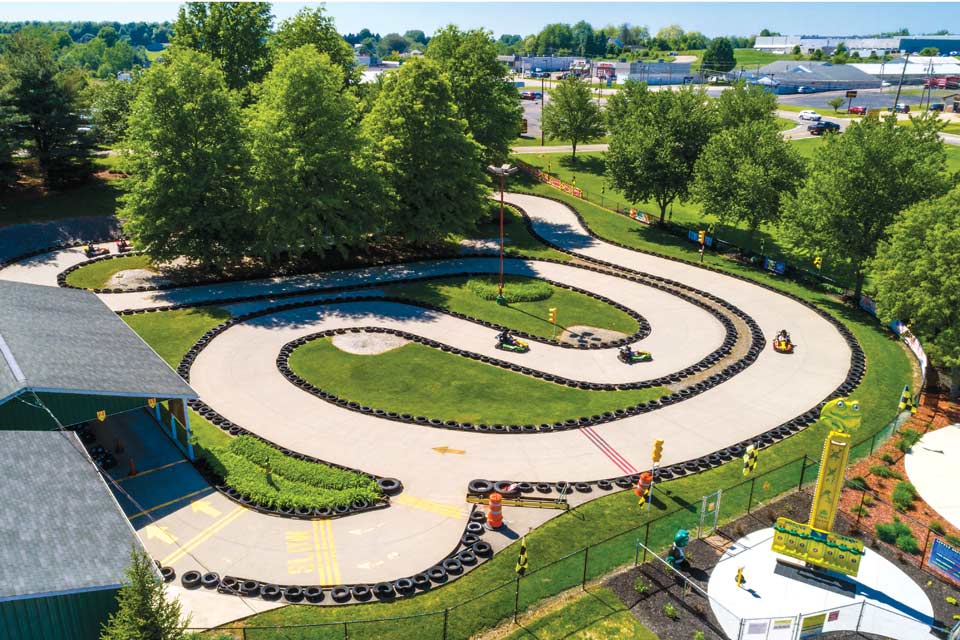 Summer Classic

Of course it offers miniature golf and batting cages, but Sluggers & Putters in Canal Fulton is so much more. Founded by Tim McCully in 1991, the now-18-acre park is still going strong as the largest family entertainment center in the area.
New for the 2018 season is Battlecreek Ohio at Sluggers & Putters, the only outdoor tactical laser-tag game in the state. Up to 32 people can compete in matches as they duck and dive behind barriers such as a 12-seat private jet, a 1954 Army Jeep and a PT-109 Boat. The field even includes two .50-caliber machine guns retrofitted into "taggers."

"I like to put in something new every year or every other year," says McCully, who frequently changes out attractions. "It is catching on and a lot of people really enjoy it."

After a match of laser tag, enjoy the retro rides such as flying chair swings, bumper cars, the scrambler and a miniature Ferris wheel before trying your skill on the go-kart track. Make a day of it and grab some lunch and ice cream at Auntie Em's Ice Cream and Food Court. The park is free to enter and all-day passes are available that will cover most attractions. Visit website for hours and all-day pass prices. 333 Lafayette Dr. NW, Canal Fulton 44614, 330/854-6999, sluggers-putters.com

---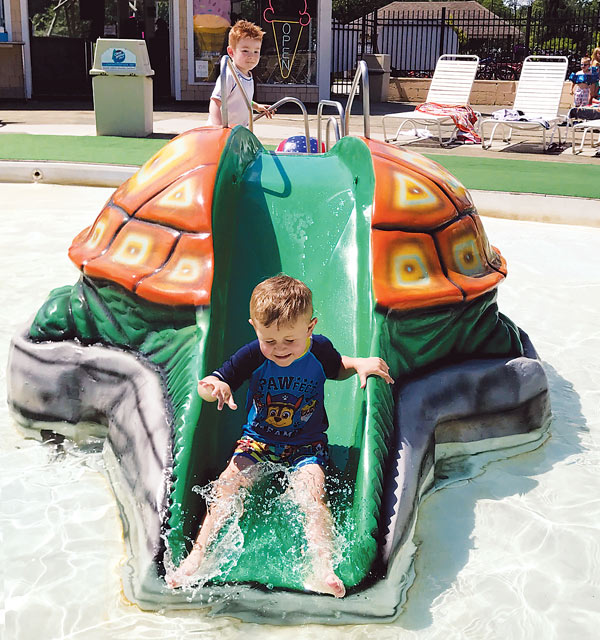 Camp Out, Cool Off

If you're looking for a nostalgic camping trip the whole family will love, head to the Yogi Bear-themed Jellystone Park. The campground offers many modern amenities but sets it all in the world of Yogi, Boo-Boo and Ranger Smith. The 1960s cartoon show characters make frequent appearances at the campgrounds, so be sure to say hello and grab a picture.

Clearwater Park at Jellystone is home to one of the largest public swimming pools in Stark County and a 144-foot water slide. There are smaller slides and a separate area for toddlers to play, as well as diving boards. The pool is free to campers, and day passes are available for those not staying at the park.

The park also has a playground with a 100-foot slide, human foosball, tetherball and volleyball. The activity center gives everyone the chance to try indoor archery. You can also take a swing at an 18-hole miniature golf course and pan for treasure at the gem mine. Cool off with a glass of Mert's Homemade Root Beer or a hand-dipped ice cream cone.

"If you're looking for something to do for a weekend, I strongly suggest you come down here for a swim and some homemade ice cream," says general manager David Clounie. Call or visit website for campsite availability, hours, season dates and day-pass prices; 12712 Hoover Ave. NW, Uniontown 44685, 330/877-9800, akroncantonjellystone.com

---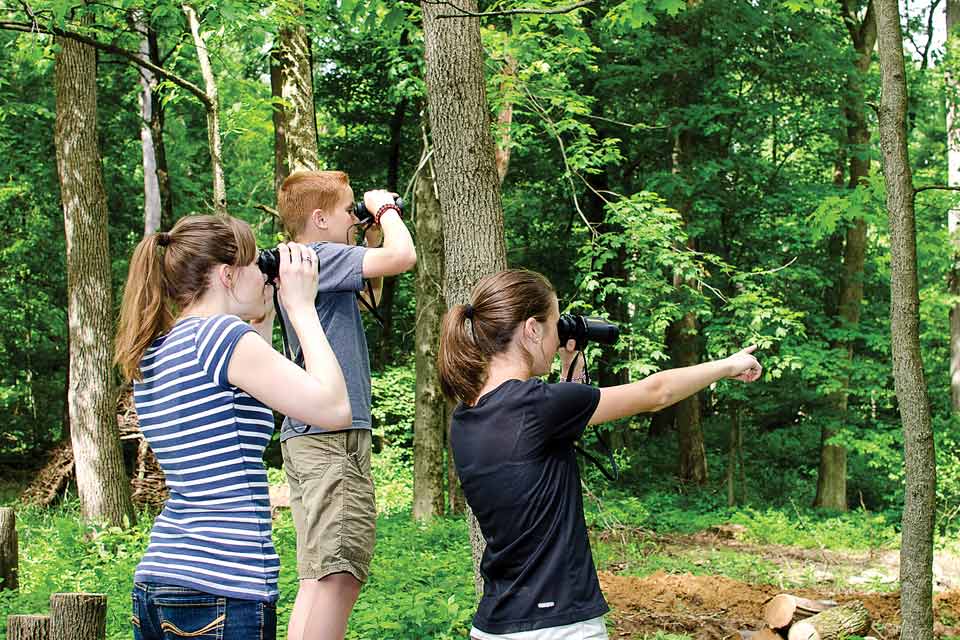 Wild Family Fun

Get in touch with nature without straying too far from home. The Wilderness Center, located in southwestern Stark County, offers 650 acres dedicated to education about and conservation of the unique natural history of northeast Ohio.
Although the formal education programs may be the foundation of the center, families can still visit the Wilderness Center in an informal setting at any time. Start at the center itself and head to the back of the building to enjoy the nature observation room after taking in the exhibits on the upper levels. After exploring the center, head over to the Nature Playscape, where kids can enjoy an interactive playground made from natural elements instead of metal and plastic.
"Unstructured play is really important," says Carrie Elvey, senior naturalist at the Wilderness Center, "just kids being kids the way we used to be."
The Nature Playscape allows kids to construct log cabins from sticks, create mud castles and climb rocks as they interact with the natural world.
The Wilderness Center also has 10 miles of hiking trails through a marsh, an old-growth forest, a spring-fed pond and a man-made lake as well as Fox Creek and Sugar Creek. Once you're done with the trails, head to the planetarium or observatory to take in the wonders of the night sky. Free admission, call or visit website for hours; 9877 Alabama Ave. SW, Wilmot 44689, 330/359-5235, wildernesscenter.org