Travel
| Cities
Toledo: On the Town, On The Water & In the Parks
Whether you want to explore city, get out on the river or explore nature, the Toledo area has a full slate of activities waiting.
March/April 2021
BY Kristina Smith | Photo by Amanda Ranee Photography
March/April 2021
BY Kristina Smith | Photo by Amanda Ranee Photography
On the Town

With two minor league sports teams, more than 80 restaurants and a scenic riverfront, downtown Toledo is a growing and vibrant area with a diverse mix of activities, events and destinations.

"Our nightlife focuses on several different areas, from postgame celebrations in the warehouse district, funkiness in the uptown area and fine dining in the central business district and along the riverfront," says Cindy Kerr, vice president of ConnecToledo Downtown Development Corp.

Outdoor refreshment zones on both sides of the river allow visitors to carry drinks from local restaurants and bars as they walk through downtown. Golf cart and pedal cabs, as well as a bike share with 17 locations, offer a fun way to navigate the area.

Stay in a room that overlooks the Maumee River at the Renaissance Hotel. While you're there, be sure to visit the hotel's rooftop bar, The Heights, which offers some of the best views in the city along with cocktails and small plates.

Toledo restaurants range from fine dining spots to taverns to delis. Registry Bistro serves upscale dishes with a modern Midwestern flair, says chef and co-owner Erika Rapp. The menu changes seasonally, but staples like Scotch olives, a Midwestern meatloaf burger and vegan and gluten-free dishes, are offered year-round in a casual environment.

"It's fine dining without formality," Rapp says.

The Blarney Irish Pub offers traditional Irish fare and favorites in a pub furnished with accessories imported from Ireland. For breakfast and lunch, Focaccia's Delicatessen offers homemade soups and sandwiches.

From distilled spirits to craft brews, Toledo has plenty of places to enjoy a drink. Downtown's first brewery, Maumee Bay Brewing Co., recently opened a new taproom. It also has a brewpub, Rockwell's Steakhouse and a warehouse with live entertainment — all in the same complex.

"It's a really relaxed environment where you can hang out here with friends," says Danielle Perkins, general manager at Maumee Bay Brewing Co.

Stop by Bellwether for handcrafted cocktails made with alcohol from its parent company, Toledo Spirits. The distiller focuses on using Ohio and regional ingredients, says Andrew Newby, the company's chief operating officer. (Toledo Spirits opened Heavy Beer Co. in the basement of Bellwether in March 2021.) For more information about these and other destinations in downtown Toledo, visit downtowntoledo.org. For more information about visiting Toledo, go to visittoledo.org.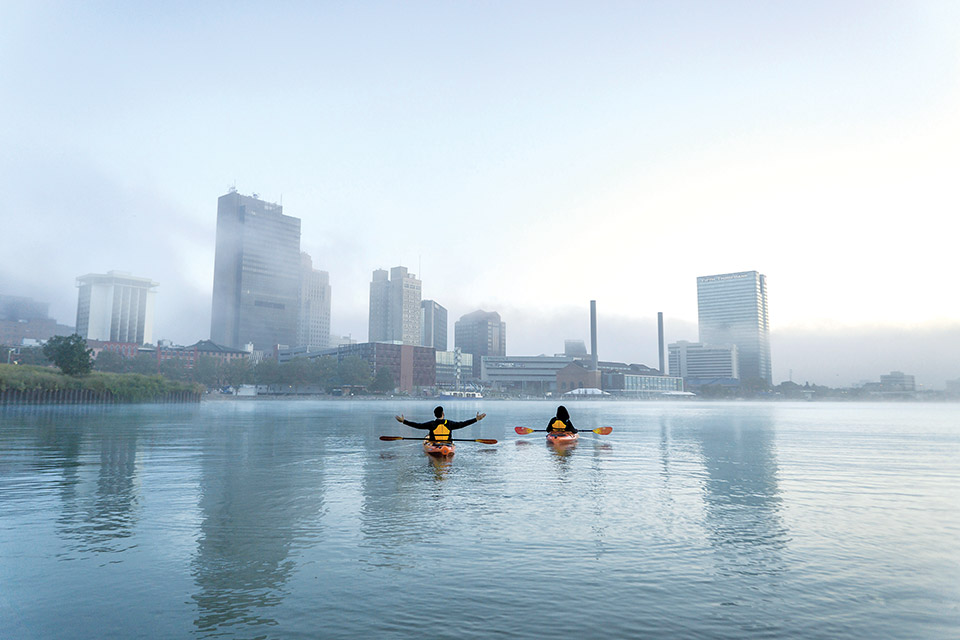 On the Water

As the largest tributary on the Great Lakes, the Maumee River is a prime spot for recreational activities and is especially noted for paddling and fishing. From mid-March through April, fishermen line the river during the walleye run, when the Lake Erie trophy fish swim upstream to spawn.

"There are literally hundreds of thousands of adult walleye crammed into that river at one time," says Tory Gabriel, extension program leader for The Ohio State University's Ohio Sea Grant College Program. Popular spots to cast a line are Side Cut Metropark in Maumee and Fort Meigs and Orleans Park in Perrysburg.

Running 107 miles from downtown Toledo to the Indiana border, the Maumee River Water Trail offers calm spots for beginners as well as whitewater rapids for seasoned kayakers. Paddlers can bring their own kayak or rent one at Farnsworth Metropark in Waterville.

Beginners and recreational kayakers can take advantage of wide sections of the river in the 10-mile stretch from Fort Meigs in Perrysburg to downtown Toledo. The section more resembles a calm lake than a river, according to longtime kayaker Beth Wilkerson, a member of the Toledo River Gang kayak club. Further upstream, the river breaks into rapids at North Turkeyfoot Wildlife Area in Maumee and the Rouche De Boeuf Area at Farnsworth Metropark.

"If you look at Ohio, there are not many places that are good for whitewater," Wilkerson says, "and this is one of them." For more information on the Maumee River Water Trail, visit metroparkstoledo.com. For fishing report forecasts from the Ohio Department of Natural Resources visit ohiodnr.gov.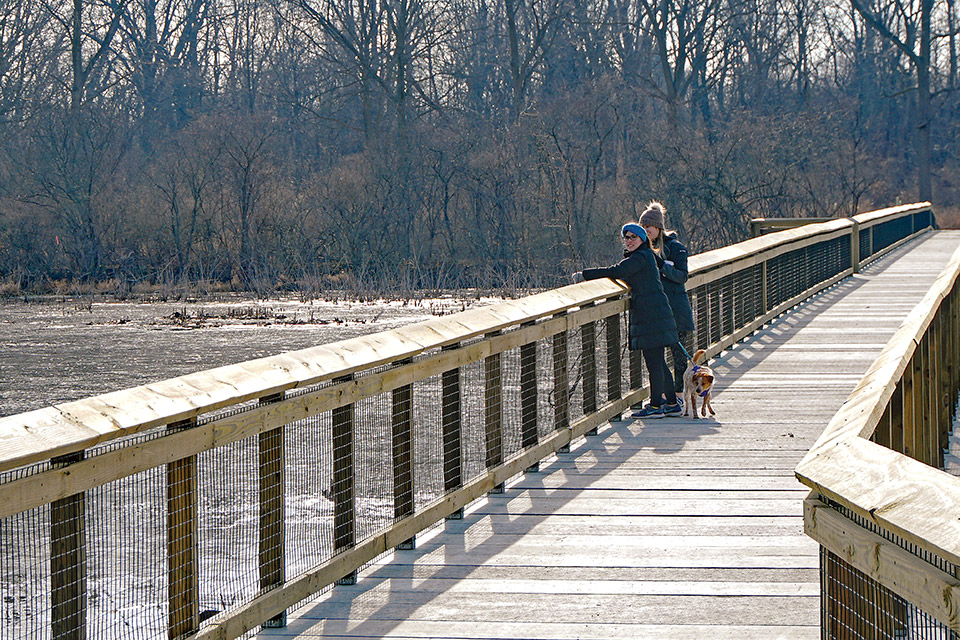 In the Parks

In 2020, the American Academy for Park and Recreation Administration named Metroparks Toledo the No. 1 large park system in the country, beating out Dallas; Mesa, Arizona; and Baton Rouge, Louisiana. It received the Gold Medal award, which takes into account visitation, amenities and experiences offered as well as trail mileage and vision for the future, says Dave Zenk, Metroparks Toledo executive director. Last year, 6 million people visited the system's 19 parks.

"We do a tremendous amount of really creative programming," Zenk says, noting archery and harness tree climbing are among the system's offerings. "The experience component is continually evolving and keeps giving people reasons to use the natural areas that they were already in love with."

Metroparks Toledo also opened its Manhattan Marsh and Glass City parks in 2020. Manhattan Marsh is the system's first park in North Toledo. It preserves a wetland that is important habitat and serves as a learning area for students at neighboring Chase STEMM Academy, Zenk says. Manhattan Marsh also fulfills Metroparks Toledo's promise that all Northwest Ohio residents would have a park location within 5 miles of their home.

Glass City Metropark in East Toledo will add a boardwalk along the Maumee River and eventually be part of a river walk planned throughout downtown Toledo. The park's first phase opened with a pavilion overlooking the river that also serves as a performance area for concerts and events, a sledding hill and an area for launching kayaks and canoes.

"We'll continue to create open space and a whole host of really cool activities," Zenk says.

Visit metroparkstoledo.com for more information on the Maumee River Water Trail. For fishing report forecasts from the Ohio Department of Natural Resources visit ohiodnr.gov.
Note: This article originally ran in the March/April 2021 issue. Verify all dates, hours and locations before traveling.

---

SAVE THE DATE

Biggest Week in American Birding | May 6–15, 2022
With spring comes migration and one of northwest Ohio's favorite seasonal activities.

The Lake Erie marshes in the Toledo area have some of the best birding in the world during spring, when colorful warblers and shorebirds migrate from South and Central America to the north. The annual Biggest Week in American Birding normally offers special events and talks, guided walks and van trips and more during peak migration, when the birds are at their most beautiful breeding plumage. With uncertainty regarding travel this year due to the pandemic, the festival is going virtual and bringing the events, talks and birds to the public through five days of online programming direct from local birding hot spots.
biggestweekinamericanbirding.com