Travel
| Cities
Summer Family Fun in Columbus
Outdoor experiences are plentiful in our capital city this time of year, from great park systems to beautiful gardens to a new soccer stadium in the heart of downtown.
July/August 2021
BY Brooke McCaffrey | Photo by
July/August 2021
BY Brooke McCaffrey | Photo by
City of Columbus Parks

The city of Columbus oversees more than 400 parks that cover a combined 13,500 acres, so you're never far away from an urban oasis in the heart of our state capital. One of the most notable is the Columbus Park of Roses, one of the state's largest public rose gardens and home to more than 11,000 flowers. Opened in 1953, the park has long captivated visitors who come to see more than 350 types of roses bloom here between June and September.

Another notable downtown destination is the Topiary Garden, a nearly 7-acre green space created by artist and Columbus native James T. Mason and his wife, Elaine, in 1989. The park is home to a living rendering of French postimpressionist painter Georges Seurat's "A Sunday Afternoon on the Island of La Grande Jatte." The Topiary Garden features dozens of human sculptures, as well as boats on a pond, dogs, and even a monkey that is visible in the original painting. A sign at the park marks the place where visitors can stand to take in the display from the perspective that best brings the organic composition to life.

Goodale Park is another fun downtown stop with its sculpted gardens, gazebo, picnic shelter and pond. The latter has a whimsical sculpture of elephants spraying water from their trunks atop a tiered platform — a nod to the Sells Family Circus that was once based in the city. For more information about these locations and others, visit columbus.gov/recreationandparks.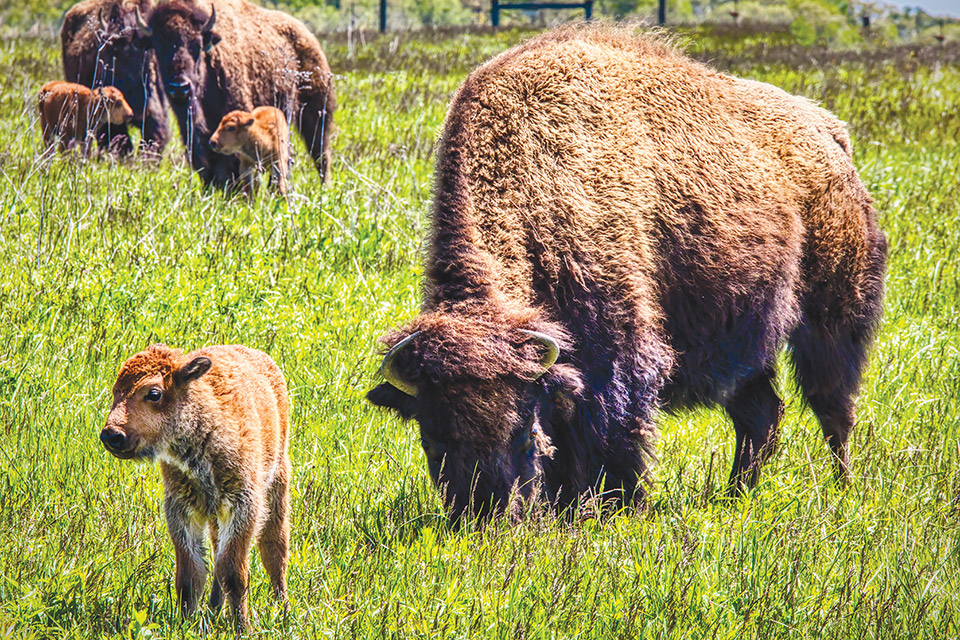 Columbus and Franklin County Metro Parks

With 231 miles of trails and 28,000 acres of land across its 20 parks, the Columbus and Franklin County Metro Parks system promises a variety of adventure for travelers and locals alike.

"We try to provide places for people to get out, get active and develop a greater appreciation for nature," says Peg Hanley, public information manager and spokesperson for the park system. "A second mission of ours is to protect wildlife in their habitat."

Battelle Darby Creek Metro Park, located about 14 miles southwest of downtown, covers more than 7,000 acres of forests, prairies and wetlands. Visitors can hike the park's 5-mile, ADA-accessible and pet-friendly Darby Creek Greenway to catch a glimpse of the bison that roam the park's pastures or hike more than a dozen other trails that range from easy to difficult.

Inniswood Metro Gardens, located about 14 miles north of downtown, covers 123 acres and is home to more than 2,000 species of plants as well as charming specialty gardens and a handful of easy and short trails that are good for youngsters who want to head out on an afternoon adventure with mom or dad. Battelle Darby Creek Metro Park, 1775 Darby Creek Dr., Galloway 43119; Inniswood Metro Gardens, 940 S. Hempstead Rd., Westerville 43081; for more information about these and other park locations, visit metroparks.net.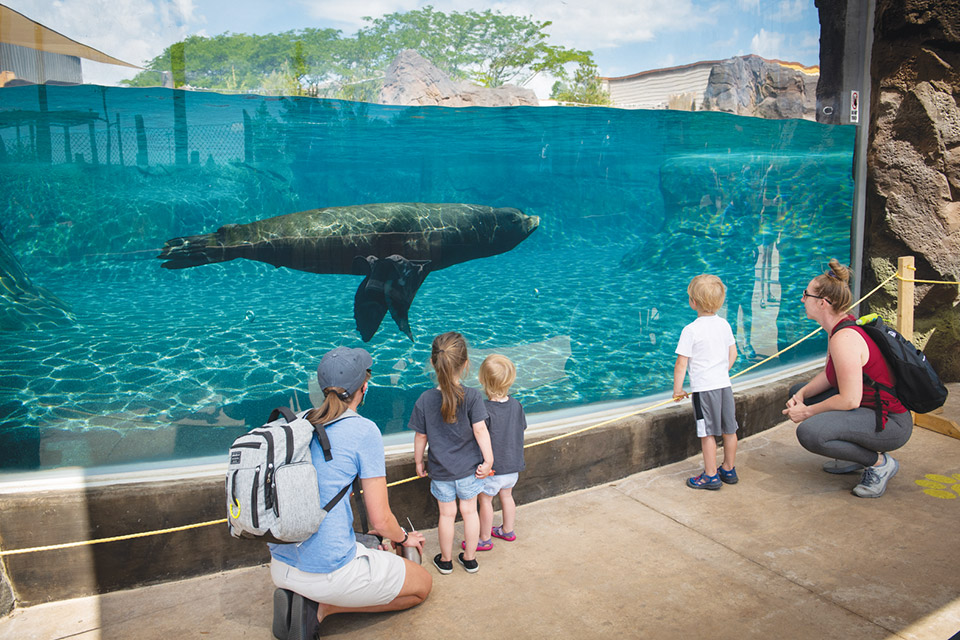 Columbus Zoo and Aquarium

Beginning in summer 2021, visitors to the Columbus Zoo and Aquarium can check out the new indoor orangutan habitat, which allows zoo visitors to catch an up-close glimpse of these great apes year-round. Also new for 2021 is Dinosaur Island, a boat ride that takes visitors millions of years into the past with the help of over 30 animatronic dinosaurs designed to both move and sound like their prehistoric counterparts.

Those who haven't been to the zoo in a couple years will also want to check out Adventure Cove, which opened in 2020. The attraction is home to sea lions and seals and features a rocky coastline and harbor that mimics the Pacific Northwest.

Various special events are scheduled throughout summer 2021, including Quiet Hours. Occurring one Sunday each month, Quiet Hours accommodates guests with sensory needs by providing a calming environment as well as the chance to interact with characters like Cali Sea Lion and Jama Giraffe at the Cali's Sensory Friendly Character Experience.

Through July 30, visitors can have extra splash time each Friday at the zoo's adjoining waterpark during Zoombezi Bay Summer Nights. The waterpark is open until 10 p.m. on these evenings, allowing patrons extra time to take on adrenaline-inducing attractions like the Roaring Rapids and Python Plunge or kick back and unwind at the Wild Tides Wave Pool while watching family-friendly movies like "Black Panther" and "Coco." 4850 Powell Rd., Powell 43605, 614/645-3400, columbuszoo.org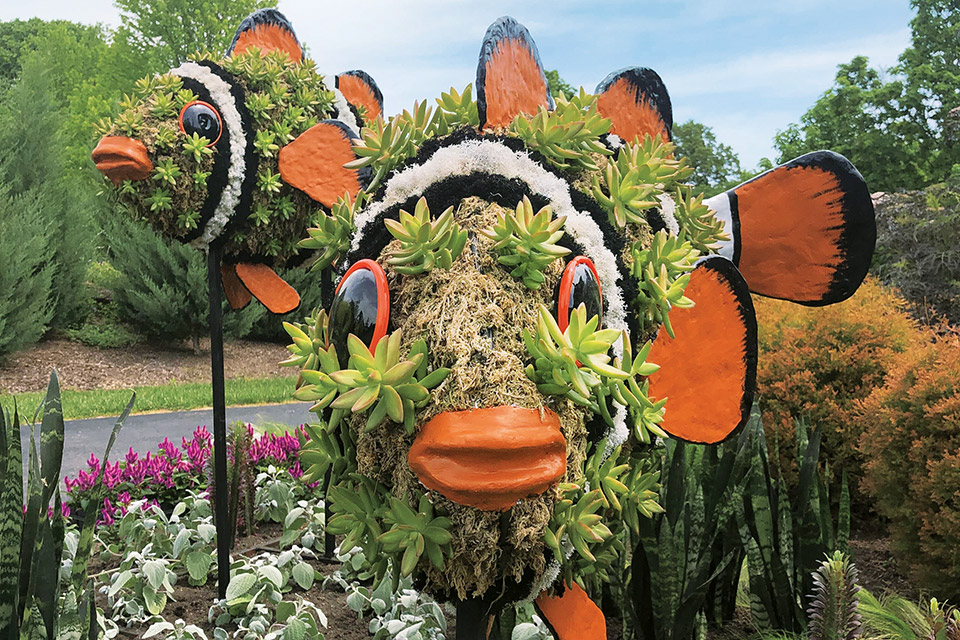 Franklin Park Conservatory and Botanical Gardens

Covering 88 acres and featuring more than 400 plant species, Franklin Park Conservatory and Botanical Gardens offers a picture-perfect destination to immerse yourself in nature.

Running through Sept. 12, "In the Garden: Color to Discover" lives up to its name by inviting visitors to enjoy the botanical gardens' collection of vibrant living art, ranging from flowers and foliage to a stunning topiary collection that features a butterfly, cardinal, pot of gold and six new tropical fish among its 30 pieces, including 20 pink flamingos.

"We've become quite popular for our flamingo topiaries," says Karin Noecker, director of horticulture and exhibitions at Franklin Park Conservatory and Botanical Gardens.

After exploring the gardens, cool off indoors by visiting the conservatory's four diverse ecosystems, including the Himalayan Mountain Biomes, the Rainforest Biome, Desert and the Pacific Island Water Garden.

Works by renowned glass artist Dale Chihuly are also a favorite among garden visitors. In 2003, the conservatory became only the second botanical garden to host a collection of Chihuly's work. Afterward, the nonprofit Friends of the Conservatory purchased most of the pieces presented during the show to be displayed permanently.

Summer 2021 also brings a weekly farmers market, operating every Wednesday through Sept. 11. Visitors can park at the main conservatory parking lot and purchase goods ranging from fresh produce to beauty products from local purveyors. 1777 E. Broad St., Columbus 43203, 614/715-8000, fpconservatory.org

---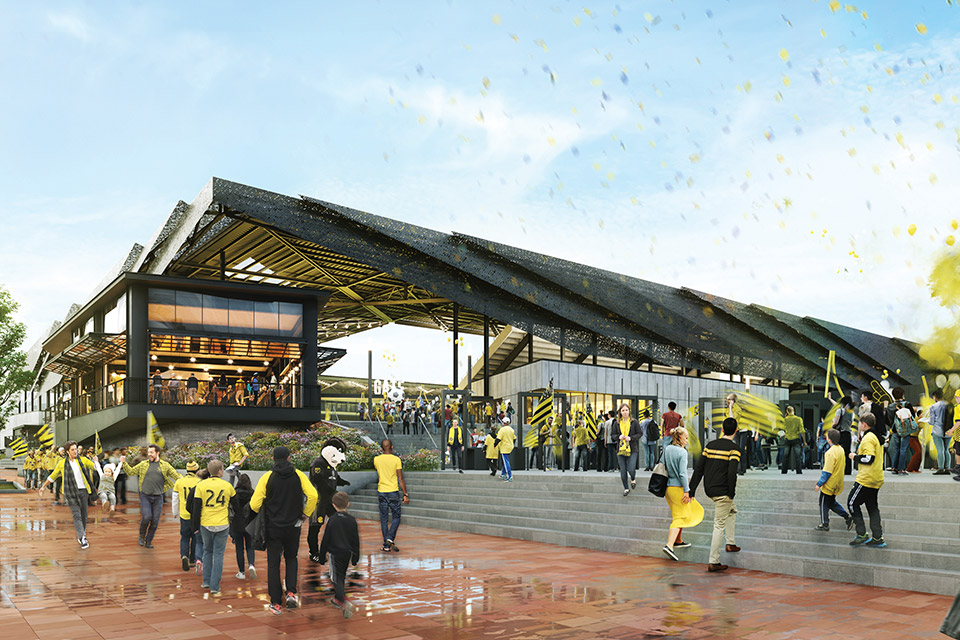 Pitch Perfect
The Columbus Crew welcomes soccer fans to its new Arena District stadium this summer.

What began with a groundbreaking event in October 2019 will come to fruition when New Crew Stadium opens July 3, 2021. The Columbus Crew, the city's Major League Soccer club, previously played at a site next to the Ohio History Connection just outside downtown. Now the team takes its rightful place on a site in the city's Arena District, which is also home to the Columbus Blue Jackets' Nationwide Arena and the Columbus Clippers' Huntington Park. New Crew Stadium will have space for 20,000 fans and features a 3,000-fan-capacity, standing-room area that is one of the largest of its kind among Major League Soccer clubs. The venue's layout aims to connect fans with the action and includes a 360-degree concourse that provides views of the pitch throughout the stadium. There's also an on-site beer garden as well as a pub, with the latter providing a great spot to grab a pre-match drink while taking in views of the city skyline. 560 W. Nationwide Blvd., Columbus 43215, 614/447-4169, crewstadium.com