Travel
| Cities
Columbus Breakfast Spots
Breakfast is the most important meal of the day. Do it right at one of these five Columbus spots known for their a.m. offerings.
October 2016 Issue
BY Laurie Hamame | Photo courtesy of Katalina's
October 2016 Issue
BY Laurie Hamame | Photo courtesy of Katalina's
Katalina's

This easygoing Latin-leaning cafe may be small in size, but it offers big flavors and a focus on local and organic ingredients. In 2009, owner Kathleen took over this 100-year-old gas-station-eatery, where she serves breakfast, brunch, sandwiches and pancake balls — lots and lots of pancake balls.
The restaurant has served more than 1 million pancake balls since opening, and the buzz-worthy bites are made with stone-ground flour and filled with Nutella, dulce de leche or pumpkin-apple butter. Served alongside Ohio maple syrup and Katalina's Original Sweet 'N' Spicy Bacon, the pancake balls are the most sought-after item on the menu. "I always made them for my family, and I knew when I opened a restaurant, I wanted to put them on the menu," says Day.
Ingredients are ethically, locally and organically sourced as much as possible, and Day counts Ohio's own Cooper's Mill & Market, Fowler's Milling Co., Shagbark Seed & Mill, Snowville Creamery and Thunderkiss Coffee among her suppliers.
The restaurant's laid-back, come-as-you-are atmosphere also features colorful visitor-drawn art and funky flea market finds. "You can come and feel like you've discovered your own little find, a hidden, out-of-the-way place," adds Day. 1105 Pennsylvania Ave., Columbus 43201, 614/294-2233, katalinascafe.com


Northstar Cafe
This Short North Arts District restaurant's commitment to carefully prepared foods has earned it many fans since opening in 2004. And while Katy and Kevin Malhame have opened other Northstar locations in Ohio since then, their original corner eatery still draws faithful diners.
"The people on our team are so incredibly caring and friendly and genuine … that is a big part of it," Kevin Malhame says. "People come to eat the food and feel the space, but the smiles and the friendliness really go a long way."
Whether you're stopping in for a quick breakfast of a warm biscuit and hot coffee or a relaxing dinner date of wine and appetizers, guests will always find plenty of tasty, made-from-scratch fare. The eatery's most popular breakfast item is its Cloud Nine Pancakes, which are infused with an airy lightness.
"[They have] ricotta cheese," explains Malhame, "which adds a component of richness and lightness that makes the whole thing taste more like an Italian dessert than a standard pancake." 951 N. High St., Columbus 43201, 614/298-9999 (visit website for information on the other Columbus and Cincinnati Northstar Cafe locations), thenorthstarcafe.com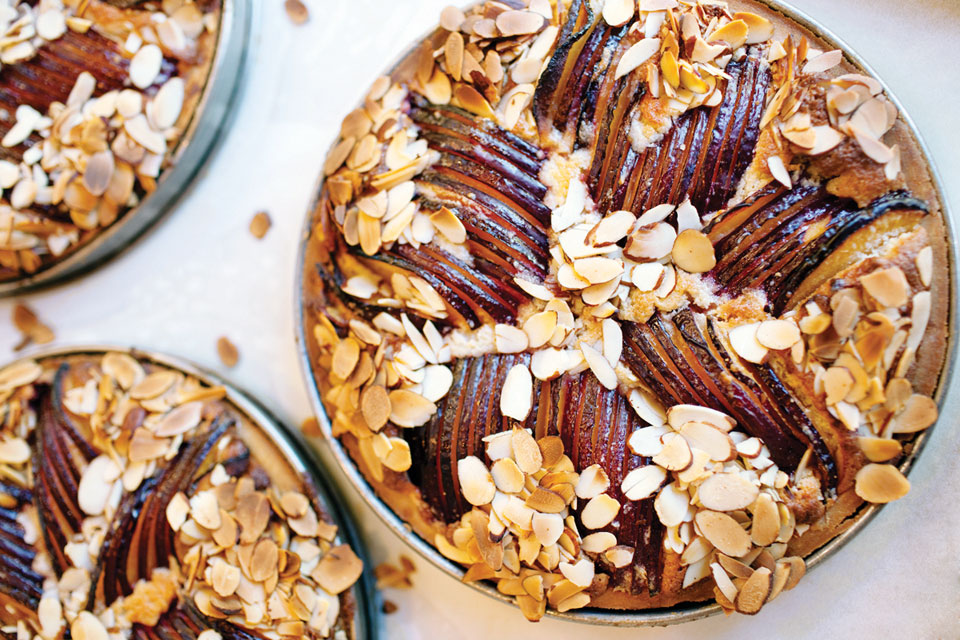 Pistacia Vera

Pistacia Vera's name alone let's you know that this spot doesn't serve up your usual diner fare. Instead, its elegant bakery items and morning creations look like they'd be right at home at a cafe in France.
"We're not doing bacon and eggs to order," says co-owner Anne Fletcher. "We nail it when it comes to just having that great quiche."
Fletcher opened the restaurant and cafe in 2004 with her brother Spencer Budros, and what began as a cozy dessert spot has since evolved to include daily brunch offerings. The quiche — popular for its decadent French crust and creamy cheese — comes in two types: There's bacon, Swiss chard and onion for those seeking a traditional French combo, as well as a vegetarian version featuring crimini and shiitake mushrooms. But pastries remain a staple here, with everything made from scratch. The frangipane, an almond cream cake baked into a shortbread crust and topped with seasonal combinations such as pear and ginger, is a favorite.
"All of the food we do is pastry-inspired," says Fletcher. "A lot of folks come in and get a croissant, a cappuccino, and that's their breakfast." 541 S. Third St., Columbus 43215, 614/220-9070, pistaciavera.com


DK Diner

The DK stands for "Doughnut Kitchen" at this eatery that merges a home-like atmosphere with beloved diner fare and more than a dozen classic doughnut varieties.
The whopping DK All The Way breakfast promises a hearty first meal of the day with its two over-easy eggs, crispy home fries, biscuits and griddled Canadian bacon all smothered in creamy sausage gravy.
Even though it's located in a metropolitan area, manager Anthony Teny says DK Diner tries to stay true to the spirit of neighborhood joints, right down to the prices.
Omelets range from $5 to $7, and everything else on the menu follows suit. "We want to keep our price point [lower]," says Teny. "We don't want to get to a point where we're pricing a lot of our regulars out."
DK Diner is wonderfully casual, even down to letting you pour your own drink, which completes the make-yourself-at-home vibe. Want some coffee? Grab one of the mismatched mugs from the shelf and help yourself. No matter what you order, you really shouldn't leave without trying at least one of DK Diner's made-on-site doughnuts, ranging from the softball-sized apple fritter to the retro chocolate long john. 1715 W. Third Ave., Columbus 43212, 614/488-5160, thedkdiner.com

The Guild House
*Note: The Guild House is not currently offering breakfast or lunch

A year-and-a-half ago, Columbus businessman and art collector Ron Pizzuti approached restaurateur Cameron Mitchell about creating an elegant, farm-to-table dining experience at The Joseph hotel in the city's Short North Arts District.
The restaurant's team of chefs collaborates to create rotating breakfast, brunch, lunch, dinner and dessert menus, but they also stay carefully attuned to dishes their guests love and keep them around.
One such breakfast favorite is the smoked chicken hash with two poached eggs, sweet potatoes, bacon, roasted poblano, caramelized onions, creamy Gouda and spicy salsa verde.
"We really wanted to try and do something different in the area," says Ian Rough, a regional chef for the company. "We wanted to try and bring something that has that farm-to-table flair to a nice, upscale atmosphere."
Furnishings made from repurposed wood and visual works by local artists help create an inviting space for the The Guild House's guests to relax. The decor plays to the artful approach embraced here.
"You get away from the hustle-bustle of your day," says Rough. "It's kind of a little escape." 624 N. High St., Columbus 43215, 614/280-9780, theguildhousecolumbus.com