Travel
| Cities
Explore Football, Food and Fun in Canton
Stark County is packed with good times, whether you want to explore the game of football, enjoy a movie under the stars or take a local food tour.
July/August 2022
BY Vince Guerrieri | Photo courtesy of Pro Football Hall of Fame
July/August 2022
BY Vince Guerrieri | Photo courtesy of Pro Football Hall of Fame
Football & Fun

To devotees of the game, visiting the Pro Football Hall of Fame is a little like visiting Walt Disney World. Communing with the greats at Canton's famous attraction is a bucket-list trip for young and old fans alike, and just like Disney's famous theme parks, change is a constant here — not only within the Hall of Fame but also on the property surrounding it.

"Walt Disney said Disneyland will never be done, and we're like that too," says Jim Porter, president of the Pro Football Hall of Fame. "We have to keep changing. The ultimate goal is to be the best sports museum in the world."

The most recent expansion project at the museum itself — a two-year, $27 million project hat added 33,000 square feet of space and renovated another 37,000 square feet — concluded in 2013.

Since then, the big changes around the Hall of Fame have come in the form of the Hall of Fame Village, a multimillion-dollar complex run separately by Hall of Fame Resort & Entertainment Co., but complementary to the Pro Football Hall of Fame.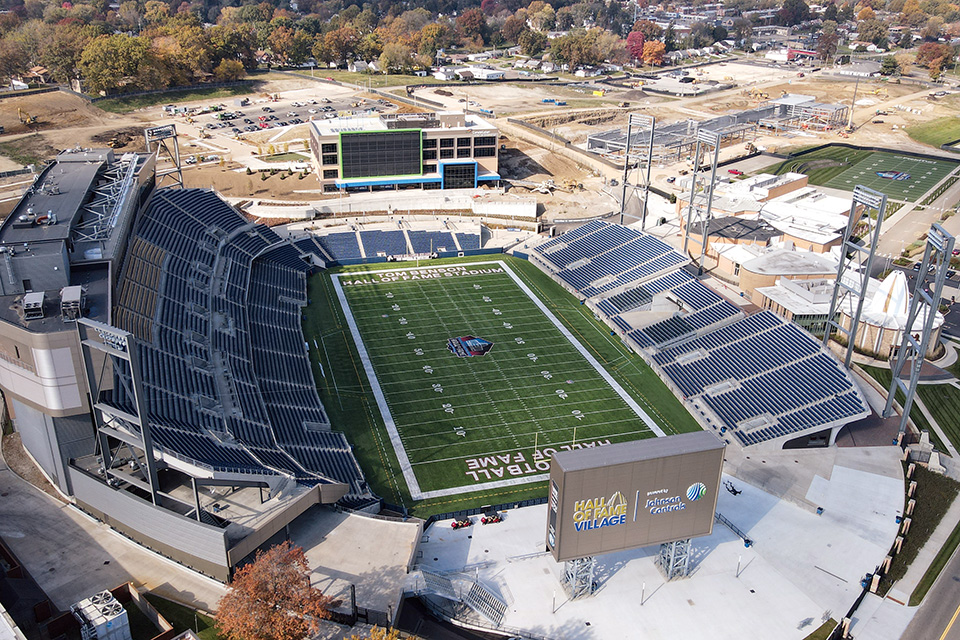 The renovated Tom Benson Hall of Fame Stadium was dedicated in 2017 following a two-year renovation, replacing Fawcett Stadium, which had stood on the site since 1938. (For an additional fee, fans can take a 90-minute walking tour of Tom Benson Hall of Fame Stadium during their visit.)

More recent additions to the Hall of Fame Village project include the Constellation Center for Excellence, a 75,000-square-foot mixed-use space that opened in fall 2020. Behind it will be Play-Action Plaza, a 3.5-acre space featuring a walking trail and an amphitheater that is expected to be completed by late summer. Attractions here will also include a zip line and the 125-foot-tall Ferris wheel that was formerly at the I-X Center in Cleveland.

Also in the works is a Fan Engagement Zone, featuring a variety of shops and restaurants with a football twist. It will be home to Shula's Steakhouse, whose namesake was Don Shula, the northeast Ohio native who became the winningest coach in NFL history. There will also be a Smoosh Cookies owned by Isaac Bruce, who was inducted into the Hall of Fame in 2020. Even the Build-a-Bear Workshop planned in the Hall of Fame Village will offer unique NFL and college jerseys.

Additionally, the sports complex on the grounds is being expanded — in no small part because of demand. Currently, there are four active fields, half of what is expected at completion. Additionally, a 100,000-square-foot dome is being built for all-weather sports use. The Fan Engagement Zone and sports dome will be completed by late summer.

The final projects will be a Hilton hotel on the campus — to complement the DoubleTree by Hilton Canton Downtown, previously known as the McKinley Grand, which was bought, restored and reopened in November 2020 — and an indoor water park. Those are scheduled for 2023.

All of it adds up to an experience unlike anything football fans have seen in Canton.

"We're the biggest cheerleaders for the village," Porter says, "because it's good for us."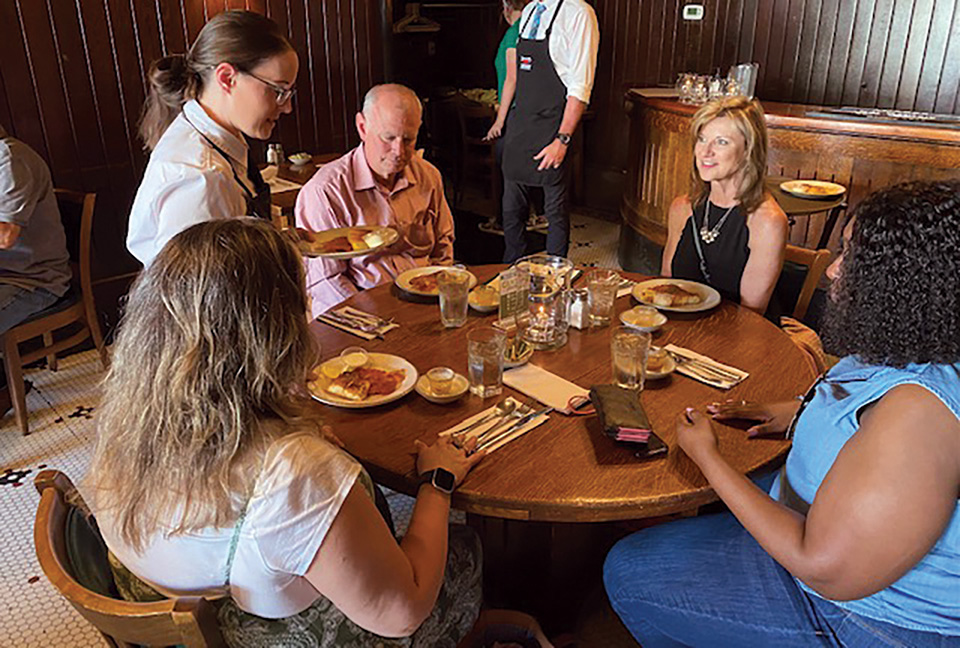 Dining & Discovery

Barbara Abbott launched Canton Food Tours in 2012, after attending a similar experience in Arizona. Food tours were a new concept at the time, but it proved a success, with Abbott's culinary tour of Canton now celebrating a decade of local food paired with a side of history. The goal then, as now, Abbott explains, is to highlight the city's food, drink, culture and history.

"We want to take a close look at things people walk or drive by routinely," she says.

The walking tour is available during the afternoon or evening. Each offers a three- to four-hour experience enjoying chef-selected entrees presented as small plates at a mix of downtown spots that show off the city's culinary fare.

The tour also partners with local attractions, such as art galleries and the Pro Football Hall of Fame, to weave Canton culture into the excursions. Tours can be conducted as part of a corporate event and can conform to dietary restrictions. (For example, there is a gluten-free tour among the offerings.)

Abbott explains that, in addition to travelers, many locals sign up for her tours so they can experience the city in a new way.

"Even downtown companies will book tours," she says. "They're downtown and they can see everything, but we offer a different layer to places they might see every day."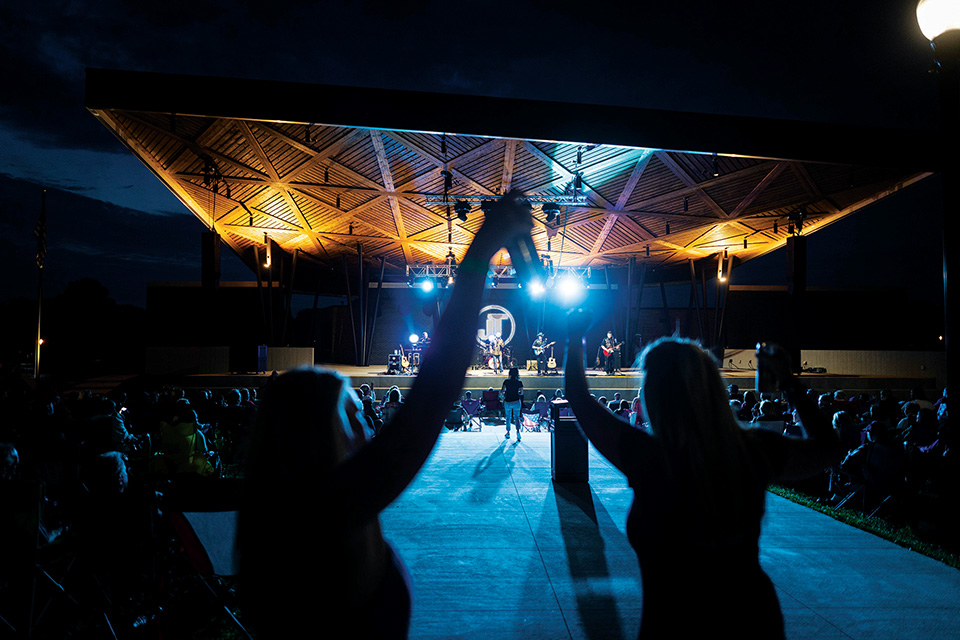 Movies & Music

Opened in 2020 to commemorate the National Football League's 100th anniversary, Centennial Plaza has become a downtown gathering place for a variety of events, including a movie series presented by the Canton Palace Theatre every Wednesday this summer.

In 2021, a total of six movies were shown on the plaza, which features large LED screens. This year, movies will be shown weekly throughout the summer — rain or shine. The films are all family friendly, and the 7 p.m. showtime is as well. Because the property is part of downtown Canton's Designated Outdoor Refreshment Area, adults can enjoy a beer or glass of wine while enjoying the show.

"We're trying to do a variety of films that appeal to families and adults," says Georgia Paxos, director of the Canton Palace Theatre. "The Princess Bride," "Jumanji," Elf" and "Trolls 2" are just a sampling of this summer's lineup. "We want to get as many people in Centennial Plaza as possible."

Outside of Canton in nearby Jackson Township, Jackson Amphitheater will host events throughout the summer. For kids, there will be movies and activities, including visits by Outback Ray and his animal friends. The venue will also host a concert series on Wednesdays and Saturdays. The Wednesday series will include food trucks and a free day of music. The Saturday events will feature bigger acts — largely bands paying tribute to musicians ranging from Tom Petty to Prince and Journey to Elton John — although on July 23, the amphitheater will feature The Vindys, a popular act from nearby Youngstown.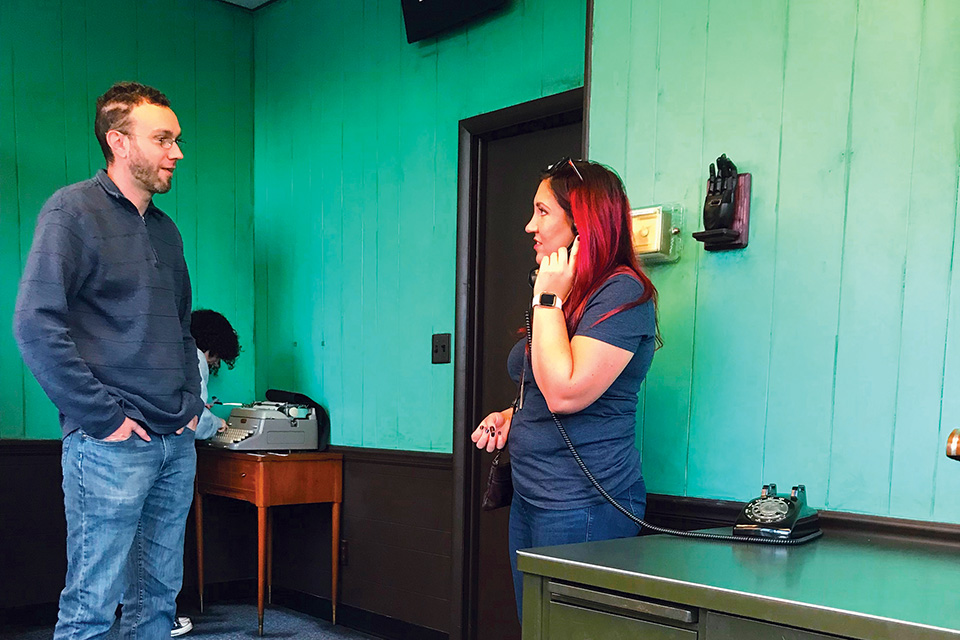 Puzzles & Games

During the past several years, Ohio has seen a marked expansion in escape rooms. The concept is a simple one: A group of people follow clues distributed within a room and work as a group to solve a mystery and "unlock" the room.

Since 2015, Escape Room Downtown has been offering that challenge to locals and visitors alike. Owner Chuck Duplain says the scenarios are adjusted based on customer feedback and made by drawing on Canton's past, with games involving Prohibition-era bootlegging and the notorious Black Hand Society.

"You need to have a good story and at least one a-ha moment," Duplain says, "and we build the game around that."

Another trend on the rise is board-game cafes, places that invite you to roll the dice and have fun and interactive nights out as a group. In 2020, Milestone Games opened in downtown's Canton Arts District.

For a $5 per person cover charge, groups can come in and play any one of 1,200 different board games, running the gamut from various iterations of Trivial Pursuit to classic board games like Monopoly and Life to more complicated role-playing games.

Milestone Games also serves hot dogs (including a veggie version) with gourmet toppings and other comfort-food eats. The spot also has a full bar with twelve rotating drafts and a large selection of canned and bottled beer, hard teas, hard seltzer, ciders and more.

When You Go

Pro Football Hall of Fame
2121 George Halas Dr. NW, Canton 44708, 330/456-8207
profootballhof.com

Pro Football Hall of Fame Village, hofvillage.com

Canton Food Tours, cantonfoodtours.com

Centennial Plaza Summer Movie Series
330 Court Ave. NW, Canton 44702
cantonpalacetheatre.org/centennial-plaza-movie-series

Jackson Amphitheater Summer Concert Series
7454 Community Pkwy. NW, Massillon 44646
jacksonamphitheater.com

Escape Room Downtown
203 Market Ave. S. #200, Canton 44702, 330/844-1492
escaperoomdowntown.com

Milestone Games
312 Cleveland Ave. NW, Canton 44702, 330/956-4509
milestone.games