Travel
| Cities
Canton: Hall of Fame City Fun
The Pro Football Hall of Fame's enshrinement and the events surrounding it put a spotlight on northeast Ohio. This year, there's even more to celebrate.
July/August 2021
BY Vince Guerrieri | Photo by Brian Matz - Aerial Aspect Photography
July/August 2021
BY Vince Guerrieri | Photo by Brian Matz - Aerial Aspect Photography
On Sept. 17, 1920, a group of football team owners gathered at Ralph Hay's Hupmobile car dealership in Canton and laid the groundwork for the NFL. The United States was coming out of the dark days of the flu pandemic, and Pro Football Hall of Fame president and CEO David Baker sees the obvious parallels a century later.
The Hall of Fame, typically open every day except Thanksgiving and Christmas, spent three months closed to the public in 2020. But Baker sees this summer's five-day enshrinement festival celebrating football, the NFL and northeast Ohio as the moment when things get back to normal, starting with the Steelers playing the Cowboys on Aug. 5 in the Hall of Fame Game at Tom Benson Hall of Fame Stadium.
"It looks like we'll have the first full stadium for football since February 2019, and I think when they pan overhead, it'll be a great moment," Baker says. "It's a great opportunity for northeast Ohio to be center stage."

Enshrinement Week

This year's inductions, held Aug. 7 and 8, will be the biggest in the nearly 60-year history of the Pro Football Hall of Fame — partly by design, and partly by delay. The 2021 class of inductees includes quarterback Peyton Manning and Fremont native (and Michigan Heisman Trophy winner) Charles Woodson.

Additionally, the Hall of Fame will recognize last year's inductees, an already enlarged class to celebrate the centennial of the NFL. The 2020 inductees include the Steelers' Troy Polamalu and his coach Bill Cowher, Cowboys coach Jimmy Johnson, former NFL commissioner Paul Tagliabue, Mac Speedie (one of the original Cleveland Browns) and Alex Karras, who went on to fame as an actor following his football career.

Both inductions will be open to the public, with the 2020 ceremony recognizing the centennial class Saturday night, and the 2021 enshrinement Sunday night.

"It's all going to be big, and it's all going to be special," Baker says.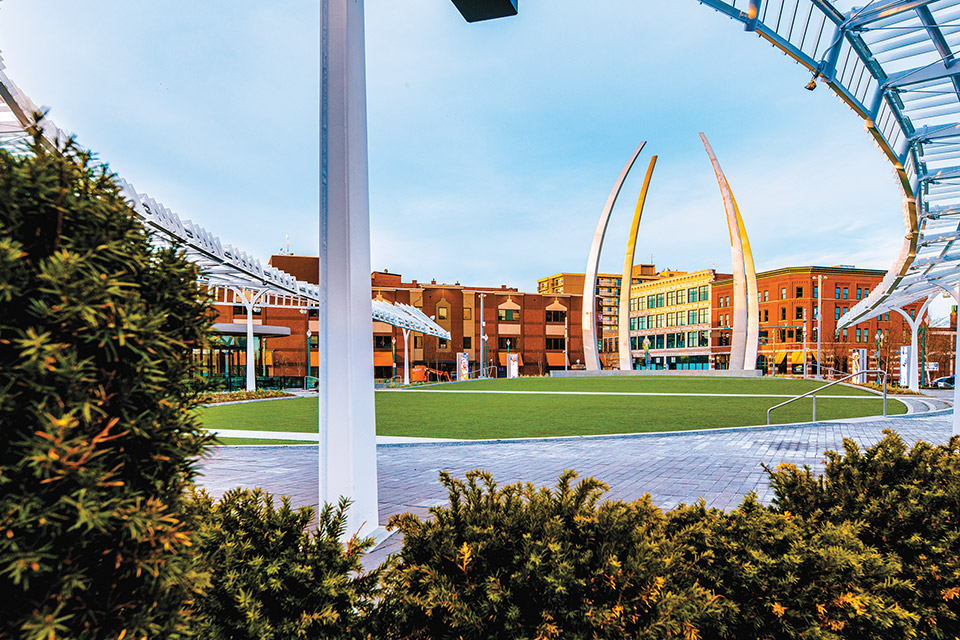 Centennial Plaza

Unveiled on Sept. 17, 2020 — 100 years to the day of the NFL's founding in Canton — Centennial Plaza is designed to be both a monument to pro football and a downtown gathering place. The $12 million plaza will host a variety of events, from the Canton Farmers' Market to the Canton Blues Festival (July 9 and 10) to monthly First Friday events featuring music, arts and food.

The plaza is outfitted with large screens that will show Browns and Ohio State football games. Monuments at the site recognize every city that has ever hosted an NFL team as well as the names of all 25,474 men who played during the NFL's first century.

"Every one of those guys has a story," says Baker, noting that his son Sam, who played six years for the Falcons, is among them. "And our job is to preserve all those stories."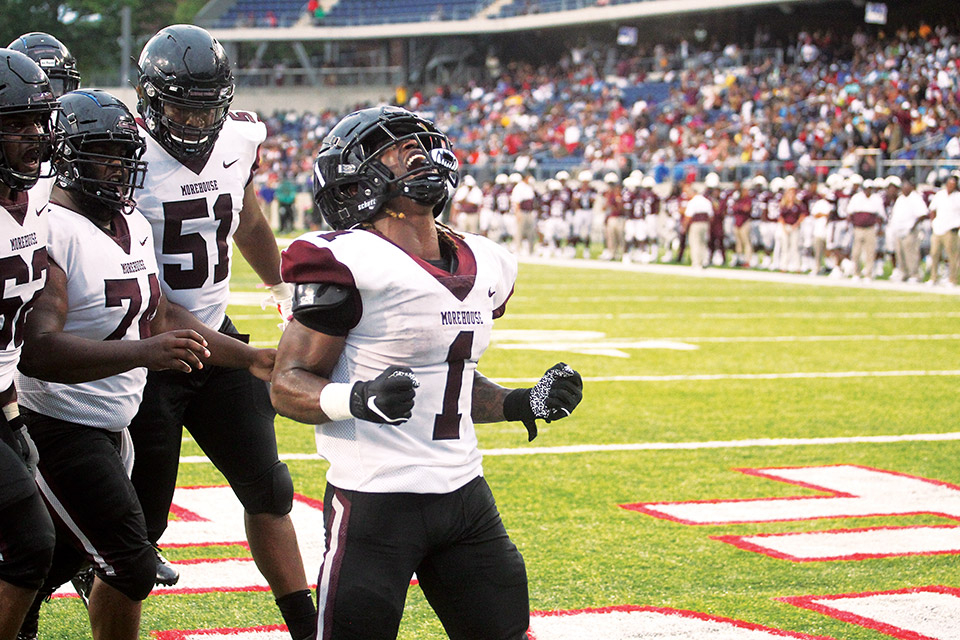 Black College Football Hall of Fame Classic

For the second year, Labor Day weekend features the Black College Hall of Fame Football Classic. The centerpiece will be a game Sunday, Sept. 5 (televised on the NFL Network) between Grambling State University (one of the best known and most accomplished historically Black colleges) and Tennessee State University, which has Eddie George (the former Tennessee Titans running back who won the Heisman Trophy while at Ohio State) as its head coach.

The weekend will be filled with events, many in conjunction with The Divine Nine African American fraternities and sororities, highlighting service and educational opportunities. There will also be a golf outing at Clearview Golf Club — itself an important part of African American history — and a gospel concert featuring Marvin Sapp.

"It's more than a football game," Baker says. "There's a cultural component to it, and we hope that what the enshrinement is for August, this can be for Labor Day weekend."

***

Hall of Fame Village

Tom Benson Hall of Fame Stadium — formerly known as Fawcett Stadium — is part of the first phase of a Hall of Fame Village that is planned to include businesses, residences and entertainment.

The stadium was rebuilt to offer an amphitheater feel and completed in 2017. It has become home to the annual Concert for Legends, this year featuring Brad Paisley and Lynyrd Skynyrd on Aug. 9. New this year is the Pro Football Hall of Fame's Highway 77 Music Festival on Sept. 12, featuring Dan + Shay, Maddie & Tae, Eric Paslay, Tyler Farr and Dustin Lynch.

The Doubletree by Hilton downtown is part of the Hall of Fame Village's second phase. The former McKinley Grand Hotel underwent a more than $30 million renovation before reopening at the end of 2020.

For more information on events and destinations, visit hofvillage.com or visitcanton.com.

---

Tour Guides
To explore more of Canton during your visit to northeast Ohio, check out these two programs.

Hall of Fame Hops Craft Brew Trail: Those who love to sample craft beers have a new checklist to tackle with the creation of Visit Canton's Hall of Fame Hops Craft Brew Trail. Get a passport online and show it at any of 15 participating establishments in Stark, Holmes and Tuscarawas counties for discounts and stamps that put participants in the running for prizes from participating breweries. Stops include Canton Brewing Co. — a downtown spot that uses recipes that date back to the 1800s, including one for Cascade Beer, an initial sponsor of NFL pioneer Ralph Hay's Canton Bulldogs. Royal Docks Taproom & Kitchen makes a popular Leatherhead IPA that pays homage to the early days of football.

Pigskin's Pals: Once again, Visit Canton is offering discounts and special activities through its Pigskin's Pals program, named for Pigskin, the Visit Canton mascot. This year, the coupons will be distributed digitally and valid through Sept. 6. In addition to discounts on admission to the Pro Football Hall of Fame, children ages 2 through 12 can get special offers at attractions like the McKinley Presidential Library & Museum, the MAPS Air Museum, Canton Art Museum and the Troll Hole Museum in nearby Alliance. There are also special offers from local restaurants and Stark Parks, as well as events throughout the summer.

For more information about both of these programs, go to visitcanton.com.