Travel
Sweet Sounds
These seven stops along the Mountain Music Trail offer a look into Appalachia's musical heritage.
August 2014 Issue
BY Aaren Host | Photo courtesy of The Purple Fiddle Café
August 2014 Issue
BY Aaren Host | Photo courtesy of The Purple Fiddle Café
The route dips and winds its way through the Allegheny Mountains, traversing the heart of West Virginia's signature sounds and rhythms. Bluegrass, folk, country and gospel can all be heard throughout Monroe, Greenbriar, Pocahontas, Randolph and Tucker counties — sounds that have defined West Virginia for generations. "We have this wonderful music experience … where people can come and they can immerse themselves in the culture," says Cara Rose, executive director for the Pocahontas County Convention and Visitors Bureau. CNN recently featured the Mountain Music Trail as part of its "50 States, 50 Spots," and these seven destinations offer a flavor of what the music trail has to offer.

Family Fare: The Purple Fiddle Cafe, Brews and Stage
Housed in a 100-year-old general store, John Bright's cafe emphasizes fresh, deli-style food as well as made-from-scratch falafel and hummus. With nearly 300 live music performances a year, visitors can expect Americana music here every Friday and Saturday night. "Just because they're playing string instruments doesn't mean it's not danceable," says Bright. "We like to stress that people are welcome to dance, including little kids and babies." The family-friendly venue prides itself on being a welcoming environment for all ages, which means you won't find some of the rowdier musical genres represented here. "No punk or hardcore music and nothing with a mosh pit," says Bright, adding a dash of tongue-in-cheek reasoning. "It is an old floor and I don't want to see people going through [it] into the basement. That would be bad for business."
96 East Ave., Thomas 26292, 304/463-4040, purplefiddle.com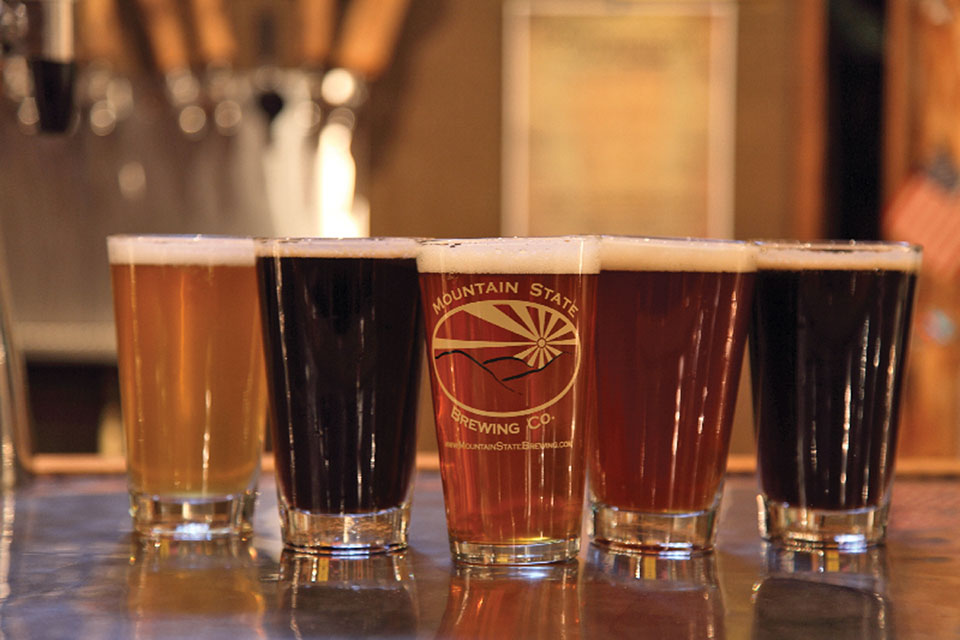 Bites and Beer: Mountain State Brewery
The largest full-scale brewery and distributor in West Virginia provides a place to kick back and enjoy a cold one. Varieties include Cold Trail Ale (a classic yellow beer) and the Miner's Daughter Oatmeal Stout, the brewery's most popular winter offering, according to manager Jessica Wamsley. "People who are light beer drinkers, dark beer drinkers, IPA drinkers — anybody — they usually like our stout." The brewery books music throughout the summer with styles ranging from bluegrass to reggae. On Saturdays, the brewery rolls out its gourmet sandwich menu with choices such as the popular Bacon Blue Dream, made with local blue cheese, goat cheese, bacon and honey. Those with a sweet tooth can order The White Cloud, made with marshmallow fluff, Nutella, peanut butter and bananas. "It's a menu that would knock anyone's socks off," Wamsley says with a laugh.
1 Nelson Blvd., Thomas 26292, 304/463-4500, mountainstatebrewing.com
Living History: Augusta Heritage Center of Davis & Elkins College
Appalachian culture is celebrated here with workshops and concerts that bring the state's history and heritage to life. "Our mission is to preserve and pass on traditional music, crafts and culture," explains Beth King, interim director of the Augusta Heritage Center. "Our experience is a total immersion." A rotating lineup of intensive, week-long workshops are offered throughout the summer. Visitors can learn to play traditional bluegrass music or explore the arts-and-craft roots of the region with hands-on classes. Concerts featuring acoustic instruments are held every Tuesday and Thursday evening, and group dances that highlight traditional styles tied to Appalachian culture are scheduled every night of the week. The center's music workshops and performances also explore country, Irish, Creole, blues and swing.
100 Campus Dr., Elkins 26241, 304/637-1209, augustaheritagecenter.org

Labor of Love: The BrazenHead Inn
Owner Will Fanning opened the BrazenHead Inn 14 years ago to honor his late father, incorporating his Irish heritage into the place with the goal of making his patrons feel like family. "It's a place you can go and experience the hospitality that you would find behind any door you would open in Ireland," Fanning says proudly. Along with overnight lodging, the inn serves up traditional Irish dishes such as ham and cabbage, Guinness stew and Irish potato soup. The adjoining Mike's Pub, named after Fanning's father, serves potcheen. (Fanning describes it as the Irish equivalent of moonshine.) Every Saturday evening brings a mix of Irish and traditional folk music. Fanning, who plays in a band with his wife, Jill, sometimes makes a guest appearance. "I play guitar, upright bass, the old squeezebox, which is my dad's old squeezebox from Ireland," he says. "We just try to have fun."
Rural Route 219, Valley Head 26294, 304/339-6917, brazenheadinn.com
Local Flavor: Pretty Penny Cafe
Blair Campbell serves up locally grown produce, farm-bought eggs and seasonal favorites such as summer strawberry salad with sunflower seeds at her fresh-focused spot. Or as she puts it, "We serve food that I like to eat." In addition to the eat-local philosophy, Campbell's Pretty Penny Cafe also offers bluegrass music every Friday night, attracting locals and travelers alike. Campbell chalks up her place's appeal to its good food and cozy atmosphere. "It's like walking back in time a little bit," she says. "It's an interesting, eclectic little cafe in a 100-year-old building, so there's some nostalgia here." Born and raised in Pocahontas County, Campbell's mother, Penny, taught her how to cook. Campbell named the place after her — further evident by the phrase on the cafe's logo: "In Mom I Trust."
7484 Seneca Trail, Hillsboro 24946, 304/653-COIN, prettypennyfood.com

Encore Performance: Pocahontas County Opera House
The Pocahontas County Opera House started as a vaudeville theater in 1910 before the venue was sold a handful of years later. The property went on to be used for other purposes for decades, but since 1999, when the historic theater reopened its doors, it's become a vital part of the Mountain Music Trail. "We really had this opportunity to showcase the traditional music we were already a venue for," explains Drew Tanner, the opera house's marketing manager. "Pretty much since the beginning, the opera house has featured old-time, traditional musicians and there is such a history of that already in the area." Home to musical theater, jazz, bluegrass, blues and more, the Opera House offers family-friendly entertainment that sticks to its vaudeville roots. "It's not very formal or stuffy," says Tanner. "It has a real sort of down-home atmosphere."
818 Third Ave., Marlinton 24954, 304/799-6645, pocahontasoperahouse.org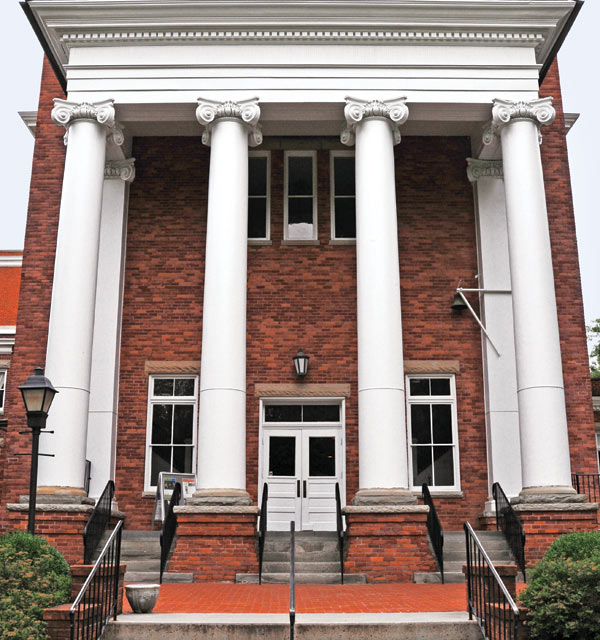 Acoustic Gem: Carnegie Hall
In 1902, steel tycoon Andrew Carnegie financed the construction of this performing arts and exhibition center to serve as a classroom for the Lewisburg Female Institute, later known as the Greenbriar College for Women. Eight decades later, the hall became a nonprofit arts and education center. "The historical component of our facility and the fact that it was built in 1902 as an acoustic venue sets [us] apart," says Lynn Creamer, artistic director at Carnegie Hall. Today, the hall plays host to annual summer music festivals and concerts featuring popular West Virginia music acts such as the Black Mountain Bluegrass Boys as well as nationally touring performers. The Carnegie Children's Choir, film and art exhibitions, and a variety of classes and workshops round out the cultural offerings available here.
105 Church St., Lewisburg 24901, 304/645-7917, carnegiehallwv.org
For more information about the Mountain Music Trail and other stops along the way, visit mountainmusictrail.com.