Travel
Summer Savings
We've found deals at our state parks, museums and more that will help you plan a budget-friendly summer
June 2014 Issue
BY Staff & Contributors | Photo by iStock Photo
June 2014 Issue
BY Staff & Contributors | Photo by iStock Photo
PARK PLACES
It's not a getaway without a great place to stay. From lodges to cabins to yurts, the Ohio State Park system offers interesting and affordable overnight options.

Burr Oak State Park is the home of one of nine lodges in the Ohio State Park system.

Whether your tastes skew toward a modern lodge or comfy cabin, staying at an Ohio State Park this summer offers a far different experience than your average hotel. A surprising number of offerings even come in at $100 or less per night. Couple that with the amenities available at the state-park sites speckled throughout Ohio, and you have the recipe for a fun and reasonably priced getaway. "There are so many things to do as opposed to a typical hotel," says David Traylor, general manager of the lodge at Burr Oak State Park, located on the edge of southeast Ohio's Wayne National Forest. "Who wouldn't want to stay somewhere with a lake out back, hundreds of acres of woods and a beach?"

Lodge: $80–$310 per night
With amenities most similar to the traditional hotel room, all of the nine lodges in the Ohio State Parks system grant visitors access to indoor and outdoor swimming pools and are equipped with a full-service dining room. The variety of room styles and sizes, including handicapped-accessible and connecting rooms, ensure these places can meet the needs of all visitors. "We get families of two people and families that are huge and take up four or five rooms," Traylor says. The Deal: Burr Oak State Park, $94 for a weekday, $109 weekend (standard king-size bed)

Cedar Cabins: $75–$100 per night
Offered at five state parks, cedar cabins are an ideal option for families looking for something more private than the lodge. Each cabin is located inside a campground and comes with a full kitchen and bathroom, furnished living areas, air conditioning and a porch or balcony. Linens and cookware are usually not provided. "Cedar cabins are great for families of six or smaller and they also make for great couple's retreats," says Brian Miller, park manager for Grand Lake St. Marys State Park near Lima. The Deal: Grand Lake St. Marys State Park, $90 per night

Cottages: $65–$259 per night
Cottages are available at 15 state parks. Like cabins, they offer more privacy than a lodge, as well as many comforts of home. They usually include a TV, full kitchen, furnished living areas, a private bathroom and a screened-in porch. Most are also equipped with air conditioning and kitchenware. "They come with plates, silverware, linens — the very basics," says Robin Donnelly, program administrator for Hocking Hills State Park. "We try to promote families here, and the cottages are good options for them." The Deal: Hocking Hills State Park, $105 (family, two bedroom)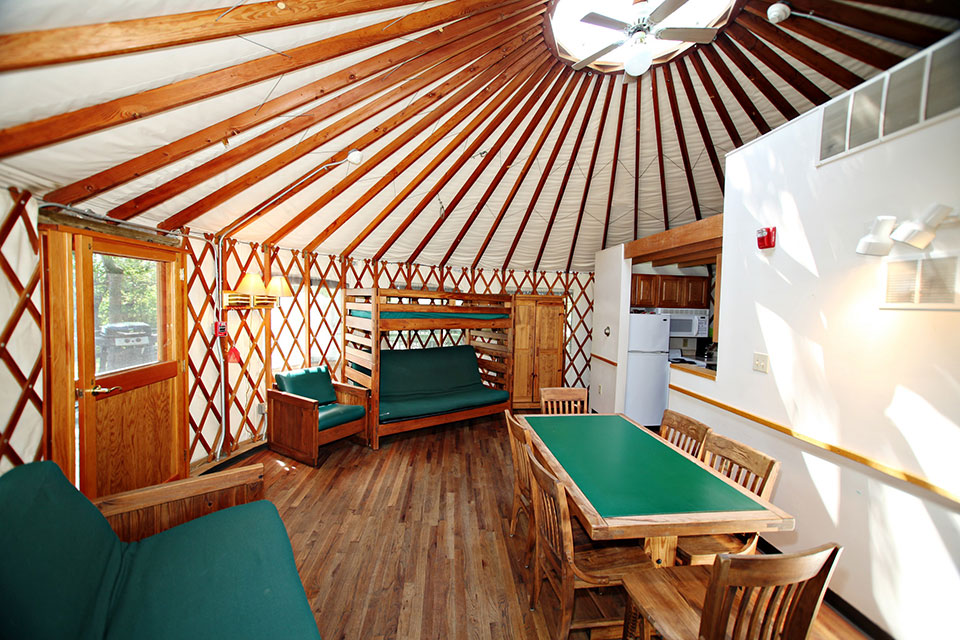 Yurts: $45–$100
These large tents on wooden platforms, found at nine state parks, are located in campgrounds near amenities such as restrooms and drinking water. Each comes with futons or bunk beds, a mini refrigerator or cooler, a fire ring and picnic table. Some offer a charcoal or gas grill and a cold-water sink. "They're good for families with kids or people who may not have a camper but don't want to do the whole tent-camping thing," says Lori Jennings, a supervisor at Hueston Woods State Park in College Corner. The Deal: Hueston Woods State Park, $45

Camper Cabins: $25­–$60
Found at 25 state parks, these wooden structures come with cots, bunks and bench beds, and most sleep up to four. They're stocked with basic gear, such as a cooler and camp light. Heidi Hetzel-Evans, community relations manager for Ohio State Parks, says they're a good choice for families or couples who want to camp without the set-up hassle. "It's the camping experience without the tent," she says. "You're still cooking over the open fire, you can still go fishing or go to the beach, but you don't have to deal with all the equipment." The Deal: Mohican State Park, $50

Visit parks.ohiodnr.gov for more information about these Ohio State Park lodging options.

***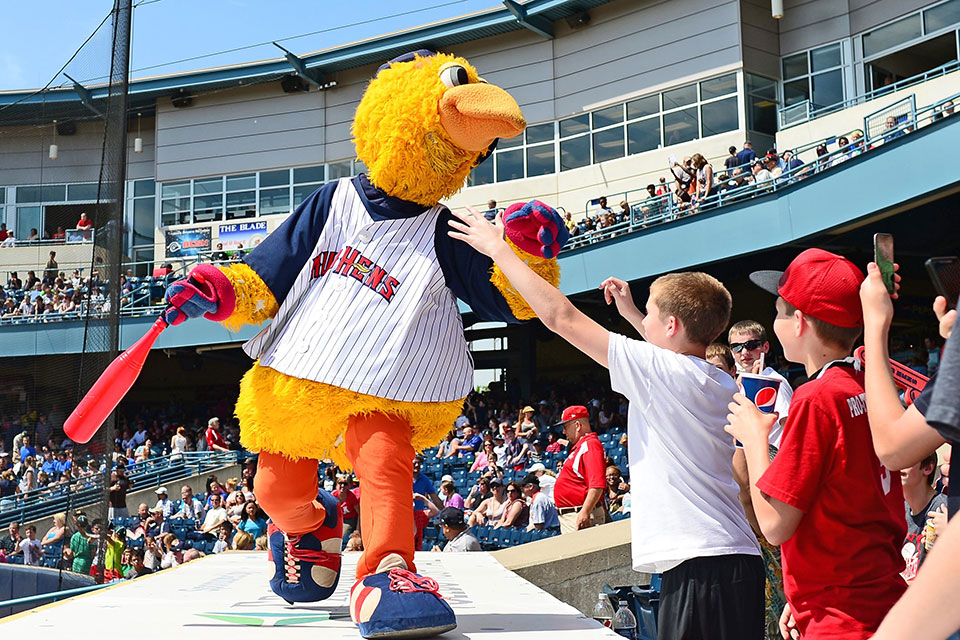 BUDGET BASEBALL
Take in a game and keep your wallet happy. Check out these major deals at minor-league ballparks.
The Toledo Mud Hens offer kids 12 and younger a chance to run the bases after Sunday games.
There's a reason baseball is America's pastime. "It promotes bonding since families sit together and talk," explains Ken Schnacke, president and general manager for the Columbus Clippers. And with the number of minor-league teams throughout the state, it's easy to enjoy a game at a reasonable cost. Here's the rundown on five teams that have beautiful ballparks and a wealth of promotions.
Toledo Mud Hens
When the Toledo Mud Hens were known as the Swamp Angels, they played at Bay View Park. The nearby marshlands were home to American Coots, otherwise known as mud hens, leading the team to adopt the name. The Detroit Tigers Triple-A affiliate has tailored itself as a destination for a budget-friendly outing at Toledo's Fifth Third Field since 2002. "It's our mission to create family-affordable pricing," says Rob Wiercinski, the team's community relations and communications manager.
When To Go:
Two Mud Hens players will be on hand to sign autographs an hour before every Sunday home game. Afterward, kids 12 and younger can take a turn running the bases.
Tickets:
$10.
406 Washington St., Toledo 43604, 419/725-4367,
mudhens.com

Akron RubberDucks
The Akron Aeros became the Akron RubberDucks last October as a nod to the city's tire-and-rubber-production history. The change also brought a new mascot: Webster the RubberDuck. He'll join Orbit the space cat and Homer the pigeon at Canal Park, the home of the Cleveland Indians' Double-A affiliate. "Having that third mascot, [the park] has more of the Disney feel," says Christina Shisler, the team's director of promotions. "Everywhere the kids look there's someone to high-five, or hug or take a picture with."
The Deal:
Kids 12 and under can sign up for a free RubberDucks' Quack Pack Kids Club membership, which gives them free admission to all Sunday home games.
Tickets:
$5.
300 S. Main St., Akron 44308, 330/253-5151, akronrubberducks.com
Columbus Clippers
The Columbus Clippers have played at Huntington Park in Columbus' Arena District since 2009. That location near restaurants, a farmers market and COSI has made the home of this Cleveland Indians' Triple-A affiliate a popular spot. "Once you park, everything is within walking distance," says the Clippers' Ken Schnacke. The ballpark can accommodate 10,100 patrons and provides ample concessions. That's a good thing, because Huntington Park features rotating food discounts.
When To Go:
Every Sunday is Bob Evans Family Day. Tickets for two adults and up to four youths are just $15 total.
Tickets:
$6.
330 Huntington Park Lane, Columbus 43215, 614/462-5250,
clippersbaseball.com
Dayton Dragons
The Dragons came to Dayton in 2000 and have been setting Class-A attendance records since their first season at Fifth Third Field and selling out every game since. "I think it's a combination of affordability, a world-class stadium and top-notch food and beverages that keep people coming here," says Dragons executive vice president Eric Deutsch. An affiliate of the Cincinnati Reds, the Dragons are located near other popular tourist destinations, such as the National Museum of the United States Air Force and RiverScape Metropark.
The Deal:
Each month, the Dragons offer a family-and-friends program where $44 will get you four tickets, four hats, four programs and four McDonald's value meals.
Tickets:
$7.
220 North Patterson Blvd., Dayton 45402, 937/228-2287,
daytondragons.com
Lake County Captains
The Lake County Captains, a Class-A affiliate of the Cleveland Indians, have been playing at Eastlake's Classic Park since 2003 and joined the Midwest League at the start of the 2010 season. The ballpark seats more than 7,000, and lawn seating swells crowds to more than 10,000. "You can get out here for nine bucks," says Craig Deas, the Captains' director of media relations. "There's more focus on entertaining here, we can do more on the field between innings and everything is much more accessible."
The Deal:
$48 Family Four-Pack (available only at Discount Drug Mart) comes with four box-seat tickets, four food vouchers, four launch-a-balls and four Kid Zone vouchers.
Tickets:
$9 advance, $10 day of game.
35300 Vine St., Eastlake 44095, 440/954-9467,
captainsbaseball.com
Major League Deals
The Cleveland Indians and Cincinnati Reds have home games where the least expensive ticket is $10 or less.
• Cleveland Indians: June 1–4, 16–22; July 4–13, 29–31; Aug. 1–5, 12–13, 15–17, 22–24; Sept. 1–7, 9–11, 22–24, 26–28
• Cincinnati Reds: The Value View section offers $5 seats for every home game, except July 8 ($7). Verify prices and availability in advance.
SENSE OF ADVENTURE
We've rounded up park-system picks, ranging from preserves to forests, and offer our advice for low-cost activities that will help you embrace more of our great outdoors.


Bicycling is a favorite activity at Cuyahoga Valley National Park, the home to 20 miles of the Ohio & Erie Canalway Towpath Trail.
The
Ohio & Erie Canalway Towpath Trail
runs 20 miles through
Cuyahoga Valley National Park
, offering scenic views and historic sites that transport visitors back to the time of mule- and horse-drawn canal boats. You can set out on foot from one of the many trailheads, but a bicycle will let you cover the most ground, passing the remnants of canal locks and spillways, as well as the newly opened Canal Exploration Center and the always-popular Beaver Marsh boardwalk. "You have the chance to see painted turtles hanging out and catching some sun or the Great Blue Heron hunting along the banks of the canal," says park ranger Brady Bourquin.
Boston Store Visitor Center, Boston Mills Rd., Peninsula 44264, 330/657-2752, nps.gov/cuva
Nearby Find:
Hike the 2.2-mile loop around
Ritchie Ledges
and check out the hulking rock formations.
Kendall Park Rd., Peninsula 44264, 330/657-2752,
nps.gov/cuva
The 2,800-acre
Hoover Reservoir
lies just 10 miles northeast of downtown Columbus, offering a prime spot to cast your line. "It's a good water system," says Marty Lundquist, a fisheries biologist with the Ohio Department of Natural Resources Wildlife Division. "There's a lot of bait fish in there for [the larger] fish to eat." Species here include catfish, saugeye, smallmouth bass, crappie and many others. For smallmouth bass, Lundquist suggests fishing "the rocks along the southern west part of the reservoir" and looking for crappie around woody vegetation in the water such as old tree stumps. Just be sure to pick up your Ohio fishing license.
Interstate 270 at Sunbury Road, Westerville 43081, 614/644-3925,
wildlife.ohiodnr.gov/hooverreservoir
Nearby Find:
Buckeye Lake State Park
, Ohio's oldest state park offers, lots of water-based fun, including swimming and boating.
2905 Liebs Island Rd., Millersport 43046, 740/467-2690,
parks.ohiodnr.gov/buckeyelake
The
Little Miami River
flows 110 miles, and the part that passes through
Little Miami River State Park
is a favorite canoeing spot. "You're going to see a very unspoiled river environment, similar to the way it looked 2,000 years ago when the Indians were paddling," says Gary Morgan, one of the owners of Morgan's Canoe & Outdoor Adventure. Morgan's two-hour rental puts two adults and two children into a canoe for $25. "Children like to interact with nature so think ahead of time for some activities to entertain them along the way, like getting out and doing some fossil hunting along the banks." Spotting turtles, frogs, birds and mammals that call the area home won't be a problem, and Morgan's Riverside Camp and Canoe, which has a café and picnic tables, is a nice place to take a break. For those who want
to explore on foot or on two wheels, the park has a 47-mile paved trail for cyclists and hikers.
5701 St. Rte. 350, Oregonia 45054, 513/932-7658,
morganscanoe.com
Nearby Find:
The park is adjacent to the
Fort Ancient State Memorial
, where the Hopewell people built earthworks that remain today.
6123 St. Rte. 350, Oregonia 45054, 800/283–8904, fortancient.org
Currently listed as one of the Nature Conservancy's 200 "last great places" in America, the 4,000-acre
Oak Openings Preserve Metropark
is home to more than one-third of Ohio's rare plant species. The unique combination of sand dunes and swampy areas has created a rare ecosystem. "These species eked out an existence at Oak Openings when nothing else could live there because the water … and the sand were such that only specialized species could survive," explains Metroparks of the Toledo Area naturalist and historical interpreter Kim High. Recent conservation efforts have included reintroducing species such as the Karner Blue Butterfly and its lone host plant, the Wild Lupine. Nearly 30 miles of walking and hiking trails are separated into nine routes, named for the specific ecosystem along the path. High suggests hiking the red Sand Dunes Trail, where visitors can see Prickly Pear cacti commingling with Pin Oak trees.
Mallard Lake Area off State Route 295, Swanton 43558, 419/407-9700, metroparkstoledo.com
Nearby Find:
Goll Woods State Nature Preserve
offers a view of northwest Ohio as it was 400 years ago, a place filled with densely packed giant hardwood trees.
5000 Township Hwy. 25, Archbold 43502, 614/265-6453
The
Wayne National Forest
covers 241,000 acres in the southeast corner of the state. The Hocking Valley Birding Trail runs through the vast woodland, offering seven different spotting sites inside the forest. (Get more information about the stops at
birdhocking.com
.) "The mature forest is a great place for people looking for the Cerulean Warbler," says Lynda Andrews, wildlife biologist with Wayne National Forest "[It is] a very pretty blue and white bird, but I would advise people to know what the call sounds like, because you are more likely to hear it rather than see it. It's a very treetop-oriented bird." Try Cornell University's Lab of Ornithology for a collection of bird calls (bird.cornell.edu).
Wayne National Forest, Main Office, 13700 U.S. Hwy. 33, Nelsonville 45764, 740/753-0101, birdhocking.com
Nearby Find:
Go wildlife spotting by hiking Lake Hope's 15 miles of trails. Deer and wild turkey sightings are common.
27331 St. Rte. 278, McArthur 45651, 740/596-4938,
parks.ohiodnr.gov/lakehope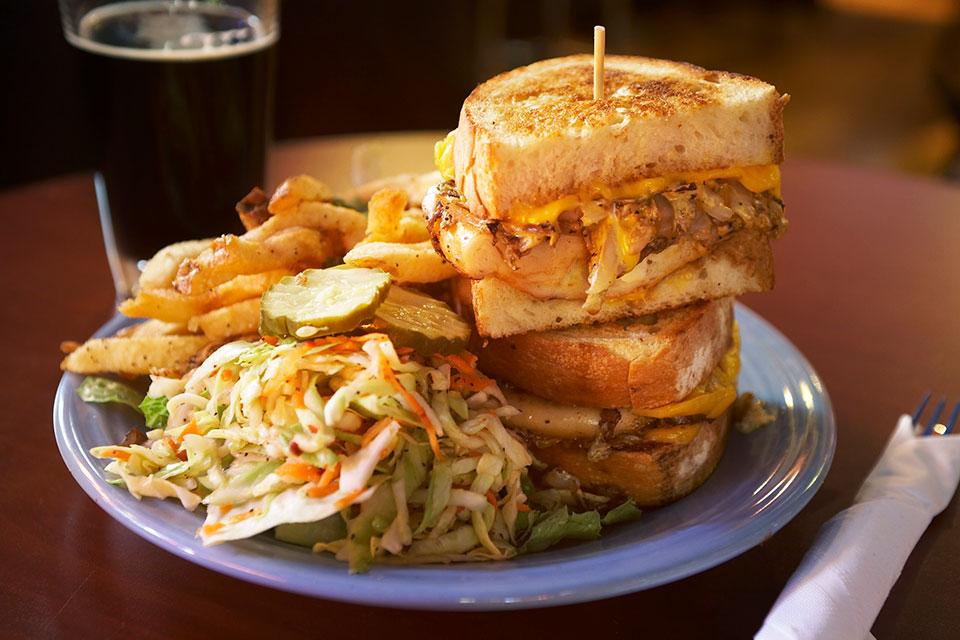 CHEAP EATS
Exploring works up an appetite. Here are 10 family-friendly spots with great deals to check out during your travels.
Melt Bar & Grilled offers monstrous sandwiches for adults and a $4 kids menu.


Bagel Street Deli
With 73 bagel sandwiches on the menu, including veggie and tofu options, plus the chance to DIY it with a choice of more than 20 bagel flavors, 40 toppings and six handmade cream cheeses, any craving can be met. Want to keep it simple? Go with Tom's Turkey for $4.50.
27 S. Court St., Athens 45701, 740/593-3838,
athensbagel.com
Benny's Pizza
Loads of toppings, two different sauce options, homemade crust and specialties such as southwest smoked pizza keep customers coming back to this Marysville spot. An 18-inch family-size pie with cheese is $16.35.
968 Columbus Rd., Marysville 43040, 937/644-8383,
bennyspizza.com
Berardi's Family Kitchen
It started with hand-cut french fries at Cedar Point in 1942. Since then, this diner has become a family favorite for its plate-sized pancake meals under $5. Want lunch? Get half a chunky chicken salad sandwich on toast with a cup of soup for $7.59.
1019 Perkins Ave., Sandusky 44870, 419-626-4592,
sanduskyberardis.com
Blue Ash Chili
Chili done Cincy style gets fancied up at this landmark spot that has been doling out premium chili dishes from family recipes since 1969. Everything on the kids' menu — from the 3-Way Meal to Double PB&J — is just $4.60. Chili offerings for adults top out at $6.59.
9565 Kenwood Rd., Blue Ash 45242, 513/984-6107; 4200 Aero Dr.,
Mason 45040, 513/492-9650,
blueashchili.com
Bouchard's Anything's Pastable
Fresh, homemade pasta with unlimited toppings for $7 make this a great on-the-go bargain meal for those visiting Cincinnati. The options are wide open, but try two hearty bundles of crushed red pepper linguini tossed in spicy house-made Arrabbiata sauce, thickened up with some broccoli, spinach and garlic.
1801 Race St., Cincinnati 45202, 513/381-5838, findlaymarket.org


Melt Bar & Grilled
Monster grilled cheeses with a side of fries average around $10 (and they're nearly enough to split) while the kids' menu is a flat $4 ($2 on Tuesdays), offering fun options such as the Melt PB&J and the Half Kindergarten.
Various Greater Cleveland locations; 840 N. High St., Columbus 43215,
meltbarandgrilled.com
OinkADoodleMoo Barbecue
Once the name has your attention, be further enticed by the brisket "sammich" slathered with barbecue sauce and served with a side of corn pudding for $7.99. Want something that'll cover your whole crew? The family dinners at this southwest Ohio barbecue spot start at $24.99. Plus, kids eat free on Tuesdays.
Various Dayton-area locations, 877/741-7427,
oinkadoodlemoo.com
Old Canal Smoke House
Folks love the quirkily named Pig Chips ($5.99) and Nest of Armadillo Eggs (jalapenos stuffed with bacon-wrapped chicken on a bed of potatoes, $7.79). Or, start with some Smokehouse Shrooms ($7.99 — and wait till you see the size of these things) and share a half-chicken platter with two sides and corn bread for $12.99.
94 E. Water St., Chillicothe 45601, 740/779-3278, oldcanalsmokehouse.com
Schmuckers Restaurant
A Toledo favorite since 1948, the place is known for its selection of handmade pies and long hours (open 5 a.m.–11 p.m. daily except Sunday), so it can handle any road tripper's noshing needs. Get a rise-and-shine breakfast for $4.39, meatloaf sandwich for $3.69 or a roast beef dinner for $9.19.
2103 N. Reynolds, Toledo 43615, 419/535-9116, schmuckersrestaurant.com


Swensons Drive In
Cruise in, and stay in your seat to indulge in Swenson's beloved Galley Boy burger ($3.19) — two beef patties with cheese, slathered with mayo-style onion sauce and zesty barbecue and smooshed between a slightly sweet buttered bun. Meanwhile, a plain old burger will run you just $1.90.
Various Akron-area locations,
swensonsdriveins.com


FREE FOR ALL
From art to the Air Force, some of the state's largest and most popular museums charge no admission while offering activities that cater to the entire family.


The Toledo Museum of Art is just one of several world-class museums throughout our state that is free to visitors.
Cincinnati Art Museum
While docent-led tours run every afternoon at 1 p.m., the Family ARTventures tours on Saturdays at 3 p.m. provide an interactive experience that caters to your entire crew. "On a tour about painting, the Painting Art Cart allows [kids] to see a painting in process, hold a palette or feel the types of brushes," explains Emily Holtrop, director of learning and interpretation. "Kids learn the best when they can explore with all of their senses." Some of the museum's programming, such as artist talks and musical performances, come with a cost, but visitors are always free to browse the permanent collection containing more than 60,000 works.
953 Eden Park Dr., Cincinnati 45202, 877/472-4226, cincinnatiartmuseum.org

National Museum of the United States Air Force
The museum's massive hangars span the history of military aviation, starting with the Wright Brothers' innovations at the start of the 20th century and continuing on to today's high-tech fighter jets. Once a month, Family Day offers extra free activities. Built on a theme, each Family Day features story time, crafts, science demonstrations and more. "My kids love to come," says Sarah Swan, the museum's public affairs specialist. "One time they got to sit in an injection seat and try on oxygen masks. … It's always fun to see the looks on their faces."
Wright-Patterson AFB, 1100 Spaatz St., Dayton 45433, 937/255-3286, nationalmuseum.af.mil

Cleveland Museum of Art
Following its recent $350 million renovation and expansion, the museum now boasts a glass-ceiling atrium and the groundbreaking Gallery One, an interactive museum experience. Visitors can create a customized tour (or browse existing ones) at the Collection Wall and download them to an iPad or iPhone. "Technology like Gallery One actually helps you understand the authentic object," says interim museum director Fred Bidwell. "It takes away the barriers and mystery." Studio Play, located within Gallery One, is a kid-focused space with creative activities.
11150 East Blvd., Cleveland 44106, 216/421-7350,
clevelandart.org
Toledo Museum of Art
Here, families can connect with works through Gallery Gear — activity kits that spur conversations throughout the museum. For example, Emily Brock's detailed glass sculpture "The Counterman-Diner" is explored via a multisensory approach. Kids can view it while listening to a card that emits the sound of cracking eggs and frying food. A scent card mimics the smells of cherry pie and coffee. "Kids usually approach art in a very personal kind of way," explains Kathy Danko-McGhee, the museum's education director. To zero-in on some of the other 30,000 works included in the museum's 35 galleries, Gallery Hunts let visitors play detective, locating selected pieces by color and texture.
2445 Monroe St., Toledo 43620, 419/255-8000,
toledomuseum.org
Day Pass
These six art museums offer free days at least once a month.
• Akron Art Museum:Every Thur.,
akronartmuseum.org
• Columbus Museum of Art:Every Sun.,
columbusmuseum.org
• Taft Museum: Every Sun.,
taftmuseum.org
• Wexner Center for the Arts: First Sun., every Thur. after 4 p.m.
wexarts.org
• MOCA Cleveland: First Sat.,
mocacleveland.org
• Contemporary Arts Center: Every Mon. after 5 p.m.,
contemporaryartscenter.org