Travel
Slate Run Living Historical Farm, Canal Winchester
The 19th-century farmstead of Samuel Oman today teaches visitors what life was like during the heyday of Ohio farming.
July/August 2021
BY Nicholas Dekker | Photo by Megan Leigh Barnard
July/August 2021
BY Nicholas Dekker | Photo by Megan Leigh Barnard
Visitors to Slate Run Living Historical Farm can experience a fully functioning farm operating just as it did in the 1880s. It's more than a museum exhibition, though. Visitors can tour the farm, interact with farmhands, watch demonstrations and see animals up close. Best of all, it's not a re-creation. It's the actual renovated farmstead, including the 1856 gothic revival farmhouse and multi-bay barn, built by fourth-generation farm owner Samuel Oman.

"The 1880s were the heyday of farming in Ohio," says Peg Hanley, public information officer and spokesperson for the Columbus and Franklin County Metro Parks, which operates the site. "We haven't torn down buildings. If you're touring the farm, you'll see what it was like to be on a farm in the 1880s in Ohio. It was true to what the farmers did in the barns and in the field, and what the farm ladies did in the vegetable gardens and kitchens."

Slate Run stays so true to its roots thanks to a staff of dedicated employees who have a passion for living history and sharing it with the public.

"We never suffer for candidates," Hanley says. "They usually majored in something like history. When they go to school, they're learning coopersmithing or blacksmithing. They're a really dedicated, knowledgeable group."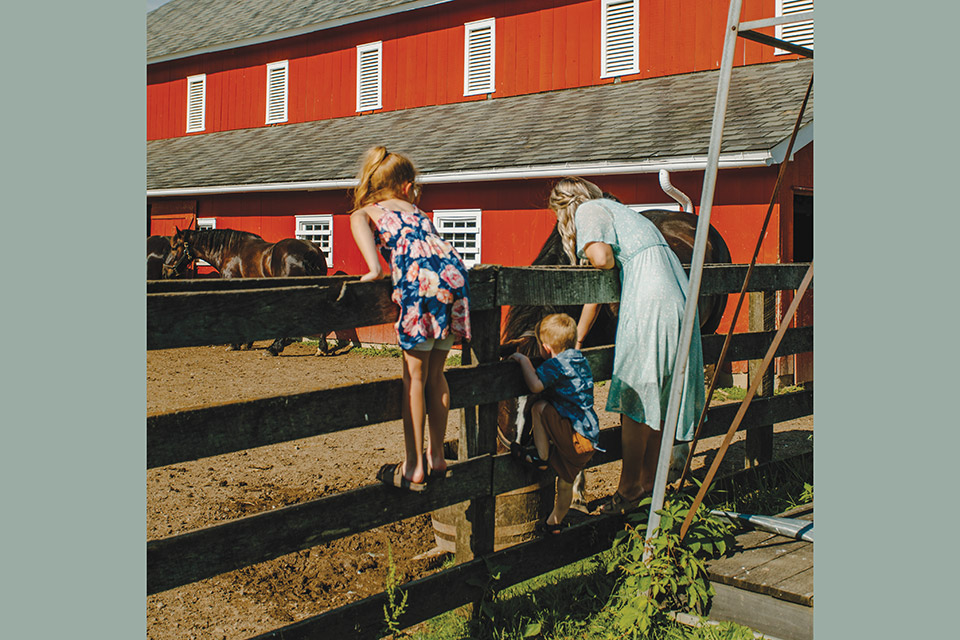 While some of Slate Run's regular programming has been modified, visitors can usually sign up on Saturdays to help with chores. Even if you're not volunteering, you can engage the farmers — dressed in period-appropriate long-sleeved shirts and pants — and learn about plowing, planting, repairing tools, raising animals, mending clothes and cooking.
Slate Run is also home to a host of animals, including chickens, pigs, turkeys, geese and Percheron draft horses. Visitors can learn about how these animals are raised and tended and how some livestock is butchered and smoked.

Hanley says it's the attention to detail that really makes the farm come to life. True to 1880s roles, the men tend to the fields, while the women cook the midday meal and ring the bell when it's time for lunch. Staffers make their own clothes, get water from the on-site pump, plant heirloom vegetables in the garden, and make and repair items using only tools available from the era.




"Sometimes you'll see the ladies in the farmhouse actually doing some of the sewing or playing the piano in the parlor," Hanley says. "If you're in the kitchen, you'll see period cookbooks. Instead of sugar, they're cooking their own sorghum."

The farm has long been popular for school tours, and many of the visitors and volunteers span generations of the same family. Hanley says Slate Run helps educate visitors and maybe even teach them the value of a slower-paced, more down-to-earth lifestyle.

"It hasn't changed — that's the beauty of it," she says. "When you park in the parking lot, you're walking the roadway to the farm. When you leave the farm after an hour, you're going a little slower." 1375 St. Rte. 674, Canal Winchester 43110, 614/833-1880, metroparks.net
See More Articles on:
Farms