Travel
Local Flavors
From fine dining to roadside barbecue, check out these tasty spots throughout Ohio's Appalachian region.
July 2014 Issue
BY Kara Kissell | ART BY
July 2014 Issue
BY Kara Kissell | ART BY
Murphin Ridge Inn
Adams County
Rolling southwest Ohio hills are the backdrop for three-course meals prepared from the inn's own garden, while breads, dairy and meats are brought in from local farms. "It's more like comfort food but with a gourmet little twist to it," says assistant innkeeper Levi Grooms. The 1828 brick farmhouse seats around 70 and reservations are suggested. Try This: Chicken and Waffles, $29. 750 Murphin Ridge Rd., West Union 45693, 877/687-7446, murphinridgeinn.com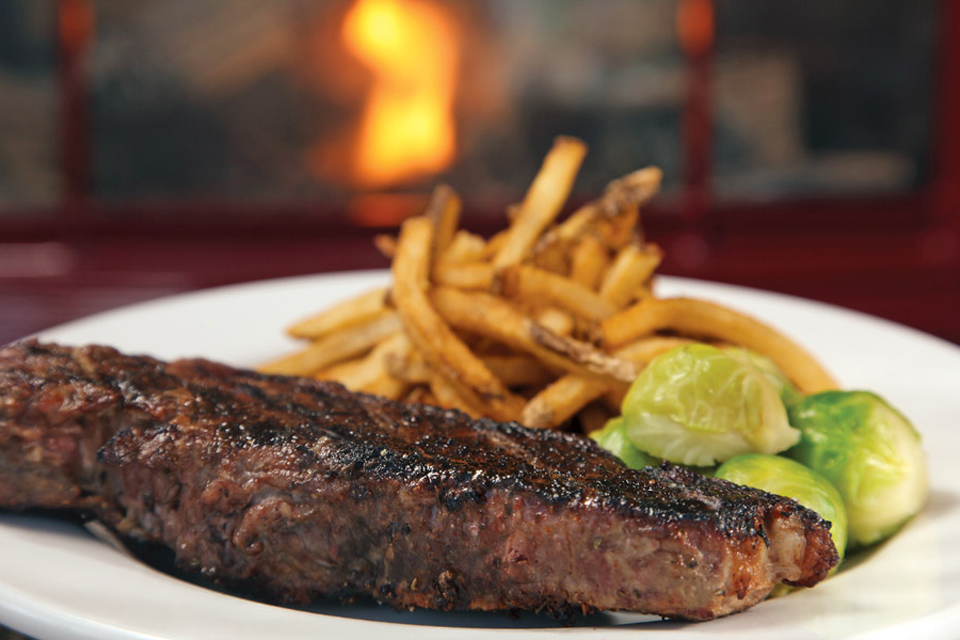 Crosswinds Grille
Ashtabula County
Chef Nate Fagnilli creates ultra-local, ultra-seasonal entrees at this Lakehouse Inn restaurant. "Different farming techniques, different soil compositions, just make the things taste different," he says. Meats are a constant on the Crosswinds Grille menu, while sides regularly change based on availability. "It's pure food," Fagnilli says. Try This: Miller Livestock/New Creation Farms Steak Feature, $30 (price varies). 5653 Lake Rd., Geneva-on-the-Lake 44041, 440/466-8668, crosswindsgrille.com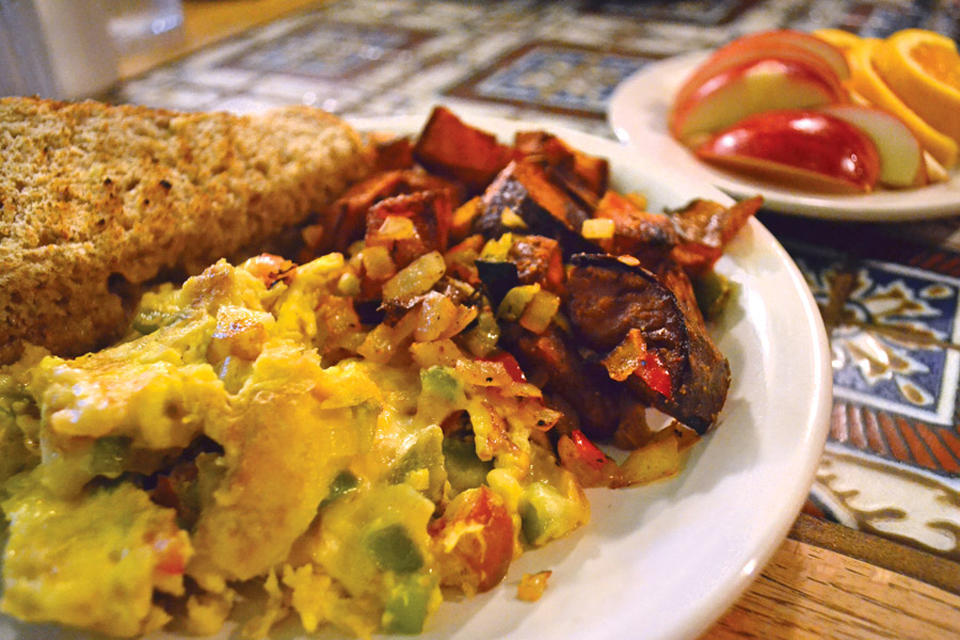 Casa Nueva
Athens County
Vegetables such as locally sourced radishes and organic carrots are used in Casa Nueva's twist on tacos, burritos and enchiladas. "We are serving stuff that you would never find in Mexico," says food coordinator Al Schmidt. "I don't know if you would find mashed sweet potato and pickled waxed pepper quesadillas." Try This: Vegetarian Chili, $4.50 (bowl). 6 W. State St., Athens 45701, 740/592-2016, casanueva.com

O'Betty's Red Hots
Athens County
Photos of vintage burlesque dancers line the walls of this teeny spot, but the true stars here are the all-beef hot dogs from Cleveland's Storer Meats. Seasonal specialties feature local produce and sauces from neighboring restaurants. Owner Bob Satmary has a rule for letting the flavorful dogs shine. "Crisp, clean ingredients are my favorite." Try This: The Dixie, $3.50. 15 W. State St., Athens 45701, 740/589-6111, obettys.com

20 Brix
Clermont County
This farm-focused restaurant offers modern American appetizers and entrees, as well as 120 wines by the glass. The tablecloths give an upscale feel, but the experience is full of casual charm. "Whether you want to wear a jacket or you want to come in fresh off of your 10-speed [you can] have a nice meal," says chef Paul Barraco. Try This: Verlasso Salmon, $24. 101 Main St., Milford 45150, 513/831-2749, 20brix.com

Cid's Smokehouse Grill
Guernsey County
Mack "Cid" Chiesa's barbecue stand is a just-off-the-highway revelation. The juicy menu offers Southern favorites such as racks of baby back ribs that sell so fast you'd be wise to call Tuesday for a weekend pickup. "Everything is cooked really low, really slow," says Chiesa. "You gotta pretty much hit the Carolinas or Texas to get this." Try This: Three-Part Combo Tray, $6. 13647 Clay Pike Rd., Senecaville 43780, 740/705-2555

Kindred Spirits
Hocking County
A stay at the Inn & Spa at Cedar Falls is elevated by a meal at its restaurant, Kindred Spirits. Housed in the property's two original 1840s log cabins, the restaurant features meat and seafood dinner options with inventive sides. "We try to make it as memorable and romantic as we can," says chef Doug Manfrin. Try This: Seasonal Ohio City Pasta, $23 (price varies). 21190 St. Rte. 374, Logan 43138, 800/653-2557, innatcedarfalls.com

Whitefire Grille
Mahoning County
Known for its 28-day, wet-aged steaks, Whitefire Grille recently unveiled a lunch menu boasting the same attention. Burgers made from a porterhouse tip-and-chuck grind make for a tasty midday meal. "Whether it's rare or it's well done, it's still got the juicy steak flavor profile every time," says general manager and executive chef Ken Daughenbaugh. Try This: Whitefire Burger, $9.50. 6580 Ironwood Blvd., Canfield 44406, 330/702-9866, whitefiregrille.com

Stockport Mill Inn
Morgan County
Dottie Senger only has to drive a few miles down the road from her riverfront inn to buy farm-fresh ingredients for her American comfort food menu. "People will come in and say, 'Oh, what did you do to this dang cabbage?' And I say, 'We just cooked it. That was in the field this morning, you know.' It makes that much difference." Try This: Sunday Southern Buffet, $14.90. 1995 Broadway St., Stockport 43787, 740/559-2822, stockportmill.com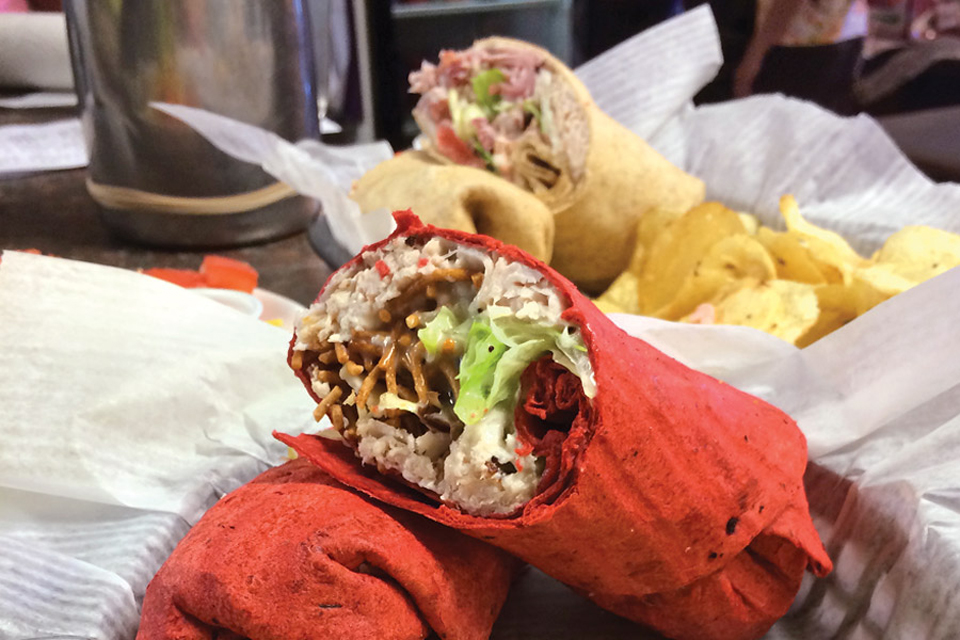 Market Street Café
Scioto County
Sandwiches, soups and salads are among the light lunch options at this quaint spot near the Ohio River. Early risers can start the day with a Creamsicle smoothie and scrambled-egg wrap or muffins made from scratch. "We have a lot of little groups that come [early] and stay the rest of the afternoon to chit-chat," says owner Mary Rase. Try This: Turkey Crunch Wrap, $6.29. 212 Market St., Portsmouth 45662, 740/354-6020

Canal Tavern of Zoar
Tuscarawas County
Zoar's German heritage is celebrated with schnitzels, spaetzle, locally made bratwursts and sauerkraut from the nearby Westbrook's Cannery. But chef Cameron Krahel also breaks from tradition, particularly with his house-made ice creams, such as smoked coffee, black pepper and honey house scoop. "The black pepper kind of tickles on the way down," he says. Try This: Tavern Meatloaf in a Crust, $16.50. 8806 Towpath Rd. N.E., Bolivar 44612, 330/874-4444, canaltavernofzoar.com

Lake Hope Lodge
Vinton County
This large, timber-framed lodge in the heart of Lake Hope State Park embraces a campfire feel with its hearty cuisine. But the all-Ohio meats cooked over a wood-fired smoker are far from backcountry eats. "[The smoker] gives a totally different permeation of the smoke into the meat," explains chef Matt Rapposelli. "It's a gentler, richer, deeper flavor." Try This: Brisket Platter, $14.95. 27331 St. Rte. 278, McArthur 45651, 740/596-0601, lakehopelodge.com

The Buckley House Restaurant
Washington County
Chef Emad Al-Masri's Mediterranean cuisine stretches from Northern Italy to Lebanon to Morocco, but his menu ingredients are mostly local. "[For our lamb shank,] our meat comes from Columbus," says Al-Masri. "We slow cook it for six hours and serve it with a pomegranate demi glaze." Sides vary, ranging from polenta to couscous to scalloped potatoes with fresh herbs. Try This: Crab Cakes, $28. 332 Front St., Marietta 45750, 740/374-4400, bhrestaurant.com


***
Brew Bites
They're breweries by name, but these spots are also known for tasty eats:
Portsmouth Brewing Co.:
This 1843 taproom is home to Ohio's oldest-operating brewery. Try the chicken wings ($8.99 per pound, $6 on Wednesdays).
224 Second St., Portsmouth 45662, 740/354-6106, pourtsmouthohbrewing.com
Weasel Boy Brewing Co.:
Enjoy traditional ales with the kitchen's specialty: whole wheat, beer-infused-crust pizzas ($8.99–$17.49).
126 Muskingum Ave., Suite E, Zanesville 43701, 740/455-3767, weaselboybrewing.com

Jackie O's Pub & Brewery:
Wooden barstools and barrel-base tables set the comfy vibe for locally sourced eats ranging from fried curds ($7) to the Shroom Burger ($10).
22–24 W. Union St., Athens 45701, 740/592-9686, jackieos.com