Travel
Inside the National Veterans Memorial and Museum
Columbus' beautiful and thought-provoking museum highlights the experiences of those who've risked their lives for the freedoms we enjoy.
November 2019
BY Vince Guerrieri | Photo by Brad Feinknopf
November 2019
BY Vince Guerrieri | Photo by Brad Feinknopf
There's a saying in Michael Ferriter's family: "Home is where the Army sends you." His father, a career military man, received the Distinguished Service Cross in the South Pacific in World War II, and the family moved 18 times during Ferriter's childhood. Three of Ferriter's four children have served in the military. And Ferriter himself retired in 2014 from a 35-year career in the Army that saw him move 20 times as he rose through the ranks from paratrooper to three-star general.

"Through no fault of my own, they promoted me," he jokes.

It wasn't military orders that led Ferriter from Fort Benning, Georgia, to Columbus in 2018. But it offered the same purpose, devotion to service and belief in something bigger than self that he found in the Army. Ferriter was hired to be the founding president and CEO of a national museum commemorating veterans and sharing details of the military experience. The National Veterans Memorial and Museum opened in October 2018 and has continued to refine its mission while not just educating the public but serving as a good neighbor and citizen — hallmarks of many veterans themselves, Ferriter says.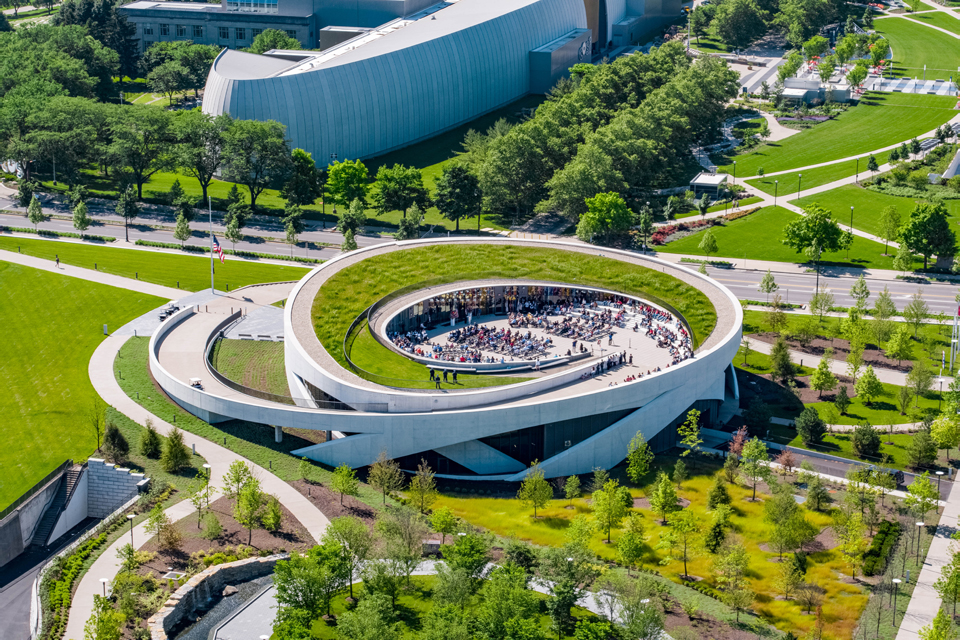 "As well as telling stories of veterans, we're here to impact the lives of veterans," he says.
The museum is built along the Scioto River, on the site of the former Franklin County Veterans Auditorium. The venue hosted many public events, including a concert by Elvis Presley, as well as Arnold Schwarzenegger's eponymous bodybuilding competition — but it wasn't really a tribute to the veterans who were its namesake.

"The only thing 'veterans' about it was the name," Ferriter says.

John Glenn, the Marine Corps pilot who went on to be an astronaut and U.S. Senator, was a strong backer of a veterans museum, but renovation of the auditorium to better serve that purpose was cost prohibitive. So, it was decided to build a new facility, originally to honor veterans statewide. But Ferriter points out that people in the military swear an oath to the U.S. Constitution, so museum organizers sought a partnership with the national museum that recognizes veterans — only to find there wasn't one.

Columbus' National Veterans Memorial and Museum, which has received a federal designation from Congress (but no federal funding, Ferriter notes), enlisted the expertise of Ralph Appelbaum Associates, a leader in designing the modern museum experience. Appelbaum's work includes the United States Holocaust Memorial Museum and the National Museum of African American History and Culture in Washington, D.C.; the National World War I Museum in Kansas City; and the presidential libraries for Bill Clinton and Barack Obama.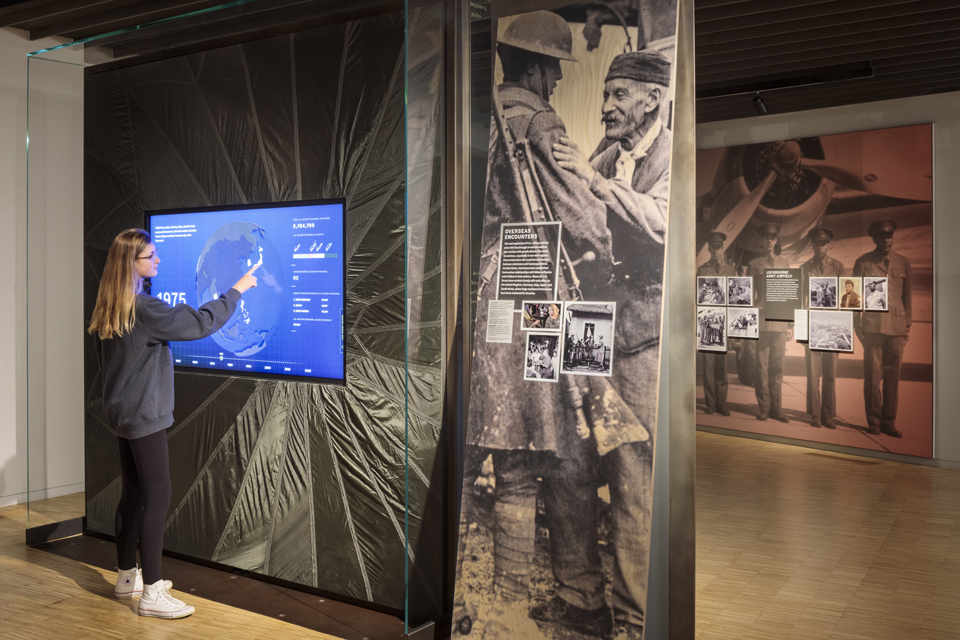 But creating this museum experience posed its own unique challenges. Although veterans are present in all walks of life, with only 1.3 million active military in 2018, the commonality of military service isn't what it was even a generation ago.
Also, the museum was to be devoted to an idea rather than an event. Appelbaum says that's becoming more common, but it had to be presented in a way that was accessible to the public.

"How do you separate the warrior from the war?" Appelbaum asks, before explaining that it also offered a unique storytelling opportunity. "The space had to give people the intimate understanding of how one becomes a veteran."

***

The National Veterans Memorial and Museum sits on a small hill looking out over Broad Street in downtown Columbus. Portland, Oregon-based Allied Works Architecture designed the building, which was poured using 28 million pounds of concrete. Architectural Digest heralded the structure as one of the most anticipated buildings of 2018, calling the design "a dignified form that appears to be organically grown from the ground."

The museum covers more than 53,000 square feet, and visitors are welcomed into the Great Hall, where 22 banners featuring Stacy Pearsall's portraits of veterans from all eras and branches hang from the high ceilings. Beyond the Great Hall, a continuous display documents the history of the U.S. military from the Revolutionary War onward, while 14 interactive alcoves merge technology and hands-on experiences with the personal stories of veterans — both well known and not.

There are boards where children and adults can ask questions of veterans and (in what has become one of the most popular spaces in the museum) a place to try on military hats and rucksacks.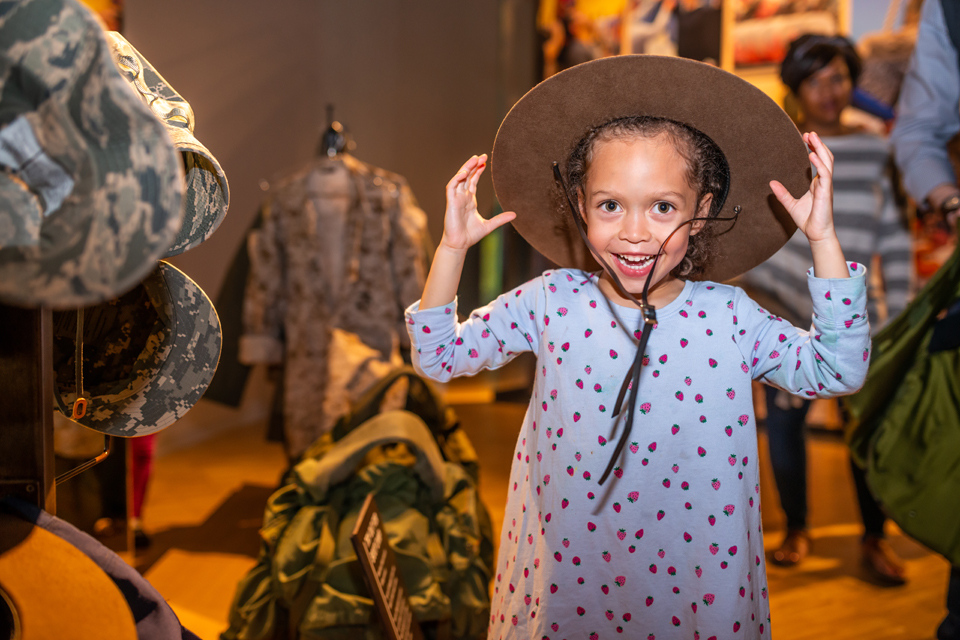 "I figured the kids would come in and dress up, but the veterans come in and do it," Ferriter says, noting that they see it as a way to reconnect with their military experience.

Famous veterans highlighted in the museum include John Glenn, actor Jimmy Stewart and the Tuskegee airmen, who had a significant presence at Lockbourne Air Force Base in Columbus (now Rickenbacker Airport) following World War II.

The story of the veteran experience is told through video recollections of those who served, from World War II to the present, and gradually, visitors come to understand the journey from being an individual to part of a cohesive unit — being part of a group that's bigger than one's self.

One of the recurring themes in the museum is President John F. Kennedy's inaugural address in 1961, in which he exhorted Americans to "ask not what your country can do for you — ask what you can do for your country." Kennedy, a World War II veteran of the U.S. Navy, started the Peace Corps as president, and the museum reflects not only on veterans' military service, but on how they continue to keep serving, which supports a pillar of the museum's mission: inspiring others to serve.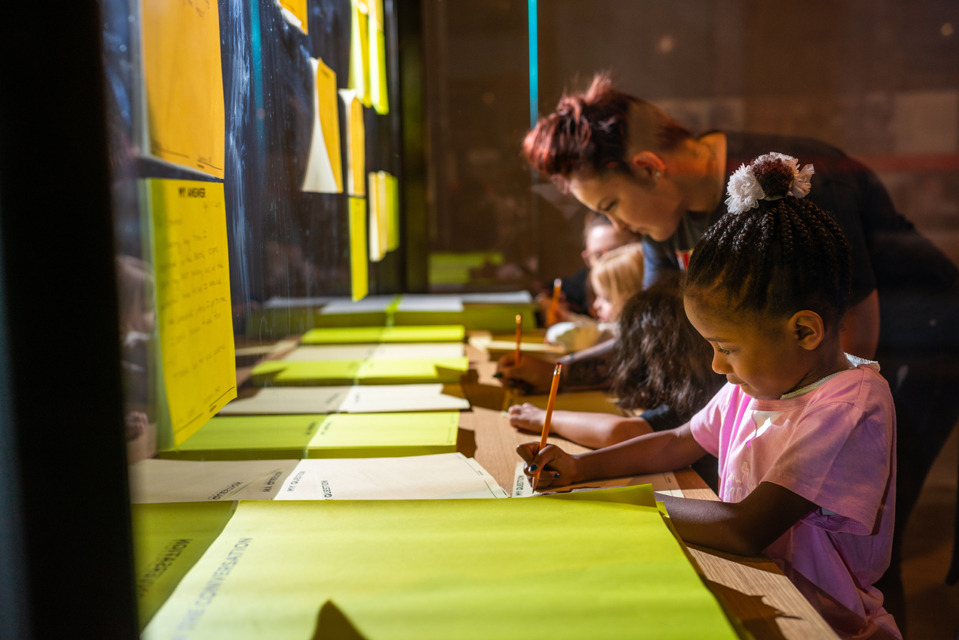 "Veterans have qualities that we want to remind people of," Appelbaum says. "They were trained with military virtue and often come home with a sense of purpose. They vote more. They volunteer more."
The museum also works to support veterans, who suffer from higher suicide rates than the national average, particularly veterans with post-traumatic stress disorder. That's why another of the museum's pillars is to serve as a hub for veterans to connect with one another, as well as connecting visitors to veterans.

"When veterans are connected and having a positive experience — anything from golf to riding bikes to building houses — we see the number of suicides subside, depression subsides, alcoholism subsides," Ferriter says.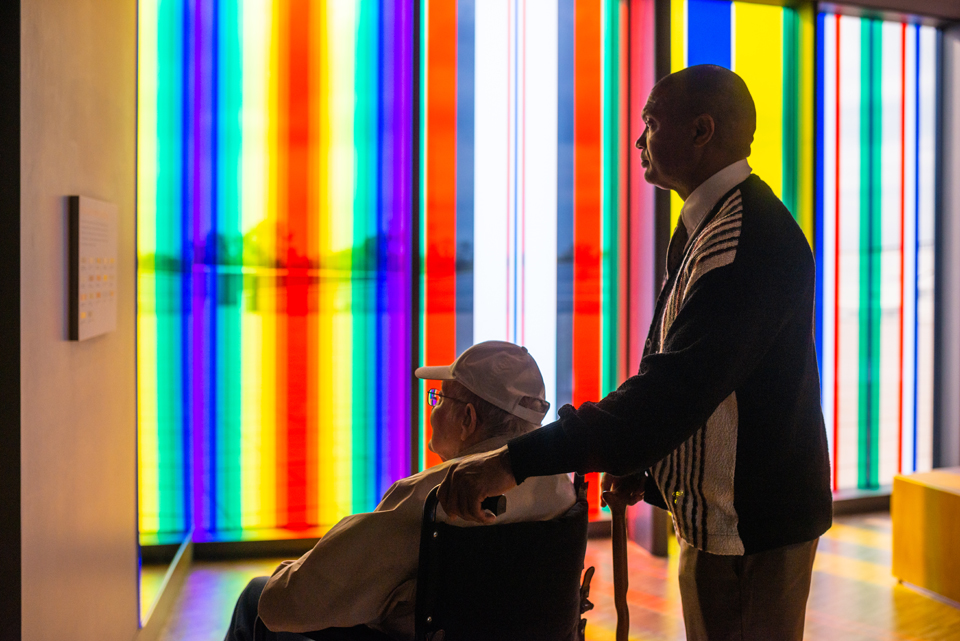 That reverence for veterans and their experience is further exemplified in the Remembrance Gallery — a space defined by floor-to-ceiling stained glass windows inspired by the colors on military service ribbons from the Civil War to present day. Outside the museum, the 2.5-acre Memorial Grove planted with American elms is designed as a place of contemplation and provides visitors the opportunity to reflect on what they've learned before returning to their lives made possible by those who've served. The grove's limestone wall bears the Latin words "E Pluribus Unum" — "From many, one."
The National Veterans Memorial and Museum will ultimately expand its mission of collecting veterans' stories by way of two Ohio-made Airstream trailers that were donated and are being modified to serve as mobile museums. Kroger and Wendy's — two other Ohio-based companies — have offered any of their parking lots in the nation for use during the trailers' travels. Ferriter says support for the museum's mission, particularly in the Columbus community, has been unwavering.

"Everywhere we have gone," he says, "people have wrapped their arms around us."

Visit website for museum hours and admission. 300 W. Broad St., Columbus 43215, 888/987-6866, nationalvmm.org