Travel
Food Road Trips
From Cincinnati-style chili to Hungarian hot dogs to a gargantuan burger, dig into time-tested classics and new favorites.
March 2015 Issue
BY Staff & Contributors | Photo by Eric Wagner
March 2015 Issue
BY Staff & Contributors | Photo by Eric Wagner
As Seen on TV
Food Network has tackled Columbus' mega-burger, sung the praises of Cleveland's butter-bathed pierogi and taken on the biggest cheese melt Ohio has ever seen.

The Thurman Cafe | Columbus
Adam Richman may have eaten his way across the nation on "Man v. Food," but he didn't quite know what to make of The Thurman Burger when he bellied up to it in on his Travel Channel series. The 12-ounce beef patty loaded with ham, lettuce, tomato, pickle, banana peppers, mayonnaise, sauteed mushrooms and onions, and American and mozzarella cheeses is intimidating. But it's got nothing on The Thurmanator — a double burger that has all of the toppings above plus bacon and cheddar cheese. The powerhouse was created for athletes in town for Arnold Schwarzenegger's Arnold Sports Festival. "It's a novelty thing," says co-owner Mike Suclescy. "People love to take a picture of it." Suclescy's grandparents founded the place as a neighborhood bar in 1942. When he and his sister, Donna Devol, took over the establishment from their parents in 1985, they created a sandwich-focused menu, which now includes 22 three-fourth-pound burgers. "We have a bun made specifically for us that will hold up to our 12-ounce burgers," says Suclescy. "It's just a little bit denser, so it won't fall apart as easy." 183 Thurman Ave., Columbus 43206, 614/443-1570, thethurmancafe.com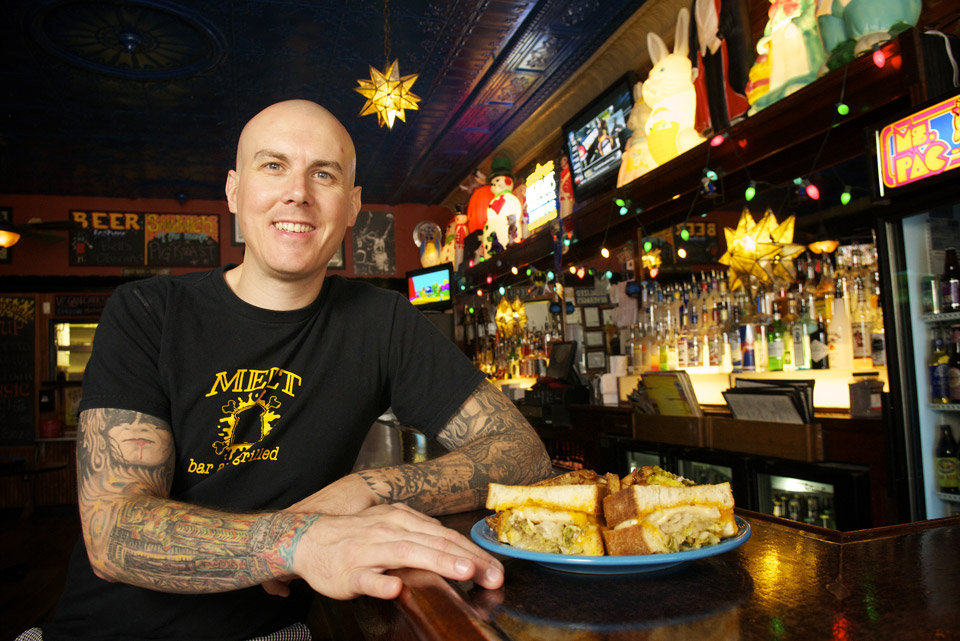 Melt Bar & Grilled | Lakewood
The 5-pound Melt Challenge (13 types of cheese on three slices of bread, hand-cut fries and coleslaw) served as the finale of one "Man v. Food" episode (Adam Richman finished it, too), but Ohio's famous gourmet grilled-cheese spot offers a more manageable lineup of 23 melts ranging from the the classic Kindergarten to the Backyard BBQ (pulled pork or chicken or braised beef, thick-cut battered onion rings, barbecue sauce and sharp cheddar). "My goal is to treat the food like a five-star, white-tablecloth restaurant," says owner Matt Fish. "Except our avenue is the humble grilled cheese sandwich." 14718 Detroit Ave., Lakewood 44107, 216/226-3699 (other northeast Ohio and central Ohio locations), meltbarandgrilled.com

Sokolowski's University Inn | Cleveland
Iron Chef Michael Symon gushed about this place's potato and cheese pierogi during a 2010 episode of Food Network's "Best Thing I Ever Ate." That's just the start of what draws big crowds to this cafeteria-style spot specializing in Eastern European classics such as stuffed cabbage, bratwurst and pork chops. Still, the famous potato dumplings, which soak in a melted-butter-and-onion bath before hitting your plate, are hard to resist. As co-owner Mike Sokolowski said when Food Network featured his family's pillows of potato and cheddar cheese, "Nothing beats homemade pierogi." 1201 University Rd., Cleveland 44113, 216/771-9236, sokolowskis.com

Blue Ash Chili | Blue Ash
Guy Fieri went wild for Blue Ash Chili on "Diners, Drive-Ins and Dives," offering Food Network viewers a glimpse of what Cincinnati-style chili is all about (served over spaghetti and topped with shredded cheese, onions and beans). Fieri's visit is immortalized here with Guy's Way, a simple bowl of chili topped just the way he liked. "Guy loved our chili with onions and crackers," says co-owner Nick Insco, adding that visitors often ask for eats featured on the show. "The main dish people want is the Chili Philly, because they get both the roast beef and chili." 9565 Kenwood Rd., Blue Ash 45242, 513/984-6107, blueashchili.com

***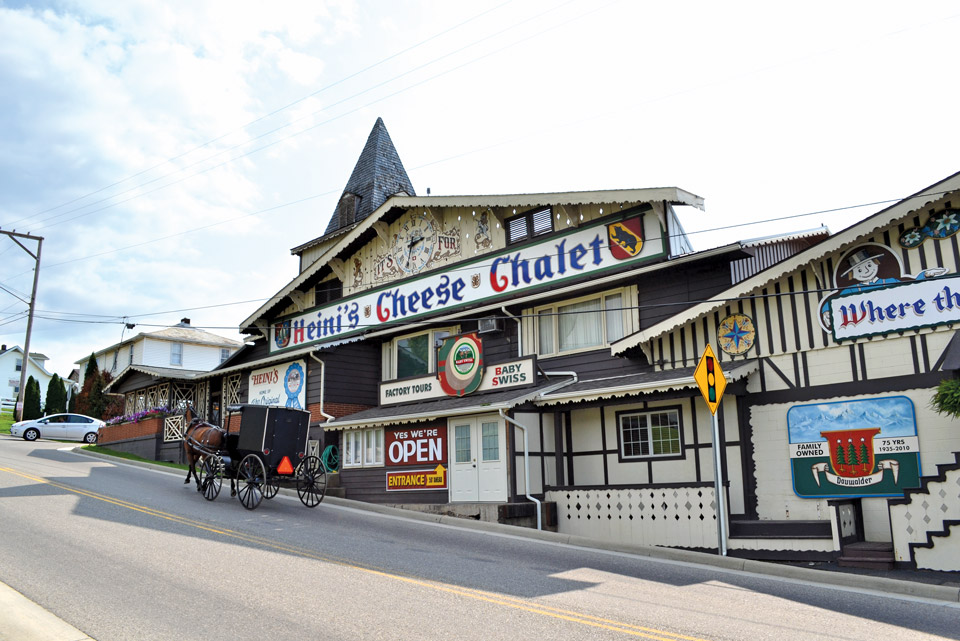 Cheese Great
Walking the aisles of Heini's Cheese Chalet in Holmes County means the chance to sample from dozens of flavors before deciding which ones to take home.

The company that supplies toothpicks to Heini's Cheese Chalet must be very happy. Customers use thousands of them each week to harpoon cheese samples as they browse the aisles packed with traditional and creative varieties.

"People told us we would go out of business giving away all the samples, but it's something Dad wanted to do," says Lisa Troyer, a third-generation member of the Swiss heritage Dauwalder family, which has been making cheese in the Holmes County area since 1935. "When you invite someone into your house, you want to give them something, and this is our home."

In 1962, Troyer's parents, Peter and Nancy Dauwalder, bought the company then known as Bunker Hill Cheese. A name change to Heidi's was proposed, but a copyright conflict with a local restaurant of the same name prevented the selection. Troyer's Grandma Lili saved the day, even after the product labels were all printed to say Heidi's. She suggested the family use black markers to change the "d" in Heidi's to an "n," giving the business another common Swiss name instead.

Today, Heini's makes around 50 varieties of cheese using milk delivered by Amish farmers from the area. "We receive fresh milk every day from between 200 and 250 local Amish farms whose average herd is about 10 to 12 cows," says Troyer. The milk is pasteurized and poured into stainless steel vats. Cultures are added to give each variety its distinct flavor and texture. The curds are separated from the whey and the cheese is then cut into wheels or bricks.

Free 20-minute tours offer insight into the 11-step cheese-making process and are available from 8 a.m. to 5 p.m. (Cheese is usually made in the mornings between 9:45 and 11:30 a.m, but check Heini's website for schedules.) Saturdays can get busy, while weekdays make for easier sampling.

Heini's also carries bulk foods, maple syrup, meat products such as beef jerky and locally made fudge, but the cheese showroom is the big draw. The long rows of wooden-sided coolers are filled with feta, Gouda, Lacey Baby Swiss, Fire Hot Pepper Cheese, Bacon Cheddar Cheese and many other flavors for which Heini's is known.

"My dad was the inventor of our signature product, yogurt cheese," say Troyer. "And that is famous across the country." 6005 Cty. Rd. 77, Millersburg 44654, 330/893-2131, heinis.com


FOOD FINDS: Cheese

Guggisberg Cheese: Located in the heart of Amish Country, this Millersburg tourist spot offers a taste of the Alps. Billed as the "Home of the Original Baby Swiss" — a creamy award-winner developed by Alfred Guggisberg 50 years ago — Guggisberg Cheese also stocks cheddar wheels, trail bologna and gourmet meats and condiments. "We take pride in the fact that people who come here can actually see the cheese being made, then purchase the end product — all in one place from start to finish," says marketing coordinator Ursula Guggisberg-Bennett, Alfred's granddaughter. 5060 St. Rte. 557, Millersburg 44654, 800/262-2505, babyswiss.com

Pearl Valley Cheese: For four generations, the Stalder family has been making cheeses that draw thousands of visitors to their southeast Ohio shop each year. In addition to traditional Swiss and colby, Pearl Valley offers 25 other varieties, including zesty blends featuring pepperoni, jalapeno and horseradish. "Our goal is to turn your first memory of the store into a tradition, so you return again and again," says co-owner Sally Ellis, whose grandparents founded the company in 1928. "We like to get to know our customers. They don't just buy cheese — they taste it, learn about it and discover new favorites." 54775 Twp. Rd. 90, Fresno 43824, 740/545-6002, pearlvalleycheese.com

***

Famous Names
From a Hungarian hot dog purveyor immortalized by "M*A*S*H" to the historic spot visited by 12 U.S. presidents, these places serve history and culture as a side.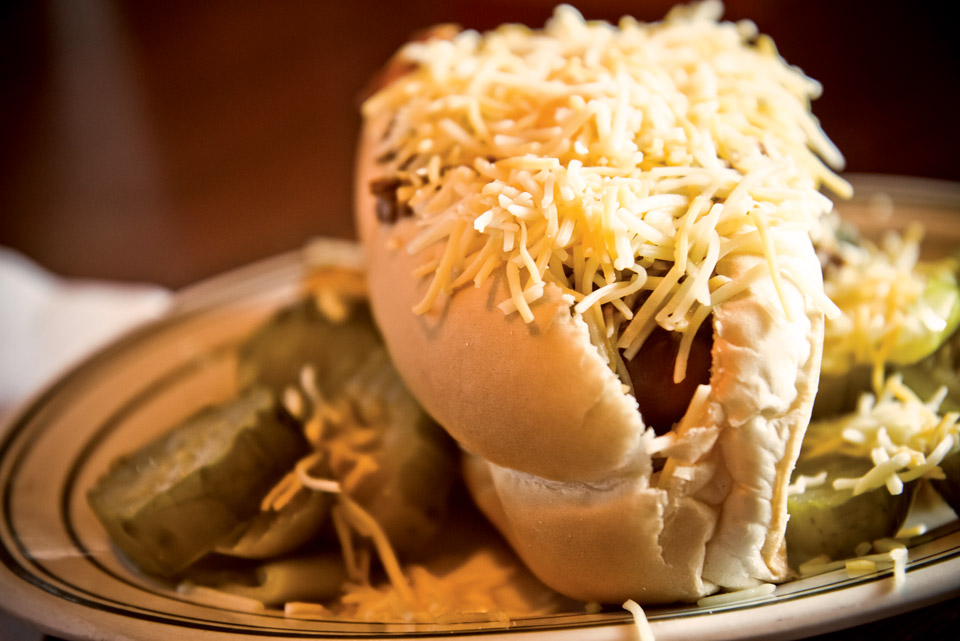 The Original Tony Packo's | Toledo
Ever since Tony Packo's opened in 1932, locals have loved the restaurant's roast beef sandwiches, fried pickles and other comfort foods. But it's the Hungarian hot dog — a beef and pork sausage slathered in onions, mustard and a special sauce — that made the place famous. In 1972, Toledo native Jamie Farr landed a starring role on the television show "M*A*S*H." Farr's character, the zany Corp. Max Klinger, was also from Toledo and often waxed poetic about his hometown, proclaiming on the Feb. 24, 1976, episode that Tony Packo's had the greatest Hungarian hot dogs. The restaurant was referenced five more times over the show's remaining seven seasons. "Those mentions made a memorable impact on our business," says Tony Packo Jr. "And, through the magic of reruns, they continue to do so." Packo estimates that 5,000 celebrities passing through town have stopped in to grab a bite (and sign a Styrofoam bun for display) over the decades. "One evening a few years ago, Danny Glover came to the back door in a limousine after we'd closed," Packo recalls. "He said he'd been hearing about the hot dogs all day and didn't want to leave Toledo without trying one. Of course, we were happy to accommodate." 1902 Front St., Toledo 43605, 419/691-6054, tonypacko.com

The Golden Lamb | Lebanon
Ohio's oldest continuously operating business has been serving diners passing through Lebanon since 1803. The restaurant and inn's location between Cincinnati and the National Road made it a natural stop for dignitaries such as Charles Dickens, Harriet Beecher Stowe and a total of 12 U.S. presidents over the years. "People come to see and feel the history of the building," says Tim Price, assistant general manager. The restaurant serves lunch, dinner and weekend brunch and offers a meat-and-potatoes menu that focuses on local ingredients and simply prepared dishes. 27 S. Broadway, Lebanon 45036, 513/932-5065, goldenlamb.com

Schmidt's Sausage Haus | Columbus
This place has been making authentic German eats since it began as a meat-packing house in 1886. "With five generations of authentic German recipes under our roof, we have become an icon in Columbus," says owner Geoff Schmidt. Schmidt's one-third-pound, hickory-smoked sausage — the Bahama Mama — offers a flavor of what this place is capable of. Those who want to try a little of everything order the Autobahn Buffet. "The buffet features our most popular dishes," Schmidt says, "which showcases exactly what gives us our name." 240 E. Kossuth St., Columbus 43206, 614/444-6808, schmidthaus.com

Gun Room | Marietta
Located in the 97-year-old Lafayette Hotel in downtown Marietta, the Gun Room is named after its collection of handcrafted long rifles on display that date back to 1795. "The guns were left for us by the original owners, so we incorporated those," explains front desk manager Julie Hambrecht. Reflecting its location along the Ohio River, the 1946 dining room is decorated with steamboat instruments and pilot wheels. The menu features steak and seafood, including the eatery's popular crab cakes. 101 Front St., Marietta 45750, 740/373-5522, lafayettehotel.com

Orchids at Palm Court | Cincinnati
This restaurant melds the original 1930s lobby of the Hilton Netherland Plaza hotel with executive chef Todd Kelly's modern American menu. "It's one of the finest examples of French art deco architecture in the country," he says. "I really wanted to pay homage to some of the classic dishes … and then put modern approaches and techniques into them." Rather than using the traditional French method of steaming fish inside parchment paper, Kelly makes his red snapper en papillotte with light and flaky dough complemented by seasonal flavors, such as green onions in the spring and leek puree in the fall. 35 W. Fifth St., Cincinnati 45202, 513/421-9100, orchidsatpalmcourt.com

***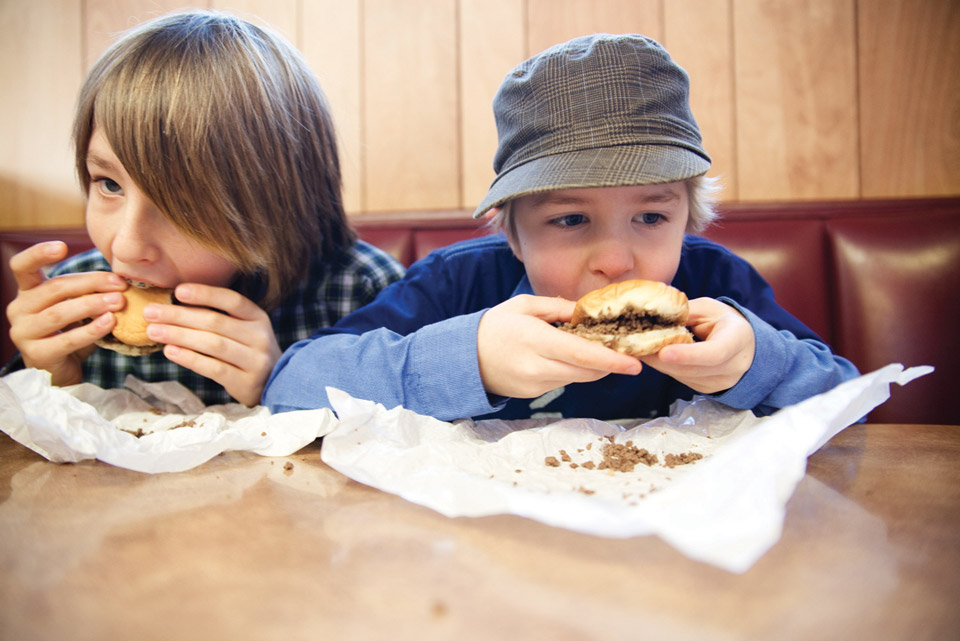 Local Legend
A trip to The Maid-Rite Sandwich Shoppe in Greenville offers a step back in time and an authentic taste of a Midwestern classic.

With more than 80 years of service, no restaurant has defined cheap eats in the quaint and light bustle of downtown Greenville quite like The Maid-Rite Sandwich Shoppe. And no product has defined Maid-Rite's popularity and longevity like its loose-meat sandwich.

"You see so many business models changing constantly, and we've just stuck with a good, quality product," says Mark Koontz, whose family opened the restaurant in 1934. "It's awesome to know that you have that many loyal customers, and our 'keep it simple' method seems to work."

Today, Maid-Rite stands in its retro glory with faded brick walls and a vintage sign illuminating the words "Carry Out" and "Window Service." Despite its charming and rustic aesthetic, perhaps the most striking feature of Maid-Rite's exterior is its "Wall of Gum." In fact, the entire exterior of the rectangular brick building is speckled with thousands of pieces of discarded chewing gum.

There are varying theories about its origin, but the common thread is that patrons who didn't want to bring their gum into the restaurant could leave it outside as a way to make their mark.

"We've tried to take off parts of it here and there," Koontz says. "But people can point out the piece of gum they stuck on at one time, and it's one of those things where we think, Who are we to scrape off a memory that these people had back then?"

Since it opened, the restaurant's Maid-Rite Sandwich has been the cornerstone of a menu that also includes shakes, chicken salad, egg salad sandwiches and Mikesell's chips. While Koontz refuses to give away any details regarding the family's secret recipe, Maid-Rite's loose-meat sandwich has all the distinct qualities that made the style a Midwest sensation.

Rather than traditional burger patties, the Maid-Rite Sandwich features seasoned and steamed ground beef served on a slightly steamed sweet bun. Onions, pickles and mustard give the sandwich a tangy flavor that goes well with the beef's secret seasoning. Maid-Rite offers loose-meat variations including the Cheese-Rite and the Big Jim. The latter — a sandwich named after founder Louise Maher's brother-in-law — adds a slice of ham and cheese to the restaurant's signature creation.

"I think it's great to come back to something that doesn't change," Koontz says. "No matter what happens around you, you always have that staple that stays the same."

125 N. Broadway St., Greenville 45331, 937/548-9340, maidrite-greenville.com


FOOD FINDS: Sandwiches

Katzinger's Delicatessen: From the giant menu boards to the help-yourself barrel of dill and garlic pickles, this New York-style deli in Columbus' German Village has an eye for authenticity. The Katzinger's Reuben is the deli's best-selling sandwich, but the menu offers plenty of other options. All come in two sizes, and no detail is too small, from marinating the brisket for 48 hours to buying bread from Pittsburgh's Mediterra Bakehouse. "It has the perfect crust," says owner Diane Warren. 475 S. Third St., Columbus 43215, 614/228-3354, katzingers.com

Slyman's Restaurant: Piled 5 inches high, Slyman's signature corned beef stands tallest on its short list of sandwiches. Open since 1963, this Cleveland spot frequently cooks 600 pounds of corned beef a day to keep up with its lunch crowd. Aside from the sandwich's sheer size, Slyman's corned beef is known for its very thinly sliced brisket. "We use slicers that are sharpened daily," says owner Freddie Slyman. "You wouldn't believe the difference in the taste from the way the meat is sliced." 3106 St. Clair Ave., Cleveland 44114, 216/621-3760, slymans.com


Shopping Trips
Make room in your trunk and be sure to pack a cooler. A visit to any of these markets will inspire you to stock up.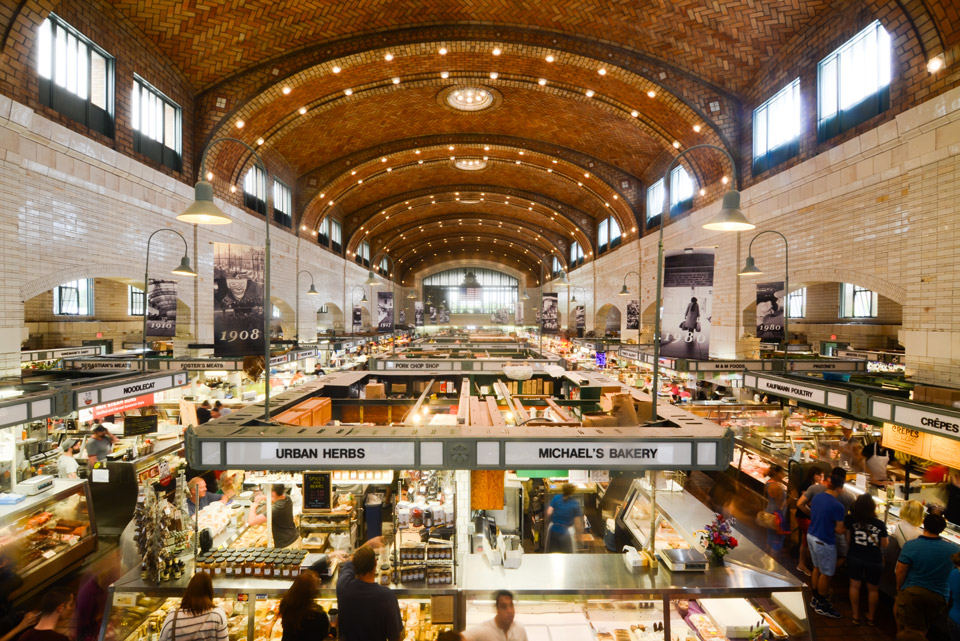 West Side Market | Cleveland
From the homemade liverwurst at the Old Country Sausage stand to the plantains at Marina's Produce to the Hungarian strudels at K&K Bakery, this 103-year-old public market is an amalgam of cultures and flavors. The city's history is reflected in the longtime vendors who call the landmark home, but startup sellers with ties to the city's vibrant food scene have also found a place here. Alexia Rodriguez and Emma Beno, owners of The Pork Chop Shop, scooped up their stall three years ago and began learning the art of butchery. "We would get the hogs in, break them down and custom cut until we got it right," says Rodriguez. The duo's popular spicy chorizo is sold by the pound at the market and is used by restaurants throughout the city. For Rodriguez, the market's tradition is palpable. "You can't go anywhere else in the city where a market like this has been standing on its own for 100 years, through many cultures, many decades," she says. "It's a generational place for some. … It is part of their family and the energy of that is collectively felt in the market." 1979 W. 25th St., Cleveland 44113, 216/664-3387, westsidemarket.org

Troyer's Country Market | Millersburg
Already distributors of Amish meats and cheeses to stores across Ohio, the Troyer family opened its own market in 2006. "For years and years, [our family] has been going all over the country and finding specialty items," says co-owner John Troyer, who runs the Holmes County business with his brother Jonas. "It is truly a treasure hunt." Troyer says some of the finest fare is found close to home. The family's line of locally canned goods, sold under the Amish Wedding brand, offers an array of authentic Amish jams, jellies, relishes and sauces. 5201 Cty. Rd. 77, Millersburg 44654, troyerscountrymarket.com

North Market | Columbus
Conveniently located near the Columbus Convention Center, North Market caters to on-the-go foodies. A third of the market stalls are dedicated to prepared foods, ranging from Vietnamese to Polish to Italian cuisines. Fans of Hot Chicken Takeover are often found lining up before the market even opens, and visitors can grab a transcendent scoop from the original Jeni's Splendid Ice Creams stand. "You are going to get a real 'best of' when you come here," says executive director Rick Harrison Wolfe. 59 Spruce St., Columbus 43215, 614/463-9664, northmarket.com

Jungle Jim's International Market | Fairfield
What started as a stand in 1971 has grown into a 200,000-square-foot store that sells more than 150,000 items. Obscure specialties from around the globe — kangaroo meat, cactus paddles and elusive spices — are found throughout the maze-like aisles. "There are edible bugs from Thailand," says creative services representative Stephanie Adams. "We also carry durian king fruit, which is known for its strong smell." The kids may not have an appreciation for such fare, but the store's animatronic characters, life-size jungle animals and mini movie theater will keep them entertained. 5440 Dixie Hwy., Fairfield 45014, 513/674-6000, junglejims.com

Findlay Market | Cincinnati
Ohio's oldest public market still has its original 1855 wrought-iron construction and several stands can trace their roots back generations. A renovation completed in 2004 added a pavilion for the on-site farmers market as well as a summertime beer garden. "We now host the largest weekend farmers market in the region," says resource development director Karen Kahle. "What I think is really cool is the market now has a mix of legacy merchants [alongside] food entrepreneurs." 1801 Race St., Cincinnati 45202, 513/665-4839, findlaymarket.org

***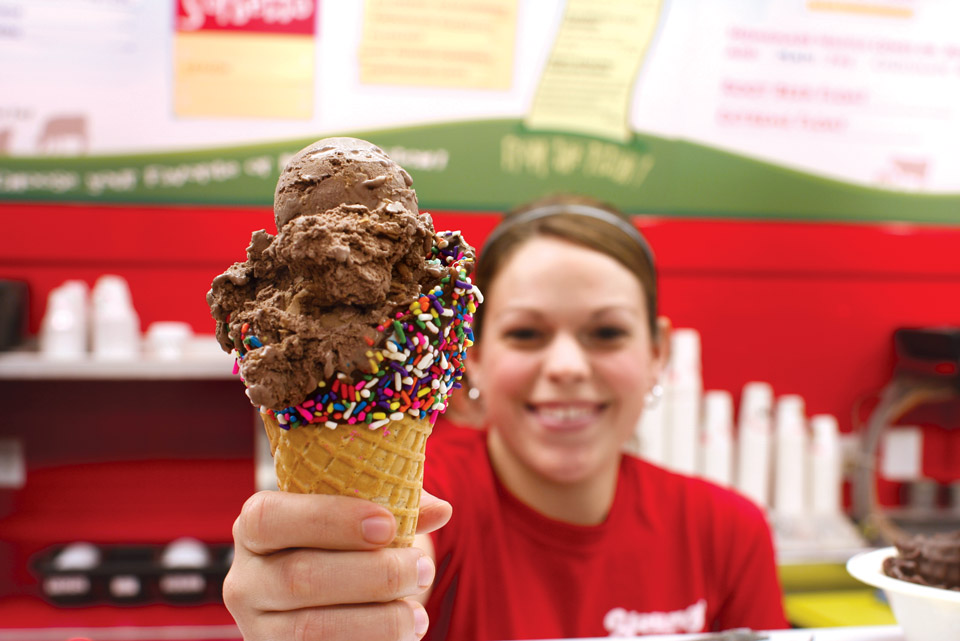 Super Scoops
Young's Jersey Dairy, just outside Yellow Springs, offers a taste of rural Ohio and dozens of inventive ice cream flavors.

There are few words that will make someone from the Dayton area perk up more than "Young's." Located just two miles outside the small town of Yellow Springs, Young's Jersey Dairy has been a local institution for generations. What started as a red barn built in 1869 now offers acres of family activities, a restaurant and some of the finest cheese and ice cream in southwest Ohio.

"We quite often get told, 'You're the first place I bring my out-of-town guests,' " says Dan Young, CEO and self-proclaimed Chief Ice Cream Dipper. "That's fantastic, but that raises the bar and makes us think, We better be great."

Churning out more than 75,000 gallons of ice cream annually, all of Young's famous flavors come from small 5- and 10-gallon batch freezers. This method allows the ice cream makers to swirl certain flavors by hand and add in ingredients at different parts of the process so that they mix perfectly.

One of the factors behind Young's taste is the freezing process. After the ice cream comes out of the batch freezers, it is immediately placed in a walk-in freezer at temperatures around 30 degrees below zero. This process allows the ice cream to form tiny ice crystals that give it a smooth, creamy texture that many grocery store brands lack. Young's produces too much ice cream to rely solely on its own Jersey cows, so it buys the milk from a dairy in Springfield. "It sounds simple," Young says, "but our ice cream is very good because it comes from a simple recipe and an experience of being in the country."

Forty-four flavors of ice cream and gelato are available at any one time, and more than 100 are offered each year. Never short on ideas, Young has created some unorthodox flavors that range from sweet potato casserole to lemon coconut cheesecake. He concedes not all of them are winners, but that doesn't keep him from having an open mind and open ear to his fans' suggestions.

"We may not be right all the time," Young says. "But if 51 percent of the things we do work, then we can just figure out something else for the other 49."

6880 Springfield-Xenia Rd., Yellow Springs 45387, 937/325-0629, youngsdairy.com


FOOD FINDS: Ice Cream

Velvet Ice Cream: Velvet Ice Cream's Utica headquarters is named Ye Olde Mill, after the 1800s gristmill that once occupied the property. It features an ice cream parlor and a museum that tells the company's story, which started a century ago when Joseph Dager began hand-churning gallons of ice cream at a local confectionery. "People come here for ice cream, but quickly get caught up in the ambience, which includes a fishing pond and walking trails," says Joanne Dager, vice president of food service. Open May 1–Oct. 31; 11324 Mount Vernon Rd., Utica 43080, 740/892-3921, velveticecream.com

The Creamery: This small shop in downtown Delphos has been around for 33 years, and Dan Warnement's family has owned it for 20. Every March through September, it offers big scoops of a simpler time. "It gives you a little bit of that nostalgia feeling," Warnement says. Options range from soft-serve to sugar-free to a list of 32 hard-dip ice cream flavors. Warnement also sells shredded chicken sandwiches and Coney dogs. "[A guy] in his very late '70s … told me that was the best chicken he's ever had," Warnement says. Opens March 6; 252 N. Canal St., Delphos 45833, 419/695-4450, delphoscreamery.com

***

Go On Tour
If you'd like someone to show you around, these five guided food experiences are a good place to start.

Amish Heartland Tours
Explore rural Holmes County's Amish communities with sightseeing and themed tours that range from bakeries and brunch to in-home suppers with Amish families to baked treats. 330/893-3248, amishheartlandtours.com

Cincinnati Food Tours
Even if you've been to the historic Findlay Market before, this guided stroll is worth your time. Samples from six vendors are part of the tour, and guests learn about the history of the market and the surrounding Over-the-Rhine neighborhood. 513/602-5602, cincinnatifoodtours.com

Columbus Food Adventures
One of the state's most adventurous groups offers 11 different routes with themes ranging from meats to desserts to coffee. Location-based tours include the Short North and German Village neighborhoods. The organization does its best to cater to dietary restrictions, and private, gluten-free tours are available. 614/440-3177, columbusfoodadventures.com

Taste Cleveland Food Tours
Pub crawls, market tours and guided neighborhood walks show off Cleveland's gastronomic highlights. Depending upon the tour (options include West Side Market as well as trips across the Little Italy and Tremont neighborhoods) you'll soak in enough history and food to leave your brain and belly pleasantly satisfied. 202/683-8847, tasteclevelandfoodtours.com

Toledo Flavors Food Tours
Prepare for up to three hours of walking and snacking with stops at downtown restaurants, the city's farmers market, a wine bar and more. Visitors learn city history as they enjoy local food and drinks. The tour includes a stop at Fifth Third Field — the home of the Toledo Mud Hens — for ballpark food and trivia. 866/763-6343, toledoflavors.com