Travel
Family Fun in Appalachian Ohio
From cozy cabins and lodges to hikes that appeal to your entire crew, plan your next adventure in one of the 32 counties that make up Ohio's Appalachian region.
July/August 2021
BY Frances Killea | Photo courtesy of Ohio Department of Natural Resources
July/August 2021
BY Frances Killea | Photo courtesy of Ohio Department of Natural Resources
Family-Friendly Hikes

Some of Ohio's best backpacking trails wind and loop through Ohio's Appalachian counties. Zaleski State Forest, Wayne National Forest and Shawnee State Forest all offer miles upon miles of trails for overnight adventurers, but the region also has many shorter hikes that are suitable for families who seek rich — but maybe not lengthy — excursions.

In the northeast, the Western Reserve Greenway Trail has reclaimed over 40 miles of former rail bed for a paved, multipurpose trail that links Ashtabula and Trumbull counties. Metroparks sites, including Mahoning County's Mill Creek MetroPark, offer trails, nature centers, gardens, and canoeing and kayaking opportunities.

In southwest Ohio, the Richard and Lucile Durrell Edge of Appalachia Preserve System, owned managed by The Nature Conservancy and the Cincinnati Museum Center, spans a cluster of protected natural spaces. What began in 1959 with a single parcel has grown to over 20,000 acres spanning 11 preserves with five public trailheads.

"They all touch on different parts of the preserve," says Mike Hall, Appalachian forest manager with The Nature Conservancy in Ohio.

On the Lynx Prairie Trail, budding botanists can see pink lady's slipper, Indian paintbrush, blazing stars and stiff gentian, while Buzzardroost Rock Trail leads hikers on a 4.4-mile, out-and-back trek with panoramic views at its highpoint.

One of Hall's favorite spots is under the canopy of Cedar Falls Preserve's Helen C. Black Trail, a 3.2-mile, out-and-back hike.

"It has an area that we call the boulder field; it's a little over halfway through the trail," says Hall. "It's a really unique area where there's a bunch of moss covering pretty much everything." For more information about Ohio's state forests, visit forestry.ohiodnr.gov. For more information about Wayne National Forest, visit fs.usda.gov/wayne. To learn more about the Western Reserve Greenway Trail, visit ashtabulametroparks.com. To explore The Nature Conservancy's sites in Ohio, visit nature.org/ohio.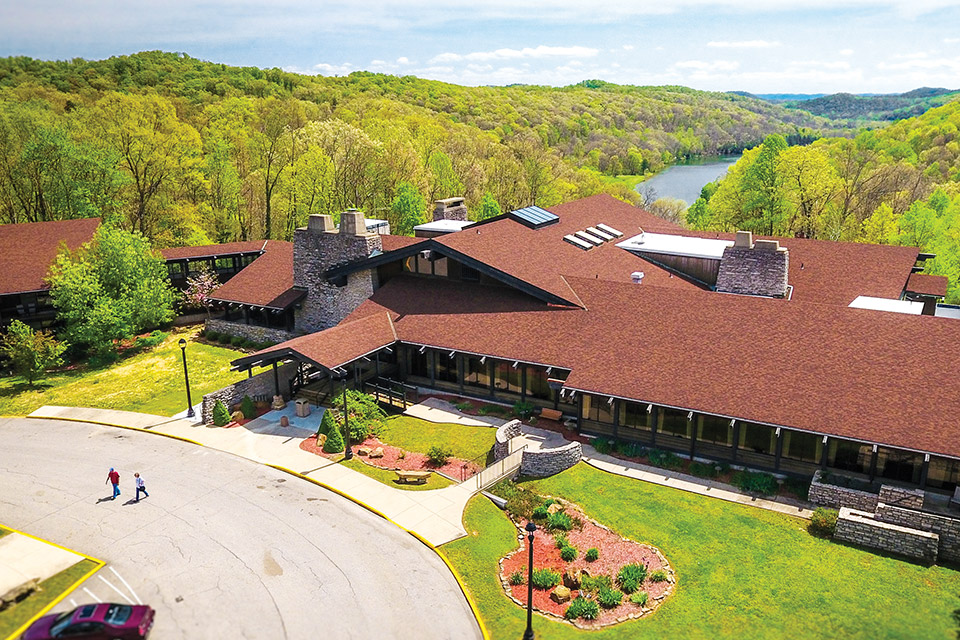 Cabins & Lodges

Lest you think America's mountains have all the fun, Ohio's state parks will show you that a cozy cabin or woodsy lodge hardly requires a trip outside the state. Within the 32 counties of Ohio's Appalachian region, Ohio State Parks sites are home to hundreds of cabins and several lodges, each promising rustic-but-homey stays among some of our state's most beautiful scenery.

From Pike Lake State Park in the southeast to Dillon State Park in the southwest to Pymatuning State Park in the northeast, the state of Ohio operates year-round cabins at many of its parks in Ohio's Appalachian counties, while the lodges at Shawnee, Burr Oak and Salt Fork state parks come under the oversight of Great Ohio Lodges, which is a tier of Regency Hotel Management.

"The state is just unbelievably wealthy when it comes to opportunities for families," says Justin Berg, general manager at Salt Fork Lodge and Conference Center.

Salt Fork State Park's 53 cabins and 148 lodge rooms host travelers who seek out the park's 2,952-surface-acre lake for boating or paddling. Afterward, visitors can grab a bite at the lodge's Timbers Restaurant and Wildlife Lounge or Sugartree Marina Dining. There are also full kitchens in each cabin, and Berg says winter guests often opt for one of the 17 chalets, each with a hot tub.

"There's no better place in Ohio to wake up and drink your coffee in the morning than on the porch of one of our lakeside cabins," he says. To book a stay at an Ohio State Parks cabin, visit reserveohio.com. To book a stay at an Ohio State Parks lodge, go to greatohiolodges.com. Salt Fork Park Lodge, 14755 Cadiz Rd., Lore City 43755, 800/282-7275, saltforkparklodge.com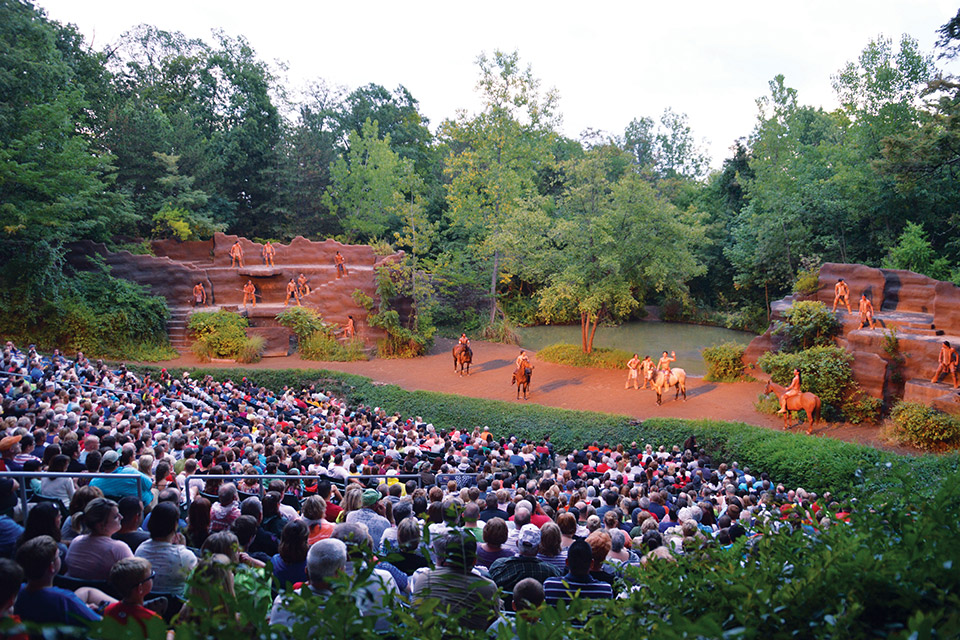 Outdoor Theater

Not far from downtown Chillicothe, farmland and forest fill the countryside, offering quiet and green. Here, you'll find the natural bowl of the Sugarloaf Mountain Amphitheatre, where for decades actors have presented the story of Shawnee American Indian leader Tecumseh under open sky all summer long.

"Tecumseh!" began its run in 1973, when a group of local businessmen decided to model an outdoor theater in Chillicothe after a similar venue in North Carolina. None of them had any theater experience, but their intuition was spot on.

"They knocked it out of the park," says Brandon Smith, CEO and producer of "Tecumseh!" "It's almost as if you've just walked through the woods and you've come upon this place where a story unfolds in front of you."

During the theater's summer season, "Tecumseh!" comes to life nightly, telling the story of the Shawnee leader's early 1800s efforts to organize his fellow tribe members to unite and defend their land, and the show has drawn a total audience of more than 3 million over the years. (Summer 2021 also brings movies to the amphitheater. Dubbed "Movies on the Mountain," the series will run on six select evenings in July and August.)

Amphitheater shows take place rain or shine, except in cases of a downpour or storm, and the season doesn't end with dropping temperatures. A Halloween show haunts the stage in the fall, and 2021 brings a unique dramatization of the Dracula story, which will run through the end of October. The show promises to be creepy but suitable for all ages, as Smith is committed to bringing theater to everyone.

"To have access to that kind of professional theater in your backyard is a rare thing," he says. "A theater and a show like this — a performing arts center of any kind that is thriving and reaches out in the community — is a vital part of a small community like Chillicothe." 5968 Marietta Rd., Chillicothe 45601, 866/775-0700, tecumsehdrama.com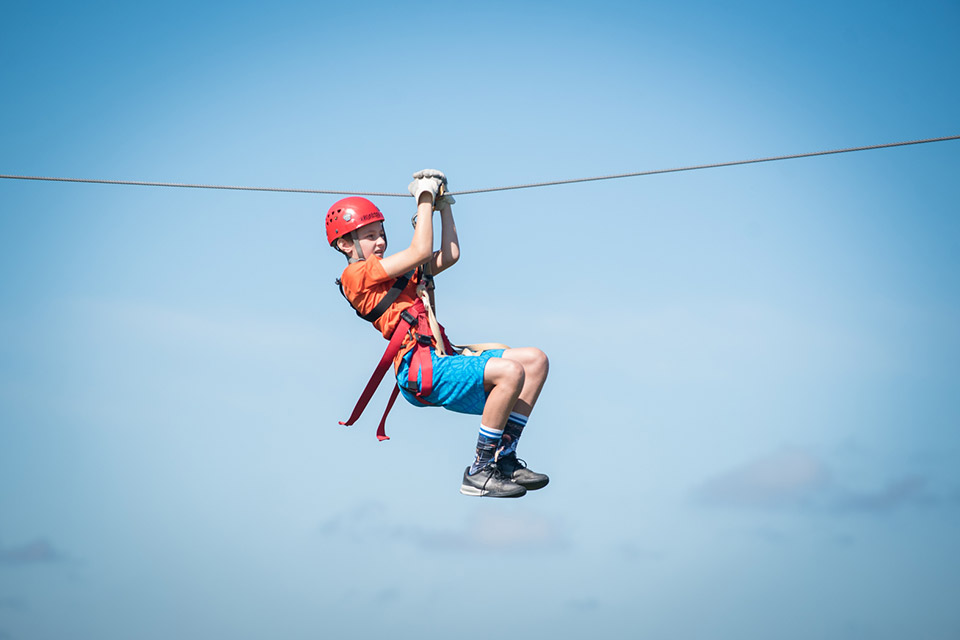 Family Adventures

The trails that crisscross the woods and prairies of Appalachian Ohio seem boundless: short nature paths, scenic day hikes and portions of the more-than-1,400-mile Buckeye Trail beckon eager hikers. But the region's adventures don't stop at lacing up your boots. Bridle trails weave through 79 miles of the Wayne National Forest, where those with off-highway vehicles can also enjoy the largest off-road network in the state.

Boating and paddling opportunities abound within the Muskingum Watershed Conservancy District (the watershed spans 8,000 square miles), and mountain bikers have trails at both Dillon State Park in Nashport and The Wilds in Cumberland.

The Wilds, a conservation center built on reclaimed American Electric Power Co. land, also boasts a zip line course with 10 runs that lets visitors take flight over flora and fauna alike.

"We're zipping over some species that are extinct in the wild and others that are endangered," says Nick Brannon, zip line course manager at The Wilds. Five of the zips soar over open pastures, where animals like the Sichuan takin and the Pere David's deer (which now only live in captivity) roam. Safari tours cover all 10 zips, although there are half-course options. In the summer, sunset tours start at 6 p.m., just in time for animal feeding.

There are even Howl at the Moon zip line tours, which outfit riders with headlamps in addition to standard safety gear and take off in the dark to the sounds of the prairie at night. All tours include a little ecology lesson about the animal ecosystems visitors sail over. While each zip offers great views, Brannon says he is partial to the 25 seconds it takes to fly over Spillman Lake.

"It's just breathtaking," he says. "No matter how many times I do that zip, every time I go across it, I think how cool it is, and how lucky I am to do this." For more information about Wayne National Forest, visit fs.usda.gov/wayne. To locate Muskingum Watershed Conservancy sites, go to mwcd.org. For information about Ohio State Parks sites, visit parks.ohiodnr.gov. The Wilds, 14000 International Rd., Cumberland 43732, 740/638-5030, thewilds.columbuszoo.org

To learn more about the 32 counties that make up Ohio's Appalachian region, visit appalachianohio.org.