Travel
Fall Getaways in Ohio: Weekend
If you have a full weekend to explore, these destinations will bring you up close to fall color and autumn fun.
October 2018
BY Staff & Contributors | Photo by Randall Lee Schieber
October 2018
BY Staff & Contributors | Photo by Randall Lee Schieber
IDEAS FOR AN ... AFTERNOON | DAY | WEEKEND

Amish Country, Holmes County
Get a hearty dose of fall color and autumn flavors by exploring Ohio's largest Amish community.

Ohio's Amish population is spread out, with communities spanning from Adams County in the southwest corner of our state to Geauga and Trumbull counties in the northeast. But if you're looking to fill a weekend, look toward Holmes County and the surrounding area, which offer a wealth of autumn outings, including these three fall favorites.

Drive the Amish Country Byway: There are myriad ways to enjoy leaf-peeping season, but taking a country road through the heart of Ohio's Amish Country is an inimitable classic. State Route 557, part of the scenic Amish Country Byway, a collection of 160 miles of roads that traverse the countryside, is exemplary of the region's charm. It even leads to a village of the same name. "Charm is a beautiful little Amish town," says Shasta Mast, executive director of the Holmes County Chamber of Commerce and Tourism Bureau. Nearby, traditional Swiss restaurant Chalet in the Valley satisfies hearty appetites, and visitors can stock up on savory blocks or wheels at Guggisberg Cheese before cruising through the panorama. "It's rolling hills, lots of farmland," adds Mast. "You'll come around a corner or up over a hill and all of a sudden, you can see forever." dot.state.oh.us/ohiobyways

Visit Breitenbach Wine Cellars: Autumn is known as crush season at Breitenbach Wine Cellars, a time of year when the winery presses the grapes grown on its 300-acre property. It's a process that is done right in front of the winery's visitors. "We do all that outside so people can watch," explains Jennifer Kohler, a member of the family-owned vineyard's second generation. Travelers can nosh wood-fired pizzas and sip the fruits of previous years' labors on a patio overlooking Breitenbach's vines and surrounding woodlands, which both promise a display of color as October presses on. "Our grapevines in particular are very beautiful in the fall," says Kohler. "They change color almost as beautifully as maple trees. … Ours are a dark golden color. Sometimes they get a really dark red." 5934 Old Route 39 NW, Dover 44622, 330/343-3603, breitenbachwine.com

Explore Yoder's Amish Home: This historic homestead opens to the public each April, offering house tours, buggy rides and baked goods. But the best time to visit might be in October, when Trent Yoder lights the fire beneath a giant copper kettle every day beginning at 10 a.m., filling the air with the scent of simmering apple butter. "We make an applesauce, and then we put it in the kettle and cook it down," he says. "Once it's cooked down, we start jarring it up." Visitors are even welcome to take a stir before exploring the farm's other goodies. "We bake bread, cookies, and then they can buy jams, and then of course the traditional peanut butter spread," says Yoder. 6050 St. Rte. 515, Millersburg 44654, 330/893-2541, yodersamishhome.com

For information about other destinations, visit ohiomagazine.com/amishcountry.

---

The Mohicans' Treehouses, Glenmont
As autumn hits its peak, where else would you want to be but among the treetops?

Tucked away in the forests of Knox County, you'll find a village of treehouses that guests from as far away as California are flying across the country to experience. Owner Kevin Mooney offers eight beautiful and environmentally conscious, Amish-built treehouses at The Mohicans and they're perfect for a fall getaway.

"There's no other treehouse village this big within 1,000 miles," says Mooney, who recently finished construction on the El Castillo, a new treehouse with floor-to-ceiling glass walls, cherry ceilings and a black walnut spiral staircase.

When Mooney isn't taking design advice from master treehouse builders Pete Nelson and Roderick Romero (who constructed The Mohicans' The Little Red Treehouse, The White Oak and The Nest) he's keeping an eye out for materials to repurpose in future construction, like the 6,000 square feet of siding harvested from a nearby barn for the roof of El Castillo.

"We are told frequently that pictures don't do it justice," Mooney says of his collection of treehouses, which also serves as a favorite wedding spot. "There's no place like this." Visit website for availability and pricing. 23164 Vess Rd., Glenmont 44628, 740/599-9030, themohicans.net

---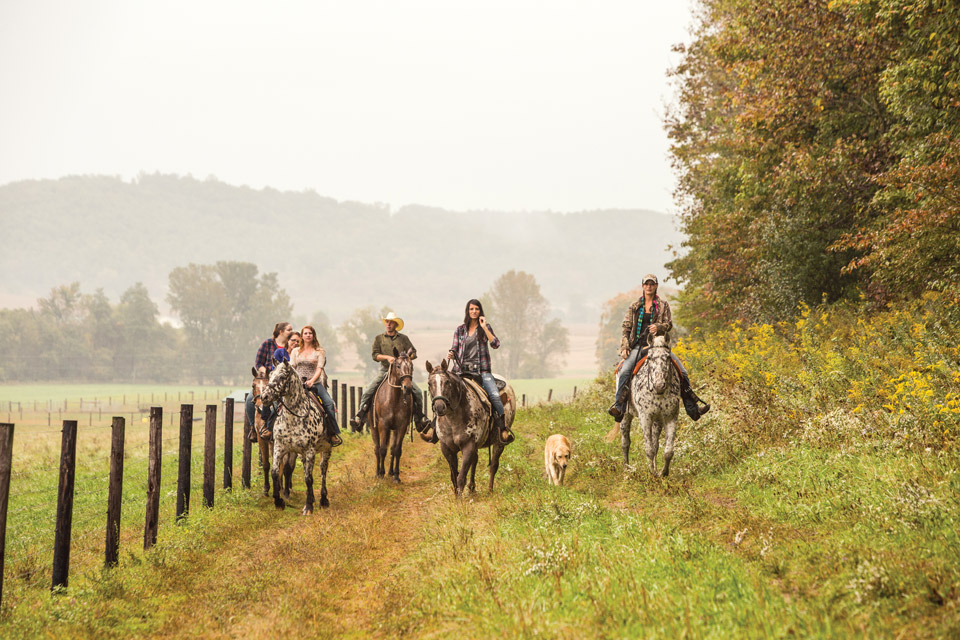 Hocking Hills, Logan
The gorges, waterfalls and forests of Hocking County promise a great fall getaway.

One of our state's most scenic summer playgrounds, the Hocking Hills region really shines in the fall. Fun can be found at nearly every turn in the area's winding roads, but here are three experiences adventurers with a full weekend to explore will want to make part of their travel plans this season.

Take Flight at Hocking Hills Canopy Tours: It's one thing to walk beneath the branches filled with fall color; it's entirely another to fly among their crimson leaves. At Hocking Hills Canopy Tours, that's precisely the experience owner Julieann Burroughs and her guides provide customers. "You're up in the trees, in the foliage, in the canopy. You're up close with nature … It's next to you, it's touching you," Burroughs says. Course options cater to everyone from beginners and children to adventurers with a need for speed. But no matter the lofty trek, Burroughs and her team are eager to share a birds-eye view of autumn in the Hocking Hills. "It's breezy, it's cool," she says. "The smell, the visuals. It's all those senses combined when you're in the canopy. It's second to none."10714 Jackson St., Rockbridge 43149, 740/385-9477, hockinghillscanopytours.com

Saddle Up at The Spotted Horse Ranch:If you've ever dreamed of riding a trusty appaloosa into a forest of color, Michael Solt can bring that experience to life for you at The Spotted Horse Ranch. Although he offers excursions on horseback all summer long, he's particularly fond of heading out in autumn. "You just don't have the deerflies and the horseflies and stuff that you have in the summertime," he says. "It's the perfect time when it's in the 60s or 70s." Solt takes riders out by reservation only, and his trips are typically one or two hours long, unless a group opts for the five-hour Cowboy Cookout. "You ride for between one to two hours," he says, "and up in the forest we have a campsite set up a lot like if you were doing a cattle drive, and we cook a full meal."17325 Deffenbaugh Rd., Laurelville 43135, 740/332-7433, thespottedhorseranch.com

Hike Conkles Hollow: He's the first to admit that Conkles Hollow is a popular place, and that's why Hocking Hills State Park staff naturalist Pat Quackenbush loves taking the nature preserve's rim hike each autumn. "It has that spectacular view," he says. "There's an overlook [where] you can see almost 4 miles down through the valley." Quackenbush is also fond of some other routes that offer amazing autumn scenery, including the 3-mile trail from Old Man's Cave to Cedar Falls, which takes hikers past the 14-acre Rose Lake. "It tends to be really calm, and I've often gotten a really cool reflection of the trees from the really still water," he says. Plus, the only way to access the lake — located halfway between the two landmarks — is with your own two feet. "You can't drive there," Quackenbush adds. "The only way you can get to it is by hiking to it." 24858 Big Pine Rd., Rockbridge 43149, naturepreserves.ohiodnr.gov/conkleshollow

For information about other destinations, visit ohiomagazine.com/hockinghills.