Travel
Adventure Season
It's time to try something new this summer.
June 2015 Issue
BY Staff & Contributors | Photo by Nate Knobel
June 2015 Issue
BY Staff & Contributors | Photo by Nate Knobel
Trail Blazers
Mountain biking doesn't have to be intimidating. Marietta Adventure Co. will help you tackle the river town's 20-plus miles of single-track trail.

Drive through Marietta, and you'll notice a small patch of trees behind the middle school, a wooded area behind the old brick factory. Both of these, as well as other patches of forest surrounding downtown, are part of a project Ryan Smith has been working on for a decade.

Tucked away in these swaths of trees is a mountain-biking goldmine — single-track paths that, all told, add up to more than 20 miles of trails within the city's municipal boundaries.

"If you're a total beginner, you can go out and ride 1 to 2 miles and say 'OK, I'm shot,' and you just pop out on the sidewalk and you're downtown," explains Smith, owner of Marietta Adventure Co. "Or you can get in 25 to 30 miles."

With the help of the River Valley Mountain Biking Association, his vision of an accessible, urban mountain biking trail system has grown, project by project, to what it is today.

I fall into the beginner category, and although I am the sort of person who is intimidated by the prospect of biking when words such as "mountain" and "off-road" are involved, I lace up my shoes and meet Smith at his shop. Inside, kayaks and bikes line the walls, while TVs loop clips of riders zooming down craggy trails. In addition to offering mountain bike rentals, Marietta Adventure Co. is a full-service bicycle shop and sells camping and rock climbing gear. A kayak livery service is also available for patrons who want to explore the nearby Muskingum and Ohio rivers.

The shop's proximity to the trails eliminates mountain biking's normal barriers to entry. People looking to try it can do so without a hefty initial investment. "We get to help so many people and give them their initial education on what to do," says Smith.

Rental bikes start out at $20 to $30 for four hours, or $40 to $60 for 24 hours. Included in the price, the shop provides everything a novice like myself could need: a bike, helmet, map, flat-tire kit, encouragement, everything.

As Smith shows me the bikes, I tell him simply that I want to ride "the coolest bike they have." After a couple minutes in the back, he reappears with the Specialized Fatboy fat bike. Picture a monster truck in mountain bike form. "You really need to ride one to realize it's more than just a novelty," he says.

While the Fatboy fits under the "Performance Rentals" category, Smith's store also offers more standard-looking mountain bikes. But the Fat Bike is a solid choice. Because the tires are so massive, they require air pressures of only 5 to 7 pounds per square inch, which absorbs more impact and offers more traction than a traditional mountain bike.

After adjusting the seat to the appropriate height and taking a quick test run, I'm ready to hit the road (and hopefully nothing else). Most of the single-track trails within the city are intermediate to advanced in level, Smith explains. I opt for the Ray Lang and Old Walnut Trails, which are the closest to the shop and a couple of the more beginner-friendly routes. As I ride through town, all the unease I have about mountain biking slowly peels away. By the time I enter the path, I feel bold and strangely invincible.

After cresting the first hill, I fly down the path and, at the bottom, nearly ride off a footbridge. In fact, I nearly ride off a few other footbridges during my 5-mile excursion. The paths are wide enough for just one bike and demand complete focus while descending. That concentration switches to a giddy rush as I climb the next hill, and at the top of each ridge I stop and appreciate the glimpses of downtown peeking through the foliage.

Eventually I do take a good, old-fashioned spill speeding down a sharp turn. But for all my anxiety about that happening, when it does, it isn't that bad.

And maybe that's one of the reasons mountain biking is so popular — the sense of fun, play and adventure that gets lost over the years comes back in an instant. Sharp turns become exciting and the gusts of wind usually reserved for driving with your windows down comb capriciously over your face.

Then, just as quickly as I was transported, I'm suddenly spat out on a perfectly flat, wide slab of sidewalk about two blocks from Marietta College. When I return to Marietta Adventure Co., Smith's staff welcomes me back and asks about the trip. I let out a short sigh. "That was awesome," I say, with mud all over my legs and a wide smile across my face.

219 Second St., Marietta 45750, 740/538-0801, mariettaadventurecompany.com

***

Casting Call
Want to explore some of the state's hidden fishing lakes and ponds? Try a belly boat expedition with Corneilus Harris.

As the sun creeps over the rolling hills of American Electric Power's roughly 60,000-acre reclamation project known as ReCreation Land, I'm following my fishing guide, Corneilus Harris, or "Corn" by his request, to an unmarked dirt road about 30 minutes outside of Zanesville. We've traveled only a few miles before my cellphone is out of range. My only chance of not getting lost is to carefully tail Harris' truck over the hilly and gravelly roads.

When we reach our meeting spot — a nondescript dirt lane only wide enough for our two vehicles — Harris' face carries the enthusiasm of a man who's fishing these waters for the first time. But he's carried his tackle over these lands many times before. When he was still a teen, Harris fished in this area with his father. In the decades since, he has combed the land for hundreds of hidden fishing spots, many unmarked on maps, but merely logged in Harris' head. "That's my thing," he says. "A lot of the lakes we fish are off the beaten trail."

After a pep talk about what awaits us in these waters, Harris hands me a pair of waders and one of the most interesting pieces of gear I've seen in all my years growing up with anglers: the belly boat.

The lightweight and easily portable, inner tube-like vessel will allow me to float and move gently on the water, providing an experience much different than casting from the shoreline. The belly boats Harris uses are designed for comfort and easy maneuverability.

It's sort of like a floating chair, and each fisherman is equipped with chest waders and fins. You're seated with legs in the water and propel yourself with bicycle-like strokes. The result is a relaxing ride along the water without much disturbance to the fish. The ability to quickly move from bank to bank and to cast your line anywhere in the lake makes the prospects of catching the big one more likely.
With the belly boats slung on our backs, Harris leads me on a short walk to the quiet and secluded lake where we'll fish. My guide's knowledge is evident from the minute we arrive.

Leaning over the bank, he sees a group of largemouth bass spawning just beneath the surface of the water and immediately has a plan of action for picking the perfect casting spot. After a crash course in rubbery plastic baits and casting and retrieval technique, we wade out into the water and paddle our boats to the middle of the lake with only the sounds of birds filling the air.

"My favorite part is giving people a new experience and putting that fish in a newcomer's hand," says Harris. "You can see on a [person's] face that they can't believe that this is really in Ohio."

As he pulls out two trophy largemouth bass within the first two hours, Harris' skill as a guide begins to speak for itself. In fact, a 2012 newspaper photograph of Harris holding a bass is what caught the attention of Jim Stratton, who hired Harris to lead Ohio Belly Boat Fishing Treks for Trek Network, Stratton's company of guided outdoor excursions. Prior to his job as a guide, Harris worked for years as a warehouse worker for a food distribution company.

Stratton, an avid outdoorsman himself, saw untapped potential in ReCreation Land, which had originally been strip-mined for coal deposits. American Electric Power has since planted more than 63 million trees, established more than 350 fishing lakes and ponds and created nearly 380 campsites across these rolling hills.

"Out here, you need a lot of local knowledge, and Corneilus has that local knowledge," Stratton says. "Expert anglers have gone out with him and realized pretty early in the day that the guy knows his stuff."

The escape from the noise and distractions of everyday life is a great way to spend a Saturday. And even if you don't end up feeling the rush of reeling in bass after bass (I'm new at this, no need to discuss real figures, of course), spending a day casting lines under Harris' superb tutelage is an experience in itself. So much so that seven hours pass without you really realizing it. Soon, it's time to walk our boats back to our vehicles, a little more fatigued and a lot more sunburnt than we were at the start of this adventure.

But that experience of floating across the water — that solitude of fishing in undisturbed waters without another person in sight — is what sticks with you.

For more information about excursions and rates, visit ohiobellyboatfishing.com or call Trek Network at 740/777-2579.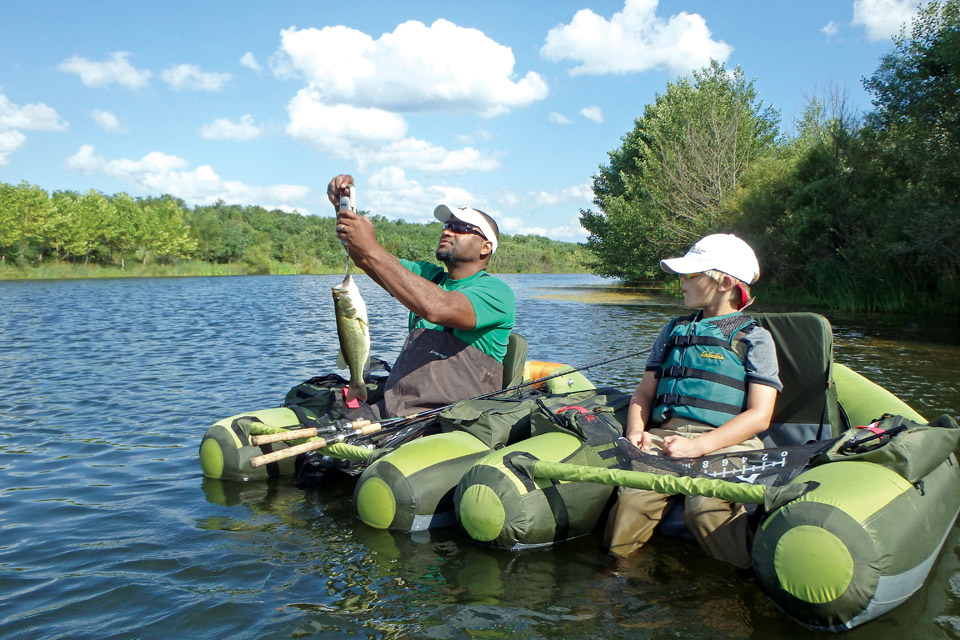 ***


New Wave
Originating in Hawaii as an offshoot of surfing, stand up paddle boarding has made its way to the Midwest (and it's a lot of fun).
It looks enjoyable, but it doesn't necessarily look easy. Yet Brian Fowler, chief of outdoor education at Lake Metroparks, says no one should be
intimidated by stand up paddle boarding.
"The learning curve is very quick," he explains. "The key is to pick the correct time and place to paddle. Because if you try to do it on a
choppy Lake Erie without a breakwall, your experience might not be very good."
Similar to surfing, stand up paddle boarding requires you to stand with your feet shoulder-width apart and a little bit back from the center of the board but facing forward rather than sideways. "You're standing straight up, but you can get more power out of it if you bend at the knees and waist," Fowler adds.
Movement is powered by paddling as opposed to the water currents, and paddle boarders generally travel around 2 miles per hour. Boards are 10 to 12 feet in length, and Fowler says the Lake Metroparks staff helps guests find the proper-size board.
"You can always be on a bigger board," he says. "But a heavy person can't be on a smaller board."
301 Huntington Beach Dr., Fairport Harbor 44077, 800/669-9226, lakemetroparks.com

***


Path Ways
The Buckeye Trail spans more than 1,400 miles. It touches all four corners of the state and offers an unrivaled view of Ohio. Andrew Bashaw has hiked it all. Here's how you can start.
As a Boy Scout, Andrew Bashaw loved hiking. He still does as an adult, and he's using his education in trail design and natural resource management as executive director of the Buckeye Trail Association. The nonprofit organization oversees the more than 1,400 miles of connected trail (marked by blue blazes) that wind throughout the state. He's also a frequent user of the famous route, and he's covered all of it — from Defiance to Loveland, from Burton to Whipple.
The Allure:
"The Buckeye Trail links together the highlights of Ohio's natural and cultural history," Bashaw says. It also shows off the diversity of the state, from historic villages to repurposed canal towpaths to the foothills of the Appalachian Mountains. A network of dedicated volunteers offers guidance and sometimes even lodging for people trying to tackle the entire trail. "It's as much about the people along the trail as it is about the things you see on the trail," Bashaw says.
The Gear:
Most parks that are part of the trail offer classes on equipment and how to prepare for a multiday journey. If you want anything worth your while, Bashaw says you'll probably spend at least $700 for a waterproof backpack, hiking boots, sleeping bag and pad, and a tent. Of course, you can spend more, but you don't have to. "You don't need the most expensive backpack or hiking shoes," he says.
Where to Go:
For novices, Bashaw recommends a beginner's loop, where you can hike a circular route that takes you back to the start, with camping and water along the way. He suggests southeast Ohio's Burr Oak State Park, where a 23-mile trail encircles Burr Oak Lake. It's connected to the 17-mile Wildcat Hollow loop in Wayne National Forest via the Buckeye Trail.

The Next Level:
It's possible to hike all 1,400-plus miles (even consecutively, Bashaw says), but most people do section hikes. He says the most popular parts of the Buckeye Trail are in Hocking Hills State Park, Cuyahoga Valley National Park and southwest Ohio's Little Miami Scenic Trail. Bashaw adds that Shawnee State Forest in Scioto County is particularly rugged. "Schedule a certain amount of time to be able to appreciate the scenery," he says.

For more information, visit buckeyetrail.org.
***


Classic Canoeing
Mohican Adventures has been helping travelers navigate the Mohican River for decades — whether you're looking for a family paddle or a five-hour outing.

The Mohican River is an easygoing waterway. It flows at 2 to 5 miles per hour, and although there are some rapids in areas, there is no whitewater to be found, making it a great place for a family to spend the day together.
"Kids can get out and play in the water and get back in," says Patty Shannon, co-owner of Mohican Adventures, which has been serving afternoon adventurers since 1961. "It's a slow-moving river. It's not super wide, and it's good for any age."
Along a 7-mile stretch, there are also numerous designated stopping points that have snack bars, so families can fuel up and take a break before continuing downstream.
But there are longer trips for those who want to spend a full afternoon on the river. For Mohican Adventures' 15-mile option, visitors are transported upstream and paddle their way back to the livery — a trip that averages four to five hours. "If [the water's] a little higher it'll be a little bit quicker, and if it's in August when the water tends to be a bit lower it could be slower," Shannon explains.
A slower-moving river not only lengthens the journey, but also requires a steadier paddle rather than using the river current to help you. While the avid paddler might enjoy the extra effort, Shannon says the long trip on a slow-moving river isn't recommended for families with small children.
Each canoe requires a minimum of two people and packing small coolers and snacks is encouraged, as long as you leave the Styrofoam and glass at home.
3045 St. Rte. 3, Loudonville 44842, 419/994-4097,
mohicanadventures.com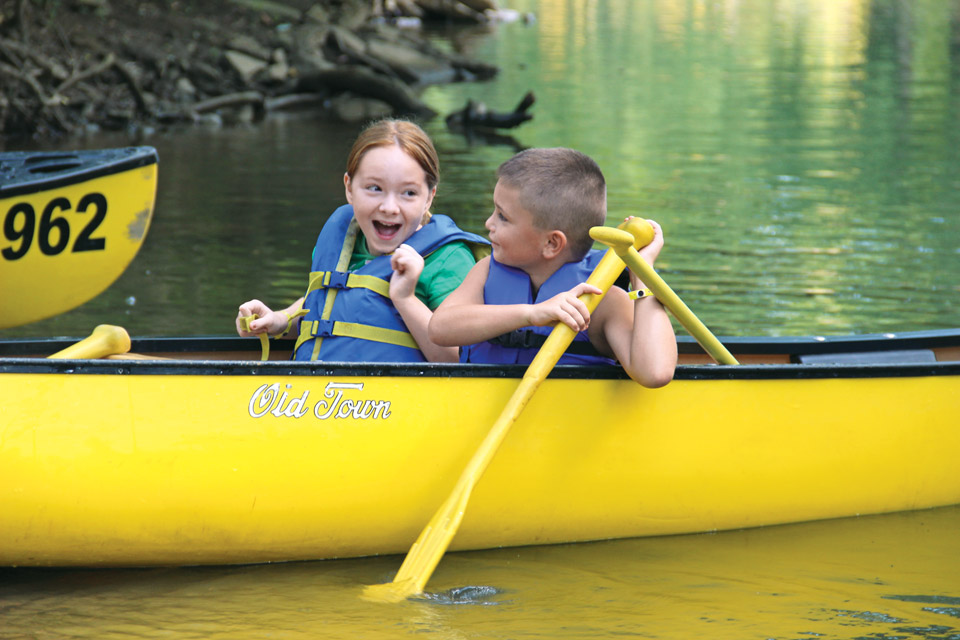 EXPLORE MORE:
Little Miami Canoe Rental:
Canoe rentals available in Oregonia and Morrow.
littlemiamicanoe.com
Camp Hi Canoe Livery:
Offers canoe rentals on scenic upper Cuyahoga River.
camphicanoe.com
NTR Canoe Livery:
Rents out canoes, kayaks and more on the Tuscarawas River.
canoe-ohio.com
***


Winged Wonders
When it comes to spotting wildlife, birding is one of our state's prime pursuits. And when it comes to expert advice on the topic, Kenn Kaufman is your go-to guide.
Kenn Kaufman started bird-watching at age 6, and over the years it's become more than a hobby for him. It's a career and a way of life. Kaufman, who lives just outside Oak Harbor, is an author, naturalist, editor of his eponymous Kaufman Field Guide and field editor for Audubon magazine. After nearly 50 years of birding, he still loves the mental stimulation, physical challenge and aesthetic payoff it provides.
— VG
The Allure:
Kaufman says birding affords one the opportunity to see something new every day, particularly in the spring and fall, when migratory birds can be spotted making their way to and from their homes. "It's a treasure hunt," Kaufman says. "Just seeing and hearing the birds is a source of joy."
The Gear:
For starters, all you really need is a pair of working eyes. Kaufman says he had been actively birding as a child for four years before he purchased a pair of binoculars. "Binoculars are helpful, but not essential," he says, adding that a decent pair will run at least $100. If possible, he advises to try out a variety of types — some nature centers allow you to do so — before buying one. What is essential, Kaufman says, is a field guide. "It's worth spending $20," he says. "It'll save you a lot of time and a lot of frustration."
Where to Go:
Kaufman says it's as easy as stepping outside your own home. "You don't have to make a major expedition," Kaufman says. "Your own backyard is a good place to start. There's a good diversity there in the course of a year." If you live near a city, Kaufman says the local metropark is a good place — and frequently the parks have nature centers, where you can find experts. Kaufman also recommends the National Audubon Society, which has centers and chapters throughout the state.
The Next Level:
For those interested in digging a little deeper into bird-watching, Kaufman suggests the Black Swamp Bird Observatory, and not just because he's a board member and his wife Kimberly is the executive director. The observatory is at Magee Marsh, "the warbler capital of the world," Kaufman explains. Depending on the time of year, it offers the opportunity to see migratory birds as well as ones native to northwest Ohio. "There's so much variety," Kaufman says. "There are times of year you can go out and see more than 100 kinds of birds in a day. There are always surprises."
For more information and to learn more about bird-watching, visit birdingwithkennandkim.blogspot.com.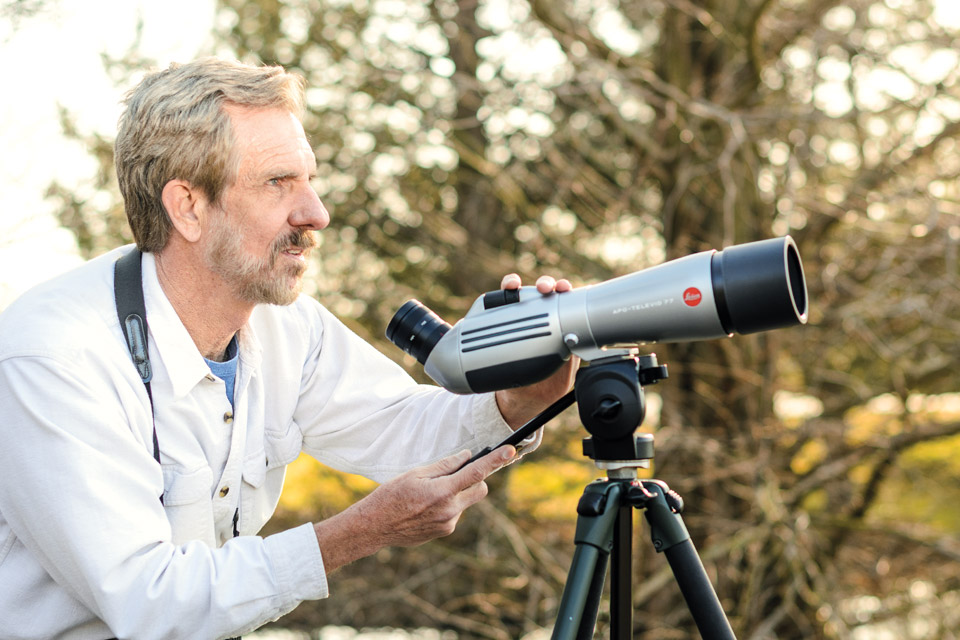 ***

Float On
Kayaking promises a personal way to take in nature. Mimi Morrison leads groups out onto some of southeast Ohio's most beautiful bodies of water.

As the sun retreats and stars begin to appear overhead, Mimi Morrison leads the way, paddling east so her group of kayakers can watch the full moon rise, its light reflecting off the flat waters of Strouds Run State Park.
"The daylight evaporates around you, and all of a sudden you're following this stream of light coming across the water from the moon," says Morrison, creator of Touch the Earth Adventures.
Her moonlight kayaking trips include two hours of paddling with multiple stops along the way, and she provides everything a novice kayaker needs — from equipment to instructions to glow sticks and snacks.
Morrison created Touch the Earth Adventures, which offers hiking and kayaking excursions, as a way to provide both an adventure experience and a retreat that connects her customers with nature. Her kayaking expeditions include a special paddle for the summer solstice and a birding-focused trip accompanied by an expert who helps point out species encountered along the way. "The birds, I think, don't recognize you as a threat [in a kayak]," Morrison says.
Kayaking is great way to experience a body of water, and unlike canoeing, only requires one person per boat. It gives you freedom, allowing you to focus on nature rather than attempting to stay in sync with your fellow paddler. And first-timers need not worry. Morrison gives introductory lessons to those who haven't paddled before.
"It's not easy to tip over a kayak," she says, but adds that it is important to stay centered and not to make sudden movements leaning to the sides.
"A kayak has a lower center of gravity. It's designed to be a little more stable and forgiving."
Morrison advises packing sunscreen and a light, water-resistant jacket or at least an extra layer of clothing before heading out on the water, especially on early morning or night trips.
She also suggests wearing polyester, nylon or synthetic clothing, which is much better than cotton because it dries faster when it gets wet. Sunglasses and a billed hat are good as well. After that, you're set to soak in the experience.
"Kayaking puts you in oneness with water — kind of down right with the water," Morrison says. "It takes very little effort just to glide."
740/591-9094, touchtheearthadventures.com — HR
EXPLORE MORE
River Cruiser Kayaking:
Kayak rentals on northeast Ohio's Cuyahoga and Rocky rivers.
rivercruiserkayaking.com
Kayak The Bay:
Kayak rentals available in the downtown harbor of Put-in-Bay.
kayakthebay.net
Rivers Edge Outfitters:
Kayak rentals on southwest Ohio's Little Miami River.
riversedgeoutfitters.com
***


Roughing it
From pitching your tent in Wayne National Forest to renting a Sioux-style teepee complete with a queen-size mattress, this trio of camping options will help you figure out how rugged you really are.
The Pioneer:
Wayne National Forest
Scattered along the more than 300 miles of trails in Wayne National Forest are a few designated campsites that require a small fee, but hikers are also welcome to set up their tent along the trail — what is known as "dispersed camping" — when they're done hoofing it for the day. For the best experience, Wayne National Forest recreation technician Don Dekker suggests looking for a small clearing of flat land and keeping an eye out for fire rings that indicate people have previously stayed there for the night. The goal is to be safe and stay dry for the following day of walking. "You want to make sure that wherever your tent is, any water that comes down drains away from you and doesn't sit there," explains Dekker, adding that clay-based soils tend to retain water. Those who take advantage of dispersed camping need to ensure that their equipment does not block developed trails. Plan to bring enough drinking water, and all trash must be carried out with you. There is no charge for primitive camping, but a 14-day limit is in effect.
fs.usda.gov/wayne
The Outdoorsman: Cuyahoga Valley National Park
Cuyahoga Valley National Park has a single primitive camping area with just five sites that must be reserved and require a $25 fee (firewood provided). But the Stanford Primitive Backcountry Campsites' proximity to the Ohio & Erie Canal Towpath Trail (and location less than 2 miles from Brandywine Falls) makes them a great spot to bunk for the night when visiting Ohio's only national park. "It gives you that really primitive backcountry camping, yet you're right near civilization, which I think is a large attraction," says Patricia Clark, group sales and reservation coordinator for the Conservancy for Cuyahoga Valley National Park. Each of the five campsites allows two tents and up to six people and includes a picnic table and food hook. There's also access to a water tank and a portable toilet. Food is meant to be prepared on propane stoves at each campsite, but there is a community campfire ring for gatherings — and cooking marshmallows. "We do have people who'll bring a bunch of corn and throw it in the fire and share it with anybody who's there," Clark says.
330/657-2909 ext. 119, nps.gov/cuva

The Weekender: Secluded Sanctuaries
Nestled among 40 wooded acres in the Hocking Hills, Secluded Sanctuaries' two Sioux-style teepees are a step up from tent camping. They feature deck-board floors, a queen-size mattress, seating for two and a chiminea to heat the space on cooler nights. There's also a fire ring, picnic table and seating outside. Although there's no running water or electricity at the site, there is a gravity-powered solar shower. Sioux-style teepees are asymmetrical cones tilted backward with the back wall being more upright than the front. "It gives you more headroom in the living area," explains owner Alan Middleton. Each teepee offers at least 300-square-feet of interior space, which makes them downright spacious when compared to traditional tents. (They're also popular, so plan on making reservations about two months in advance.) Secluded Sanctuaries' location within southeast Ohio's Hocking Hills region makes it a quick drive to popular sites such as Old Man's Cave and Cedar Falls, and provides access to many adventure options — if you can tear yourself away. "Some of my guests, they just hang out back there all day long and enjoy the peace and quiet," says Middleton.
740/380-1119, secludedsanctuaries.com
— HR