Travel
109 Days & Nights of Summer 2015
There are so many ways to make the most of the season. It's time to start planning.
May 2015 Issue
BY Staff & Contributors | Photo by Mika Murakami DeMura
May 2015 Issue
BY Staff & Contributors | Photo by Mika Murakami DeMura

MAY

May 22
A kids' fishing derby is to be expected when you're in the walleye capital of the world. But the
Port Clinton Walleye Festival
reaches far beyond its namesake with live entertainment, diet-busting midway fare, carnival rides and more.
May 21–25, walleyefestival.com
May 23
Travel halfway around the globe: Columbus'
Asian Festival
brings traditional performances, tasty and unusual eats, dragon boats and more to Franklin Park.
May 23–24, asian-festival.org
May 24
It's the 1950s in Memphis, and one radio DJ is shaking up the airwaves and sparking a music revolution in
"Memphis."
Cleveland high school students, their teachers and professional theater artists team up for the annual All-City Musical.
May 22–24, playhousesquare.org

May 25
Dig into refined Queen City eats at
Taste of Cincinnati
. More than 40 restaurants are part of this three-day culinary arts festival, which also features 70 live music performances and the West Sixth Food Truck Alley of tasty eats.
May 23–25, tasteofcincinnati.com
May 26
Stake your claim on a plot of the sandy beach at
East Harbor State Park
. Located in Lakeside Marblehead, the park features a 1,500-foot shoreline, plus trails for hiking when you're ready to break for some shade.
eastharborstatepark.org
May 27
Fix your gaze on the farthest reaches of the galaxy at the
COSI Planetarium
in Columbus. The 60-foot dome brings constellations and planets down to Earth.
cosi.org/planetarium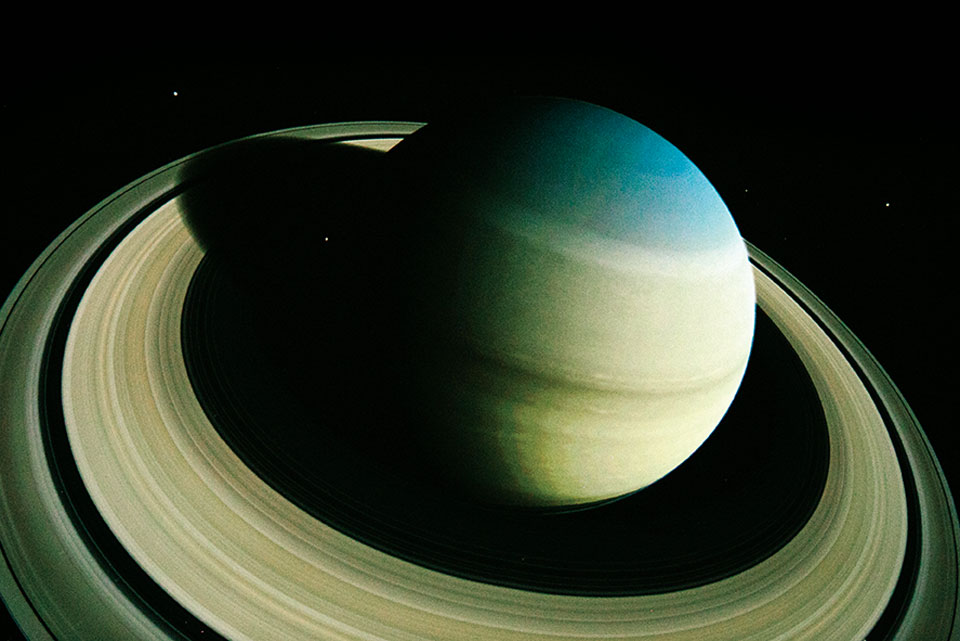 May 28
The
Nelsonville Music Festival
features The Flaming Lips, St. Vincent, Merle Haggard and more
(story below).
May 29
"Chasing Dreams: Baseball and Becoming American"
at the Maltz Museum of Jewish Heritage explores the role America's pastime has played over the years for immigrants and minority groups.
Through Sept. 7, maltzmuseum.org
May 30
Cast off onto a moonlit river during
Hocking Hills Canoe Livery's Moonlight Tour
. A roaring bonfire, s'mores and a bluegrass band wait downstream.
Multiple dates, hockingriver.com
May 31
Fine arts in 12 categories share the spotlight at Cincinnati's historic Coney Island during
Summerfair 2015
. Meet with the artists while shopping for new treasures and indulging in gourmet dishes.
May 29–31, summerfair.org

***
Sound Decision
Nelsonville Music Festival | May 28–31
Tucked away in the hills of southeast Ohio, the Nelsonville Music Festival is a more intimate affair than most, with a max capacity of roughly 6,000 attendees. But its lineup of acts could belong to a festival many times its size. Its setting at the restored 1850s Robbins Crossing village at Hocking College makes it all the more memorable. "The atmosphere is breathtaking," says Tim Peacock, executive director of the festival. "It sets the perfect stage for a personal, laid back musical experience."
— Chelsey Milkovich
Musical Range:
With performances from alternative favorites such as The Flaming Lips and St. Vincent, as well as country legend Merle Haggard, the festival lineup doesn't adhere to a specific genre. This year's schedule includes more than three dozen billed acts.
Family Time:
Children 12 and younger have free admission to the festival and can participate in many children's activities, ranging from art projects to special performances. "We encourage our performers to play music for the kids," says Peacock.
Artistic Eye:
Visual art plays an important role at the festival. Jewelry, pottery and painting are among the forms represented. "The people who come to the festival are big fans of local artwork," Peacock says. "Some of the artists repurpose old records, and they tend to be big sellers."

Hocking College, 3301 Hocking Pkwy., Nelsonville 45764, nelsonvillefest.org

***
JUNE

June 1
Think your golf game is up to par? Watching PGA Tour professionals hit the course at the Muirfield Village Golf Club for the
2015 Memorial Tournament
will have you heading home with a newfound urge to work on your swing.
June 1–7, thememorialtournament.com

June 2
Nothing seems unusual about an Amish widow teaching a quilting class. But
"Half-Stitched the Musical"
at the Carlisle Inn Sugarcreek piles on the comedy by introducing a cast of unlikely students.
June 2–Aug. 15, amishcountrymusicals.com
June 3
Rev up and tour Kelleys Island while competing in the
Bike Week Dice Run
. It's part of a nine-day lineup of entertainment, bike shows and other motorcycle-related events during Ohio Bike Week.
May 29–June 7, ohiobikeweek.com

June 4
Gather in front of the Olde Milford Barber Shoppe to watch the parade that kicks off Milford's
Frontier Days
. The festival started with a simple canoe race on the Little Miami River, but today carnival rides, entertainment and even a spaghetti-eating contest are among the attractions.
June 4–7, frontierdaysmilford.com

June 5
Meet up with paddling enthusiasts at the
South Bass Island Kayak Rendezvous
, then set your own pace and schedule while exploring the waters around South Bass Island State Park.
June 5–7, southbassrendezvous.com

June 6
Channel your inner Jay Gatsby at Medina's
Jazz Under the Stars
. Jazz standards from the Great American Songbook and original compositions set the mood for an evening outdoors
. medinaoh.org
June 7
The
Troy Strawberry Festival
features more than 70 food booths offering a wide range of eats made with the tasty fruit, from strawberry salsa to the famous strawberry doughnuts. Even the downtown fountain is dyed red to honor the summertime treat. J
une 6–7, gostrawberries.com
June 8
Go Zen at the Franklin Park Conservatory's
Bonsai Show
in Columbus. The tropical and hardy bonsai comes in a variety of shapes and colors, but each remains a horticultural work of art.
Through Sept. 27, fpconservatory.org
June 9
Ohio Wine Month gets competitive during
The Amazing Grape Race
. Visit all the participating wineries on the Lake Erie Shores & Islands Trail for a chance to win prizes.
June 1–30, ohiowines.org
June 10
From boisterous numbers to haunting ballads,
"Once"
is sure to touch your heart. Based on the 2007 film of the same name, the eight-time Tony Award winner hits Columbus to share the tale of a struggling street musician and the young woman who reignites his dreams.
June 9–14, columbus.broadway.com
June 11
Chubby Checker
was just 18 years old when his single "The Twist" hit No. 1 on the Billboard pop chart in 1960, and then again in 1962. Decades later, he still hasn't slowed down. The King of the Twist brings a night of classic music to Kettering's Fraze Pavilion
. fraze.com
June 12
Sample a variety of wines while browsing the creations of more than 80 artists. The Granville Art Affair and Wine Festival also features fine foods and hands-on art activities on the lawn and inside the historic Bryn du Mansion.
June 12–13, granvilleartaffair.com

June 13
Don't be chicken when it comes to
Versailles Poultry Days
. The annual festival celebrates the area's poultry-producing history with two parades, a roundup of contests, a flower show and, of course, delicious chicken dinners.
June 12–14, versaillespoultrydays.com
June 14
Strolling musicians and artists painting in the open air create an aura of whimsy during the
Art in the Garden Tour
. Eight lovely gardens in and around Zanesville open their gates and just might inspire you to create your own backyard haven.
zanesvilleart.org

June 15
Go wild at the
Cleveland Metroparks Zoo
, and swing by the new Penguin Shores exhibit
(story below).
June 16
Baseball and Andy Warhol aren't often mentioned in the same sentence. See the pop artist's only three known works featuring baseball players at the Cincinnati Art Museum's
"Up at Bat: Warhol and Baseball,"
including his wall-size tribute to Pete Rose.
Through Aug. 2, cincinnatiartmuseum.org
June 17
Long before milk accompanied our morning cereal, it played an important role in the lives of early pioneers. Sauder Village's
Dairy Days
give the food group its due with historical demonstrations and the chance for guests to try their hand at making butter, ice cream and biscuits.
June 16–21, saudervillage.org
June 18
Free tours of the Columbus Washboard Co. provide a bit of context for the
Washboard Music Festival
that draws visitors to Logan every Father's Day weekend. Acts such as Arnett Howard and others prove musical inspiration can come from the unlikeliest of places.
June 18–20, washboardmusicfestival.com
June 19
Join Vermilion in celebrating its location along Lake Erie at the
Festival of the Fish
. Midway fare and a sand castle-building contest are just part of the fun, which also includes a lighted boat parade and the pet parade that kicks off with an appearance by Dick Goddard of Cleveland's Fox 8.
June 19–21, vermilionchamber.net
June 20
Jazz greats Wild Bill Davison and Milt Buckner both called Defiance home. Today, the northwest Ohio city, located at the confluence of the Maumee and Auglaize rivers, honors these musical innovators with the
Take Me to the Rivers Jazz Festival
.
visitdefianceohio.com
June 21
Peaceful Acres Lavender Farm in Martinsville invites visitors to walk through its aromatic and purple-tinged fields for the
Summer Solstice Lavender Festival
. While you're there, learn about the herb's many uses, from medicine and aromatherapy to fragrances and food.
June 20–21, peacefulacreslavenderfarm.com
June 22
Make Jack Sparrow proud and join in as the
Pyrate Fest
invades Put-in-Bay. The weekend celebration includes contests, the Faire Wynds Circus, re-enactors in pirate gear and much more. We promise no one will make you walk the plank.
June 19–23, pyratefest.co
June 23
Spend a day in the company of nearly 5,000 different types of shrubs and trees at
The Dawes Arboretum
in Licking County. The lush forests are filled with trees native to Ohio, but the Japanese Garden and Cypress Swamp are just two areas that offer a glimpse of distant and exotic locales.
dawesarb.org
June 24
Don't let the midweek doldrums make you reach for that box of macaroni and cheese in the back of the pantry. Take a stroll through the
Athens Farmers Market
to find fresh produce and local products that just might inspire a new recipe.
athensfarmersmarket.org
June 25
Get pedaling and earn your "cycology" degree during the 27th annual
Great Ohio Bicycle Adventure
. This biking-and-camping excursion travels through northwest Ohio on pure pedal power.
June 20–27, goba.com/wordpress


June 26
Fix your ears on the Shook Twins' folky banjo-and-guitar sound layered with electronic instruments and vocal loops. The identical siblings make up half of the indie folk-pop band that kicks off
Stuart's Opera House
's summer concert series.
stuartsoperahouse.org
June 27
All aboard for the 10th annual
Carillon Park Rail Festival
in Dayton. Both the young and young at heart can check out model train displays, scale steam engines, historical exhibits and more.
June 27–28, railfestival.com
June 28
More than 200 fine artists from across the country return for the
Crosby Festival of the Arts
. The Toledo Botanical Garden hosts this colorful display of jewelry, glass, textiles and more. There is also an assortment of edibles, live entertainment and children's activities.
June 27–28, toledogarden.org
June 29
Whether it's history or whiskey,
Flogging Molly
is always ready to throw in a reference to the Emerald Isle. The seven-piece Irish punk rock band from Los Angeles gets loud at Columbus' LC Pavilion.
promowestlive.com
June 30
Cincinnati's Fountain Square hosts a medley of summer sounds, including salsa and reggae. But the monthly
American Roots
concerts focus on bluegrass, folk, rockabilly and honky-tonk.
myfountainsquare.com
***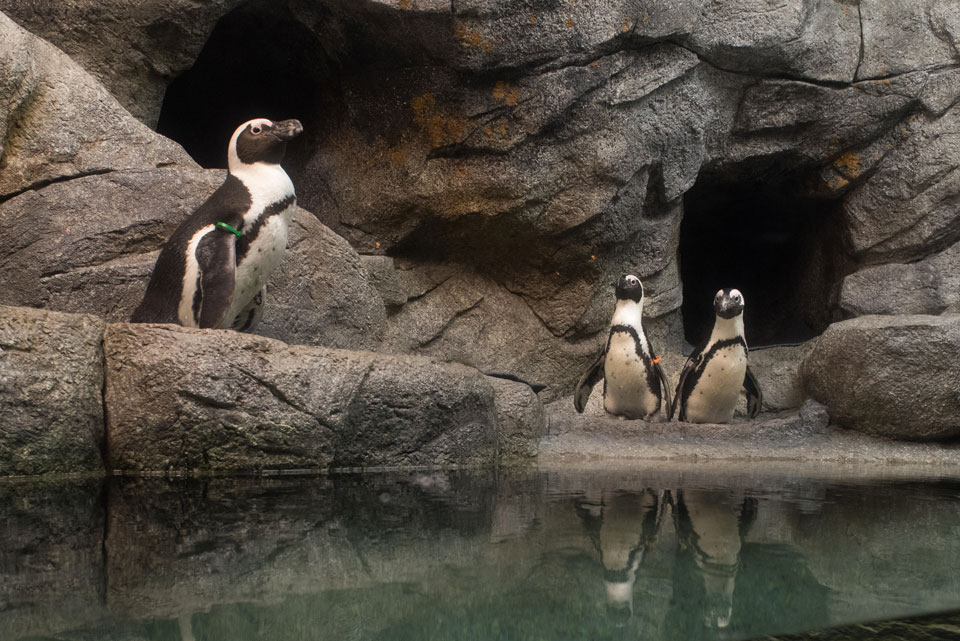 Zoo Arrivals
Penguin Shores | Through Sept. 30

This summer, northeast Ohioans won't have to rely on their DVD copy of "Madagascar" to get their penguin fix. Six of the adorable birds will be waddling around Cleveland Metroparks Zoo's Penguin Shores through September. The arrival of African black-footed penguins marks the first time in more than a decade that penguins have called the Cleveland zoo home and promises plenty of photo-worthy moments.
— Elizabeth Randolph

Penguins Past:
The last penguins to live at the zoo were part of a mixed-species exhibit at the Birds of the World building, which included Humboldt, macaroni and king penguins, with the latter remaining on exhibit through 2002. Cleveland Metroparks Zoo executive director Chris Kuhar says visitors have frequently asked over the years when they might return. "The penguin exhibit has always been something that the guests enjoyed," he adds. "Bringing it back was a no-brainer."
Zoo Digs:
Guests can look for the traveling exhibit in the Northern Trek section of the zoo. The attraction resembles a South African seaport and features natural-looking rocks with nest boxes, ledges and irregular surfaces to mimic the rocky coastlines and beaches of the penguins' native habitat. Cutouts of the African penguins installed in the visitor area of the exhibit offer photo opportunities for kids and adults alike.
The Message:
The International Union for Conservation of Nature has classified African black-footed penguins as endangered due to overfishing of the small fish species they eat and damage from the oil industry. Part of the zoo's mission is to educate visitors about environmental issues on both global and local levels. "It's a great way for us to raise conservation issues and raise awareness of the impacts of clean water," says Kuhar.
3900 Wildlife Way, Cleveland 44109, 216/661-6500, clevelandmetroparks.com
***
JULY
July 1
The Cleveland Orchestra brings its free
Star-Spangled Spectacular
performance to Cleveland's Mall B this year. Join the thousands in attendance for patriotic favorites, including Tchaikovsky's "1812 Overture." The evening ends with a crescendo of fireworks.
clevelandorchestra.com

July 2
The Dairy Barn in Athens hosts the
Quilt National 2015
. The international juried competition for innovative quilt-makers will make you look at the traditional bed covering in a new light.
May 23–Sept. 7, dairybarn.org
July 3
Celebrate your patriotism with barbecue, craft beer and music on the shores of the Ohio River at Marietta's
Red, White and Brews Festival
. The Lafayette Hotel plays host and caterer, with Marietta Brewing Co. providing the suds for an evening of blues and rock bands from across the state.
mariettaohio.org
July 4
The Civil War comes to life on the lawn of Fremont's Rutherford B. Hayes Presidential Center during its
Independence Day Concert
— a re-enactment set to a performance by the Toledo Symphony Concert Band. Live cannons provide the percussion accompaniment to Tchaikovsky's "1812 Overture."
rbhayes.org

July 5
Park yourself at the
National Packard Museum
in Warren for this annual show of the museum's collection of vintage vehicles. Live music and demonstrations celebrate the history and ingenuity of the Packard Motor Car Co.
July 3–5, packardmuseum.org
July 6
Snuff out the back-to-work blues. Vendors at Columbus'
North Market
are now open on Mondays. Hungry shoppers can experience exotic flavors at North Market Spices, get farm-to-table tastes at Bluescreek Farm Meats and nibble on croissants at Omega Artisan Baking.
northmarket.com
July 7
Ohio Chautauqua
, a traveling group of history-sharing storytellers, completes its nearly month-long tour in Coshocton. The period actors step into the characters of historical figures, such as Martin Luther King Jr. and Henry David Thoreau, to perform, answer questions and entertain. July 7–11,
ohiohumanities.org

July 8
"Two Step" over to Blossom Music Center in Cuyahoga Falls to hear
Dave Matthews Band
. The outdoor venue seats 5,700 people under a covered pavilion, but if you'd rather dance in the grass, the inclined lawn offers room to roam.
theblossommusiccenter.com
July 9
Don Pasquale thinks he knows what's best for his nephew when it comes to marriage — until he learns the hard way that nothing can stop the power of true love. The Cincinnati Opera presents
"Don Pasquale"
with a small cast of powerful voices. July 9 & 11,
cincinnatiopera.com
July 10
Three acres of artfully cultivated gardens might be the headliner, but
LilyFest
in Rockbridge is more than a walk in the park. Live music and local food vendors fuel the event, where dozens of artists perform demonstrations and horticulturalists answer gardening questions.
July 10–12, lilyfest.com

July 11
Cleveland's Playhouse Square pulsates with sounds ranging from blues to big band and Latin to smooth jazz. Returning for the 36th year, the
Tri-C JazzFest
offers nine concerts as well as two days of free outdoor shows.
July 9–11, tri-c.edu/jazzfest

July 12
Sunday at the
Huron River Fest
kicks off with wagging tails during the Pets on the Pier event, where canines parade along the river. The festival, which also features midway rides, games and live entertainment, concludes with the St. Pete's Rubber Duck Race.
July 10­–12, huronriverfest.com
July 13
Tee up for the first day of the
Marathon Classic
women's golf tournament, held annually at the Highland Meadows Golf Club in Sylvania. This year, the Ronald McDonald House and the Jamie Farr Scholarship Fund are among the organizations that benefit from every ticket sold.
July 13–19, marathonclassic.com

July 14
Head to Great American Ball Park — host of this year's
Major League Baseball All-Star Game
(story below).
July 15
It's
Ohio Brew Week
's 10th anniversary, so there's an extra reason to toast your favorite Buckeye State craft beers. All week long, you can sip a cold one in the beer garden as you enjoy local bands and barbecue. You can even see how your homemade suds measure up in a brewing contest.
July 10–18, ohiobrewweek.com

July 16
Part heritage festival, part anniversary party, the
Summer Moon Festival
in Neil Armstrong's hometown of Wapakoneta pays homage to the astronaut's walk on the moon as well as the town's history and traditions. Enjoy food, music, street sales and other events, including a Miss Summer Moon Festival scholarship pageant.
July 15–19, wapakoneta.com
July 17
Kick off your shoes at
Jamboree in the Hills
as you enjoy country at its best. The long-weekend music festival in the hills of Belmont County means four days of food, camping and A-listers such as Dierks Bentley and Toby Keith.
July 16–19, jamboreeinthehills.com

July 18
How does your garden grow? Find out at Scioto Gardens' annual
Gardening and Arts Festival
, where more than 30 artists set up shop surrounded by native and exotic plants. Guest bands enliven the afternoon with music, and visitors can attend workshops focused on gardening and botany.
sciotogardens.com
July 19
Kelleys Island blooms in the summertime, so enjoy the color and the fun at
Island Fest
, a three-day jubilee of games, food and tunes during which local artisans set up shop in Memorial Park.
July 17–19, kelleysislandchamber.com

July 20
The best 7- to 21-year-old gravity-powered car racers compete during a week of events in Akron. It all leads up to the final heats of Akron's legendary
FirstEnergy All-American Soap Box Derby
world championships.
July 19–25, aasbd.org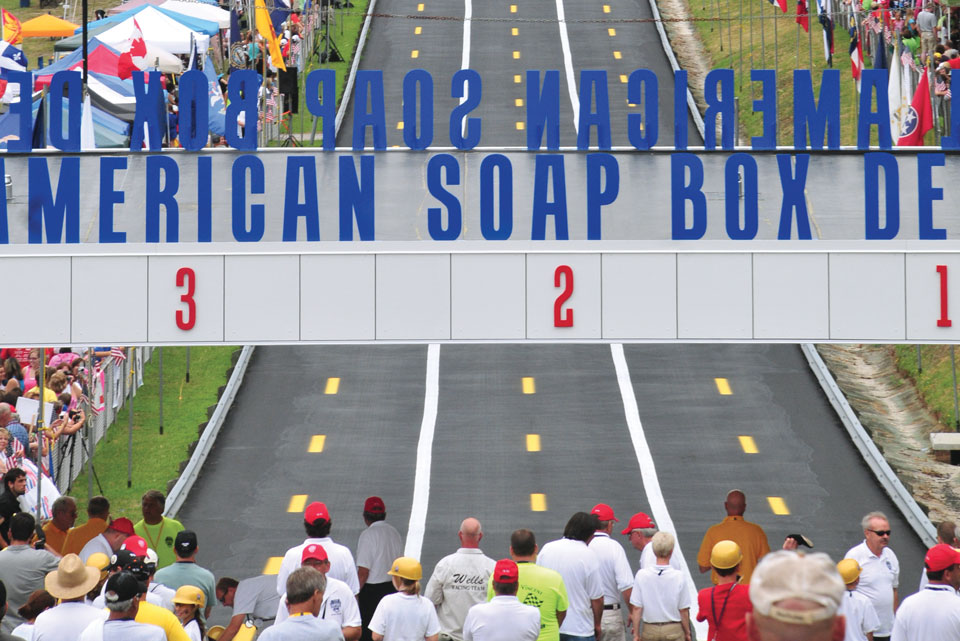 July 21
Decked-out cars and pickup trucks tear around a dirt track in front of more than 20,000 spectators at the
NASCAR Mud Summer Classic
. Hosted by Eldora Speedway in New Weston, the event covers two sets of races in two days, with plenty of food, music and games in between.
July 21–22, eldoraspeedway.com

July 22
Celebrate
Christmas in July
at Entertrainment Junction, which houses the world's largest indoor model train display, a tricky mirrored funhouse, and, in the spirit of the season, daily visits from Santa Claus.
June 27–July 31, entertrainmentjunction.com
July 23
Edgewater Live
rocked Cleveland with its inaugural season of sun-splashed Thursday happy hours last year. Grab a bite from a local food truck, dance in the sand to live music, and be a part of this beach party's sophomore run.
June 11–Aug. 13, clevelandmetroparks.com

July 24
Make a splash at the
Celina Lake Festival
. The classic car show is more turf than surf, but activities, contests and even an amphibious car celebrate Grand Lake St. Marys — Ohio's largest inland lake.
July 24–26, lakefestival.com
July 25
The
Annie Oakley Festival
in Greenville starts off just as its namesake would have it — with a good, old-fashioned marksmanship contest. Children can participate in sack races and water balloon tosses, while adults can try their hand at a rolling pin throw. A Saturday parade honors "Little Sure Shot."
July 24–26, annieoakleyfestival.org
July 26
Pull up to the
Adena Mansion Classic Car Show
, a juried show organized by the Southern Ohio Corvette Club. Forty-five trophies go to standout vehicles, but spectators have a chance to win, too — there are door prizes and a 50/50 raffle throughout the day.
adenamansion.com

July 27
The
Lancaster Festival
toasts art and music in Ohio with a week of concerts, a Friday art walk and a 5K road race. Browse the selection of works by regional artists, and enjoy performances by dancers and musicians who take stages all over town for a near-constant hum of artistic energy.
July 23–Aug. 1, lancasterfestival.org
July 28
If the shoe fits … wear it to Cleveland's Playhouse Square for a performance of Rodgers and Hammerstein's musical,
"Cinderella."
The stage performance is more riches than rags, with gorgeous costumes, dynamic choreography and live orchestral accompaniment.
July 21–Aug. 2, playhousesquare.org
July 29
Dig deeper into history at
Fort Ancient
in Oregonia. Visit the on-site museum stocked with artifacts that tell a tale of evolving Native American cultures. Then, explore the fascinating prehistoric earthworks by hiking the surrounding 2.1 miles of trails.
fortancient.org
July 30
Pig races, pony rides and a petting zoo offer a tip of the hat to Ohio's farming culture, while a Civil War encampment educates about Buckeye State history. Of course, there will be plenty of carnival rides, live music and funnel cakes as the
Ohio State Fair
returns for its 162nd year.
July 29–Aug. 9, ohiostatefair.com

July 31
Putt your way through
Adventure Golf at Rempel's Grove
in Logan. The mini-golf course features a cave, waterfall, streams and bridges, all reflecting the natural landscape of the surrounding Hocking Hills.
hockingriver.com/mini-golf
***
Ballpark Figures
Major League Baseball All-Star Game | July 14
Cincinnati Reds vs. Cleveland Indians | May 22–24, July 17–19
Baseball may be America's pastime, but it's an Ohio summer staple thanks to our two storied professional franchises. In 1867, the Cincinnati Red Stockings became the game's first pro team, and this year the ball club (now known simply as the Reds) will host Major League Baseball's 2015 All-Star Game at Great American Ball Park on July 14.
Those who can't snag a ticket to the All-Star Game can enjoy Ohio's baseball rivalry when the Reds face the Cleveland Indians on the road May 22 through 24 and at home July 17 through 19. Those who haven't been to the Indians' ballpark since last summer will notice big changes at Progressive Field.
Bullpens have been reconfigured so fans can see players warming up, upper deck seats have been replaced by group event space, and a new bar with field views has been added to the right field corner.
"The way that people interact with media, entertainment and sports has changed," says Cleveland Indians vice president of strategy and business analytics Andrew Miller. "We want to make a better experience."
Great American Ball Park, 100 Joe Nuxhall Way, Cincinnati 45202, 513/381