Travel
102 Days & Nights of Summer (2014)
There's a lot going on in the Buckeye State this time of year. We'll help you get ready to make the most it.
May 2014 Issue
BY Hallie Rybka | Photo by Lesley Blake
May 2014 Issue
BY Hallie Rybka | Photo by Lesley Blake
May 22-31

Sun Celebration
May 22–25 | Feast of the Flowering Moon

Chillicothe has a deep connection with Native American history and the Shawnee people. The name itself is derived from the Shawnee word meaning "principal place," and for 31 years, crowds have gathered downtown at Yoctangee Park to celebrate this history.

In Native American cultures, a May harvest celebration, known as the Feast of the Flowering Moon, embraced the return of the sun and the bounty. Festival organizers use this traditional ceremony as a way to educate visitors on various aspects of Native American culture. Members of 14 recognized tribes from throughout the United States travel to Chillicothe to share their ancestors' craftsmanship, dance and storytelling.

"People can come out of the audience and dance with [the Native American representatives] and interact — talk to them about all kinds of things," explains Christy Sams, one of the festival's coordinators.

Visitors learn about each tribe's history as they study the skilled and precise techniques of silversmithing, beadwork and hide tanning at demonstration booths. And while there is not necessarily a feast at any particular time during the festival, there are plenty of vendors offering feast-worthy eats, including this year's specialty: bison burgers. The gathering and sharing of cultures not only enlightens spectators, Sams says, but also delights the representatives of visiting tribes.

"They feel at home, like this is a home away from home for them." Yoctangee Park, Downtown Chillicothe 45601, feastofthefloweringmoon.org SE — Kara Kissell


May 24: "South Park" meets Broadway when the Tony Award-winning musical "The Book of Mormon" hits the Ohio Theatre in Columbus. Trey Parker and Matt Stone's outrageous (with a capital 'O') story may make your mother blush, but we bet she'll laugh, too. Runs May 13–25, columbus.broadway.com CEN

May 25: Today's your last chance to get inside the mind of Vincent van Gogh at the Cleveland Museum of Art. "Van Gogh Repetitions" examines subjects that the artist painted more than once by presenting his finished works side by side. clevelandart.org NE

May 26: As the Velvet Ice Cream Co. celebrates its 100th anniversary, the company's hometown of Utica invites you to grab a scoop at its annual Ice Cream Festival. Go ahead and make it a double, just watch out for the ice cream headache. May 24–26, sertomaicecreamfestival.com CEN

May 27: Take a drive along Lake Erie and stop at the Marblehead Lighthouse. The Ohio State Park offers daily tours and you can take in a panoramic view of the lakeshore. Afternoon tours available Mon.–Fri. through Aug. 29, parks.ohiodnr.gov NW

May 28: Colors erupt at Franklin Park Conservatory during the annual Spring Flower Show. Browse hundreds of trees, shrubs, perennials and bulbs that bloom over the course of the show's seven-week run. Through June 8, fpconservatory.org CEN

May 29: The Avett Brothers headline this year's Nelsonville Music Festival, but there are nearly 40 other acts to take in during the three-day event. May 29–June 1, nelsonvillefest.org SW

May 30: Celebrate those who defend our country during the Cleveland Pops Orchestra's annual Salute to the Armed Forces, filled with patriotic and military-inspired music. clevelandorchestra.com NE

May 31: Sample art, music and great wines at the annual Oxford Wine Festival. This vino-centric event features international wine tastings, special pairings and food seminars. If the grapes aren't your thing, there's also a beer garden. oxfordchamber.org SW

***

June 1-30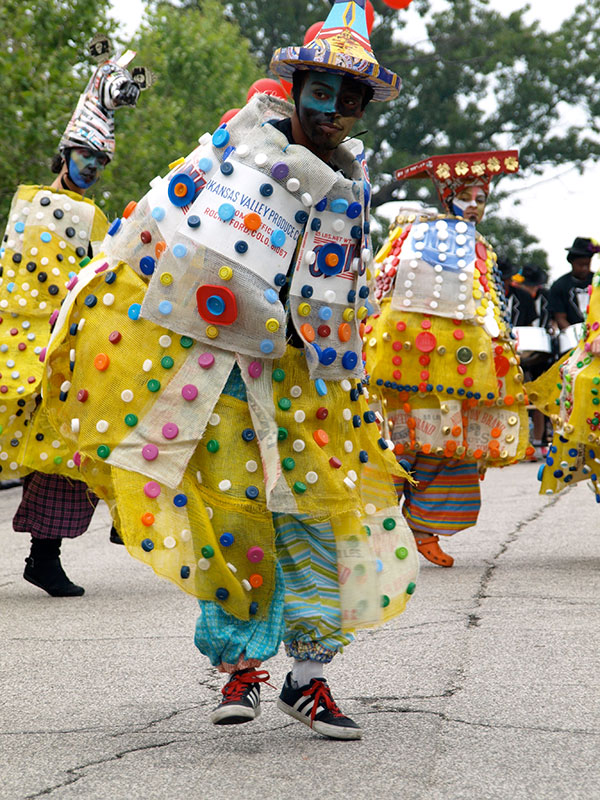 People Powered
June 14 | Parade the Circle
The second Saturday of every June, Cleveland's University Circle morphs into a stunning sea of bright costumes, human-powered floats and elaborate puppets as the annual Parade the Circle celebration comes to life.
Community members and artists work together for weeks to create the wearable art featured in the massive parade. "For me it's been pretty spectacular," says Robin VanLear, director of community art for the Cleveland Museum of Art. She created Parade the Circle, which celebrates its 25th parade this year.
"In the beginning, a lot of our featured artists would do amazing stuff and the community stuff would be cool, but it would be kind of funky," VanLear recalls. "Now, the community stuff is amazing, it's really as good as what the artists are doing. The imagination, sophistication and technique that are used to create the work are really inspiring."
The first parade — created in anticipation of the art museum's 75th anniversary celebration — attracted about 100 participants and drew a crowd of around 500 people. In the years that followed, the parade has grown dramatically, with about 1,500 participants and 75,000 in attendance last year. This summer, Parade the Circle is giving a nod to its past success by inviting artists who have previously been involved with the parade.
"No matter how much I think I know what I am going to be seeing on parade day, […] I am still blown away when I see it all assembled on our parking deck and when it all comes streaming out of the driveway at the north entrance to the art museum," VanLear says. "Inevitably, I start to cry. I am just so overwhelmed with the talent that is on display — the talent that is so often hidden in [the] daily life of Clevelanders, many of whom do not consider themselves artists — is simply amazing."
Wade Oval, Cleveland 44106, clevelandart.org
NE
— Kelsey Smith
June 1:
Cincinnati's historic Coney Island comes alive with 300 fine artists for
Summerfair 2014
. Whether you're looking for photographs or paintings to decorate your home, or leather and jewelry pieces to wear, this three-day event has you covered.
May 30–June 1, summerfair.org
SW
June 2:
Go on safari in Ohio. A trip to
The Wilds
offers the chance to spend time with zebras, lions and other exotic animals. The Cumberland conservation park also offers horseback riding and ziplining.
Open May–Oct., thewilds.org
SE
June 3:
Make chilling discoveries while exploring "Titanic" at Toledo's
Imagination Station
. Hear personal stories of those who took the ill-fated voyage, see room re-creations and even feel how cold the iceberg was that night. Through June 15,
imaginationstationtoledo.org
NW
June 4: Ohio Bike Week
, the Midwest's largest motorcycle rally, rolls into Kelleys Island. Take in a bike show, stunt shows, live music and more around northwest Ohio as this 10-day event hits full gear.
May 30–June 8,
ohiobikeweek.com
NW

June 5:
Line up for the parade that kicks off a weekend filled with carnival games and the tempting smell of funnel cakes. Milford's annual
Frontier Days
celebration will also feature your favorite festival rides along the Little Miami River. June 5–8,
frontierdaysmilford.com
SW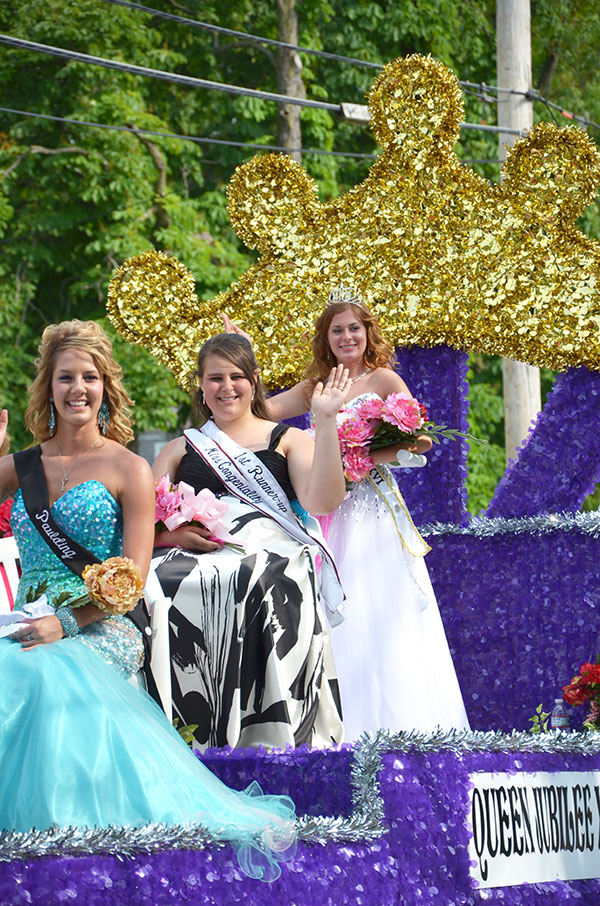 June 6:
A lot has changed since the first Van Wert
Peony Festival
in 1932. But what hasn't are the bountiful bundles of the large blooms, garden tours and a parade complete with a float honoring the Queen Jubilee winner.
June 6–8, vanwertpeony.com
NW
June 7:
Travel across the centuries to enjoy Native American flute music, drumming and culture at the
Fort Ancient Celebration: A Gathering of Four Directions
in Oregonia. The event features dancers in full regalia, heritage storytellers, demonstrations and more.
June 7–8,
fortancient.org
SW
June 8:
Put your spring exercise regimen to good use during
Kill the Hill
. The Adena Mansion and Gardens in Chillicothe hosts two races fit for any level of athlete: a 5K walk/run and a 10-mile run winds through a park and orchard before arriving at the run's namesake hill.
adenamansion.com
SE
June 9:
Screaming won't be an option once you lock into the Banshee at
Kings Island
. The park's newest ride boasts the world's longest inverted track at 4,124 feet, speeds up to 68 miles per hour and seven twisting, looping inversions.
visitkingsisland.com
SW
June 10:
Catch a glimpse of Ohio's state wildflower, white trillium, scattered among a carpet of more than 70 native species that bloom at the
Eagle Creek Nature Preserve
in Portage County.
ohiodnr.com
NE
June 11:
Comic book nerds rejoice: The Wexner Center for the Arts celebrates getting serious about pen, ink, paper and thought balloons.
"Modern Cartoonist: The Art of Daniel Clowes"
recognizes an acclaimed artist who helped establish literary credibility for the genre.
May 17–Aug. 3,
wexarts.org
CEN
June 12:
Grab your favorite lawn chair and stake out a spot at the Warren County Amphitheatre for
Thursday Night Concerts
. The live-music series joins Friday Night Flicks as part of the Trumbull County Summer Night Specials.
Through Aug. 14,
trumbullarts.org
NE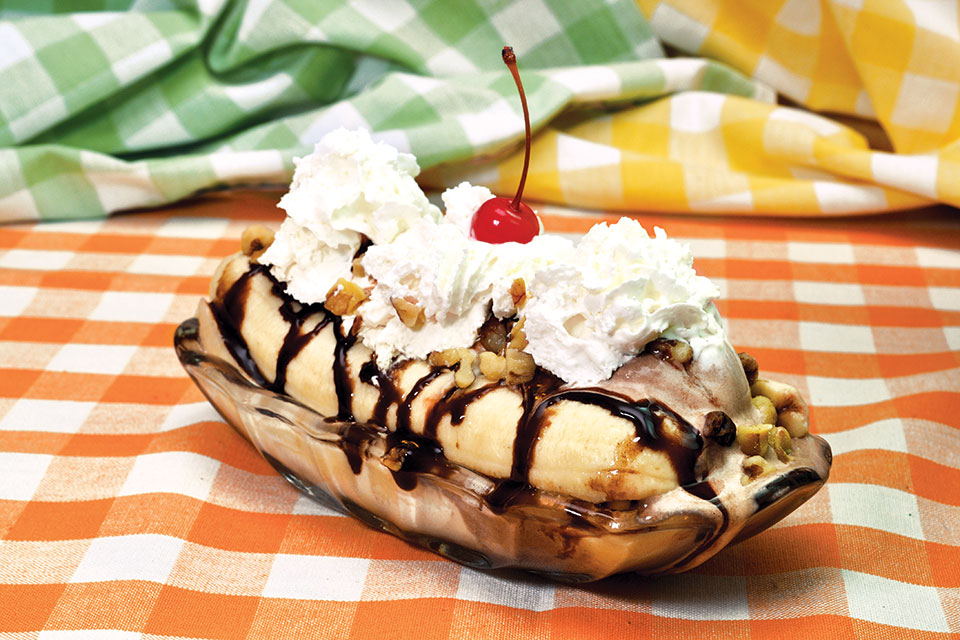 June 13:
Enjoy a sweet slice of Americana at Wilmington's annual
Banana Split Festival
. The weekend is filled with throwback fun, such as a cruise-in and '50s and '60s music, plus food booths, games, chef challenges and much more. Go ahead and dig in.
June 13–14,
bananasplitfestival.com
SW
June 14:
Parade the Circle. The annual celebration marks 25 years of creativity in 2014 (story above).
June 15:
The
Avon Heritage Duck Tape Festival
goes beyond the boring old gray roll. The home of Duck Tape brand duct tape hosts activities, a parade and artists that celebrate the increasingly colorful and always useful toolbox must-have.
June 13–15,
ducktapefestival.com
NE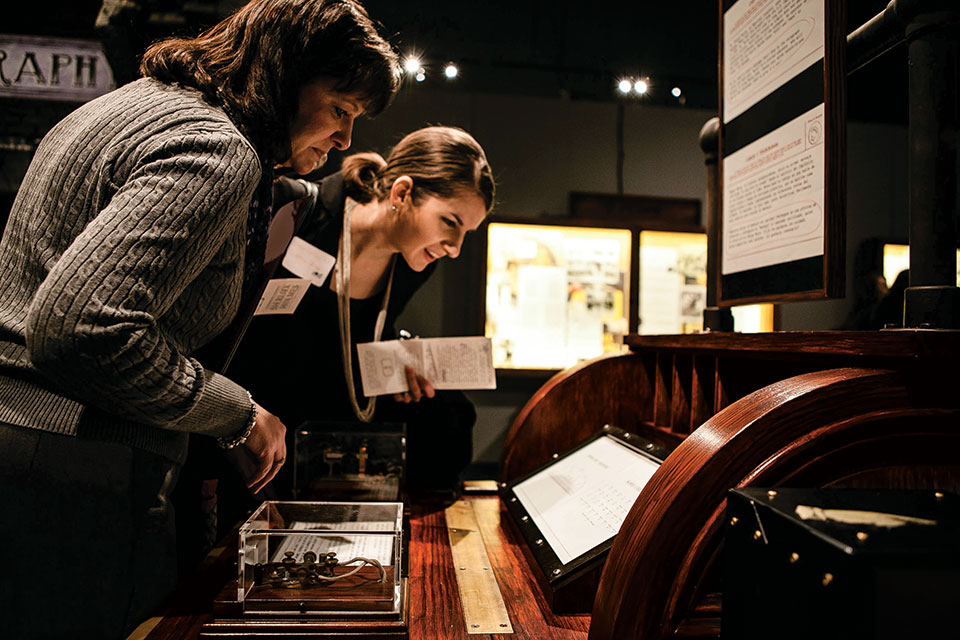 June 16:
It's elementary, really. Put your powers of deduction to the test to solve a 19th-century London mystery at
The International Exhibition of Sherlock Holmes
. The COSI exhibit gives visitors the chance to follow in the literary detective's footsteps to crack the case.
Through Sept. 1, cosi.org
CEN
June 17:
Meander past cascading waterfalls and stone sculptures hidden among the floral displays while following the fluttering trails of 16,000 bright butterflies at Cincinnati's Krohn Conservatory.
"Pura Vida Butterflies of Costa Rica"
transforms the indoor biome into a tropical oasis.
Through June 22, cincinnatiparks.com
SW
June 18:
Stock up on local flavors at the weekly
Athens Farmers Market
. From cheese and produce to salsa and crafts, the Wednesday and Saturday market has expanded beyond the typical fare.
athensfarmersmarket.org
SE
June 19:
Let the wild rumpus start! See original drawings from Where the Wild Things Are at
"Maurice Sendak: 50 Year Tribute."
Youngstown's Butler Institute of American Art hosts this celebration of one of the world's most beloved children's artists.
May 18–July 6, butlerart.com
NE
June 20:
Get in tune with summertime at Gahanna's
Creekside Blues & Jazz Festival
. The three-day celebration delivers music on five stages, as well as cultural cuisine, regional artisans and rides.
June 20–22, creeksidebluesandjazz.com
CEN
June 21:
Party on the front lawn of the Cleveland Museum of Art at
Solstice
as evening slowly turns to night on the longest day of the year. Browse the museum's galleries in between sampling food, drink and great live music from around the globe on two stages.
clevelandart.org
NE
June 22:
The art is enough to draw you in, but the homemade ice cream and loads of live music seal the deal. The Tiffin Music and Art Festival features five stages, as well as bouncy inflatables and a magician for the kids.
June 20–22, tiffinmusicandartfestival.com
NW
June 23:
Pie fillings don't get any fresher than this. A & M Farm Orchard in Midland opens to guests for
U-Pick Strawberries
. Choose your own perfect batch of the season's plump red treat. Call to verify dates the fruit is in season,
clintoncountyohio.com
SW
June 24:
Next stop, Margaritaville.
Jimmy Buffett and the Coral Reefer Band
return to Blossom Music Center and bring a taste of the tropics to the Buckeye State's faithful Parrotheads.
theblossommusiccenter.com
NE
June 25:
Peer out over the lake from Oliver Hazard Perry's lookout, stroll along the glacial grooves and tour the exterior of Cooke Castle as part of
Gibraltar Island Tours
. Plus, take a peek at Lake Erie research being done at Stone Lab. Tours available Wednesdays through Aug. 13,
stonelab.osu.edu/tripsandtours
NW
June 26:
Grab your binoculars, head to the
Magee Marsh Wildlife Area
and put your birding manual to use. The nearly 2,000-acre marsh speckled with trails is a prime stop for birds to refuel before traveling north.
mageemarsh.org
NE
June 27:
See a cheetah run or feed a giraffe by hand. You never know what opportunities you'll encounter at the
Columbus Zoo and Aquarium
's new Heart of Africa. The newly opened, 43-acre area replicates the wild feel of the African savanna.
heartofafrica.columbuszoo.org
CEN
June 28:
Shopping at Easton Town Center spills out onto the sidewalks during the
Easton Art Affair
. More than 100 artisans tempt shoppers with unique works and fine art pieces.
June 27–29, eastonartaffair.com
CEN
June 29:
Take your seat at Kettering's Fraze Pavilion for the
Darius Rucker: True Believers Tour
. The former Hootie & the Blowfish frontman is now a successful country music artist in the midst of a nationwide tour.
fraze.com
SW

June 30:
Take a leap of faith with
Hocking Hills Canopy Tours
. The zip-line adventure will reward you with exhilarating sights of the Hocking Hills and a welcome blast of fresh air.
Through November, hockinghillscanopytours.com
SE

***

July 1-31 Events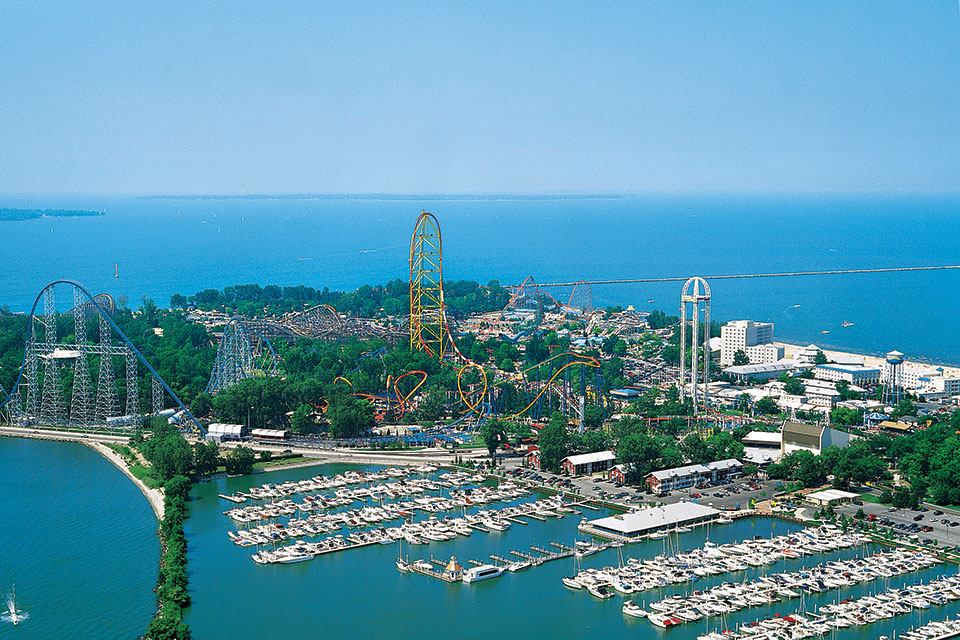 3 to See: Cedar Point
Classic amusement rides and an ever-evolving list of higher, faster and better roller coasters has cemented Cedar Point as a lakeshore landmark for 145 seasons now. What we love most is that the amusement park always strives to surprise us. This year is no different as the park unveils new attractions, including a redesign of the Gemini Midway to make room for three new rides.
1.
Pipe Scream wasn't made for those with a weak stomach. On this roller coaster-meets-thrill ride, riders sit in a rectangular car that simultaneously spins in a circle while moving up and down a W-shaped track, reaching a top speed of about 40 mph and a maximum height of 43 feet. "You get a little air over the hump in the middle, so it really has a lot of action," says Jason McClure, vice president and general manager of Cedar Point.
2.
Don't let the Lake Erie Eagles confuse you with classic amusement park swings. The difference with this ride is that while riders are swung in a circle, they can choose their own thrill level by moving a paddle back and forth to inch themselves closer or farther from the ride's center. "You control how high it goes," McClure says. "You really get to customize the experience."
3.
The Slingshot is for extreme thrill seekers. This third new attraction does exactly what the name implies: It catapults two riders at a time more than 300 feet in the air. "You'll actually be at the second highest point of any ride at Cedar Point on Slingshot," says Bryan Edwards, public relations manager. Slingshot will require an additional fee.
1 Cedar Point Dr., Sandusky 44870, cedarpoint.com
NW — KS
July 1:
A naturalist from Darke County Parks will help identify birds, wildflowers and other flora during an
Early Morning Discovery Hike
at Shawnee Prairie Preserve.
Tues. 8 a.m., through Oct. 28, darkecountyparks.org
SW
July 2:
From a medieval treatise on falconry to John James Audubon's Birds of America,
"In Fine Feather"
at the Toledo Museum of Art explores the overlap of art and natural science with an exhibition of beautiful birding-guidebook images.
Through July 6, toledomuseum.org
NW

July 3:
Kick off the Independence Day weekend with a parade, food from Columbus' top restaurants, live music and the largest fireworks display in Ohio at
Red, White and Boom
.
redwhiteandboom.org
CEN
July 4:
Celebrate a most American musical genre. Marietta's
Red, White and Blues Festival
returns to the Lafayette Hotel.
mariettaohio.org
SE
July 5:
Visit
Cedar Point
. The perennial favorite has some new attractions this year (story above).
July 6:
Get a firsthand look at history at
Sauder Village
's new Pioneer Settlement and get a taste of frontier living. Visitors can play games of the times and dip candles, just like those who lived in Ohio's wilderness from 1834 to 1890.
Through Oct. 26, saudervillage.org
NW
July 7:
Compete in your favorite carnival games, get dizzy on rides and share an Elephant Ear with your best friend at the
Clinton County Fair
. (And we'd advise enjoying all of the above in that order.)
July 5–12, clintoncountyfair.org
SW
July 8: "Imagine! The Art of the Picturebook"
explores the art of children's books at the Columbus Museum of Art. And we bet you didn't even realize you had a bunch of masterpieces on the bookshelf in the kids' room.
June 20–Nov. 9, columbusmuseum.org
CEN
July 9:
Grab a cup of ice cream and relax on the lawn during the free
Verandah Concerts at Spiegel Grove
. While you're there, stop by the Rutherford B. Hayes Presidential Center to learn about the 19th U.S. president's Ohio roots.
Wednesdays through Aug. 20, rbhayes.org
NW
July 10:
Play ball and chow down: The New York Yankees are in town and it's $1 hot dog night at
Progressive Field
. Better get your tickets early and bring your appetite.
cleveland.indians.mlb.com
NE
July 11:
Opt for a flick under the stars at
Theater on Third
in Greenville. The outdoor movie screening is a good excuse to grab your blankets and popcorn and leave the stuffy theater behind.
downtowngreenville.org
SW
July 12:
Splash zone: It's going to get loud along the banks of the Ohio River as professional boat racers and their crews arrive for
Marietta Riverfront Roar
.
July 12–14, mariettariverfrontroar.org
SE

July 13:
Channel your favorite "American Pickers" persona and explore a bazaar of antique treasures at the
Mid-Summer Antique Fest
. More than 50 dealers showcase folk art, early porcelains and more on the lawn of Milan's village square.
milanarea.com
NW

July 14:
Athens' bars throw open their doors for
Ohio Brew Week
, celebrating the state's craft brew industry and our farm-to-table food culture.
July 11–19, ohiobrewweek.com
SE
July 15:
The Franklin Park Conservatory's warm and tropical Pacific Island Water Garden hosts hundreds of exotic butterflies and bright flowers during the 20th anniversary of the
"Blooms & Butterflies"
exhibit.
Through Sept. 28, fpconservatory.org
CEN
July 16:
Visit the Bob Evans Farm Homestead Museum to get the backstory on the famous restaurant chain that started in Ohio. You can even grab a bite to eat and head out for some horseback riding.
bobevans.com/ourfarms
SE
July 17:
Jamboree in the Hills
is no backyard bumpkin bash. This outdoor country music festival hosts a four-day lineup of big-name acts that include Keith Urban, Little Big Town, Tim McGraw and more.
July 17–20, jamboreeinthehills.com
SE

July 18:
Visit
Cincinnati Zoo & Botanical Garden
. Travel to Africa, get up-close with Gladys the young gorilla and more (read all about it below).
July 19:
A fireworks display over Kelleys Island is just part of what the annual
Islandfest
has to offer. Check out the parade, craft vendors, live music, food and more.
July 18–20,
kelleysislandchamber.com
NW
July 20:
Hot barbecue meets cool musicians during the
Columbus Jazz and Rib Fest
. Grab a stack of napkins, kick back and take in the cool sounds.
July 18–20, experiencecolumbus.com
CEN
July 21:
Take the little ones on a field trip. The
Hershey Children's Garden
at the Cleveland Botanical Garden offers a giant tree house, a fountain to run through, hidden pathways and colorful plants that attract butterflies and birds.
Through Oct. 31, cbgarden.org
NE
July 22:
Celebrate Ice Cream Month at
Lake Metroparks Farmpark. Get the inside scoop on ice cream making at the
"Factory of Frozen Fun"
exhibit. On weekends you can try your hand at making ice cream, too.
July 4–Aug. 31, lakemetroparks.com
NE
July 23:
Feed your childhood nostalgia with a petting zoo, savory foods and carnival rides at the
Ohio State Fair
. But if something seems different, it might be the Lego train display and physics lessons in rocket launching begging youngsters to create memories of their own.
July 23–Aug. 3, ohiostatefair.com
CEN
July 24:
The Cincinnati Opera brings
"Madame Butterfly,"
Giacomo Puccini's heartbreaking story of a young geisha, to the Cincinnati Music Hall stage.
July 24 & 26, cincinnatiopera.org
SW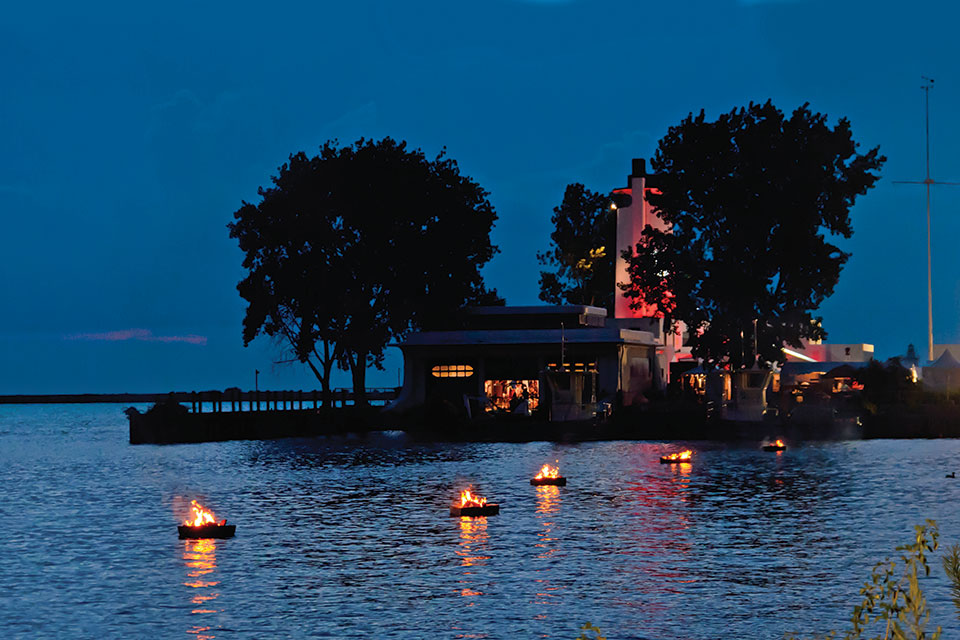 July 25:
Learn how the Cuyahoga River blazes of the 1960s helped spark the environmental movement at
Burning River Fest
. Hear about sustainability while enjoying live music, beer and food from local eateries.
July 25–26, burningriverfoundation.org
NE
July 26:
Food trucks converge on the historic city of Milford for the
Milford Street Eats Festival
. Bring your appetite and sample great food from the 20 mobile eateries setting up shop.
facebook.com/milfordhappenings
SW
July 27:
Celebrate the woman once known as "Little Sure Shot" at the
Annie Oakley Festival
in Greenville. Channel the famous female marksman's competitive spirit with balloon tosses and hay bale-throwing contests. Plus, enjoy music and an antique market.
July 25–27, annieoakleyfestival.org
SW
July 28:
Head to Xenia for the 175th edition of the
Greene County Fair
. Situated on 32 acres, the event offers plenty of corn dogs, antique displays and entertainment.
July 27–Aug. 2, greenecountyfairgrounds.com
SW
July 29:
Embrace a new form of exercise. Head to the
Hocking State Forest
for a guided rock climbing session with Hocking Hills Adventure Trek. They supply the equipment and the instruction. The bravery is still up to you.
hockinghillsadventuretrek.com
SE
July 30:
Enjoy the classical sounds of the
Lakeside Symphony Orchestra
. This opening night concert marks the first of eight during the month-long musical tradition at the Hoover Auditorium.
lakesideohio.com
NE
July 31:
Dig into some fresh ingredients with a visit to Cincinnati's
Findlay Market
, one of the state's oldest public markets. You'll be convinced to return on a Saturday or Sunday for the seasonal outdoor farmers market.
findlaymarket.org
NW
***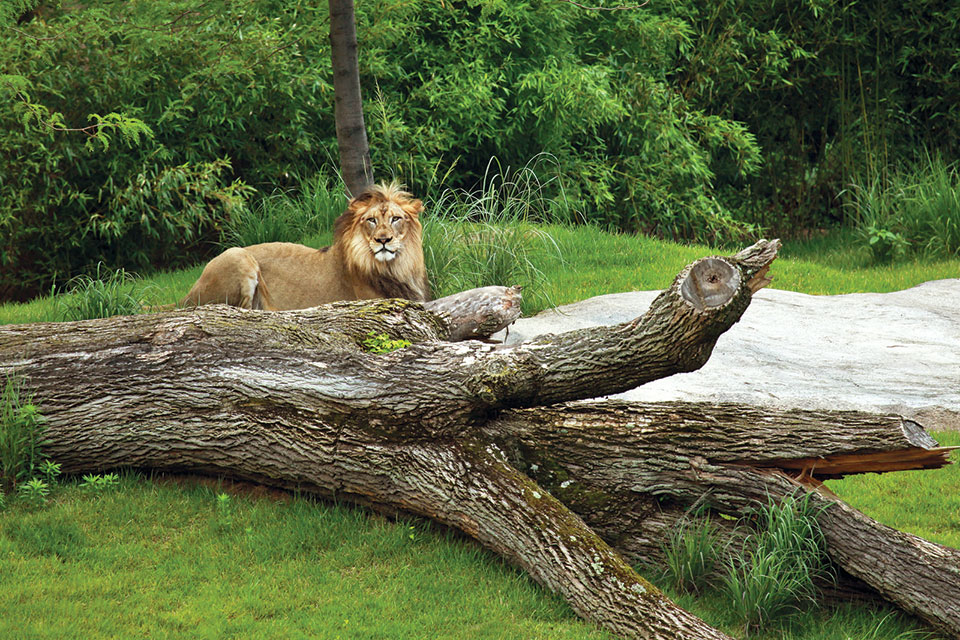 3 to See: Cincinnati Zoo & Botanical Garden
The Cincinnati Zoo & Botanical Garden is roaring into summer with an expansion of its popular Africa area, a new round of zoo newborns and the return of an educational program focusing on growing fresh foods. Of course, the herd you already love is still roaming the terrain as well.
1.
The fourth phase of Africa will introduce African painted dogs, antelopes, gazelles and birds that include cranes, egrets and pelicans into the popular attraction this summer. Other animals are expected to arrive later in the year. "It's our hope that you can stand at one end and just look across and see wild dogs and hoofstock and the lions and giraffes [and] get that experience that you are actually in Africa," says Mike Dulaney, the zoo's curator of mammals.
2.
Wooden storks placed throughout the park remind visit