Ohio Life
| Best Hometowns
Best Of: Best Hometowns 2017–18
We celebrate this year's honorees by sharing some of the interesting and fun discoveries we made during our visits.
January 2018
BY Staff & Contributors | Photo by Rachael Jirousek
January 2018
BY Staff & Contributors | Photo by Rachael Jirousek
BOWLING GREEN

Garden Park: Strolling through Simpson Garden Park on a summer afternoon, it's hard to envision a time when the majority of the 11-acre space was used as a dumping ground for road debris and other junk workers amassed while doing work throughout the city. "Any time a street crew dug up a sidewalk or a road, they just dumped everything back in this area," explains Mike Przysiecki, a natural resources specialist for the city of Bowling Green. "It just turned into this abandoned, 8-acre lot." A combination of private donations, public funding and a dedicated group of volunteers have transformed the space into a flourishing park that now spans 13 gardens, including a nationally recognized daylily walk and a collection of more than 850 hosta plants. 1291 Conneaut Ave., Bowling Green 43402, bgohio.org

Record Store: Greg Halamay opened Finders Records in 1971, when vinyl albums were still the preferred method of buying and listening to music. After evolving with the times through 8-tracks, cassettes and compact discs, he decided to restock vinyl at his store 12 years ago. Today, an incredible selection of new records that span decades and genres lines the walls of his 6,000-square-foot store. "We have what I call a deep catalog — titles that you are just not going to find in most other record stores," Halamay says. "Our focus has also been to really listen to our customers. We do our best to bring in products that will satisfy them." 128 N. Main St., Bowling Green 43402, 419/352-7677, findersrecords.com

History Exhibition: The building that houses the Wood County Historical Center & Museum originally served as the local infirmary, built in 1868 for less than $5,000. Today, it shares the county's stories, including a comprehensive World War I exhibition that runs through December 2018. "Over There! Send Word, the Wood County Boys are Coming! World War I, 1914–1918" details how locals contributed to the war effort and features artifacts borrowed from the local library and Wood County families, ranging from newspaper clippings from the era to military uniforms. "Local history is sometimes associated with amateur history," says museum curator Holly Hartlerode. "We follow all the same rules as the big guys do." A highlight of the exhibition includes a walk-through replica of a World War I trench that details the horrific conditions soldiers endured. 13660 County Home Rd., Bowling Green 43402, 419/352-0967, woodcountyhistory.org
***

MARIETTA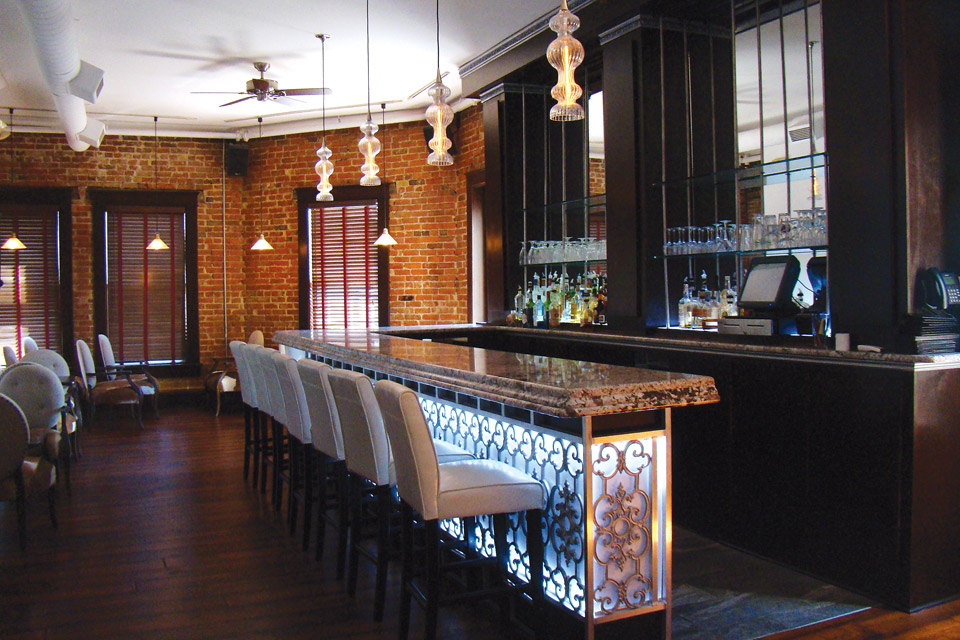 All-In-One Accommodations: Sure, in theory, you could stay at The Hackett Hotel and enjoy dinner and entertainment without setting foot outside, but owner John Lehman knows that's not likely. "You're going to want to leave the building and enjoy Front Street and all the things Marietta has to offer, but we're a one-stop shop," adds manager Brenda Myers. The five-room downtown hotel, which was fully renovated and opened to overnight guests in 2012, shares its circa-1899 building with The Galley restaurant. The Adelphia Music Hall, which opened in 2010, rounds out the space and welcomes a range of musical acts, from local bands to big names such as country singer Rodney Atkins and rockers Third Eye Blind. Drawing on the property's historic feel, guests enter their room to find original exposed brick walls and vintage touches such as an antique cabinet fitted with a glass bowl sink. 203 1/2 Second St., Marietta 45750, 740/374-8378, galleyadelphiahackett.com

Artists Cooperative: A walk through Riverside Artists Gallery offers a mix of delightful watercolors, pottery, jewelry, ornamental ironwork, fiber arts and more. The gallery features fine art and gifts created by 15 artists who live within a 50-mile radius of Marietta. Classes are offered throughout the year, taught by the same people whose works are on display in the front showroom. "We like to think of ourselves as an art center also, because we don't have such a thing in Marietta," says Virginia Killian, one of the current members who helped found Riverside Artists Gallery in 1998. "We have a summer camp for young artists every July. They learn different mediums and try to do fine arts not crafts." Workshops and classes for adults range from watercolors and painting on canvas to found-objects sculptures and stained glass. 219 Second St., Marietta 45750, 740/376-0797, riversideartistsgallery.com

Theater Restoration: The fire curtain hanging inside Peoples Bank Theatre has witnessed a few changes during its tenure. The building opened on Putnam and Third streets in 1919 as the Hippodrome Theatre, with a stage designed to accommodate even the larger Broadway shows of the time. The theater went dark in 1985, but reopened in 2016 following a $7.5 million project, which included restorations of the seating, wall paintings and original fire curtain. "We essentially used that as the decorative template of the theater," says Hunt Brawley, the venue's executive director, "and you see a lot of these elements that are pulled out into the theater that are taken right out of the motifs from that fire curtain." The local landmark now welcomes a range of performers, from local bands and international acts to Marietta College collaborations and touring stage shows. 222 Putnam St., Marietta 45750, 740/371-5152, peoplesbanktheatre.com

***
MILFORD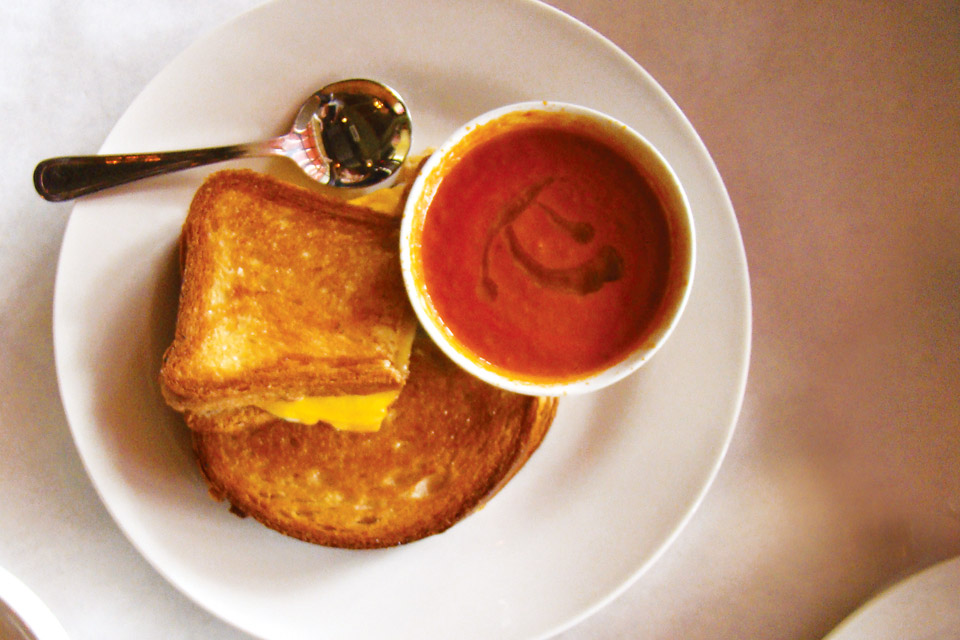 Lunch Spot: Milford's 20 Brix is as much a wine bar and retailer as it is a thoughtful restaurant focused on local ingredients — not because it's trendy, but because it tastes better. That fact is made clear by chef Paul Barraco's lunch menu featuring soups, thin-crust pizzas and a lineup of nearly a dozen sandwiches and specialties. The Brix Grilled Cheese and Tomato Soup dresses up the kindergarten classic with American and aged provolone cheese on grilled sourdough bread alongside roasted tomato bisque. It's joined by other offerings, such as The Original Figgy Piggy (prosciutto, brie, fig jam and arugula served on ciabatta bread) and Crab Cake "Sliders," that are familiar, delicious and not at all pretentious. "When it comes to comfort food, the grilled cheese and tomato soup is just that," owner Hunter Thomas says of the lunch-menu offering. "It's something your mom would make, but ratcheted up two notches: locally made bread, locally made Amish cheeses and the soup is fresh heirloom tomatoes." 101 Main St., Milford 45150, 513/831-2749, 20brix.com

Conservation Project: There was a time when it was assumed that the 190 acres of former farmland the Valley View Foundation today protects would be cleared for development. In the early 2000s, a group of local volunteers began raising more than $4 million to buy and permanently preserve one of the last family farms in the eastern Cincinnati suburbs. Today, the property, which spans hills, prairies and streams, offers an easily accessible nature getaway in the heart of the city. "What's cool about the whole property is that it's got almost every ecosystem in southwestern Ohio on it," says Vanessa Hannah, executive director of the Valley View Foundation. "We have all sorts of projects, but the most important ones are getting kids out on the trail and getting people out for events." The foundation hosts gatherings ranging from summer parties to cross-country meets to special events at the historic Arrowhead Farm home. 790 Garfield Ave., Milford 45150, 513/218-1098, valleyviewcampus.org

Adventure Outfitter: Roads Rivers and Trails is the sort of store one expects to find in a mountain town, with its displays of kayaks, tents and frame backpacks, along with a deep selection of supplies that go with such pursuits. But the retailer, which opened in 2010, has found its southwest Ohio location a prime spot. "Milford is actually a trail town … and it's at the junction of more than 22,000 miles of long-distance trails," explains co-owner Bryan Wolf. "Especially for the Midwest and especially for the Cincinnati area, it's the perfect place for an outfitter." The friendly staff will even offer advice for your next excursion, be it in Ohio or beyond its borders, according to Wolf, who, along with co-owner Joe White, has thru-hiked the Appalachian Trail. "Being able to replicate what we found along the Appalachian Trail and that spirit and that outdoor resource here in Milford was a lot of the inspiration," Wolf says. 118 Main St., Milford 45150, 513/248-7787, roadsriversandtrails.com

***

MOUNT VERNON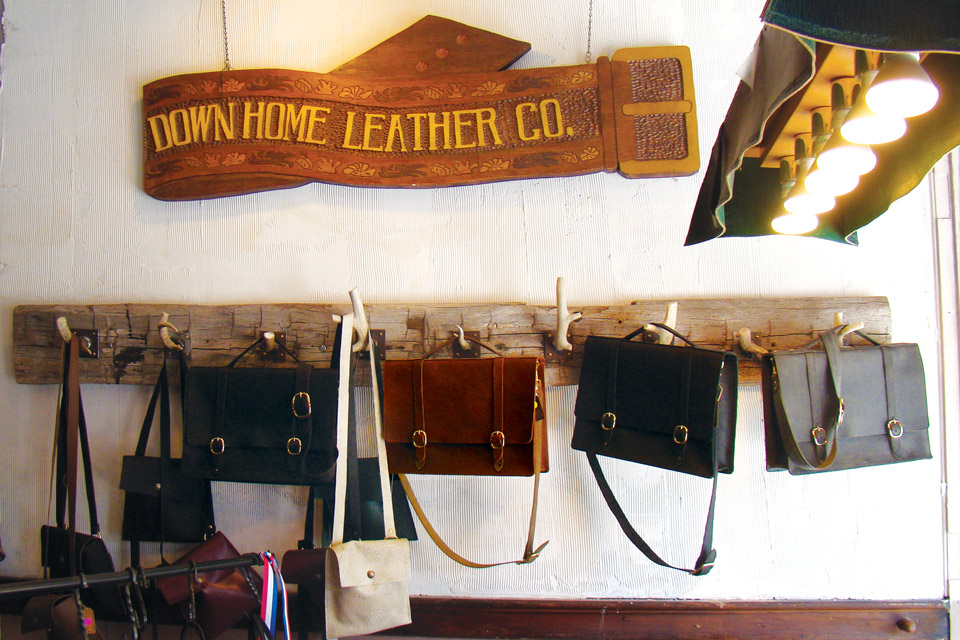 Leather Works: Duke and Laurel Wagoner's shop greets visitors with the wonderfully inviting aroma of hand-tooled leather goods. Four generations of Wagoners have plied the trade starting with saddle-maker E. Wagoner in the 1880s. His son, Dwain Wagoner, operated a leather shop in downtown Mount Vernon from 1942 through 1955, while Duke and Laurel Wagoner followed suit by opening Down Home Leather in 1969. The shop makes bags, wallets, belts, key chains and more. "We make everything in the shop," says owner Duke Wagoner. "We even make the snaps and the hardware — everything. We do all the tooling and we dye all the leather." Wagoner and his son are the primary craftsmen, and the entire business is still a family affair. "I obviously grew up with it," Wagoner adds. "At 4 years old, I was punching holes and making marble bags." 9 N. Main St., Mount Vernon 43050, 740/393-1186, downhomeleather.com

Bookshop: Maybe you shouldn't judge a book by its cover, but Paragraphs Bookstore makes it so easy to do so. The cozy 1,600-square-foot shop's carefully curated lineup of titles is artfully displayed so many are facing forward, practically inviting you to pick them up. "It's something we all know we should do," says store manager Lois Hanson, pointing to American Bookseller sales statistics. "We also know how hard it is with limited shelving space and inventory, and that's kind of the battle you fight." The hard work of Hanson and her staff is evident among the inventory of more than 11,000 titles that span 30 different areas, including an impressive kids section. Plus, if you are in need of a suggestion, Hanson and her crew are more than happy to help. "I know I can hand-sell a good book if I like it and can talk about it to people," she says. 229 S. Main St., Mount Vernon 43050, 740/392-9290, paragraphsbookstore.indielite.org

Waterfall: In the heart of the corn and soybean country of Knox County, the 20-foot Honey Run Waterfall is an unexpected sight. The Knox County Park District purchased the 2-acre property where the waterfall is located in 2007. Two years later, it secured 19 additional acres, which now offer travelers the opportunity to hike from the waterfall to the Kokosing River. "The whole area is more likened to the Hocking Hills — the black hand sandstone. It's a glacial relic," says Lori Totman, director of the Knox County Park District. "... Most people when they stop there say, 'Wow, we had no idea.' " A staircase and two bridges built over Honey Run protect the ecosystem and provide safety for visitors of all ages. The site is family-friendly and is beautiful not only in the summer but also in the winter when the waterfall freezes. 10855 Havel Dell Rd., Howard 43028, 740/392-7275, knoxcountyparks.org

***

WOOSTER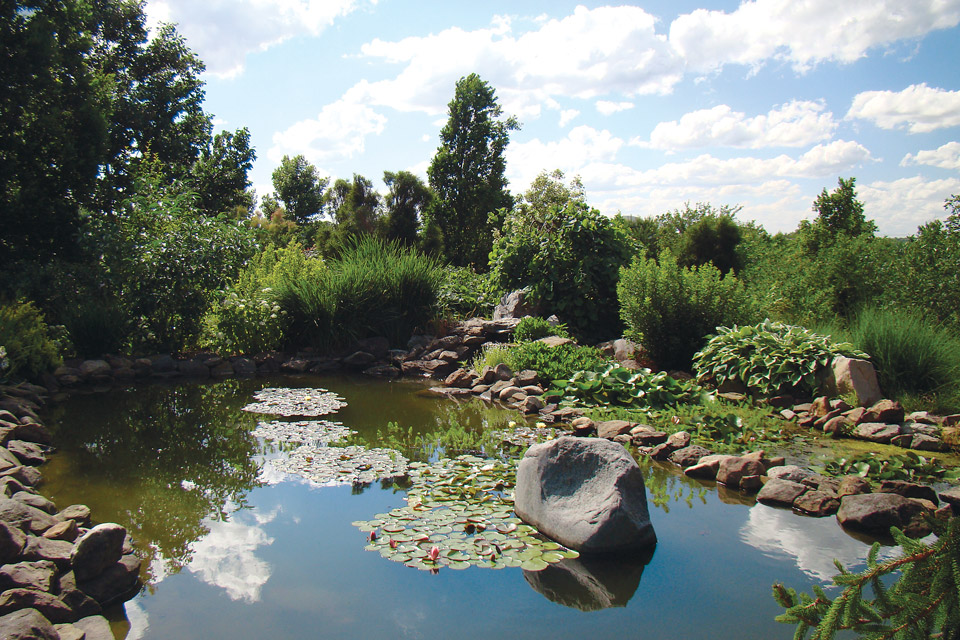 Research Arboretum: At this time of year, Secrest Arboretum is heady with the spicy scent of flowering witch hazel and the aroma of pine from the groves of spruce trees dotting the 110-acre green space. Each year, more than 40,000 people visit the 110-year-old arboretum to jog, bicycle and walk dogs along 4 miles of trails, while admiring the 2,000 species of trees and shrubs thriving there. But the Wooster landmark is more than a place to commune with nature. It's home to the Ohio Agricultural Research and Development Center, operated by a team of 600 scientists from The Ohio State University. Studies underway include developing trees resistant to the emerald ash borer and studying the effects of climate change on flowering plants. "The arboretum is a place of beauty and relaxation," says program assistant Paul Snyder. "But it's also an altruistic place of learning." 2122 Williams Rd., Wooster 44691, 330/263-3761, secrest.osu.edu

Infused Oils & Vinegars: Step through the door of Motts Oils & More and it won't take long to discover your salad deserves more than ho-hum dressing. Charlene Moore, who opened the downtown Wooster shop in 2015, stocks 35 varieties of balsamic vinegars, including raspberry, lemon, serrano honey and chocolate. Among the 15 flavor-infused olive oils carried here, basil, chipotle and blood orange are best-sellers. Moore invites her customers to try before they buy, offering samples from the stainless steel fustis dotting the countertops. "I had no idea there were this many different flavors, and I'd use whatever I had on hand on the shelf for cooking," says Moore, a retired nurse. "I love introducing my customers to the experiences I've had using these ingredients in healthy new ways." 137 W. Liberty St., Wooster 44691, 330/601-1645, facebook.com/mottsombf

Boutique Hotel: With its rain-forest showers and Tommy Bahama toiletries, the fashionable St. Paul Hotel Wooster exudes an urban chic that would be right at home in midtown Manhattan. " 'Wow' is a word we hear quite a bit here," says general manager Brenda Smith, noting that the 200-year-old stained-glass window of St. Paul and the Italian marble fireplace in the lobby are focal points that have sparked conversations since the boutique hotel opened in 2011. Complimentary breakfasts feature straight-from-the-oven lemon crumb muffins and fresh fruit cups delivered to each room at whatever times guests request. "Wooster residents bring friends from out of town to see the St. Paul because they're so blown away by the ambiance and want to share it," Smith says. 203 S. Market St., Wooster 44691, 330/601-1900, stpaulhotelwooster.com

To learn more about Ohio Magazine's annual Best Hometowns honor and how to nominate your town, visit ohiomagazinecom/besthometowns.