Ohio Life
| Best Hometowns
Best Hometowns 2017–18: Mount Vernon
This town honors its heritage with dramatic improvement projects that merge history and community.
November 2017
BY Jim Vickers | Photo by Joshua A. Bickel
November 2017
BY Jim Vickers | Photo by Joshua A. Bickel
The figure standing high atop Mount Vernon's Soldiers' Monument peers off into the distance, gazing out over South Main Street and toward the neighborhoods beyond. The memorial was dedicated on July 4, 1877, to honor Knox County men who served in the Civil War and remember those who died. It faces south as a lasting reminder of the "Great Rebellion" that threatened our nation.

By the time of the outbreak of the Civil War in 1861, Mount Vernon had been around for more than half a century. The city was platted in 1805 by three men who hailed from the same county as George Washington, so they named the town in honor of our first president's home of Mount Vernon, Virginia.

The name fits, given this city of more than 16,000 residents' knack for not only celebrating and embracing its history but also reviving and reframing it. Look no further than The Alcove, a landmark restaurant that has been serving hungry locals for decades. It was completely remodeled and relaunched this year as a destination that's equally suitable for white-tablecloth fine dining, a casual lunch or evening cocktails. It's elegant, beautiful and feels steeped in history, from the vintage books on the shelves near The Alcove's bar (which has long been affectionately known as "The Library") to the story of how Paul Newman and Joanne Woodward dined here.

The restaurant originally opened in 1911 as Candyland, an ice cream and sweets shop, before a growing demand for food led the business to add sandwiches to its menu. In the 1920s, the Alcove Room was opened on the shop's first floor and expanded its menu to include soups and salads. But, to this day, you can still find a few folks who fondly remember the property's sweet past as Candyland.

"We had a guy visit when we just reopened," recalls Katie Wright, co-owner of The Alcove. "He said he used to come in here every day after school to drink milkshakes so he could make weight for the Air Force because he didn't weigh 145 pounds yet."

Wright reopened the restaurant with her mother-in-law and longtime proprietor of The Alcove, Karen Wright, in March, following an exhaustive remodeling process that saw the interior of the restaurant stripped to the bones and built back up.

"I like to joke we were able to keep the name, and that's about it," Katie Wright says, adding there was water damage as well as electrical and plumbing issues. "It was the restoration of an old building, and then we got to put a restaurant in."

Directly across the street, construction crews buzz and chug as they work to restore the United States' oldest-standing, authentic 19th-century theater, The Woodward Opera House. Dr. Ebenezer Woodward built the place in 1851, and over the years it hosted traveling musicians, theater performances and movies prior to its closure in the 1920s.

Today, the beautiful, curling horseshoe balcony of the third- and fourth-floor performance hall awaits new crowds of patrons. The project has been in the works for more than two decades and made possible by a creative mix of grants and tax credits that have been critical to funding the nearly $23 million project.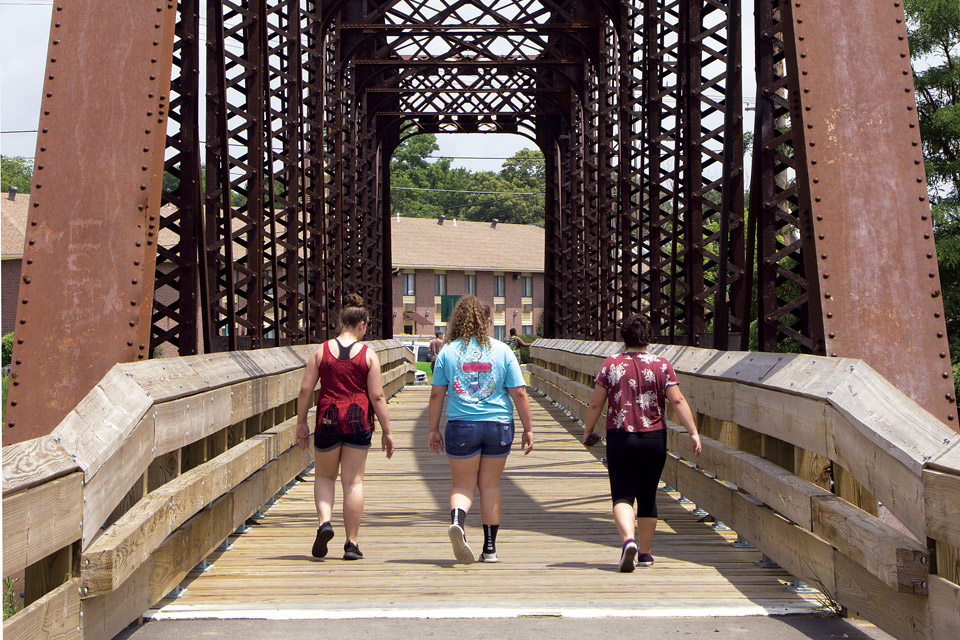 "I walked into the building for the first time and said, 'Wow, we need to do something with this,' " recalls Pat Crow, who has been involved with the project since 1993, when he was one of the original incorporators of the Knox Partnership for Arts and Culture that spearheaded the renovation effort. He currently serves as the project's construction manager.

"In 2000, we purchased the building next door, knowing that with the old footprint of the old theater, you don't have enough space to do contemporary things," he adds. "You don't have the staircases. You don't have the elevators."

Seventeen years later, The Woodward Opera House project is looking at a spring 2018 completion. When it's finished, the arts complex will be home to a 500-seat theater, two recital spaces and conference, banquet and meeting rooms. It will also have space for 29 tenants who will help finance the building's operations.

Mayor Richard K. Mavis, who took office in 1996 and served as a Knox County commissioner for 20 years prior to that, says Mount Vernon has benefitted greatly from the support of Ariel Corp., a manufacturer of gas compressors used in the energy industry. Incorporated in 1966, the local business has provided critical funding to projects that have reshaped downtown.

"We would have been like every other city our size and even larger with decaying department stores, and ours had started to go that way," Mavis says.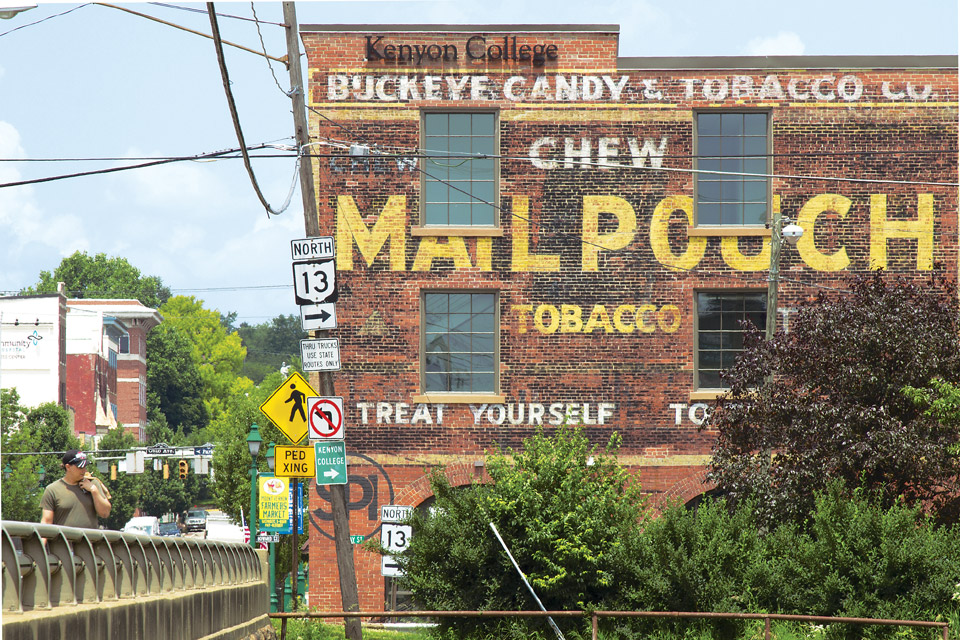 In 2011, Mount Vernon Nazarene University moved its nursing school downtown and its art program has been located there since 2009. (A new engineering program will soon move into Mount Vernon's former J.C. Penney building.)

Central Ohio Technical College opened its new facility, Ariel Hall, in 2012. Earlier this year, Kenyon College, which is based in nearby Gambier, moved its film program to a former food warehouse along South Main Street, while Knox Community Hospital will soon bring an additional 85 jobs downtown.

Ariel Corp. also provided $10 million to build the Mount Vernon Grand Hotel, which opened its doors to the public in 2016 and is operated by Mount Vernon Nazarene University. Located just off Public Square, the hotel was modeled after the Curtis Inn on the Square, which was built on the same spot in 1876.

The downtown foot traffic has supported shops like Paragraphs Bookstore, which offers a carefully curated lineup of titles, and Down Home Leather, a family business that Duke and Laurel Wagoner opened in 1969. The community's proximity to our state capital has been beneficial to attracting new residents looking for a small-town atmosphere, according to Mavis.

"In Mount Vernon and Knox County, we're getting some growth from the Columbus area," he says. "You can buy a very nice house here that would be a lot less than you would pay there. ... The city has grown in the last three censuses … about 10 percent or so."

That growth and new development is impressive, but perhaps the most striking addition to Mount Vernon in recent years was the reinvention of the former Pittsburgh Plate Glass factory site, which has been transformed into the 250-acre Ariel-Foundation Park, complete with ponds and paths that would be the envy of any community.

"It started basically with a dream from the mayor in 2000," explains Carrie Haver, executive director of Ariel-Foundation Park. "He gathered some people together and said, 'What can we do with this?' It was just a mess out here."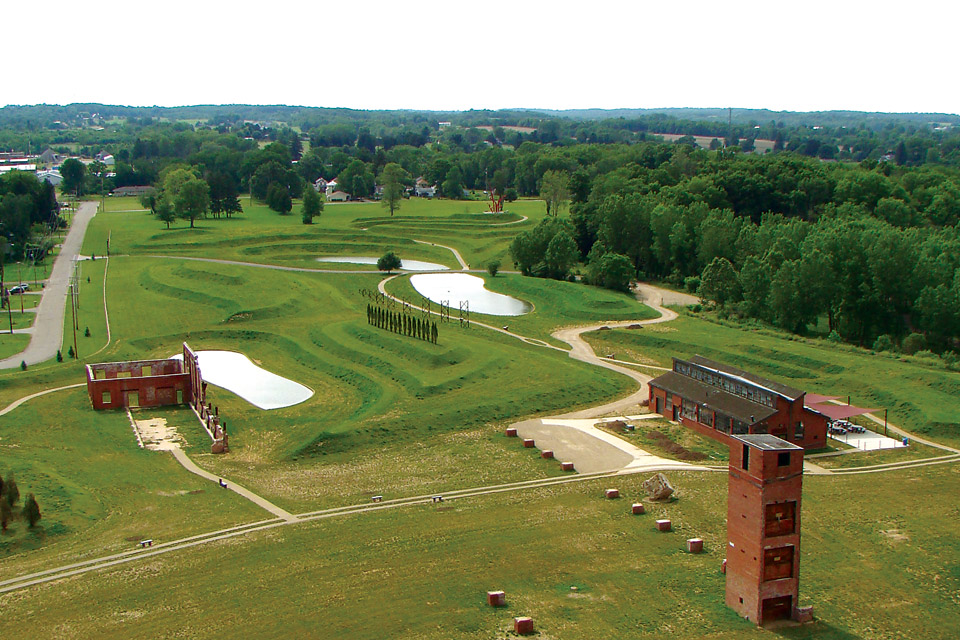 The sprawling park site was home to one of the largest plate-glass factories in the world and Knox County's largest employer before the facility was shuttered in 1976. That painful moment in the town's history was remade and reopened in 2016 as a place of peace, recreation and community gathering. It openly pays tribute to the site's former use by preserving remains of some of the factory's former buildings as event spaces and works of art.

There's even a small on-site museum where family members of former employees can purchase a commemorative timecard with their name on it to be displayed proudly among those of others who worked at the site.

Streams of glass — remnants of the sheet-glass pouring process — have been arranged to cascade down hillsides, and the factory's towering, 280-foot smokestack dating back to 1951 is now a cool attraction known as the Rastin Observation Tower, which lets park visitors ascend a 140-foot spiral steel staircase for a bird's-eye view of the grounds below.

"We have an event called the Rastin Challenge, which is a series of physical challenges for first responders," says Haver. "Firefighters climb that in full gear in August. One of them made it to the top in 56 seconds last year."

Watch Woods Media Production's video showing what makes our 2017–18 Best Hometown Mount Vernon such a special place to live.