Ohio Life
| Best Hometowns
Best Hometowns: Oxford
Campus and community merge in this rural college town with a long history and a lively downtown.
November 2016 Issue
BY Hallie Rybka | Photo by Casey Rearick
November 2016 Issue
BY Hallie Rybka | Photo by Casey Rearick
Year Founded: 1810
Location: Butler County, 40 miles northwest of Cincinnati
Population: 21,470
Size: 6.7 square miles
Local Flavor: U.S. Speaker of the House Paul Ryan graduated from Miami University.

While most of the town sleeps, Joshua Francis is mixing and cutting and frying, preparing the sweets that will serve his line of early-morning customers, which is often out the door. The owner of the Oxford Doughnut Shoppe, Francis is one of the few bakers who still hand-cuts his cake doughnuts, creating perfectly crafted confections in five flavors, as well as glazed and sprinkled varieties, plus muffins, cookies and more.
"From the time you put ingredients in the mixer to when you get your very first glazed doughnut is about four hours," says Francis. "But that assembly line goes all the way until tomorrow morning."

An Oxford native and former Miami University student, Francis bought the business in 2004 and learned the trade as he went. "I would come here as a high school student and stop in on my way to school," he adds.

The Oxford Doughnut Shoppe sits along the western edge of Oxford's Mile Square, the town's historic district that stretches a mile in each direction from Uptown's High and Main streets. Miami University forms the eastern edge of that zone, and Oxford's Uptown Parks sit at the heart of it, surrounded by boutique shops, bars and eateries frequented by students and locals alike.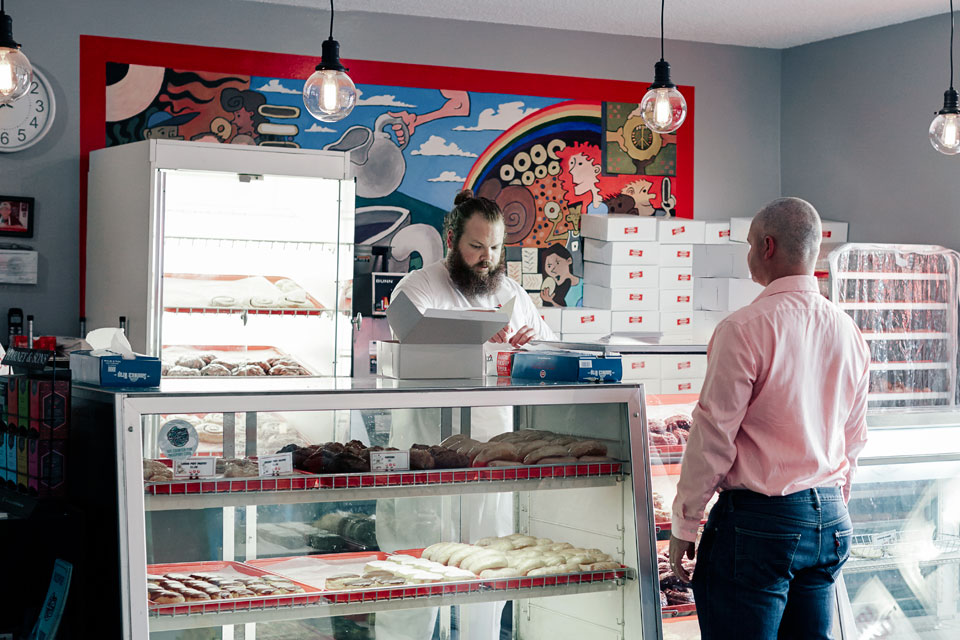 College-town staples such as Skipper's Pub, Kofenya Coffee and DuBois Book Store line High Street. A turn down an alley reveals the entrance to Mac & Joe's Restaurant Saloon and Sports Bar. The oldest tavern in Oxford, the popular spot opened in 1946 and continues to serve thick burgers, hot wings and an impressive beer list.

A decade ago, Oxford's zoning laws changed to incorporate three-story buildings along High Street, but design restrictions such as window-shapes and building widths maintain the small-town atmosphere. The change also opened the door for new student housing, welcoming about 750 student residents to Uptown Oxford and making a notable impact on the street-level commercial businesses below.

"Previously, students went to campus, and then went back to their house. They didn't go uptown, they didn't shop," says Oxford Mayor Kate Rousmaniere.

Given the town's rural location, it comes as no surprise that the college and town have been linked for more than two centuries. Miami University was founded in 1809, and the village of Oxford was laid out a year later.

Today, a community-relations commission aids communication between residents and students, and Oxford participates in the International Town Gown Association, a coalition of college towns that aims to discuss and solve common issues they share.

At the beginning of each new school year, 200 to 300 volunteers from the university and the town gather for the annual Walk About, an initiative created to remind students living in off-campus housing that they're accountable to a larger community.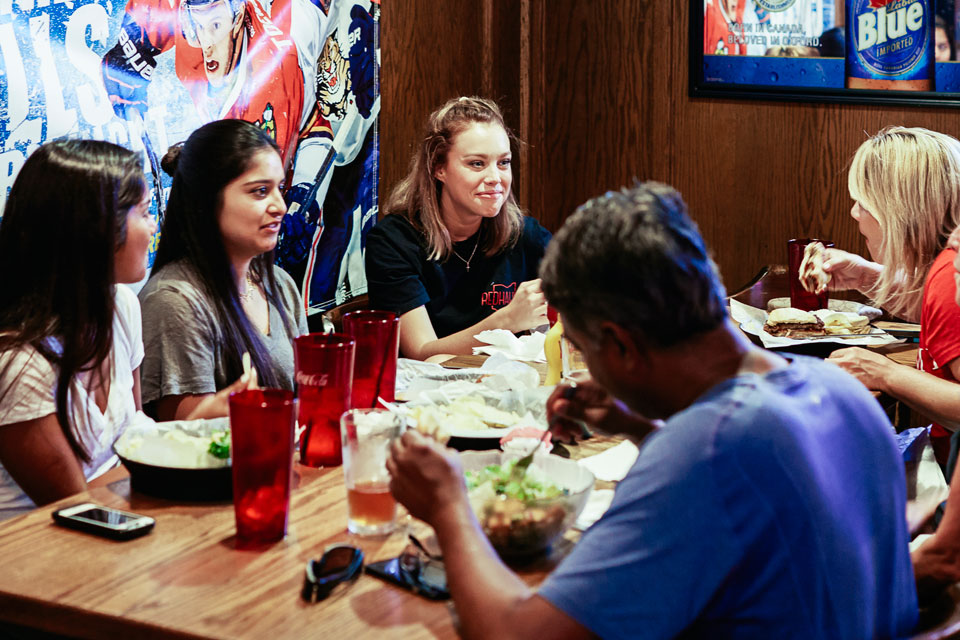 "We go as teams and walk around certain streets with bags filled with cookies, information about garbage pick up, parking, safety issues," says Rousmaniere, "and we knock on doors and talk to students to say, 'Hey, you're living in a community.' "

Oxford is part of the Talawanda School District, which is geographically one of the largest public school districts in the state. Though largely a rural system, the benefits of the district's proximity to a university are noticeable through courses such as computer coding and STEM clubs for elementary and high school students that are led by student volunteers from the university. There are also courses for senior citizens offered by the college, and arts and entertainment events hosted on campus bring the town an added vibrancy.

"You have the excitement of the students and all the student activities, whether it's football games or musical events and plays, and then you also have that small-town life when summertime hits," says Francis. "It gives a chance for the community members to get out, stretch our legs a little bit and rest and breathe."

Andrew Nieman, owner of Oxford Lanes bowling alley, echoes those sentiments. "You get nine months of very steady business, and then you can work on projects and you can get those things done over the summer," he says.

Housed in its current location less than two miles from Uptown since 1963, Oxford Lanes caters to both longtime residents and college students, with various leagues, fraternities and groups rolling in and out throughout the week.

Regional pride can be found up and down High Street, whether its Kofenya Coffee, which uses beans from Seven Hills Coffee in nearby Blue Ash, or the locally grown produce on the shelves at the Miami Oxford Organic Network Natural Food Cooperative. Many businesses have been in the same family for years. Others, like Nieman's Oxford Lanes, are run by those who attended college here and never left.

"There are a lot of family businesses that get passed down through generations," explains Nieman, who attended Miami University. "I think you get here and you kind of fall in love with the community."