Ohio Life
| Best Hometowns
Best Hometowns: Maumee
This historic riverside city turned its downtown into a place where creativity helps foster a sense of community.
November 2016 Issue
BY Linda Feagler | Photo by Casey Rearick
November 2016 Issue
BY Linda Feagler | Photo by Casey Rearick
Year Founded: 1838
Location: Lucas County, 10 miles west of Toledo
Population: 14,104
Size: 10.6 square miles
Local Flavor: Former mayor Morrison Remick Waite was chief justice of the Supreme Court from 1874 to 1888.
As early-morning light pours into Sunshine Studios, Linda Ziemke and the eight students gathered around her prepare to throw a bowl on the pottery wheel. When it's finished, the vessel will be fired, decorated and displayed for sale in the adjoining gallery gift shop.

Ziemke, who retired from her position as a ceramics instructor at the Toledo Museum of Art in 2013, relishes the time she spends volunteering at the downtown Maumee art space, which is designed to provide an artistic outlet and employment for people with developmental and intellectual disabilities ranging from autism to cerebral palsy to muscular dystrophy. In the evenings, Ziemke and three other instructors teach continuing-education classes in watercolor, weaving and clay sculpting for Maumee residents and those living in neighboring communities.

"In art, we're all on a level playing field," Ziemke says. "As everyone here finds a way to express themselves, our differences drop away."

Sunshine Studios anchors a vibrant uptown district filled with an array of shops and eateries. Maumee Valley Chocolate & Candy is filled with more than 20 varieties of made-on-premises confections alongside retro favorites such as Pop Rocks. The upscale consignment shop Encore Furniture@306 features couches, coffee tables and mid-century accessories, while Maumee Tackle Fishing Outfitters lures anglers who stop in to buy insulated waders, rods and reels, and a laminated fishing license before heading out to snag the white bass and walleye the Maumee River is known for.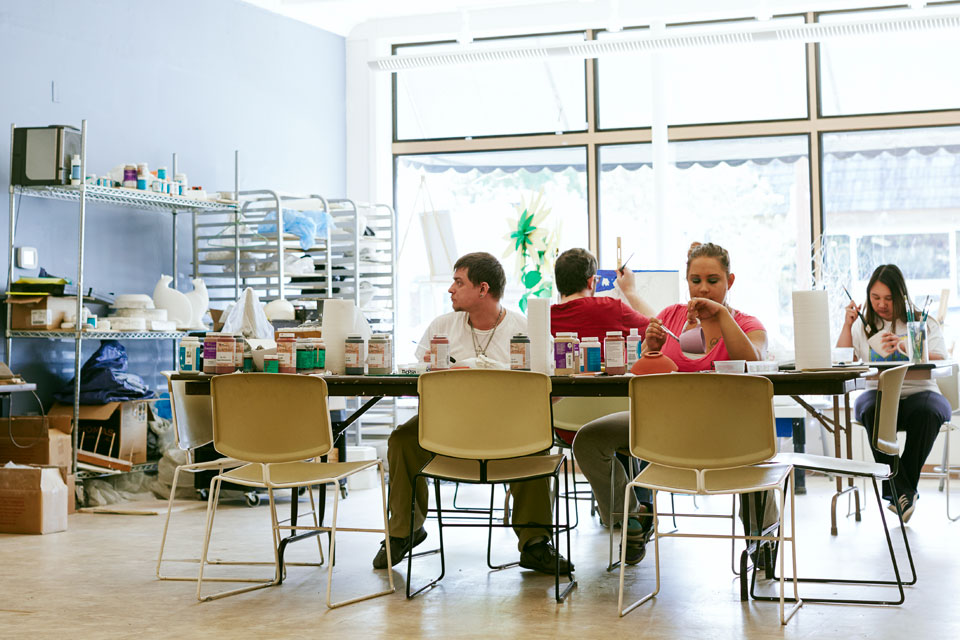 Lifelong resident John Jezak, the town's city administrator and safety director, points with pride to the fact that each business has set up shop in a building that's at least a century old and has been renovated with a combination of community development block grants and sweat equity from property owners.

"Maumee's history is one of constant reinvention," he says. "Our renewals always seem to strike a chord with those who are in love with traditional America's sense of place."

That past continues to blend seamlessly into the present at Fallen Timbers Battlefield, where a new Metroparks of the Toledo Area site opened last fall. A bronze monument memorializing the skirmish that helped secure Ohio and the Northwest Territory for settlement by the United States has been a tourist attraction since it was dedicated in 1929. But a new 1.6-mile trail traversing the battlefield provides easy access to what those in the know consider to be Maumee's most popular fishing hole, located along the Maumee River in Side Cut Metropark. (The park is named for the former "side cut" extension of the Miami & Erie Canal that connected the main line of the canal with the city of Maumee in the 1870s. Three of the six original locks from the canal system are preserved there.)

"One of the greatest joys of working here is the fact that I have the opportunity to help children connect with nature," says Bob Heckman, park services supervisor for Metroparks of the Toledo Area.

Heckman, who grew up in Maumee, has warm memories of catching crawfish, flipping over rocks to see what was underneath and walking through the river's rapids. "There are so many opportunities here to get your kids out of the house and help them get their hands dirty by planting a tree or taking one of our outdoors classes," he adds.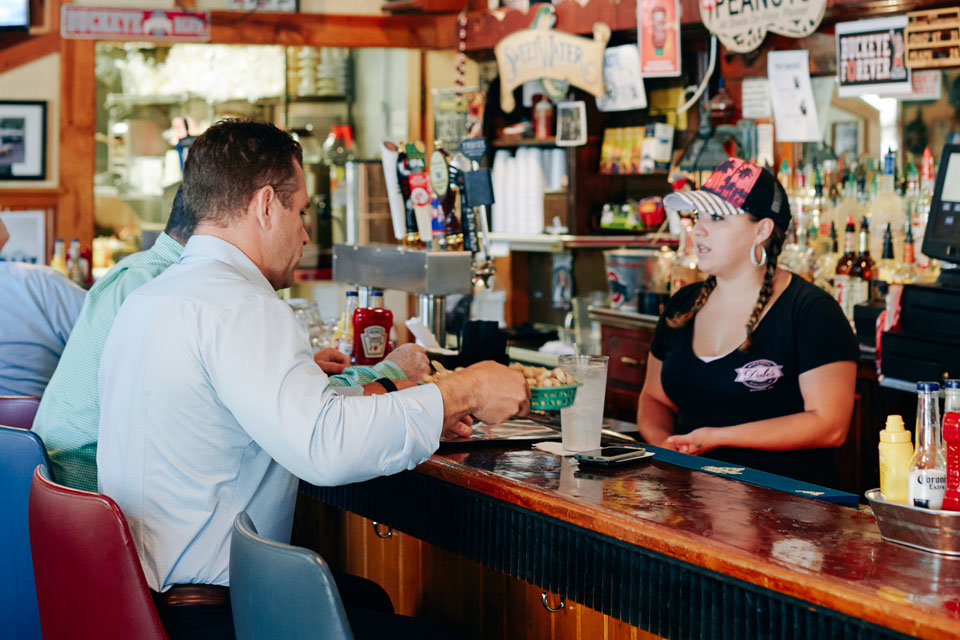 Heckman also helps coordinate summer camps in Maumee. Designed for students 5 to 15 years of age, they include instruction in building nesting cylinders for ducks and mastering the nuances of archery and paddleboarding. "We're all about creating memories," he says, "so kids'll return for years to come — and bring their own children."

Committed to promoting that generational togetherness, the Maumee Indoor Theatre, which opened in 1946, was restored 12 years ago to reflect its art deco history. Winner of Heritage Ohio's Historic Theater of the Year Award in 2014, the movie house retains its original neon façade and porcelain-tiled ticket booth. The pleated gold fabric lining the interior is patterned after the curtain that enveloped the auditorium when it was new.

In addition to showing second-run motion pictures and 3-D features, the theater hosts an annual film festival, live concerts and private parties. And as they have for the past seven holiday seasons, families are already making plans to attend the screening of the James Stewart and Donna Reed classic, "It's A Wonderful Life," which takes place on Dec. 4.

"There's a saying that a small city is like a big family," says lifelong resident Rich Carr, who's been mayor for five years. "Maumee fits that description. Just like the townsfolk in 'It's a Wonderful Life,' we support each other through tough times as well as easy times."