Ohio Life
| Best Hometowns
Best Hometowns 2017–18: Milford
This small city outside of Cincinnati offers history, outdoor adventure and a community of small business owners who work together.
November 2017
BY Jim Vickers | Photo by Kelly Wilt
November 2017
BY Jim Vickers | Photo by Kelly Wilt
Promont is nearly hidden from the road in the summertime, tucked among a stand of trees that give the Victorian Italianate mansion a sense of seclusion. William Megrue built the place in 1867, but its most notable resident arrived 12 years later, when John M. Pattison moved in with his family.

Pattison, a Clermont County native who served in the Ohio House of Representatives, Ohio Senate and U.S. House of Representatives at various times prior to and during the years his family lived at Promont, was elected Ohio's 43rd governor in 1905. He took office in 1906, but died a little more than six months later, garnering him the distinction of being our state's shortest-serving governor.

Today, Promont looks much as it did when Pattison and his family lived at the Milford home. There's a mechanical music box in the front room and the official gubernatorial portrait of the governor hangs on the wall. Upstairs, the kids' rooms look much as they would have during the time period, and guests who climb into the home's upper reaches can take a peek at the servants' quarters.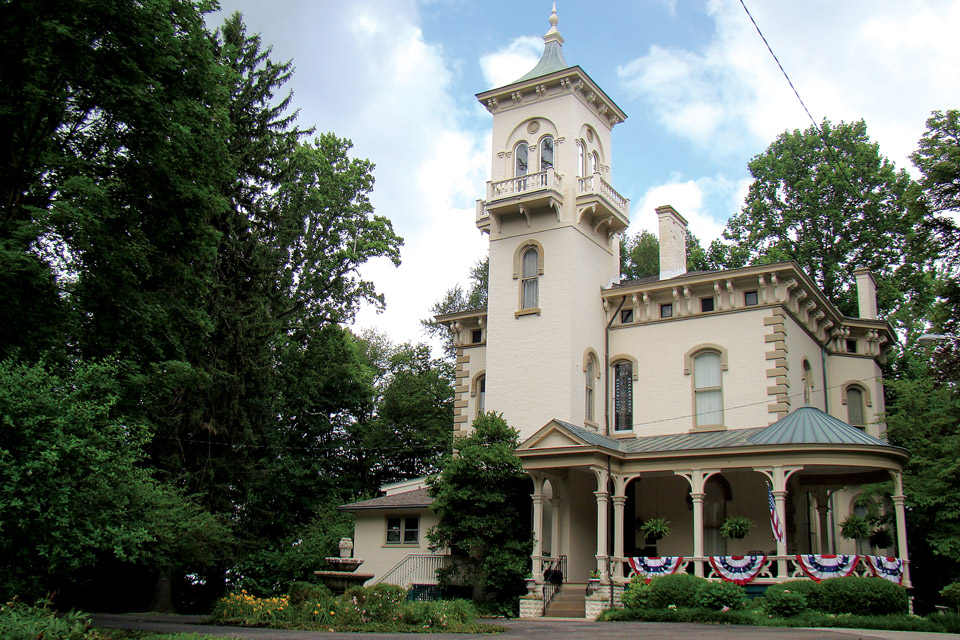 "The structure of a Victorian Italianate house is the same on every floor, even the basement. It has a center hallway and two rooms on either side," explains Donna Amann, administrator of the Greater Milford Area Historical Society, which is based in the mansion. "The house is very balanced in design."

Promont sits on property that belonged to Milford's first settler, Francis McCormick, a Revolutionary War veteran with a 1,000-acre land grant who built a log cabin here in 1796. But the Little Miami River was what helped the city grow, as mills and other small businesses began popping up in the early 1800s.

More than 200 years later, the river that separates Milford's bustling small-business district from the paved Little Miami Scenic Trail is still the town's centerpiece. The city of fewer than 7,000 residents has become known as a trail town, thanks to its location at the intersection of eight recognized North American pathways that stretch more than 22,000 miles in all.

Milford still has a bit of a frontier vibe, too, especially walking the row of storefronts along Main Street. But instead of warehouses and mills, the area is today home to galleries and restaurants, boutiques and specialty stores.

"In the last 10 years or so, we've gotten a lot more boutiques," says Mayor Laurie Howland. "You still have some of the antique stores, but there's a nice mix. ... I can pretty much do all my Christmas shopping — except for my 14-year-old daughter — on Main Street now. You can find something for everybody down here."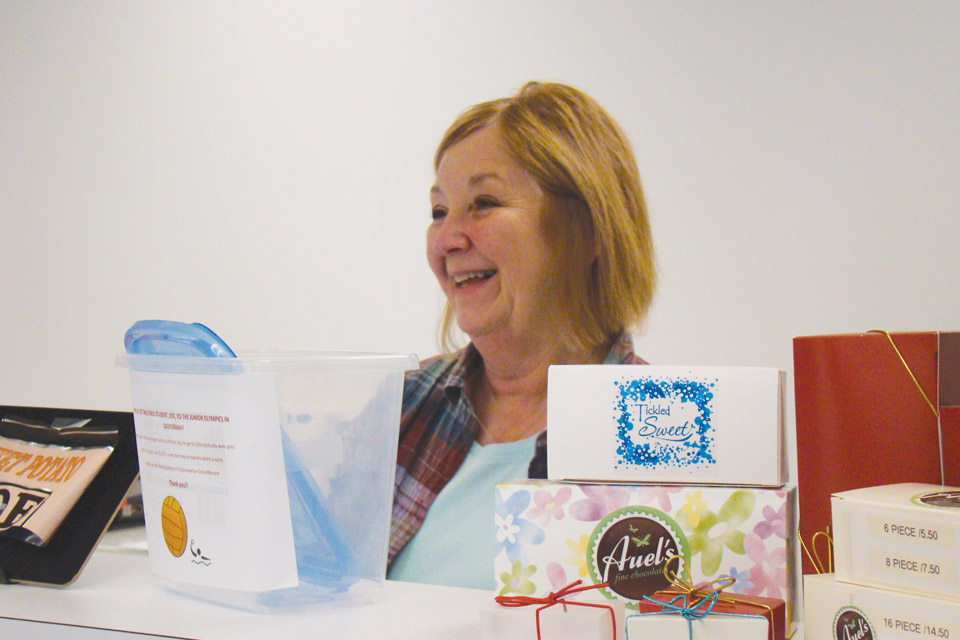 One of the newer arrivals is Tickled Sweet, Bambi Merz's gleaming white hand-dipped chocolates shop that opened in October 2016. Merz bought Milford's Auel's Fine Chocolates and reopened in a different building as Tickled Sweet, using the recipes that have been in Randy Auel's family for generations.

"We're young ... but at the end of the day, people love what they eat," says Merz, whose excitement about her business is infectious. "The other business owners are so cool to work with. The number of members of the Historic Milford Association is huge — it's the highest it's ever been. That's just how cohesive the group is."

Down the street at Row House Gallery, which is located in a circa 1840 building, guests are greeted by an artist's original interpretation of a historic photograph from the Cincinnati Public Library printed on steel. Charles Fontayne and William S. Porter captured the view looking out across the Ohio River toward Cincinnati on Sept. 24, 1848, using an early form of photography known as a daguerreotype.

The panoramic image was lauded for its technique at the time of its creation, and it's a jewel of the Public Library of Cincinnati and Hamilton County's collection. Row House Gallery's Nancy Meyer secured permission to reprint the image, with 10 percent of proceeds from sales going back to a nonprofit that supports the library.

"I have made many, many trips to the library over the years, just to see this photograph," Meyer says, pointing to a small detail in the amazingly crisp image. "They think this group of people is one of the earliest documented photographs of free black Americans. … It's a pretty spectacular piece of history."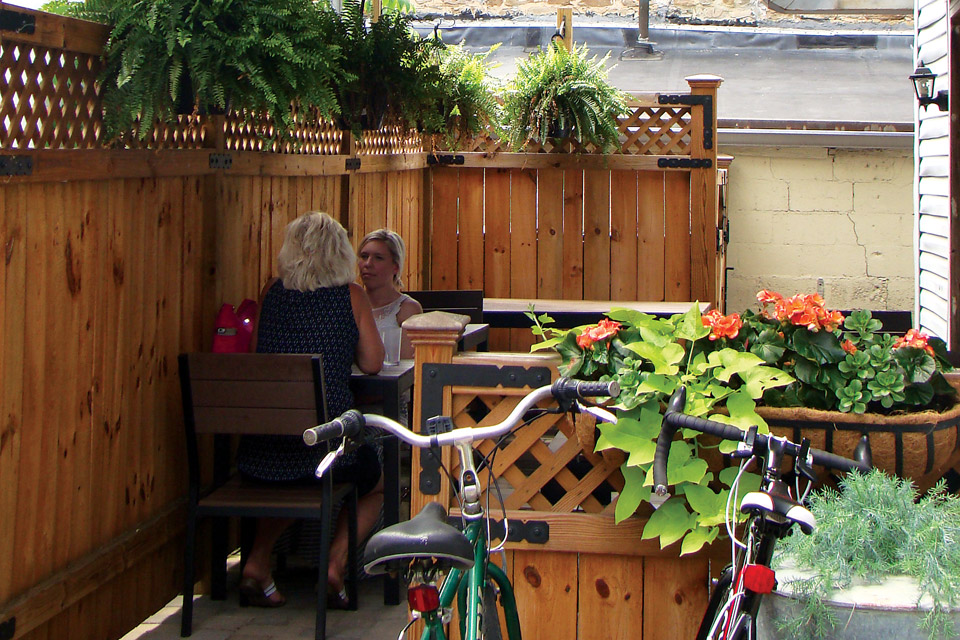 Milford's appreciation for the history of the region is only rivaled by its sense of community. Business owners feel like old friends the first time you meet them, and that idea of supporting one another extends to some of the community's youngest residents. It's something Police Chief Jamey Mills discovered one day last summer when he stopped at a lemonade stand operated by two local kids.

"I bought my lemonade and tipped them a little bit and I said, 'What are you going to do with all the money you're going to make?' " Mills recalls, adding that one of the kids explained half of the proceeds were going to fund a trip to Kings Island. "Then he said, 'and the other half we're going to donate to the Milford Police Department.' "

The Milford Police Community Partnership nonprofit sells T-shirts and other products to raise money in order to fund programs such as Shop with a Hero and Project Lifesaver, the latter of which buys tracking bracelets and batteries for residents who need them, such as people with autism and Alzheimer's.

"I came back and put [the story about the kids] on Facebook, and it was seen by like 65,000 people," Mills says. "The kids came down a couple days later and gave us the money, and we took pictures at the station with them and that kind of took off. A few weeks after that, a family who lives just behind the [police department] here did their annual garage sale and brought us half the proceeds."