Ohio Life
| Best Hometowns
Best Hometowns 2017–18: Marietta
A new generation is helping this riverfront town preserve its rich heritage while embracing a sense of adventure and fun.
November 2017
BY Hallie Rybka | Photo by Nate Knobel
November 2017
BY Hallie Rybka | Photo by Nate Knobel
The counter just inside Wit & Whimzy is topped with a sampling of the fun, practical and just-plain-pretty artisan-made products that fill the store: cheeky soaps from Granville's Whiskey River Co., hand-stamped pendant necklaces made by Dericole Designs in Columbus and T-shirts printed by 7Thirty8 Apparel in Zanesfield.

Laura Pytlik's Front Street gift shop displays a wealth of love for the city of 14,000 residents and the Buckeye State as a whole, but what's going on in this riverfront town that dates back to 1788 goes beyond mere hometown pride.

"There's this whole network of creative young people who are just deciding to make Marietta home," says Pytlik, who moved to Marietta from northeast Ohio when her husband relocated for a job offer. "Some of these people were born and raised in this area and went off to school, and then decided to come back home."

Along with a hearty dose of riverfront charm, thanks to its location at the confluence of the Ohio and Muskingum rivers, Marietta's proximity to the 244,243-acre Wayne National Forest makes it a center for outdoor adventure. Aside from the nearby trail systems, an additional 30 miles of single-track mountain bike trails are located within Marietta's city limits, transporting adventurers into wooded areas before returning them to the flat sidewalks once they've had their fill.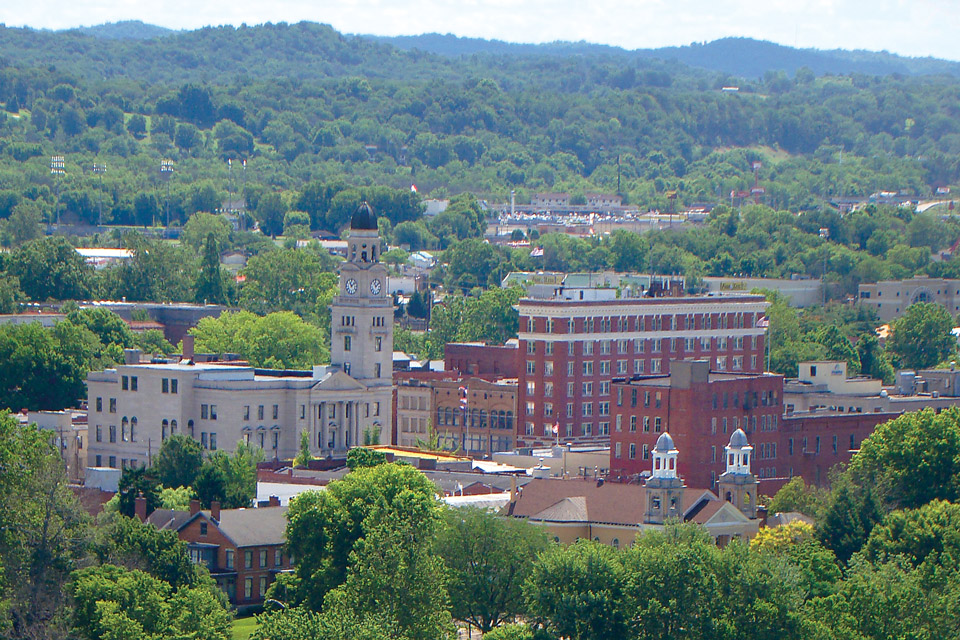 Downtown's shops are a mix of old and new, with Wit & Whimzy situated next door to the 150-year-old Schafer Leather Store. Although the town is evolving to include new businesses such as Marietta Brewing Co., justAjar Design Press and Marietta Adventure Co., reminders of the town's long and storied history as an early settlement and major trading center are nearly everywhere one turns.

"There are a lot of brick streets here in Marietta, so you kind of get that old, rustic New England feeling," says Scott Britton, executive director of The Castle, a Victorian house museum in town. "In fact, there are city ordinances preventing paving of certain streets just because of their historic nature."

Founded on April 7, 1788, Marietta was the first permanent non-Native American settlement north of the Ohio River in the Northwest Territory. Gen. Rufus Putnam, whom President George Washington appointed as the first surveyor general of the United States, was a leader of the 48 men who founded the settlement and was instrumental in laying out the brick streets in the organized, grid pattern now common in cities across the country.

The Castle is one of the many places where residents and visitors can step into the past. The fully furnished 1855 Gothic revival-style home offers guided tours and hosts concerts, exhibits, workshops and children's programs. The Ohio River Museum and Campus Martius Museum tell the stories of the region's history, as do the Native American earthworks preserved throughout town.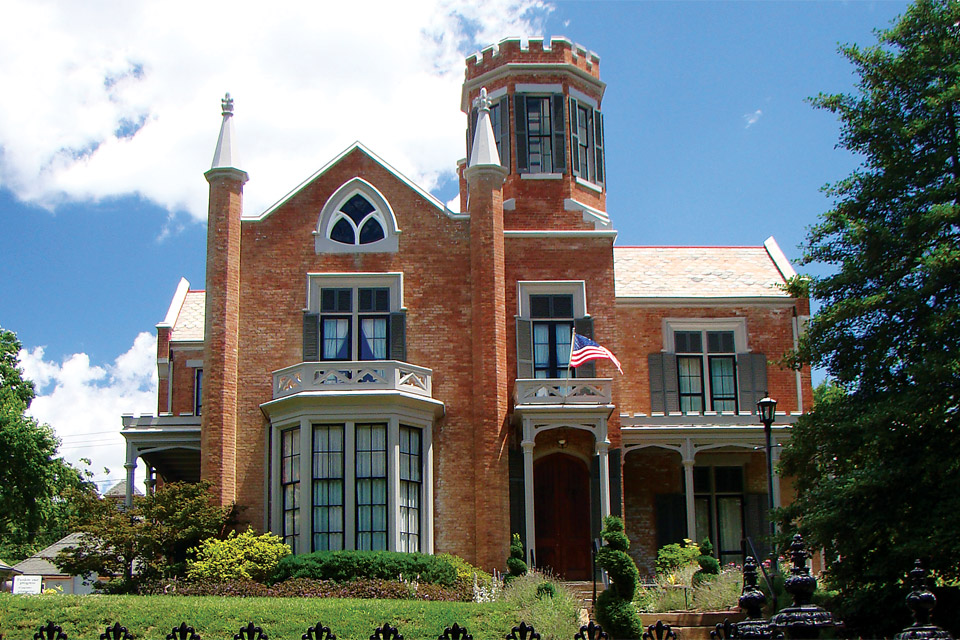 These local attractions also serve as a place of community volunteerism. Students from Marietta College, which was founded in 1835, join a number of residents who volunteer their time at the museums and take part in city beautification and cleanup events. Marietta High School students also lend a hand at Marietta Memorial Hospital, the city's largest employer.

"The people here are wonderful to work with," says Mayor Joe Matthews. "I've always said we're probably the volunteer capital of the United States, because we have a lot of people who step forward to volunteer and do different things."

Arts, culture and events are a cornerstone of life here, from performances at Peoples Bank Theatre to powerboat racing in July to the Ohio Sternwheel Festival that brings about 100,000 people to town each September. First Fridays, organized by Marietta Main Street, encourage residents to head downtown to enjoy the restaurants, extended hours at shops, local musicians, artisans and more activities set around an evolving monthly theme.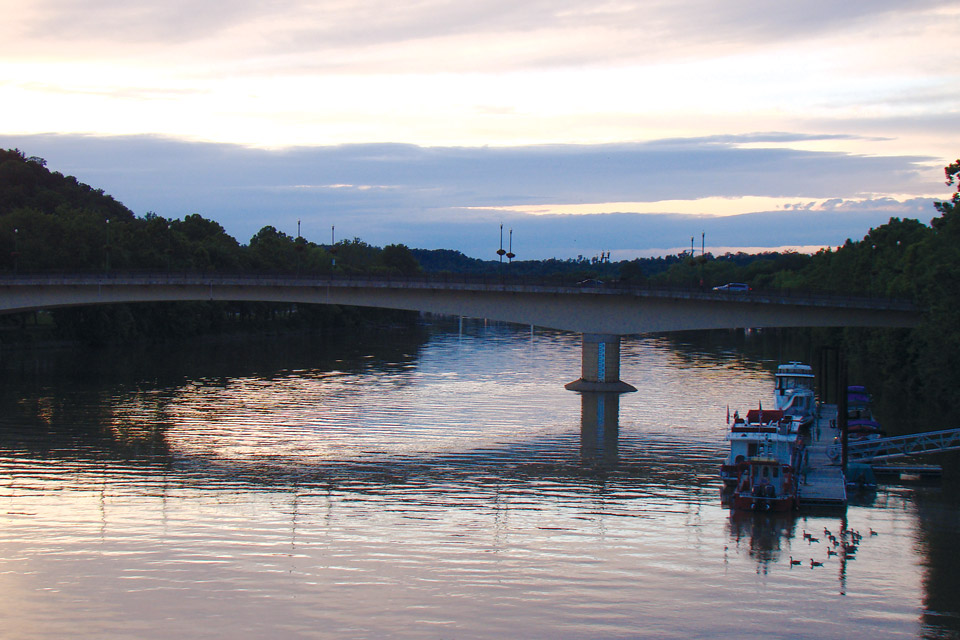 "We want our downtown community to reflect the city of Marietta as a whole as a place where you go to participate in downtown events, meet your friends for a late-night drink or dinner, " says Marietta Main Street executive director Cristie Thomas. The nonprofit focuses on downtown revitalization through historic preservation, beautification, economic development, small business support and more. Efforts range from hosting events to hanging flower baskets on every lamppost to offering a grant program to business owners for facade improvements.

"We want to encourage our community to pour all of their love into the heart of our town, which is our downtown," Thomas adds.

She has seen a domino effect among property owners who are improving the city's downtown, as well as residents who are investing in their homes.

"It's kind of a throwback to everybody pitching in and helping their neighbors," says Britton. "When you're walking down the streets there are people saying hi, whether you're somebody everyone knows or you're just a visitor."