Ohio Life
Ohio Stargazing Guide
Here's where to go and who can help you attain breathtaking views of the heavens above.
August 2017
BY Nicholas Adkins | Photo by Rami Daud
August 2017
BY Nicholas Adkins | Photo by Rami Daud
*Note: Verify all dates, times and prices before visiting.

Dark Skies
If you want Ohio's best nighttime views, head to one of these four parks.

Observatory Park | Geauga County

Finding truly dark skies in the seventh-most populated state in the country can be tough, but hidden away in rural Geauga County is one of just 36 dark-sky parks in the nation and one of only 10 located east of the Mississippi River.
The Geauga Park District's Observatory Park in Montville Township was granted status as a silver-tier dark-sky park by the International Dark-Sky Association in 2011.
"I would describe the IDA as the self-appointed dark-sky sheriffs in the world," says Geauga Park District naturalist Chris Mentrek. "They keep tabs on light pollution around the world and have great tips on how to prevent light pollution [at] your home as well."
The 1,100-acre park hosts free public events every second and fourth weekend of the month. After arriving, make your way to the main plaza to check out the sundial, a display of lunar phases and weather and seismic-monitoring stations. There's also a constellations globe, gardens and an interactive model of the solar system.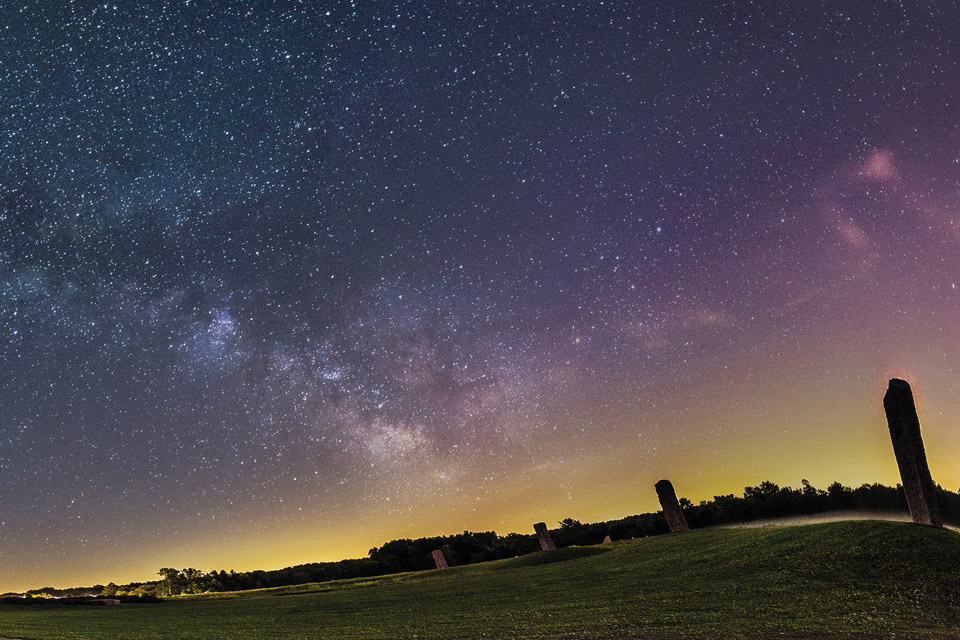 Visitors can then head from the plaza to the 1-mile loop Planetary Trail, which has displays representing the planets in our solar system distanced from one another to scale, offering guests an idea of how very far away planets such as Neptune and Uranus are from Earth. The quarter-mile Weather Trail offers exhibits on weather systems and is surrounded by an outline of the Great Pyramid of Giza along with earthen mounds and stones that educate viewers on how humans have studied astronomy through history.
On Fridays and Saturdays during event weekends, the Oberle Observatory offers a free presentation followed by public viewing of the night sky. The park's Robert McCullough Science Center presents a planetarium show on Sundays at 2 p.m. during event weekends.
The Nassau Astronomical Observing Station, a second observatory, is located on an adjacent property formerly owned by Case Western Reserve University. The Geauga Park District purchased it in 2008 and has since completed a renovation of the structure. The station and its 36-inch telescope is open to visitors for certain events.
"What I like most about Observatory Park is it's the park where you're not chased out at sunset," says Mentrek. "We encourage people to stay and enjoy the night sky." 10610 Clay St., Montville Township 44064, 440/286-9516, geaugaparkdistrict.org


Burr Oak State Park | Morgan County
Located 4 miles outside the village of Glouster, this 2,593-acre park offers stargazers the chance to check out celestial sights in a remote setting. With a population of fewer than 2,000, Glouster produces little light pollution, while the closest city, Athens, is more than 15 miles to the south. A permit isn't required, but be sure to notify the state park's office if you plan to visit after dusk. 10220 Burr Oak Lodge Rd., Glouster 45732, 740/767-3570, parks.ohiodnr.gov/burroak
Stonelick State Park | Clermont County
The park is known for having one of the most extensive fossil records in the state, and its night skies are some of the darkest in Ohio. It is a common destination for both the Cincinnati Astronomical Society and the Friends of the Observatory, a group affiliated with the Cincinnati Observatory Center. The 1,058-acre park offers daytime activities and camping starts at $18 a night. 2895 Lake Dr., Pleasant Plain 45162 (GPS address), 513/734-4323, parks.ohiodnr.gov/stonelick

Wayne National Forest | Monroe County
Ohio's only national forest sits in the Appalachian foothills of southeast Ohio. The isolated Lamping Homestead Recreation Area, located in Wayne National Forest's Marietta District in Monroe County, offers arguably the darkest site in the forest's nearly 245,000 acres. Six campsites are open April 15 through Dec. 15, and there are two loop trails, a fishing pond and a permit-required mountain biking trail on-site. 36998 Clearfork Rd., Graysville 45734, 740/373-9055, fs.usda.gov/wayne

***

A Closer Look
Visit four observatories that offer professional stargazing equipment for public use.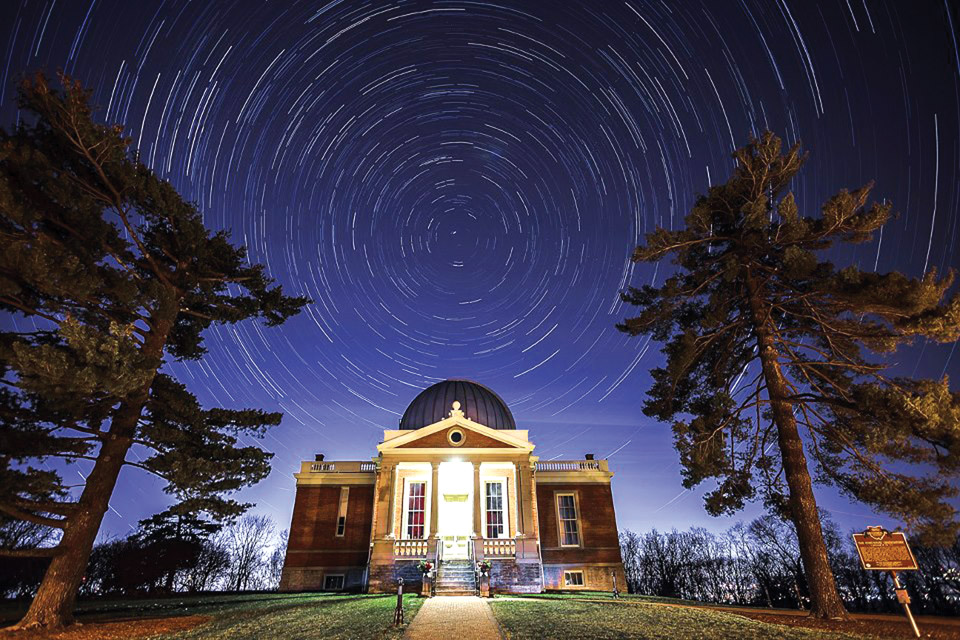 Cincinnati Observatory Center | Hamilton County
Dedicated by President John Quincy Adams in 1843, the Cincinnati Observatory Center is the oldest public observatory in the nation. It still houses its original Merz and Mahler 11-inch telescope, and the 1904 Alvan Clark & Sons 16-inch telescope added later, so stargazers can take in amazing views of the night sky while peering through a piece of history.
"There's a natural curiosity towards astronomy and learning about where [you] are in the universe," says Craig Niemi, executive director at the Cincinnati Observatory Center. "It makes people more aware of the world around them."
Public events are held every Thursday and Friday and typically include a short presentation, a tour of the facility and a chance to use one of the historic telescopes. The programs start at 8:30 p.m. and last around 90 minutes. Thur. $5, Fri. $7 (reservations are required); 3489 Observatory Place, Cincinnati 45208, 513/321-5186, cincinnatiobservatory.org


Brooks Observatory | Lucas County
Friday programs at the University of Toledo's Helen and Elgin Brooks Observatory treat stargazers to views of globular clusters and other incredible sights through a 14-inch Celestron Edge HD telescope installed following a 2015 renovation.
"When people are looking at the stars, who hasn't wondered if there isn't somebody staring back at them," says Alex Mak, the observatory's associate director.
A multimedia presentation precedes the opportunity for guests to take advantage of the school's professional instruments that are used by university faculty and students studying astronomy.
During the first Friday evening of the month guests also have the chance to use the adjoining Ritter Observatory's 40-inch reflecting telescope — the largest optical telescope east of the Mississippi River. Adults $7, children $5; 7:30 p.m. (September–April) & 8:30 p.m (May–August); 2855 W. Bancroft St., Toledo 43606, 419/530-2650, utoledo.edu/nsm/rpbo


Perkins Observatory | Delaware County
Ohio Wesleyan University's observatory once housed the third-largest telescope mirror in the world, a 69-inch behemoth installed in 1931. The telescope was eventually moved out west because of the increased light pollution in Ohio during the first half of the 20th century.
Today, Perkins Observatory guests have the opportunity to use the newer 32-inch Cassegrain reflecting telescope when sky conditions are suitable.
"Our main purpose is to educate and inform and to encourage young folks to pursue degrees in STEM fields," says Don Stevens, technical and program assistant at the observatory. "It's rewarding. It benefits the economy. … In the end, it benefits humanity in general by answering the great questions in the world."
Public programs are scheduled every Friday. Reservations are encouraged, as space is limited and tickets are not usually available at the door. Adults $10, children and seniors $8; Call 740/363-1257 or visit perkins.owu.edu for specific directions to the observatory.


Oberle Observatory | Geauga County
The Geauga Park District holds public viewing programs at Observatory Park every second and fourth weekend of the month on Friday and Saturday evenings.
An indoor presentation, which begins at 6 p.m., is followed by the chance for stargazers to view the night sky through the facility's 25-inch Oberle telescope.
"It was homemade by an amateur astronomer by the name of Norm Oberle," says Geauga Park District naturalist Chris Mentrek, adding that Oberle's widow donated it to the park district following her husband's death. "He made it and a number of [other] telescopes in his backyard."
Visitors are welcome to set up their own equipment in Observatory Plaza, and members of the local Chagrin Valley Astronomical Society are often on hand with their own telescopes and binoculars.
If you want to make an evening of the experience, bring a tent for the Meteors and Moths Overnight Event. Free; 10610 Clay St., Montville Township 44064, 440/286-9516, geaugaparkdistrict.org

***

Under the Lights
Join these regional astronomy clubs at one of the star parties they host throughout the year.
Cincinnati Astronomical Society
For more than 15 years, the Cincinnati Astronomical Society — one of the oldest amateur astronomy groups in the nation — has visited Stonelick State Park to enjoy some of the darkest skies in the state. Join society members for events, as they set up telescopes for public use and help fellow amateur stargazers locate planets and stars. Visit website for upcoming events; 2895 Lake Dr., Pleasant Plain 45162 (GPS address), cincinnatiobservatory.org
Lake Erie Nature and Science Center
A 1-hour planetarium show at this Bay Village nature and science center teaches attendees all about the night sky in northeast Ohio. Afterward, a telescope expert offers guests the chance to find the constellations and stars they learned about during the show at nearby Huntington Beach. Ages 6 and older; visit website for upcoming dates; 28728 Wolf Rd., Bay Village 44140, lensc.org
Astronomy Club of Akron
Hosted at Portage Lakes State Park in Akron, these public stargazing nights allow guests to peer through the astronomy club's 16-inch Meade Schmidt-Cassegrain telescope. One might focus on star clusters in the summer sky, while others bring a presentation on star maps. Visit website for any future dates; 5031 Manchester Rd., Akron 44319, acaoh.org

Miami Valley Astronomical Society
Head to John Bryan State Park where Miami Valley Astronomical Society members will set their telescopes up for public viewing and provide binoculars so there are plenty of opportunities to peer into the cosmos. The society members welcome questions and will show attendees where to point their lenses for the best views. Visit website for future dates; 3790 St. Rte. 370, Yellow Springs 45387, mvas.org

What's New: Southeast Ohio is home to some of the darkest skies in the state, and now visitors to Hocking Hills State Park are able to enjoy them from the new John Glenn Astronomy Park. A 540-square-foot observatory features two larger telescopes including a Dobsonian telescope with a 28-inch mirror, while smaller portable telescopes will also be available for visitors to use. An adjoining daytime Solar Plaza includes a sundial and frames that align with the sun on key dates throughout the year. Visit jgap.info or friendsofhockinghills.org for more information. 20298 St. Rte. 664 S., Logan 43138
***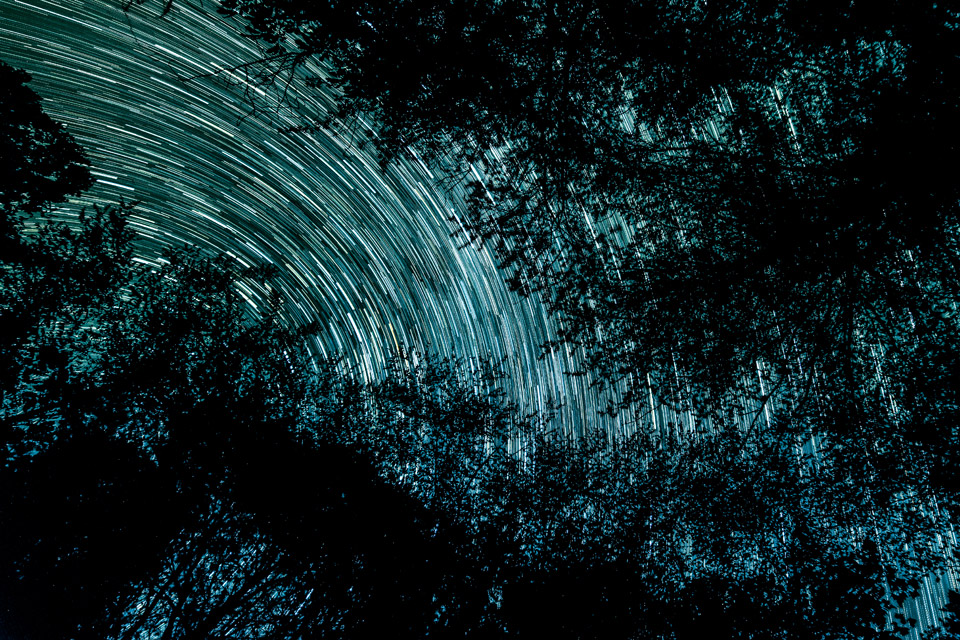 Sky Sights
Keep an eye out for these celestial events happening this month.

Note: These reflect 2017 dates, but celestial events such as the Perseid meteor shower return annually.
Aug. 11–13: Summer Shower
Coming to a sky near you straight from the comet 109P/Swift-Tuttle is the annual Perseid meteor shower. Peak times will produce up to 50 meteors per hour and will last from Aug. 11 to Aug. 13. The best viewing times are between 2 and 5 a.m.
Aug. 21: Our Most Famous Star
Why not check out our nearest star when it's staring right back at us? A total solar eclipse will be visible in parts of North America on Aug. 21, although only 80 to 90 percent of the sun will be obscured to those viewing from Ohio. The closest place to put yourself in the path of the total eclipse is Hopkinsville, Kentucky.
All Month: Giants in the Night Sky
Saturn and Jupiter will both be visible on clear nights. With a powerful enough telescope, you can see the cream-and-butterscotch rings of Saturn or the white, rust and ochre hues of Jupiter's bands. You may even catch a glimpse of Saturn's largest moon, Titan.

Photo Credits: Cincinnati Observatory Center by Keith Allen; Sky Sights by iStock