Ohio Life
Ottawa National Wildlife Refuge
This refuge protects 10,000 acres of habitat along and on Lake Erie. It's an incredible place to spot migrating birds, turtles, frogs and other creatures native to Ohio.
April 2020
BY Kristina Smith | Photo by Kristina Smith
April 2020
BY Kristina Smith | Photo by Kristina Smith
It's a brisk spring morning and the sounds of geese honking, ducks quacking and frogs croaking mesh together into a boisterous chorus of wildlife. In the distance, endangered sandhill cranes call to each other, but they won't be spotted flying until later in the morning.

Although sunrise was at least 20 minutes ago, the sky still shows streaks of orange and yellow over the expanse of marshland that is bordered in spots by woods and leads out to Lake Erie. It's a breathtaking time of day to be at Ottawa National Wildlife Refuge, a 10,000-acre complex of federally protected land in Lucas and Ottawa counties that includes West Sister Island on Lake Erie.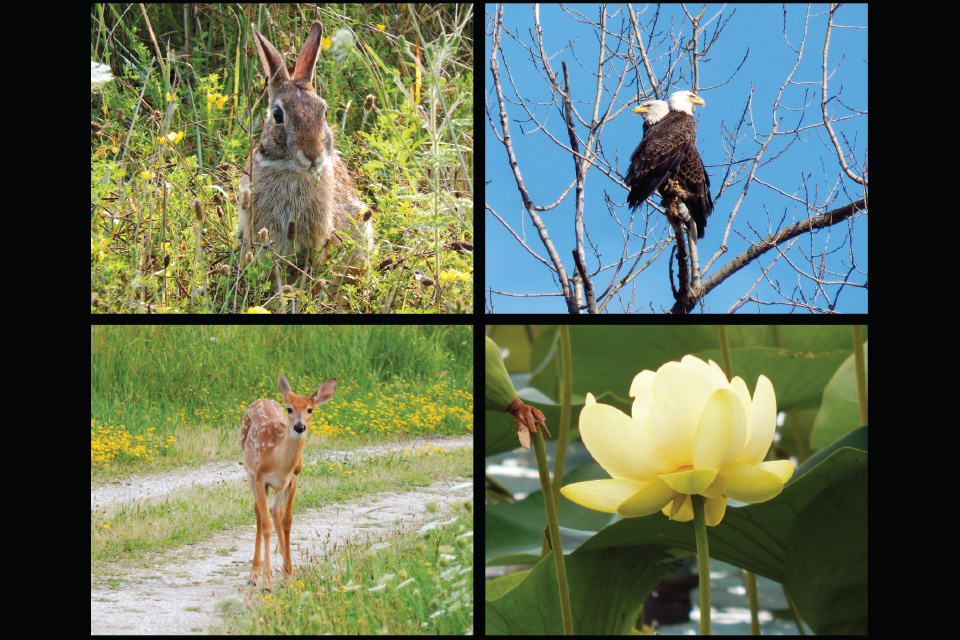 As my two Labrador mixes and I set off down one of the gravelly paths, I know our chances of seeing some migrating ducks, frogs and other critters are good on a morning like this. Immediately, we spot large groups of white trumpeter swans out on the marshes, as a juvenile bald eagle — one of dozens that call the wildlife refuge home — flies overhead.

Suddenly, both of the dogs start pulling and whining. They are looking to the woods to our left, but all I can see are bare trees. I stop and scan the forest for at least a full minute before I finally spot what has caught their attention: about 15 feet away, a white-tailed deer stands nearly motionless as it watches us. It still has its grayish-brown winter fur, which helps it blend into the trees. I snap a few photos with my camera before I notice two other deer standing farther back in the woods. After a few minutes, they slowly move on, and we keep walking as well.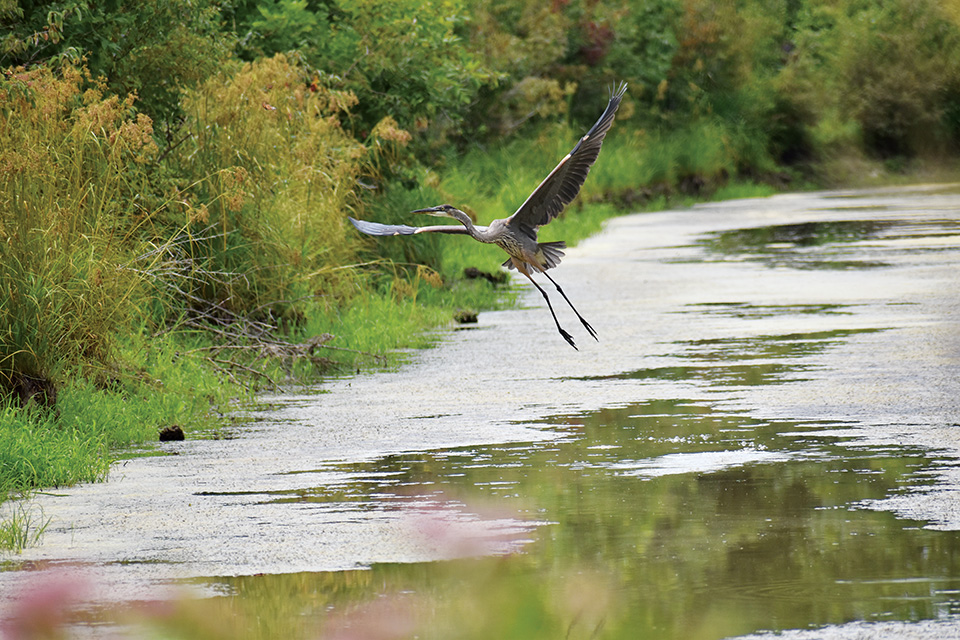 As we head closer to the marshes, we see a group of a dozen male wood ducks in the distance. Having never seen so many of these colorful ducks together at one time, I stop and watch for a while. A few minutes later, the sandhill cranes we heard calling fly over the marsh ahead of us.

Moments like these are why Ottawa National Wildlife Refuge is so special. No matter the season, it offers opportunities to see rare wildlife, large concentrations of birds and pretty plants against the backdrop of a wide-open sky reflected in the marshes and Lake Erie looming in the distance.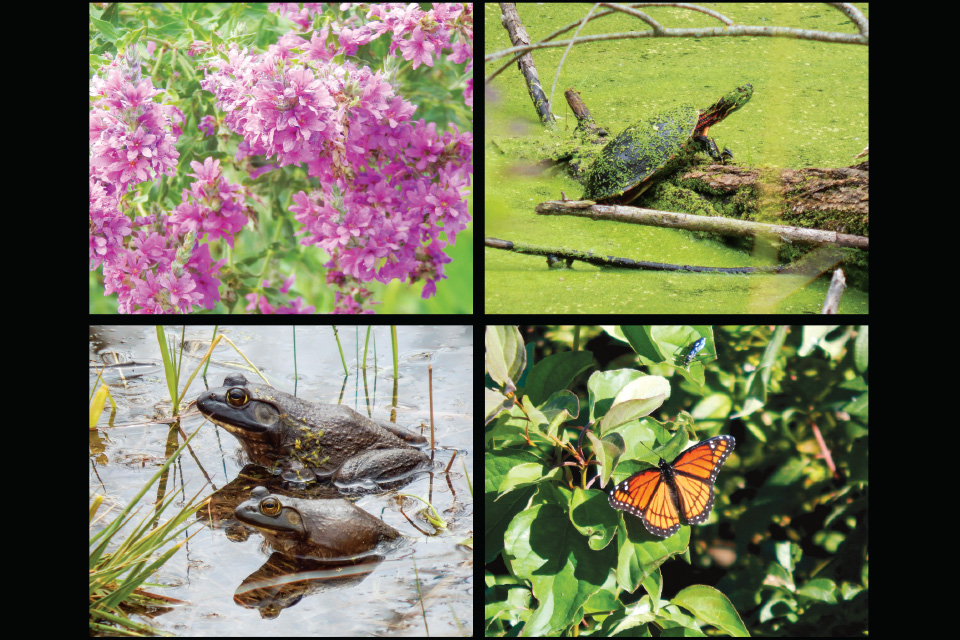 "For miles, you are going to hear the [bird] calls," says Aimee Arent, executive director of the Friends of Ottawa National Wildlife Refuge, a nonprofit that raises money and organizes volunteer help to support the area. "There are so many cool things to experience here. Because we're right along the lakeshore, this is important stopover habitat [for migrating birds] and breeding habitat."

There's a multitude of wildflowers blooming throughout the spring, summer and fall, and the refuge is home to the endangered Blanding's turtle and many other varieties of turtles and frogs. Monarch butterflies stop to rest in droves on their way south in the fall and gaggles of American white pelicans perch out in the marsh during their migration.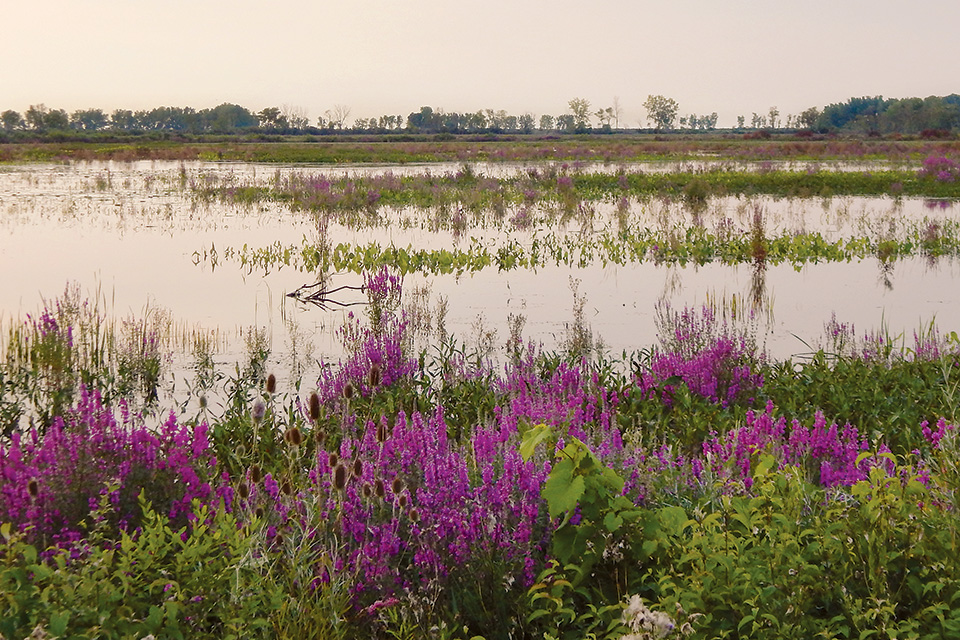 Great horned owls nest in some visible areas of the refuge, and their chicks attract crowds of birders. River otters, which are not common in northwest Ohio, are spotted frolicking now and then, and beavers call the marshes home as well. In some ways, Ottawa National Wildlife Refuge is still one of the U.S. Fish and Wildlife Service's best-kept secrets. Yet, its reputation as a pristine wildlife area for birding, kayaking, hiking and fishing continues to grow.
In 2019, more than 344,000 people visited the refuge, according to Arent. She says one of the main reasons is the refuge's wildlife drive, a 7-to-10-mile (depending on what areas are open) cruise across the refuge's gravel-covered dikes on certain weekends throughout the year. The refuge also offers educational programs, such as eagle tours, and is adding on to its main site by purchasing 40 acres of marsh and farmland bordering it. A new fishing access is being added at the refuge, and a new satellite property, West Harbor Landing in Port Clinton, offers a canoe and kayak launch.

"We're expanding the opportunities we offer," Arent says. "More people are experiencing the refuge and telling their friends."

Ottawa National Wildlife Refuge Visitor Center, 14000 W. St. Rte. 2, Oak Harbor 43449, 419/898-0014, friendsofottawanwr.org