Food + Drink
Ohio Life
Mr. Maple
Syrup is in Nate Bissell's blood. Now, he is working to make Ohio synonymous with the stuff.
March 2016 Issue
BY Andrew Poulsen | Photo by Thom Sivo
March 2016 Issue
BY Andrew Poulsen | Photo by Thom Sivo
Nate Bissell fumbles with a dozen or so light switches as he attempts to illuminate the Rust Belt skeleton he signed the final papers for the night before. The decommissioned 1939 General Electric factory in the northeast Ohio village of Jefferson is cavernous, and Bissell's voice echoes across its barren floors.

With the exception of a few evaporators and sap tanks, most of what is going to happen in this space is still in Bissell's head. He excitedly scans each room, detailing its intended purpose. It's not until he enters a room filled with dozens of bourbon barrels stamped with the names of some of the top proprietors in the industry that the potential of the facility becomes palpable.

"When people come here, they're going to be able to smell the syrup and feel the oak," Bissell says. "They're going to know it's authentic."

It's late January, about two months before Bissell's busy season takes hold, when he and his staff will work tirelessly — 24 hours some days — collecting buckets and checking on the sap pumps for leaks. This year, the 40,000-square-foot former GE factory will finally give Bissell Maple Farm the production space it needs to keep up with demand for its flagship product: Sugar Chalet Bourbon Barrel-Aged Maple Syrup.

For the past decade, Bissell, 36, has been a maple farmer — work that has been in the Bissell bloodline for more than a century. Bissell says the family's history in the United States traces all the way back to the American Revolution, when his ancestors fought the British as members of the Connecticut militia. Before the Civil War, the Bissells settled in Ashtabula County, where they built their first sugarhouse.

Bissell's father, David, ran the family farm in Jefferson until 1998, when it was moved to its current location in Rock Creek. In addition to Sugar Chalet Bourbon Barrel-Aged Maple Syrup, the farm produces syrup, candies, sauces and other maple products through its Bissell Maple Farm and Rock Creek Sugarworks brands.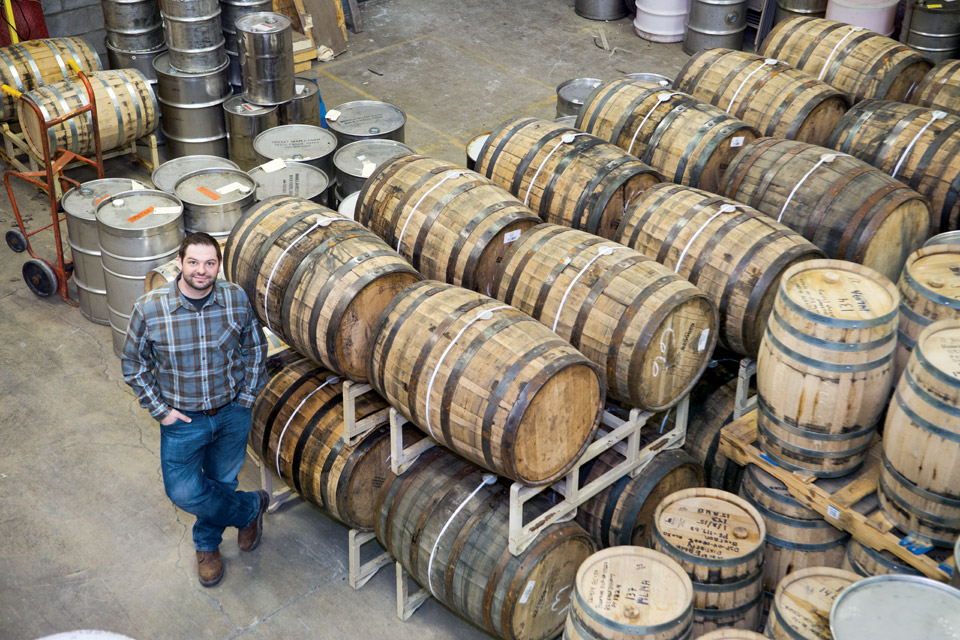 Despite being immersed in the family tradition as a kid and spending many cold mornings dragging sap buckets in the snow, Bissell's life followed a different trajectory. He was a quarterback at Thiel College in Pennsylvania, where he fixed up and sold lawnmowers to finance the bachelor's degree he earned in chemistry.
After getting a second degree in business from Youngstown State University, Bissell worked as a chemical engineer in the manufacturing industry for a number of companies, including General Electric, which now collaborates with entrepreneurs like Bissell to resurrect its closed factories and spur new economic growth.
Discontent with the limitations of the corporate ladder, Bissell donned a Carharrt jacket and work boots in 2011 to fully rediscover the family trade and pursue a new business venture.
"Maple farming allows me to do the two things I'm good at, which is being industrious and creative," Bissell says. "So many people spend their entire lives in a career where all they accomplished is not getting fired. This is agriculture. This is what America is all about. Too many people want a harvest without having to even plow the ground."
When Bissell took ownership of Bissell Maple Farm, his vision wasn't simply to turn a profit and do his family proud. It was also to restore the integrity and respect for a craft that Bissell believes has been diluted by big businesses trying to capitalize on the recent boom of maple products.
"I'm not some New York City banker with a lot of money who can just buy a bunch of trees and the latest, greatest equipment," Bissell says. "But I'm a sixth-generation maple farmer; you can't buy that."
After years of selling his syrup to be bottled and sold in Vermont, Bissell decided to instead invest solely in raising awareness of Ohio's maple syrup production. He began working with local farmers to collect sap for larger orders and started doing all of his production in-house. It affords Bissell the ability to not only pay Ohio farmers a fairer price but also save money he would spend on freight shipping his products elsewhere.
"I didn't realize how much of an economic engine this could be for so many people," Bissell says. "Plus, the syrup is already here, and it's already good."
According to Gary Graham, a maple syrup specialist at The Ohio State University, our state was the nation's top producer of maple syrup in 1840 — the year of the first agricultural census. Since then, deforestation, unfavorable weather and farmers not reporting their numbers have caused the state's ranking to fluctuate, averaging around fourth in the country. But thanks to innovations in syrup technology and equipment, maple farming at a high volume is easier than ever in Ohio, and the demand for healthier alternatives to cane and corn sweeteners has paid dividends to those who are able to break into the business.
"There's definitely been a boom in the state of Ohio for syrup production," Graham says. "Nate is very progressive and works hard at what he's selling, which is not only a benefit to him, but a benefit to the whole industry."
Dan Brown, president of the Ohio Maple Producers Association, says it's Ohio's proximity to its customers that gives it an advantage over states like Vermont or New York. Many of the approximately 1,500 Ohio maple producers are able to take their product to market within a 50-mile radius.
Still, Brown says the delicate nature of the product, such as its perishability and dependence on certain weather conditions, makes the business a steep climb for farmers like Bissell.
"What he's trying to do is very much needed in the state of Ohio," Brown says. "It is a tough, humbling business. Hopefully more young people like Nate come into this business and stay in this business."
While Bissell is quick to point out that he's still a maple syrup purist, three years ago he began experimenting with the idea of aging his product in bourbon barrels. Bissell's Sugar Chalet Bourbon Barrel-Aged Maple Syrup blends the dark, rich notes of his maple syrup with a bold, but not overpowering, hint of bourbon for a flavor unlike anything else on the market. The syrup quickly became Bissell's top product after he and his team of 10 first started filling barrels in 2013.
Partnerships he forged with retailers, such as Heinen's, Wegmans, Market District and Dorothy Lane Market forced Bissell to seek out his new facility.
In fact, his syrup masterpiece has become such a hit, both bourbon and craft beer makers are seeking out Bissell's syrup, barrels and expertise.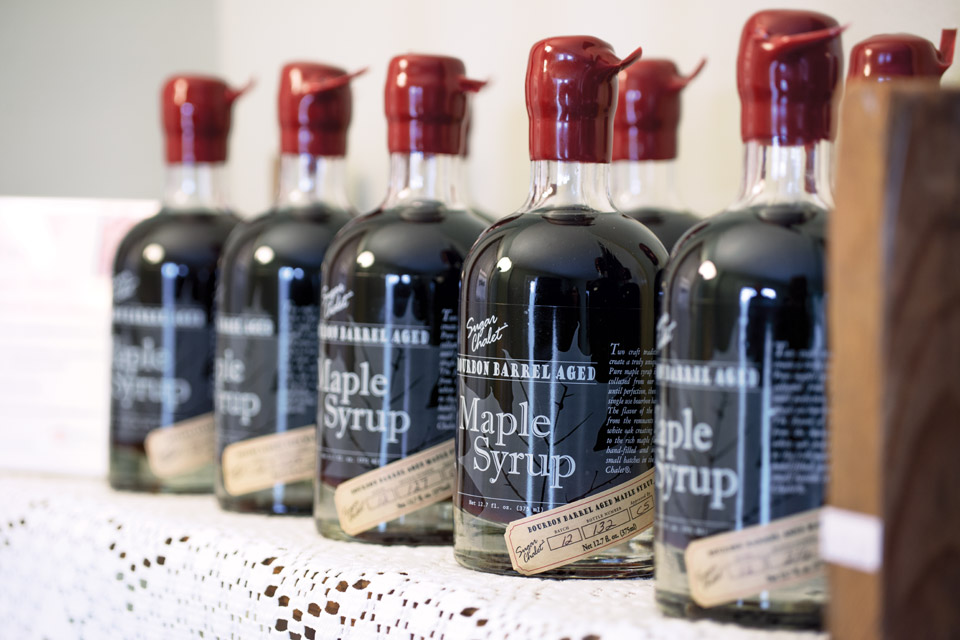 Akron's Thirsty Dog Brewing Co., Grand Rapids, Michigan's Founders Brewing Co. and Chicago's Goose Island Beer Co. have all tapped into Bissell's chemistry knowledge in order to extract maple flavor for a number of smoked and barrel-aged beers.
One of Bissell's most notable collaborations was with Pappy Van Winkle, whose 23-year-old bourbon is some of the rarest and most coveted in the world. The Van Winkle family had tried aging syrup in its barrels before, but they were so impressed with Bissell's professionalism, the family immediately sent over some of its 15-year-old barrels. Bissell aged his syrup in them for six months before it was bottled and sold.
"I wasn't the first person to come up with the idea for bourbon barrel-aged maple syrup," Bissell says. "I was just able to do it better on a larger scale. But we messed up a lot to get a product like this."
With production tripling every year for the past four years, Bissell is on his way to being one of the state's top names in maple syrup. Bissell says banks and investors have inquired about getting a piece of that success. But no matter how lucrative the offer, he says he cares only about the job security of those who worked hard for him when the future was uncertain.
"I've dumped everything I have into this company, so I'm often hit by the weight of all this," Bissell says. "I've always liked to compete against long odds, and I think I succeed by being strategic, working harder and leading better. Luck favors those who don't depend on it."

Visit bissellmaplefarm.com for more information about Bissell Maple Farm and its lineup of maple products.