Ohio Life
Great Ohio Record Stores
Flip through our guide to 20 spots across the state keeping the art of the vinyl record alive.
April 2017 Issue
BY Staff & Contributors | Photo by Ken Blaze
April 2017 Issue
BY Staff & Contributors | Photo by Ken Blaze

This article ran in our April 2017 issue. We update addresses and websites periodically, but always verify before traveling, as details may have changed.

Used Kids Records, Columbus
This capital city spot prides itself on rare and unusual vinyl finds.
Since 1986, Used Kids Records has been a Columbus cultural hub, founded under the notion of providing interesting music at an affordable price. "Get the music to the people" quickly became the store's original slogan.
Initially located on North High Street across from The Ohio State University, Used Kids opened downstairs from School Kids Records. Founders Dan Dow and Ron House named their spot to play off their upstairs neighbor and as a nod to their inventory: used LPs, CDs and cassette tapes.
"Used Kids was created as a very organic enterprise," says Bela Koe-Krompecher, who worked at the store from 1990 to 2007 and was co-owner for 14 of those years. "Both Ron and Dan were well educated, but wanted to live a life that existed around music. There was really no intention to make money beyond paying bills and being submerged in music."
In the pre-Internet days, record stores often served as a gathering place for musicians and other like-minded people. Used Kids Records became a sort of clubhouse for the Columbus music community, the walls and ceilings plastered with album covers, stickers, concert fliers and photos.
"I had to sleep there at various points for getting kicked out of my house," says Koe-Krompecher. "For the people who worked there and who made it a destination, music was the defining thing in their lives. It was the embodiment of DIY. I guess it's still there, but the Internet has really changed this recipe for DIY."
A lot has changed since Used Kids opened more than 30 years ago — both in the music industry and in Columbus — but current owner Greg Hall is determined to expand upon the store's legacy. Flipping through the stacks of rock, soul, jazz, folk and more, shoppers find everything from an old promo LP from Memphis R&B act The Bar-Kays to a reissue of David Bowie's classic fifth studio album "The Rise and Fall of Ziggy Stardust and the Spiders from Mars."
"The store has always been tied tightly to musicians and artists here in Columbus," says Hall, a longtime Columbus resident who purchased the record store in 2014. "Of my staff of seven, all of them but one plays in a band. That keeps a tight-knit vibe with the community."
Since Hall took over, the store relocated to a spot about a mile and a half northeast of its original location. With The Ohio State University in a constant state of redevelopment, Hall says it seemed like an appropriate time to make a move.
But while the location is new, Hall is adamant about keeping the spirit of the original store alive. A lot of the old ephemera made the move, along with the stage, where countless bands have played live in-store performances. And with vinyl sales on the upswing, Hall has been very proactive in acquiring old record collections.
"Rare and unusual records is the tagline of the store," says Hall. "Though we try to appeal to a broad customer base … I've always said, 'I want to be the best record store between New York City and Chicago.' That's always been the goal." 2500 Summit St., Columbus 43202, 614/421-9455, usedkidsrecords.com — Leo DeLuca

***

Blue Arrow Records: Just down the street from Cleveland's Beachland Ballroom, this shop is known for the lacquered album covers tiling its floor and a focus on used records. Rock, blues and jazz are some of what can be found at this 1,300-square-foot store. Also a record label, Blue Arrow began working with Modern Lovers frontman Jonathan Richman in 2016. 16001 S. Waterloo Rd., Cleveland 44110, 216/ 486-2415, bluearrowrecords.com

Haffa's Records: Serving Ohio University students for more than 40 years, this college-town spot stocks new and used albums, ranging from 1940s-era swing to 1980s hair metal to rap. CDs and DVDs are also available. 15 W. Union St., Athens 45701, 740/592-2274, facebook.com/haffasrecords Note: Haffa's Records is now closed

Plaid Room Records: Home to the Colemine Records label, this suburban Cincinnati spot opened in 2015 and today stocks 20,000 new and used records. Claiming to carry every genre of music, the selection ranges from Al Green to Black Sabbath. 120 Karl Brown Way, Loveland 45140, 513/583-1843, plaidroomrecords.com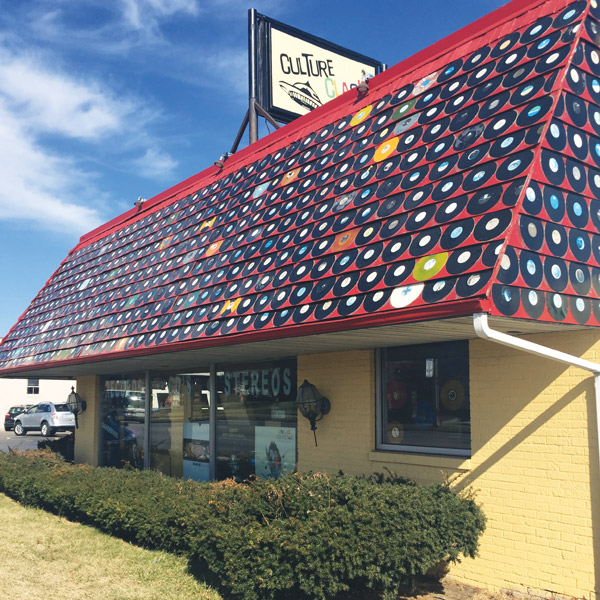 Culture Clash Records, Toledo
This can't-miss spot on the city's west side offers a carefully curated collection of used vinyl.
Driving through Toledo's west side, it's difficult not to do a double take at Culture Clash Records' peculiar storefront. Located about 6 miles from downtown, the small bungalow sticks out among neighboring businesses with its low-pitched roof covered with hundreds of vintage LPs.
Inside, the store carries the charm of a 1970s basement with its wood-paneled walls covered in vinyl, tiered like liquor bottles with its rarest and most valuable albums sitting at the top.
Pat O'Connor — a longtime staple in the local music scene with more than four decades of experience selling records — opened Culture Clash Records in 2004, having previously been one of the proprietors of the popular but now defunct Boogie Records. Prior to his death in 2016, O'Connor turned Culture Clash into the city's hub for new and used vinyl.
"Being one of the only stores in Toledo, I think it's important to have a little bit of everything, so customers can get exactly what they want," says Ellie Decker, an employee at Culture Clash Records. "We get customers from all over the map, so I think it's important to have a broad range to keep everyone happy."
Decker is one of the employees responsible for buying new inventory. While the outer walls are lined with titles ranging from jazz to classical to classic rock to country, the store is also densely stocked with titles from today's biggest indie, psychedelic, punk and metal acts, along with plenty of reissues of classic albums from the '60s, '70s, '80s and beyond.
Decker says what makes Culture Clash a standout among record stores across the state is its ability to fill its shelves with quality, rather than quantity. While buying new records is simply a matter of reading the latest music blogs or following social media, stocking used records requires a deeper knowledge and understanding of the hobby.
"Used record buying is a difficult thing," Decker says. "You want to curate to people's taste and not just have the standard pile of Journey or Elvis Presley records."
Another aspect of Culture Clash's business that differentiates it from other stores is its comprehensive selection of new and vintage sound equipment. Whether its turntables, preamps, cartridges or acrylic platters, Culture Clash offers full setups for beginners and audiophiles alike.
"Your system is only as good as its weakest piece," says Decker. "More and more, we see people in their early 20s getting a real collection who want an audiophile setup and see how a little more money will get them a much nicer product."
Culture Clash isn't just a destination for local record junkies. The store also hosts in-store performances from touring bands, sometimes as often as three per week.
"Out of all the different types of physical media, vinyl is the king," says Decker. "It has the warmest sound, it has lasted the longest and it will probably outlast everything else." 4020 Secor Rd., Toledo 43623, 419/536-5683, cultureclashrecords.com — Andrew Poulsen

Note: Culture Clash is now proudly located in downtown Toledo at 912 Monroe St., Toledo 43604

***

Lost Weekend Records: With 90 percent of its three-room storefront devoted to vinyl sales, Lost Weekend Records has been offering new and used albums since 2003. Less common genres include zydeco, polka and ragtime, while pop and rock mainstays from the 1950s to 2000s are also available. 2960 N. High St., Delaware 43202, 614/268-8423, lostweekendrecords.com

Last Exit Books and Coffeehouse: Opened in 2004, this spot began life as a bookstore, but quickly grew to offer a wide selection of new and used vinyl, ranging from Beethoven to Waylon Jennings to Led Zeppelin. Grab a seat in the cafe after browsing through the record bins. 124 E. Main St., Kent 44240, 330/677-4499

Time Traveler Records: Scott Shepard has been selling vinyl in Akron for more than 35 years. He's known for stocking the obscure and unusual among his selection of classic rock, blues, jazz and R&B albums. 118 W. Market St., Akron 44303, 330/819-8955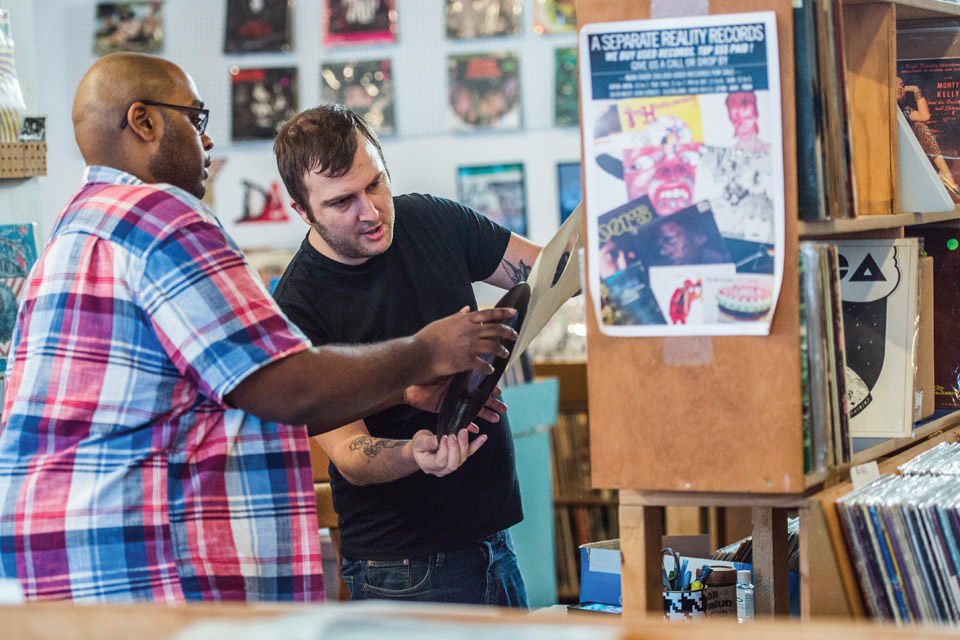 A Separate Reality Records, Cleveland
Stocked with more than 200,000 records, this shop serves as a vinyl-hunter's paradise.
Whether you're on the last stop of a 40-year quest of reclaiming a rare and coveted album from your youth or simply looking to get lost in the stacks for a couple hours, few record stores offer a collection as vast, comprehensive and bizarre as A Separate Reality Records. Located in Cleveland's historic Tremont neighborhood a few miles from downtown, the store holds more than 200,000 used records from the 1950s to present day, spanning nearly every musical, comedy and spoken-word genre ever to be pressed onto wax.
The store is an extension of owner Augustus Payne's lifelong devotion to collecting records from what he believes to be music's golden era. A musician, DJ and audio engineer, Payne's taste gravitates mostly toward music from the '60s and '70s.
"I really love the sound from that era," he says. "I like the production quality and how the artists were true musicians who played all their own instruments. I think that most vinyl buyers feel the same."
Payne opened the store in the fall of 2013, after spending years buying and selling vinyl at various record shows and conventions across the country. The center of the store is filled with shelves carrying thousands of bargain records from the canon of jazz, blues, soul and classic rock from the '60s, '70s and '80s. Hundreds of titles from folk and country pioneers ranging from Hank Williams to Dave Van Ronk sit in another room.
For more serious collectors, the outer walls of the shop are stocked with releases from rock legends, including the Beatles, Rolling Stones, Bob Dylan and Simon & Garfunkel, available in a range of conditions to suit all budgets. A massive fan of psychedelic music, Payne buys and sells hundreds of the titles, along with garage, progressive and other genres that peaked in the late '60s and '70s.
"Most places just try and focus on a few specific genres," Payne says. "I have pretty much any genre you'd ever want, whether it's rock, soul or jazz. I'm just looking to buy records that are clean and rare."
Unlike other shops in the area, A Separate Reality Records doesn't carry reissues or new releases. Instead, what makes the store a distinct experience for both new and seasoned vinyl collectors is the unexpected finds one encounters while perusing the racks. Quirky discoveries range from recordings of animal sounds to presidential speeches to vintage childhood educational albums.
For longtime collectors, the store can unearth plenty of memories by reintroducing them to titles they haven't seen in decades. Despite the eclectic and somewhat intimidating inventory, Payne's expansive musical knowledge and knack for categorization makes it easy for customers to find what they're looking for while simultaneously introducing new vinyl collectors to genres they never knew existed.
"I am an educator," Payne says. "I want people, young and old, to see everything they can be listening to. I want to open people's minds and ears." 2678 W. 14th St., Cleveland 44113, 216/644-7934, aseparaterealityrecords.com — AP

Note: A Separate Reality Records has moved. The new address is 11221 Detroit Ave., Cleveland 44102.
***

Mole's Record Exchange: The walls lined with vintage posters and colored vinyl give this store near the University of Cincinnati a retro vibe. Open since 1974, it's the city's oldest continuously operating record store and its used vinyl selection spans blues, rock, folk, country and progressive. 111 Calhoun St., Cincinnati 45219, 513/861-6291

Finders Records: This shop opened in downtown Bowling Green in 1971 and is one of the state's oldest independent record stores. Along with CDs and DVDs, this college-town spot allots 40 percent of its 6,000-square-foot store to new vinyl ranging from Mississippi blues to classic rock to rap. 128 N. Main St., Bowling Green 43042, 419/352-7677, findersrecords.com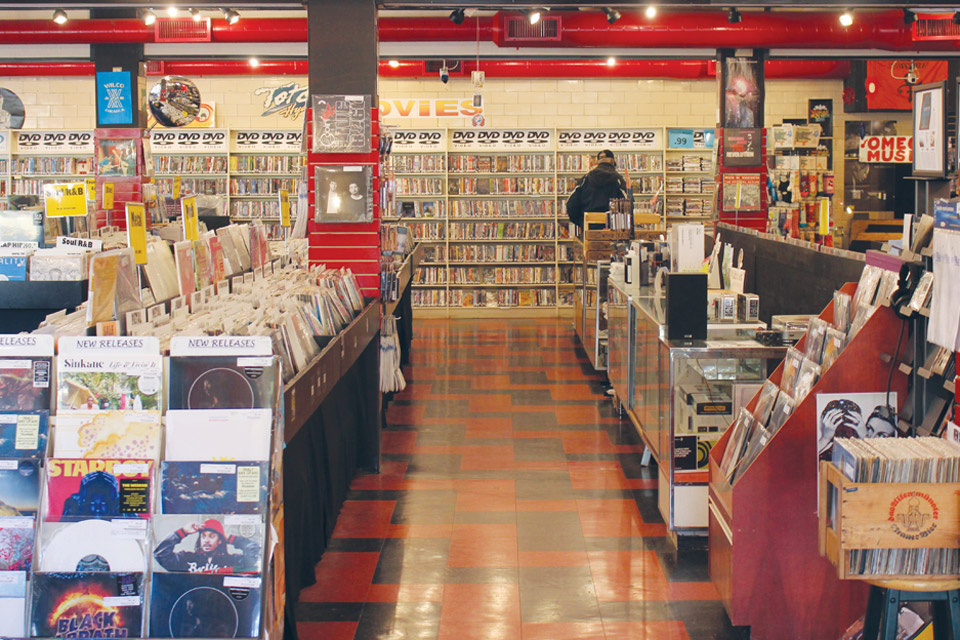 Omega Music, Dayton
This shop in the Oregon Historic District has an impressive pedigree and the support of established local musicians.

Dayton's Oregon Historic District is a small-but-storied enclave marked by 19th century homes and brick-paved roads. On the southwest corner of Fifth Street, the district's main drag, sits Omega Music, a record shop with a long and winding history all its own.

Originally opened as Omega Thrift'n Records, the shop has been operated by the Staiger family since 1979, and for decades, Omega founder Gary Staiger ran his business in Dayton's Santa Clara neighborhood, just north of downtown.
"Gary was a cool boss to have back in the golden age of record stores. He was a real man of the community and a lively conversationalist with many of the record store patrons," says musician John Schmersal, who was playing in the popular Dayton band Brainiac when he worked at Omega Music in the 1990s. "I was told at the time that Omega sold more hip-hop and R&B, per capita, than any other mom-and-pop store in the country."
Dayton has a strong history of funk music, a genre closely tied to hip-hop and R&B, and Omega helped celebrate this chapter of the city's story. Loosely referred to as the funk capital of the world, Dayton had ties to bands such as Ohio Players, Heatwave, Slave and Zapp, the latter a group led by the late Roger Troutman whose song "California Love" was made into a Billboard-topping single by rapper Tupac Shakur.
"I remember one day Roger Troutman glided into the store in a silky baby blue suit. He strutted around a few of the record bins before asking if Gary was around," says Schmersal. "He looked as sharp as could be, and then he got into his Renault Alliance and drove away."
After more than 30 years in business, Gary moved his entire collection to Omega Music's current location, but it was a move followed by tragedy. Soon after relocating the store in October of 2010, Staiger suffered a heart attack that claimed his life and left his son, Alex, as the shop's sole owner.
Today, Omega Music carries a wide selection of new and used albums, ranging from Sam Cooke's "One Night Stand" — considered one of the greatest live soul albums of all-time — to "Oczy Mlody," the new album by Oklahoma City psychedelic rockers The Flaming Lips.
"I remember playing around in the back room with records," recalls Staiger. "I remember my dad showed me how to properly hold a record. I was holding records when I was able to walk."
Members of the Dayton music community have rallied around the shop as well. Kelley Deal of the multiplatinum-selling band The Breeders often plays in-store performances; Robert Pollard of the Billboard-charting band Guided By Voices has conducted interviews at the store; and musicians from the community work behind the counter.
"We've been beat up and thrown down and got back up again. And we're still here," says Staiger. "And I think we're going to be around for decades to come." 318 E. Fifth St., Dayton 45402, 937/275-9949, omegamusicdayton.com — LD

***

Black Plastic Records: Complete with a stage to host live bands, Black Plastic Records is known for its large selection of new and used albums, from recent releases by Lana Del Ray and John Mayer to classic albums by Loretta Lynn and The Animals. 4027 Hamilton Ave., Cincinnati 45223, 513/258-0535, facebook.com/blackplasticrecords

Endangered Species – The Last Record Store on Earth: While new and used vinyl is the main attraction, this suburban Columbus shop also deals in vintage concert T-shirts, books and posters. Originally opened in 1980, the store's record selection ranges from prewar icons like Count Basie and Louis Armstrong to modern artists such as Blackberry Smoke and Adele. 11 W. Winter St., Delaware 43015, 740/417-4776

Square Records: Located on Akron's Highland Square since 2003, this small shop stocks used rock albums and a selection of indie rock titles. The store also carries albums in the metal, reggae and punk genres and features works by local visual artists. 824 W. Market St., Akron 44303, 330/375-9244, facebook.com/squarerecordsakron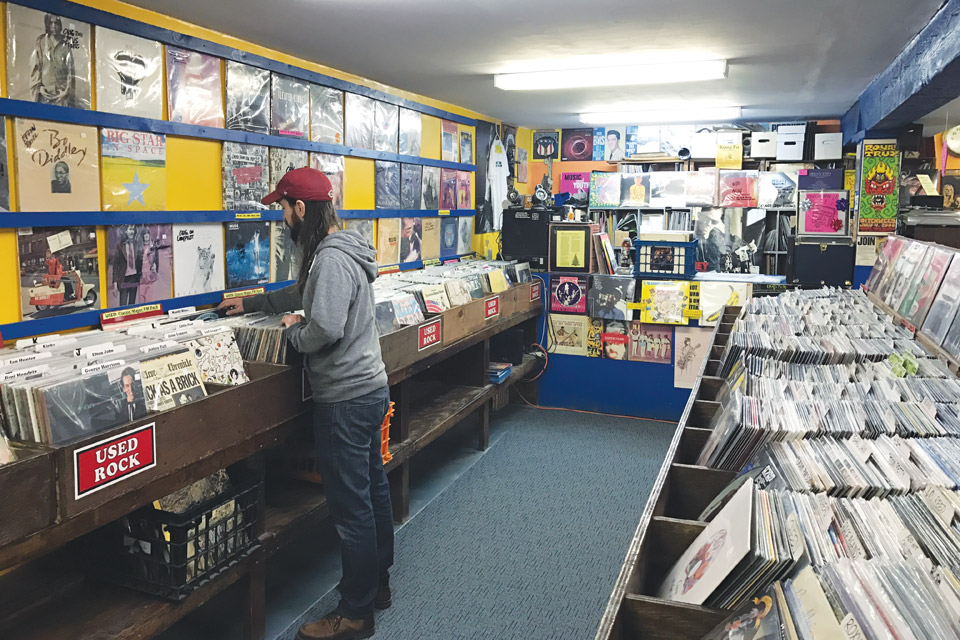 Shake It Records, Cincinnati
This longtime record label turned store celebrates the city and the state's musical heritage.
Boxes of old LPs sit on the well-worn wooden floor waiting to see the light of day, stored underneath racks of new and used titles, while a display case behind the counter holds a field recorder that once belonged to famed Library of Congress ethnomusicologist Alan Lomax. On the wall hangs "Elvis at 3," a piece by Southern folk artist Howard Finster, who created the album covers for R.E.M.'s "Reckoning" and the Talking Heads' "Little Creatures."
Part record store, part record label and part museum, Shake It Records has been providing Cincinnati with an eclectic soundtrack for nearly 40 years. The Shake It name has existed as a record label since 1978, but brothers Jim and Darren Blase were the ones who established it as a record store.
"[Shake It] released these highly sought-after garage punk records in the late '70s, the most famous being The Customs," says co-owner Jim Blase. "Back in the early '90s, Darren wanted to release some 45s and CDs, and he asked [owner] Jess [Hirbe] if he could use the Shake It label. For a few years it was just a label, and in 1999, we opened the store."
Jim and Darren grew up in the small town of Dent, Ohio, on the western outskirts of Cincinnati. The brothers developed a love for music at an early age, and as business partners they work to be as well-rounded and inclusive as possible, stocking genres ranging from hip-hop to rock to jazz to old 78 RPM records, choices that reflect the varied musical tastes of their staff.
Among the 40,000 records are some from the store's namesake label, and the brothers' philosophy is to document both Cincinnati and Ohio's past in its lineup of releases.
"We recently reissued the Sacred Mushroom LP, a band from Cincinnati that kind of sounded like Cream. It's '68–'69 psych blues-rock. We've put out an old-time string band blues compilation called "Play it Like You Did Back to George Street," which are guys from the late '20s and '30s. Stuff like that."
The Blase brothers' appreciation for Cincinnati's musical legacy is obvious given the artifacts and promotional items they have acquired from King Records — the legendary Queen City label responsible for helping launch James Brown's career. King Records reigned from 1943 to 1975, and although the musical landscape has changed drastically since that time, Shake It Records aims to keep those memories alive while simultaneously staying relevant.
"We all love the culture that surrounds music — the art and literature and fashion and design — and I think that shows in the store," says Jim Blase. "For older people who have experienced record stores, this is a bit of a throwback with a modern twist to it. And for younger people who are experiencing this for the first time, they get into it, too. It's a museum, but it's alive." 4156 Hamilton Ave., Cincinnati 45223, 513/591-0123, shakeitrecords.com — LD

***

Toxic Beauty Records & Poster Gallery: Serving Yellow Springs since 2007, this store stocks new and used albums ranging from classic rock and metal to indie and country and is known for its selection of limited-edition LPs. The poster gallery features limited-edition concert posters. 220 Xenia Ave. 2nd floor, Yellow Springs 45387, 937/767-0300, facebook.com/toxicbeautyrecords
Spoonful Records: In 2010, Spoonful Records joined the growing Columbus vinyl scene with a 1,000-square-foot store and 10,000 new and used records. The husband-and-wife team of Brett Ruland and Amy Kesting also sells Ohio-designed Dayton Audio speakers, and their store is an Audio-Technica turntable dealer. 116 E. Long St., Columbus 43215, 614/586-1918, spoonfulrecords.blogspot.com Note: New address is 183 E. Rich St., Columbus 43215
Apollo Records: This storefront shop located in Chillicothe's historic downtown sells CDs,
movies, T-shirts and patches alongside its selection of more than 4,000 new and used records. 18 W. Water St., Chillicothe 45601, 740/851-4922, facebook.com/apollorecordsohio