Ohio Life
Business Is Booming
Bob Gillmor's love for history and knack for tinkering led him to create and restore military cannons from our past.
September 2016 Issue
BY Vince Guerrieri | Photo by Ken Blaze
September 2016 Issue
BY Vince Guerrieri | Photo by Ken Blaze
Ernie Hopkins has lived in Port Clinton for all of his 66 years, and as long as he can remember, there's always been a cannon sitting at Water Works Park. Details are scarce on the piece of artillery — actually a 12-pound carronade, which is smaller than a traditional cannon — other than it dates back to the War of 1812.

"There's a plaque on it that says it's been donated by the American Legion," remarks Hopkins, "but it doesn't say when."

The cannon is rotting from the inside out, battered by the elements and some neglect to boot. Water gets in the barrel and, occasionally, trash does too. When members of Port Clinton's American Legion Post 113 decided they wanted to restore the artifact, Hopkins, a trustee at the post, knew just the guy to do it: Bob Gillmor.

"We weren't really good friends," recalls Hopkins. "We're both re-enactors, so I'd see him at events. But I knew him by reputation."

Steve Cooper, general manager for the Civilian Marksmanship Program at Camp Perry in Port Clinton, where a cannon-firing ceremony is held each July, describes

Gillmor's artillery expertise a bit more colorfully. "He loves to make things explode," Cooper quips.

That knowledge has landed Gillmor the role of a technical consultant on a number of television series and films, including Tom Cruise's "The Last Samurai" in 2003, the HBO miniseries "John Adams" in 2008 and, most recently, the A&E network American Revolution-era spy series "Turn," which completed its third season in June.

Along with his work at Camp Perry, Gillmor is a fixture at Put-in-Bay's annual Pyrate Fest, and he made the cannons the University of Toledo and Bowling Green State University fire following every home touchdown.

It all began more than 20 years ago, when Gillmor started selling miniature cannons made by Moyer Foundry in Tiffin to fund his military re-enactment hobby. When the foundry's namesake retired in the late 1990s, Gillmor was given the opportunity to buy it and did so, moving the contents of the foundry to a barn on his property in the northwest Ohio town of Old Fort, located halfway between Tiffin and Fremont.

Today, Gillmor drives a bus for the local school system, but his real business is making and firing cannons and, as his business card humorously notes, "business is booming." For him, the passion for military artillery is about creating a visceral connection to our past.

"It's interesting," he says. "And it's just not the same if it's not living history."

***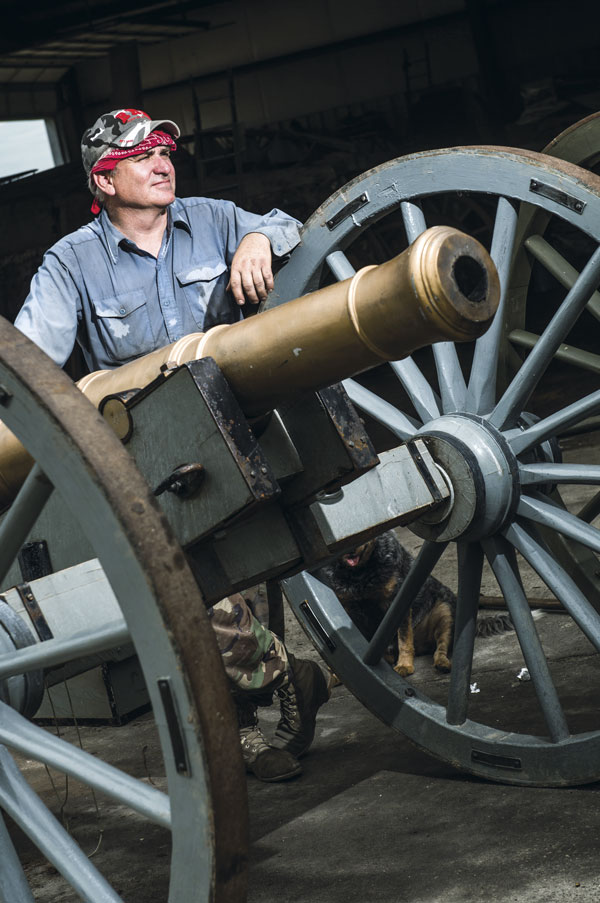 Bob Gillmor is a busy man — as evidenced by the workshop in front of his home in Old Fort. He's got a pallet full of airplane cylinders, soon to be melted down for casting cannons, and there's a tableful of polymer molds he uses to cast souvenir coins, as well as medals and plaques for students at Old Fort High School. There are finished projects too, from cannons he's made and kept for himself to a restored Willys M38A1 Jeep.
Gillmor is a high school graduate, and by his own admission, he was lucky to even do that. He says he was an indifferent student, and that indifference was compounded by learning disabilities. But he had a farm boy's ability to tinker.
"We always built stuff," he says. "After I graduated high school, my father and I built a sawmill."
Gillmor also had an abiding interest in history, fueled by the fact that the area around Old Fort where he grew up was the site of battles between British, American and Native American forces during the War of 1812 more than 200 years ago.
"I've been interested in it since I could walk," he says. And he did walk, exploring nearby fields and forests looking for artifacts. "I had a really good arrowhead collection growing up," he says. "I still have most of it."
That love for history led him to Civil War re-enactment in his 30s, and he signed on with a unit at the Rutherford B. Hayes Presidential Center in Fremont in the 1990s.
"They told me if I brought a cannon, I wouldn't have to march," he says. "There were a couple cannons that were just abandoned at Oakwood Cemetery, so I brought one of them, and I haven't had to march since."
When Gillmor started participating in re-enactments, there were two options for period-appropriate artillery: Find a reproduction or use a historic piece. Both options, he says, were fraught with their own peril. "Some of them weren't safe," Gillmor explains of the reproductions. They were susceptible to failure, and failure could hurt someone.
Cannons from the American Revolution or the War of 1812 were made of cast iron or bronze, and the ones from the Civil War were created from wrought iron or bronze.
"Cast iron is scary," Gillmor says, noting that its age and imperfections in the casting process can make it more brittle than it looks, particularly when gunpowder is involved.
Gillmor mostly makes cannons from bronze but has used a variety of materials. And while he started out using wood to make the cannon carriages, Gillmor now favors aluminum. "You can't tell the difference until you move them around," he says. "As long as you maintain them, they'll last for another 100 years."
In fact, the carriages take twice as long to make as the cannons. Gillmor estimates he makes a big cannon every month, and he's able to cast smaller desktop models quickly, averaging about one a day.
"I can knock out a barrel in a week," says Gillmor, who sometimes uses help from area students and people interested in metalworking. "I sell the stuff as fast as we make it."
***
One of Gillmor's first projects was Old Betsy, the cannon in front of the Birchard Public Library in Fremont. It has a special place in local lore.
The library is built on the site of Fort Stephenson, a garrison commanded by Col. George Croghan during the War of 1812. As British troops advanced in the summer of 1813, Croghan was ordered to abandon the fort, but he believed he could defend it, despite only having one cannon — Old Betsy, which had been commandeered from the British during the American Revolution and dated back to the French and Indian War.
The fort was held, the British retreated, and the cannon eventually became a monument on the library's property — not far from the final resting place of Croghan's earthly remains, which were exhumed from the family plot in Kentucky and buried on the library property in 1906.
The library approached Gillmor to help restore the cannon and its carriage. He spent a year working on it, and he's the only living person to have fired it — during its dedication in 2000.
Gillmor estimates that he has restored another dozen cannons since Old Betsy. These days, he's working on the Port Clinton carronade, which he expects will be completed by fall. But his work isn't limited to artillery. He cast air vents for the PT boat being restored by the Liberty Aviation Museum in Port Clinton and helped an auto enthusiast friend make new running boards for a 1906 Hudson touring car. He also hand-forges coins.
"I shouldn't even mess with coins," Gillmor says. "But when you give them out to movie people, they always remember you."
Gillmor's first film work was on "Gods and Generals," a 2003 film based on the book of the same name about the Civil War. He was one of thousands of re-enactors cast as extras, but his artillery expertise made him stand out. "Within a week, I was on the crew," he says.
He parlayed that experience into other movie work, and two years ago, Gillmor returned to the Civil War era for "Field of Lost Shoes," a film about the Battle of New Market in Virginia's Shenandoah Valley.
He's currently working on "Turn," a television drama about the American Revolution. Filming for the series' fourth and final season begins this fall.
Such work appeals to Gillmor's love for the theatric, which is also on display at the annual First Shot ceremony at Camp Perry in July. This year's event was the fourth time he's been involved and it included fly-overs by the Avenger and B-25 aircraft owned by the Liberty Aviation Museum.
Gillmor set up pyrotechnics along the ground to re-create the look of a strafing run. It took days of planning and was over in 30 seconds, but he is already thinking about next year, which will have a World War I theme.
"We have to figure out what we'll do," Gillmor says. "It would be nice to find a track vehicle and build a tank."
For more information about Bob Gillmor's work, visit cannonmaster.com.