Ohio Life
Best Hometowns 2019: Newark
Licking County's largest city has reinvented its downtown with upgrades that play on local history while creating a strong sense of community.
November 2019
BY Jim Vickers | Photo by Casey Rearick
November 2019
BY Jim Vickers | Photo by Casey Rearick
One mural shows Newark in all its 1800s winter glory, when kids who grew up here were known to ice skate on a frozen portion of the canal that once ran through town. Another mural covers the side of a large building across from where the local farmers market sets up. The re-creation of a vintage photograph depicts a smiling woman in a large hat standing beside bushels of fresh produce.

Columbus-area artist Curtis Goldstein painted both, as well as several other murals throughout downtown Newark. The works beautify the backs of buildings and provide moments of whimsy. They're engaging and interesting and show that history is never far from the surface of what's happening now in this community of 50,000 residents.

One of the highest-profile connections between past and the present can be seen at One North Third Street. The Louis Sullivan Building of Newark has been part of downtown for well over a century. It's one of the "jewel box" banks that Sullivan, an architect regarded as the father of skyscrapers, built in small Midwestern cities later in his career.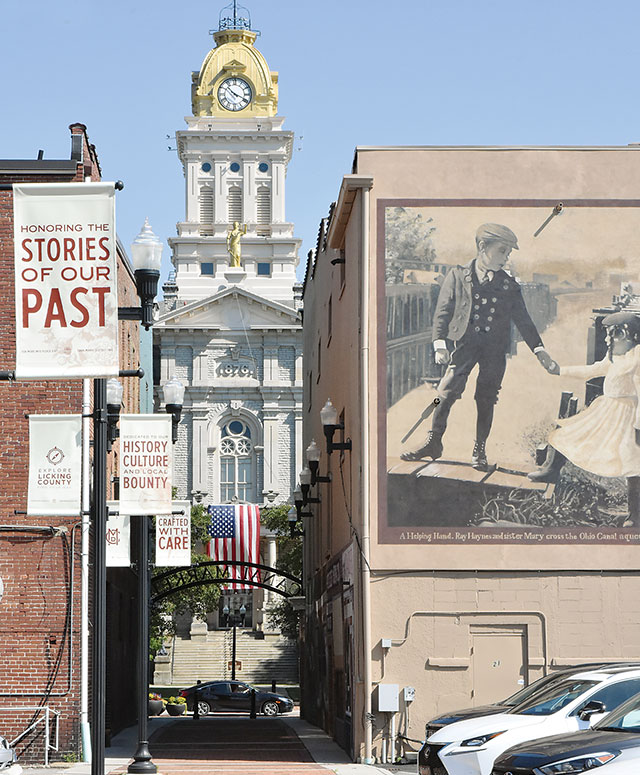 "There were eight of those built in the United States … and each one is different," explains Mayor Jeff Hall, a fourth-generation resident of Newark. "They say [Sullivan] would sit on a nail keg and just swivel all day telling [the workers] what to do because of the detail."

The building opened as a bank in 1914 and later housed a butcher shop, jewelry store and ice cream parlor. In 2013, Newark native Stephen Jones gave the historic building to the Licking County Foundation, and work is now underway to turn the property into a place the entire community can enjoy. Along with a new home for the local visitors bureau, the revived building will also feature a public gathering space with meeting areas, retail, office space and exhibits.

The Louis Sullivan Building is only the latest in a long list of upgrades that have reinvigorated downtown Newark since 2014. A massive roadway project traded out traffic lights for pedestrian-friendly traffic circles — one at each corner of the square surrounding the historic Licking County Courthouse. (The 1876 building underwent a $9.5 million restoration and renovation of its own in recent years.)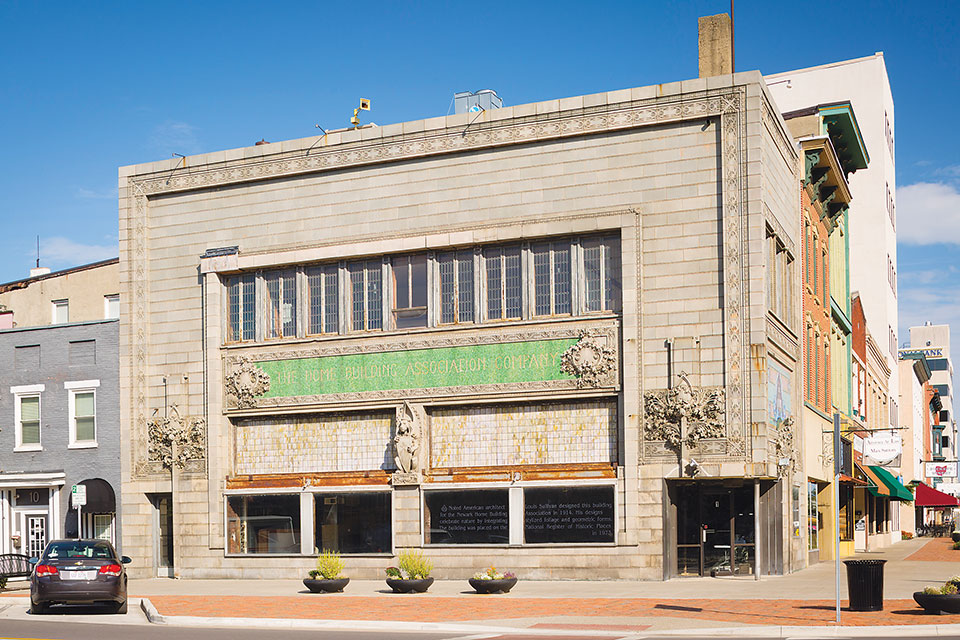 Brick pavers dating back more than a century that were dug up during the city's sewer-separation project got a second life as well: They were used in the new streetscape to create a historic look and feel. Then, in 2016, a gravel lot south of the square was turned into the Canal Market District, where a farmers market, arts and craft market and other community events are held under a large, brick-lined pavilion.

"Our Friday farmers market runs 4 to 7 p.m. and we're pretty much sold out for most of the season with 42 vendors," says Michelle Newman, executive director of Canal Market District. She adds that the city's Tuesday evening farmers market is about half the size but still well attended. "We always have live music, we have a food truck. Rain or shine, we get people here and it's fabulous."

Hall says downtown Newark has seen $125 million in renovations over the past six years, and he estimates 65 percent of that has come from private-sector investment. Downtown buildings have been converted into new apartments, including one inside the former West Main Intermediate School, while small businesses are helping make the area a destination for arts and entertainment.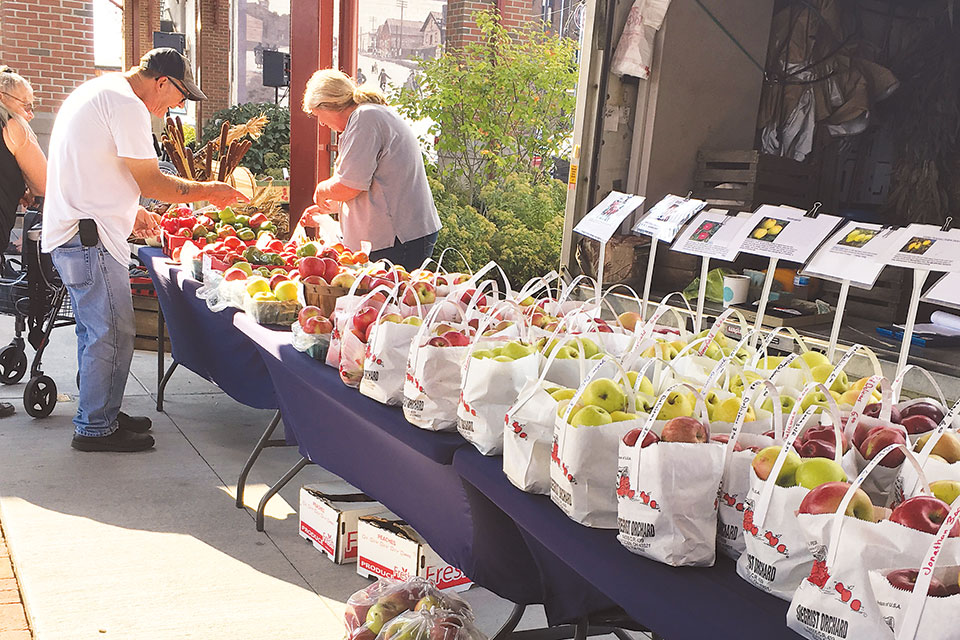 Eateries include Elliot's Wood Fired Kitchen & Tap and Moe's Original BBQ, while the new wine bar The Mark is conveniently located near The Midland Theatre. Dave Longaberger spent eight years and $8.5 million renovating the historic theater after purchasing it in 1992. Once work on the 1928 building was complete, he turned over its operation to The Newark Midland Theater Association. Today, the theater hosts nationally touring musicians and other arts events.

A short walk away, the Denison Art Space on West Church Street showcases works by visual artists, while local entrepreneur Tom Atha has renovated Newark's former 1902 dance hall as Thirty One West, a 500-capacity ballroom.

"Our passion was to make music more accessible to our local community," Atha explains. "Not that the Midland isn't doing a great job … but a space for local musicians to be able to perform and also a space for up-and-coming acts or legacy national acts that are traveling through. We have quite a diversity of music here."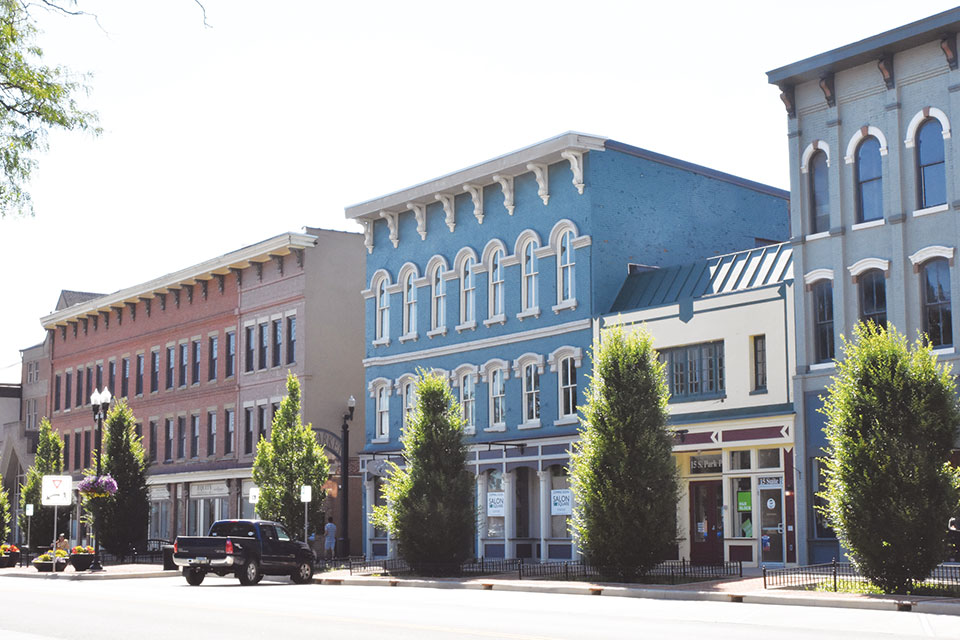 As much attention as Newark's downtown garners, it's easy to forget that the community covers more than 21 square miles. Newark City Schools has 12 new or renovated buildings (a main high school, a digital academy, three intermediate schools and several elementary schools) that were part of a decade-long construction project. Large employers in Newark include Anomatic Corp., Owens Corning, The Ohio State University at Newark/Central Ohio Technical College and Park National Bank among others.

Travelers often visit Newark to see The Dawes Arboretum, nearly 2,000 acres of plants, tree collections and natural areas or to explore the Newark Earthworks, 2,000-year-old American Indian formations that are up for inclusion on the UNESCO World Heritage List.

The Works: Ohio Center for History, Art & Technology draws families downtown by embracing history, ingenuity and creativity in an inviting and family-friendly space. The prehistoric mastodon skull and hands-on exhibits delight the little ones, while the on-site glass-blowing studio and planetarium capture the imaginations of all.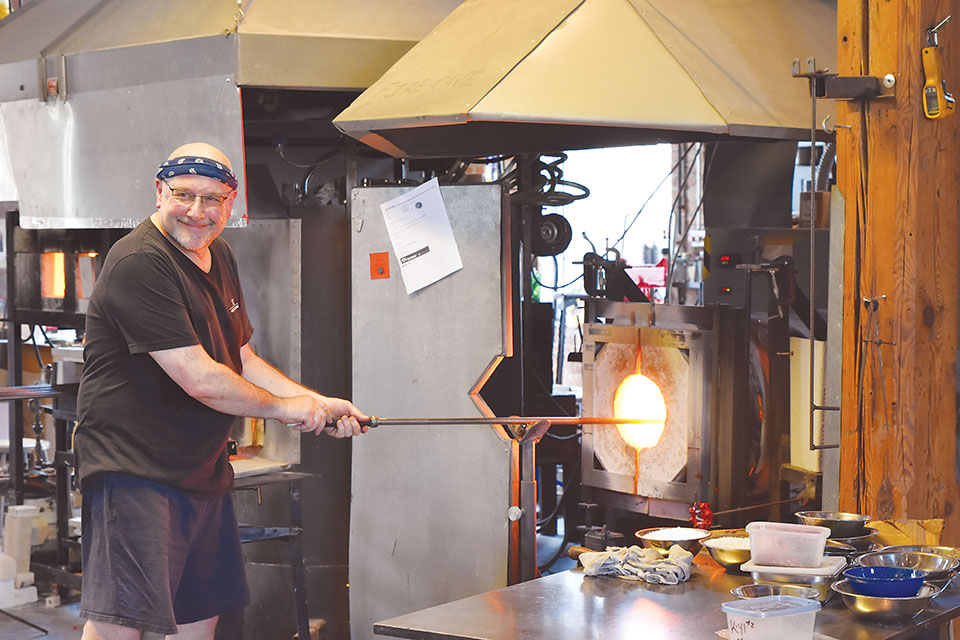 And while the city of Newark falls within the Top 20 when it comes to the largest cities in Ohio, it exudes a friendliness and camaraderie one would expect to find in a community a fraction of its size.
It's something Hall says he thinks about, as he works to forge relationships in town and guide the city's future. For him, the idea is to progress while retaining the traits that make Newark great.
"We want a small-town feel," he says. "That's critical and so important, but that isn't done by default. That's done by planning and strategy."