Ohio Life
Best Hometowns 2019: Hartville
This Stark County village with Amish and Mennonite roots offers a taste of country living with its inviting downtown shops and beloved destinations that bring travelers from near and far.
November 2019
BY Kelly Powell | Photo by Kevin Kopanski
November 2019
BY Kelly Powell | Photo by Kevin Kopanski
Hartville Chocolate Factory's front door is heavy and old and opens with the most satisfying of creaks. Store owner Bob Barton points it out with a sense of pride as we enter the 1898 building his business calls home.

"That's our squeak," he says. "You can hear that clear in the back room. It's like our doorbell."

Since 1986, Barton and his parents have made and sold a vast variety of sweets, including their signature: chocolate-covered strawberries. The store also caters to the home chocolatier by selling molds created on the business' manufacturing side. The place is brimming with small-town charm, but one needs only take a short walk down South Prospect Avenue to find more of that.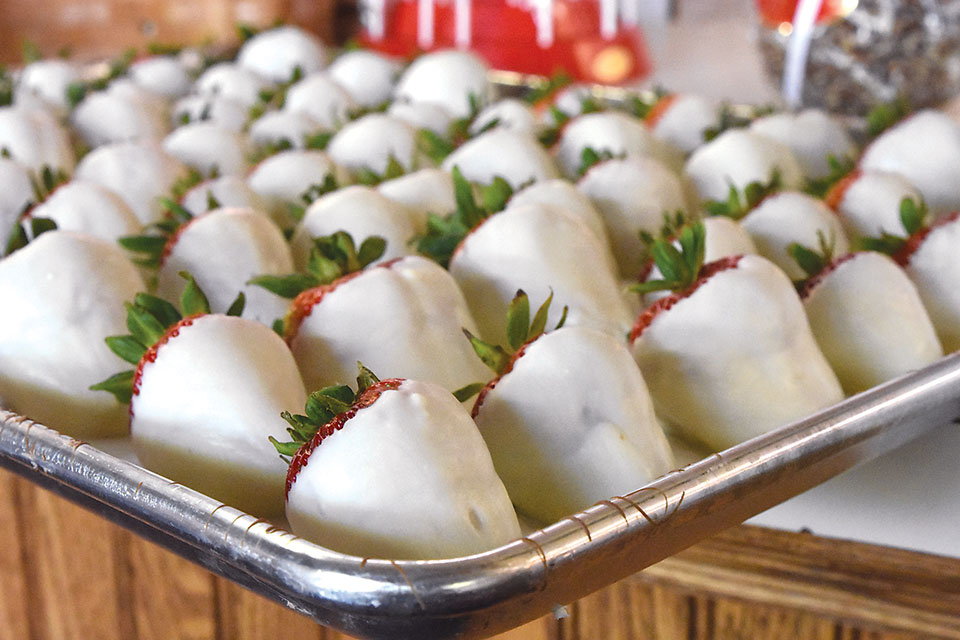 Just across the railroad tracks sits Hartville Elevator Co., which sells lawn, garden and farm supplies as well as animal feed. Locals know the structure it calls home as Building 2, one of the original ones built after the village's first settler, John Morehart, arrived in 1829.

Hartville exists as it does today largely because of its strong Amish and Mennonite roots. Up until 2012, it was a dry town and still mostly is, aside from votes in recent years to allow the sale of beer, wine and mixed beverages at some local businesses.

But the new mixes well with the old here, a fact that's reflected in Hartville's small yet robust downtown. Modern Vintage stocks accessibly priced retro home wares and antiques alongside a sprinkling of more contemporary items. Around the corner, you'll find the fashionable consignment shop Best Bib and Tucker as well as A Niche in Time, a nostalgia-inducing trove of classic finds.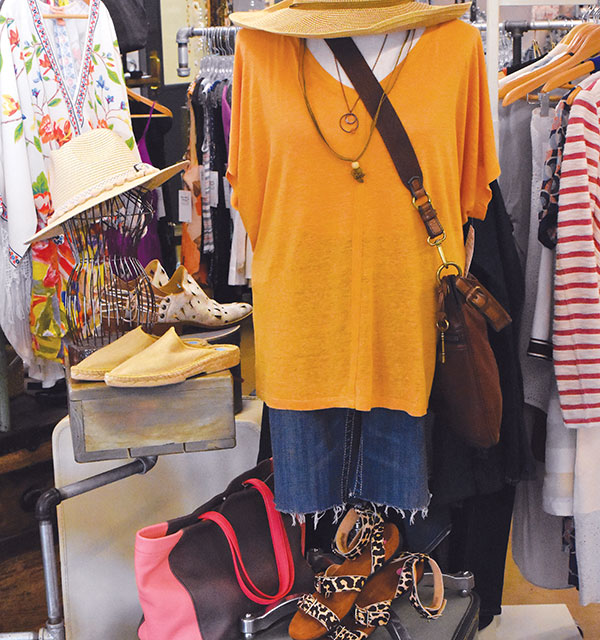 "That's what I love about the people we have down here now. They are willing to adapt," Mayor Cindy Billings says of downtown's business owners. She moved to Hartville in 1982 and was elected mayor in 2015. "When things change, you have to go with it. Not just down here, but the whole village."

Located about 12 miles north of Canton, Hartville covers just over 2 1/2 square miles and has a little more than 3,000 residents. But neighboring Lake Township, which is home to around 30,000, plays a significant role in making the area an attractive place to call home. Kids who live in Lake Township, Hartville, Uniontown and Greentown attend Lake Local Schools. The district recently consolidated from five buildings to three renovated and expanded ones: Lake Primary School, Lake Elementary School and Lake Middle/High School.

Although Hartville is a large tourist draw, local leaders have also worked in recent years to fill the village's industrial park, which is now home to Heritage Trucking, Akron Air Products and Randolph Tool among others.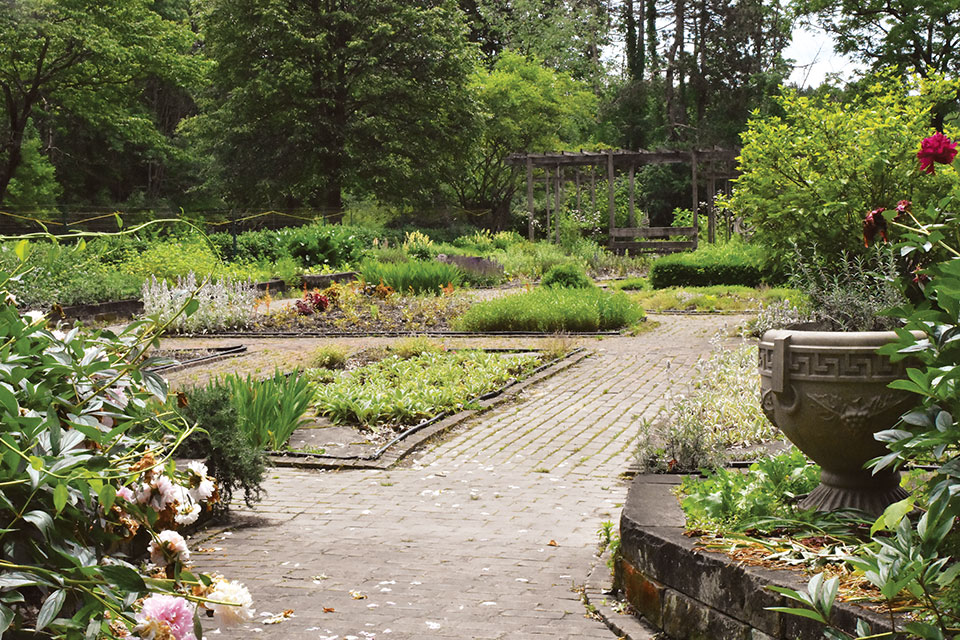 Still, signs of the area's rural roots are plentiful, particularly at Maize Valley — a farm, winery and craft brewery located about 4 1/2 miles from downtown. Opened in 2001, the longtime family farm now makes wines and craft beers that are served alongside a menu of tasty sandwiches and salads. A huge, mostly covered patio out back offers views of the property, which covers 700 acres. Each autumn brings a several-weeks-long Fall Fun celebration featuring an 8-acre corn maze, wagon rides, pumpkin-cannon demonstrations and much more.

"We've put together this weird mix of brewery, winery and agritourism farm," says Bill Bakan, who owns Maize Valley with his wife Michelle. "There are a couple others like us in the country, but not many. I'm not saying that in a braggadocious way. I'm saying that in a very humble way and a very survivalistic way."

No visit to Hartville is complete without a trip to the destinations for which the community is most known: Hartville Marketplace & Flea Market, Hartville Kitchen and Hartville Hardware & Lumber. They're located on a 200-acre campus about 2 miles from downtown, which brings together seven businesses owned by Howard Miller Jr.'s family. They have been tied to Hartville for generations.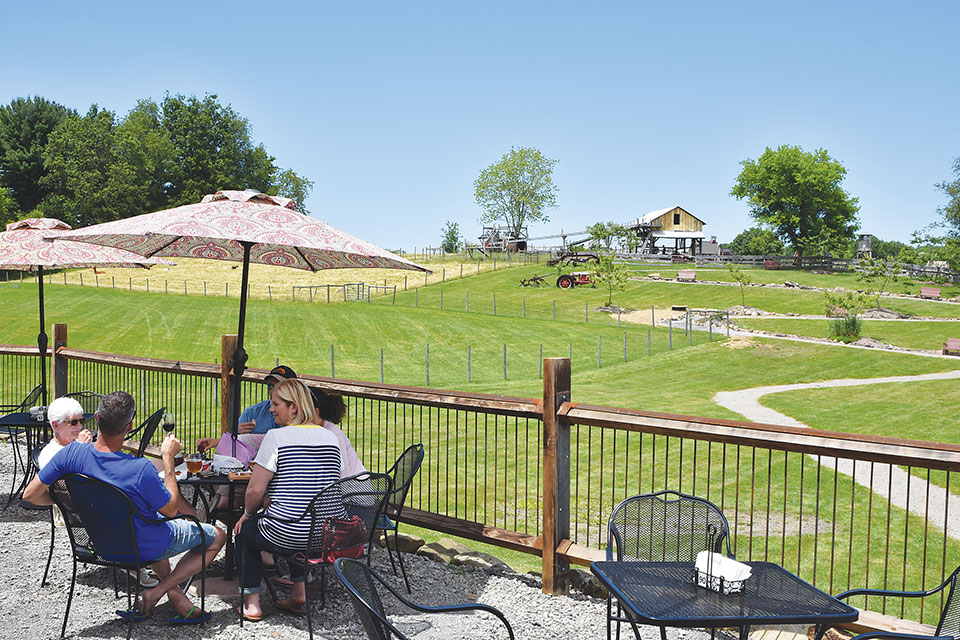 Miller's grandfather founded Hartville's livestock auction in 1939, eventually letting farmers set up outside to sell produce. (His grandmother ran a lunch stand upstairs.) In 1966, Miller's parents, Howard and Sarah Miller, opened a small, 75-seat restaurant that came to be known as Hartville Kitchen. Miller's father purchased Hartville Hardware from its former owner six years later.

"My dad came up to me one night and said, 'How would you like to be in the hardware business?' My wife and I were going to get married that summer, so we talked it over that evening," recalls Miller, who was 19 years old at the time. "It was only three employees, plus her and I. My brother came after school and helped — he was still in high school. That was our beginning."

In 2012, Miller moved Hartville Hardware to its current 305,000-square-foot location. He says it's the largest store of its kind in the United States and likely the world. The bustling indoor/outdoor Hartville Marketplace & Flea Market is located immediately behind it, and the Hartville Kitchen building, which is also home to a bakery, a children's boutique and a gift shop, is next door.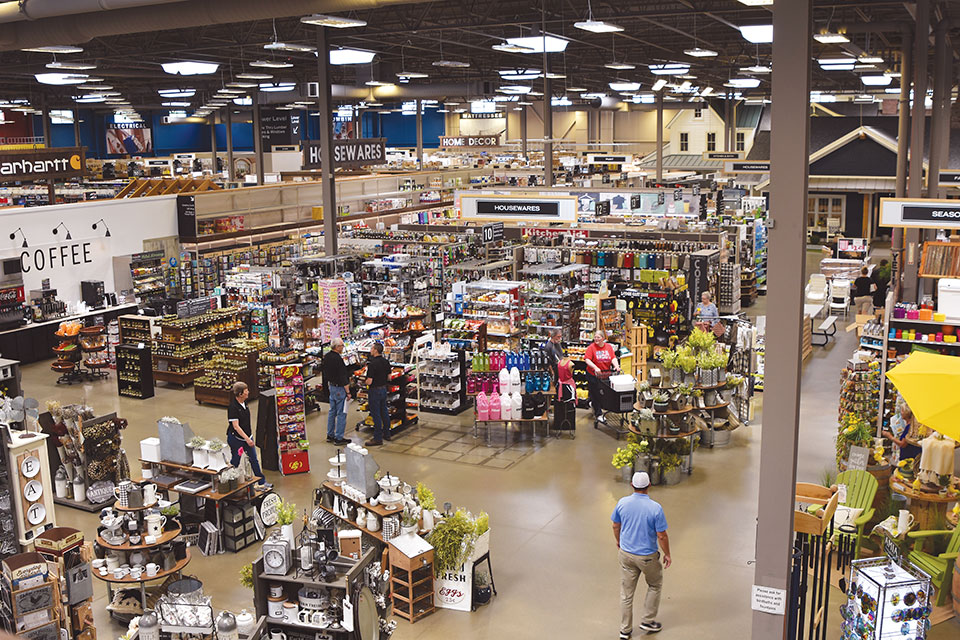 Miller's office looks out over his enormous hardware store that has 85,000 unique products. Color-coded walls aid customers in finding their way from section to section, and there's even a 1,830-square-foot Idea House built within the walls of the building that customers can walk through and be inspired to think about changes they want to make in their own home.

"We are a destination because of the flea market and the restaurant and downtown Hartville," Miller says. "We've tried to do different things in our store here to be a little unique. We have to, and I think Hartville in general has to."