Home + Garden
The Great Pumpkin
Celebrate the unmistakable icon of fall with field trips, inventive recipes and more
October 2015 Issue
BY Staff & Contributors | Photo Courtesy of Allan Detrich
October 2015 Issue
BY Staff & Contributors | Photo Courtesy of Allan Detrich

Patch Work
Don't let the name fool you. Polter's Berry Farm in Fremont grows lots and lots of pumpkins this time of year. Co-owner Steve Polter gave us the rundown on eight varieties he cultivates.
Sure, those orange pumpkins you so carefully deliberate over each year look similar, but there's more to differences in shape and size than you might imagine. Polter's Berry Farm in Fremont, owned by Steve Polter and his family, grows 180 acres of pumpkins each year. He offered us some insight into the varieties that you're likely to find at farms throughout the state.
Apollo:
Apollo is the most widely planted pumpkin at Polter's Berry Farm. Ranging from 18 to 26 pounds, it's the typical jack-o'-lantern size and shape, with a solid stem to top it off, which is a favored detail of pumpkin carvers. "That's a key for all our pumpkins — they have to have a nice, dark stem," says Polter.
Solid Gold:
"That's a heavy, thick-walled pumpkin," Polter says of the 15- to 22-pounder that closely resembles the apollo. The thick walls won't slow the rotting process once you start carving, but that extra flesh comes in handy if you're attempting intricate surface designs.
Cronus:
One of the larger jack-o'-lantern options, cronus weighs in at 30 to 50 pounds. It is newer to the Polter family's farm but has already proven to be a popular choice. "The large sizes seem to sell better at the farm markets," Polter says. "It's got a mammoth stem on it."
Cotton Candy:
Increasingly popular for its bright white coloring and green stem, this variety is frequently used for decoration this time of year. "It looks like a volleyball," says Polter. "They're popular for [fall] weddings. We get a lot of requests."
Field Trip:
A 5- to 6-pound pie pumpkin, this small variety is the sort that kids often receive during a school tour of a farm. "You go on a field trip, and you get a field trip," Polter says with a laugh. "I think [it] is the prettiest pie pumpkin that we grow."
Hybrid Pam:
This dark orange pie pumpkin weighs 4 to 5 pounds. "They're higher in sugar content," says Polter, before adding that they're meant more for decoration than cooking. "A lot of the guys out east call them sugar pumpkins, but they're bred for appearance."
Jarrahdale:
Although this pumpkin appears to be on the smaller side, the dense flesh adds up to 15 to 20 pounds. This variety has a blue-gray skin (making it a popular choice for decoration) and sweet, orange flesh. "The flesh is kind of soft," Polter says. "You can cook with them."
Gold Speck:
This is your typical miniature pumpkin — flat, orange and ribbed. It is a favorite for fall dining tables and other decorative arrangements. "Gourds and mini pumpkins are pretty similar," Polter says. "They're hard and in the hard-stem category."
***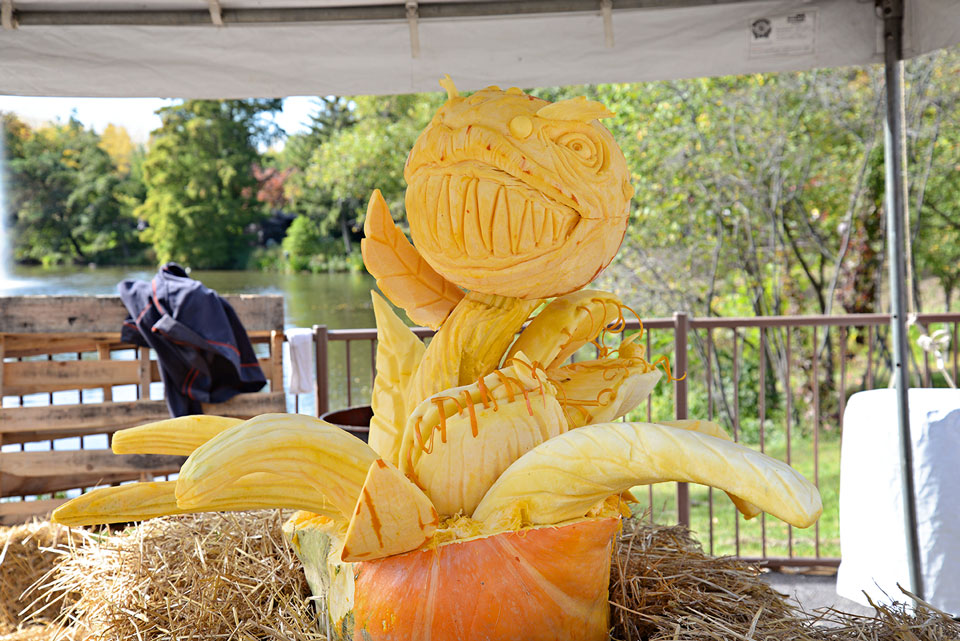 Pumpkin Pointers
A master carver offers his advice for taking your jack-o'-lanterns to a new level.
For Jonathon Michael, each autumn brings a search for pumpkins loaded with personality. He then transforms them into elaborate creations ranging from Frankenstein to octopuses.
"It's gratifying when I can bring a smile to those who see my designs," says the 32-year-old Fairfield resident, whose artistry will be on display at this month's Operation Pumpkin in Hamilton. "I hope my work provides inspiration to people to take their pumpkins to the next level."
His most intricate masterpiece was a replica of Audrey II, the bloodthirsty plant from "Little Shop of Horrors." You'll likely never reach that level of expertise, but here is some advice you can use when carving your own pumpkins this fall.
Unusual is Good:
Many novice carvers try to select a perfectly rounded pumpkin, but Michael says he frequently goes for the unusually shaped ones. "The funky ones jump out at me," he says, adding that his creative process starts there. "By the time I head for home, I know what each one I select will be."
Maximize Imperfections:
"Before I begin, I study the pumpkin to learn what's wrong with it," Michael says. "The imperfections lead to perfect designs filled with realism. Pumpkins with deep skin folds or warts, for example, will become a goblin with a big-bottomed jaw." After that, he draws the design he wishes to create directly on the pumpkin and follows the pattern with a paring knife and clay carving tools. He often saves discarded parts of the skin to fashion fangs and horns.
Preserve Your Work:
"Pumpkins are a sponge," he says. "So, when you are finished displaying it for the day or evening, soak the pumpkin in a tub of water for two hours. It will look brand-new. If you keep doing that, your pumpkin will last for a week and a half or two weeks, depending on the humidity."
***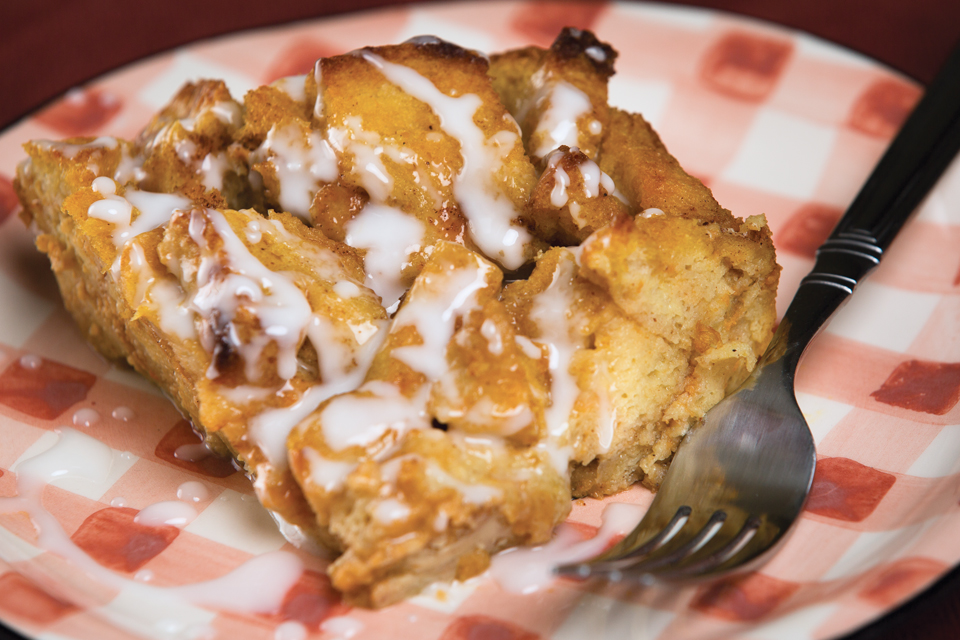 Sweet Treat
"Food Network Star" chef Emily Ellyn shares her delicious merger of pumpkin and bread pudding.
Emily Ellyn's cooking chops have led her to kitchens all around the country, from New York's Culinary Institute of America to season eight of "Food Network Star" — but her hometown is always with her.
"I take my Ohio roots wherever I go," says Ellyn, who grew up on a farm in Mantua. There, she learned the tenets to a happy table: Use what you have (many of her recipes are inspired by her mother's thriftiness) and teach what you know (Ellyn has two master's degrees and is working on a Ph.D. in hospitality management). Most importantly, "No matter how hard the day is, food just makes it alright."
While Ellyn is currently based in Florida, the Midwest's harvest season finds its way into her oven with her pumpkin bread pudding.
"To be honest, it's really good with hamburger buns," she says, although any combination of stale bread will work for the dessert. "I like it warm, right out of the pan, with that rum glaze on it," she says. "You should probably drink it with coffee to take it down a notch, but I like to overdo it."
emilyellyn.com — Frances Killea
Pumpkin Bread Pudding
Courtesy of chef Emily Ellyn
INGREDIENTS
1 cup heavy cream
3/4 cup canned pure pumpkin
1/2 cup whole milk
1/2 cup sugar
3 large eggs
1 teaspoon vanilla
1/4 teaspoon salt
1 tablespoon pumpkin pie
spice or 1/2 teaspoon
ground cinnamon
1/2 teaspoon ground ginger
1/4 teaspoon ground allspice
1 pinch ground cloves
5 cups 1-inch cubed, day-old baguette or crusty bread
3/4 stick unsalted butter, melted
DIRECTIONS
Preheat oven to 350 F with rack in middle. Whisk together cream, pumpkin, milk, sugar, eggs, vanilla, salt and spices in a bowl. In a separate bowl, combine bread and melted butter, then add pumpkin mixture and toss to coat. Transfer to a greased 8-inch-square baking dish. Bake until set, 25–30
minutes. Top with rum glaze. Serves 6.
Rum Glaze:
Add 1/2 cup powdered sugar and 2 tablespoons of rum in a small mixing bowl and whisk until smooth. Pour the glaze onto the finished bread pudding. Let the glaze set for at least 20 minutes before serving.
***
Seasonal Suds
Like vibrant leaves and afternoon football, pumpkin beers are hallmarks of autumn. Here's what 10 Ohio craft breweries have on tap.
— HR

*Note: These are beer offerings for Fall 2015. Visit websites to verify this year's varieties and brewery information.

Buckeye Lake Brewery:
Chocolate Pumpkin Stout
With an oatmeal stout as the base, the brewery adds pumpkin puree and a bit of pumpkin pie spices, plus cocoa nibs to create a slightly chocolate flavor.
5176 Walnut Rd., Buckeye Lake 43008, 740/535-6225, buckeyelakebrewery.com
Fat Head's Brewery:
Spooky Tooth Imperial Pumpkin
This beer starts with a sweet pumpkin pie flavor, then follows with a spicy mix of cinnamon, nutmeg and ginger. "We use a mashed-up pumpkin puree ... and we use whole spices we grind up ourselves," says cellarman Joe Sherwood.
18741 Sheldon Rd., Middleburg Heights 44130, 216/898-0242, fatheadsbeer.com

Jackie O's Brewery:
Barking Pumpkin
Pumpkins from a local farm are roasted and added to the mash, along with American hop varieties, ginger, coriander, cinnamon, allspice, nutmeg and brown sugar. "When you start seeing pumpkins in the field ... we will brew the pumpkin beer," says owner Art Oestrike. Also keep an eye out for a bourbon barrel-aged version.
25 Campbell St., Athens 45701, 740/447-9063, jackieos.com
Hoppin' Frog Brewery:
Frog's Hollow Double Pumpkin Ale
From the cinnamon, ginger and nutmeg to the roasted pumpkin to the pie-crust flavor from the grain, this brew is a pumpkin pie in a glass. A bourbon barrel-aged version brings out more of the pumpkin flavor and adds more cinnamon and heat.
1680 E. Waterloo Rd., Akron 44306, 330/352-4578, hoppinfrog.com

Maumee Bay Brewing Co.:
Fire Roasted White Pumpkin Ale
White pie pumpkins, sugar pumpkins and hubbard squash are used to extract a wholesome pumpkin flavor. Pie spices provide a seasonal kick, along with chocolate malts, nutmeg, brown sugar and cinnamon.
27 Broadway St., Toledo 43604, 419/243-1302, mbaybrew.com

Millersburg Brewing Co.:
Pope's Imperial Pumpkin Ale
Savory trumps sweet, with 10 pounds of pureed pumpkin in each barrel. Hints of brown sugar evoke a pie flavor, but the focus is on the pumpkin itself — all the way down to the orange hue.
60 E. Jackson St., Millersburg 44654, 330/674-4728, millersburgbrewing.com
North High Brewing:
Pumpkin Ale
This beer delivers the usual spices, plus real oven-baked pumpkins. "The twist we're going to do is that we're going to nitrogenate some of it, if not all of it," says brewmaster Jason McKibben. "That's going to make it super smooth and creamy."
1288 N. High St., Columbus 43201, 614/407-5278, northhighbrewing.com

MadTree Brewing:
The Great PumpCan
Molasses adds a full-bodied, malty presence, while cinnamon, nutmeg, ginger and allspice provide a pumpkin pie flavor. "Just the right amount of [spice] will make you feel like you're drinking pumpkin pie," says brewer Ryan Blevins, who notes there's actually no pumpkin in the beer.
5164 Kennedy Ave., Cincinnati 45213, 513/836-8733, madtreebrewing.com

Portsmouth Brewing Co.:
Circleville Pumpkin Ale
This ale is brewed specifically with the Circleville Pumpkin Show in mind, and that's where you'll find it (as well as at the brewery). The pumpkin is toasted before being added to the mash, and cinnamon and nutmeg add to the taste.
224 Second St., Portsmouth 45662, 740/354-6106, portsmouthohbrewing.com

Thirsty Dog Brewing Co.:
Pumpkin Ale
Five varieties of pumpkins (all picked fresh from a farm in Randolph) are roasted and caramelized, and then added throughout the brewing process, which creates a fresh, creamier taste. The brewery also makes an Imperial Pumpkin Ale, which is aged for eight months in Jack Daniels barrels.
529 Grant St., Akron 44311, 330/252-2739, thirstydog.com
***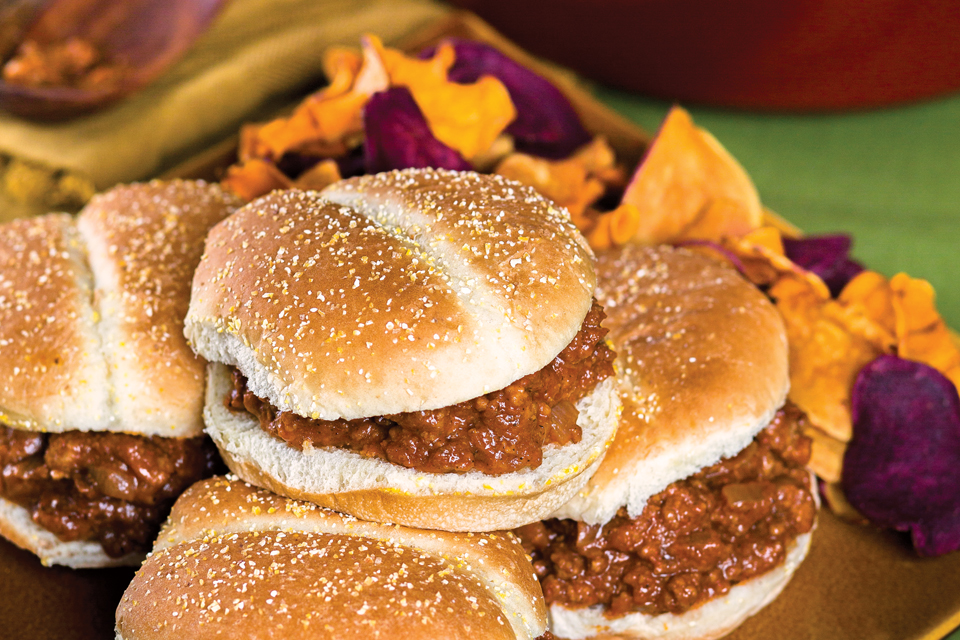 Festival Favorite
The Circleville Pumpkin Show puts an intriguing autumn twist on the traditional sloppy Joe.

Games, rides, contests, parades, even a pageant fill the streets of Circleville every October, as the community rallies in the name of pumpkins.
Since 1903, the event has grown to include entertainment, pumpkins of all sizes and shapes and food vendors selling items ranging from pumpkin doughnuts to pumpkin taffy. One favorite, however, isn't on the sweet spectrum.
"Basically, we start off with plain old sloppy Joes," says Todd Ruff, president of the Circleville Athletic Boosters. He mixes the festival's pumpkin burgers up in large batches, starting with 5 pounds of beef. "Then we put in about three teaspoons of pumpkin pie spice, and one of the larger cans of pumpkin."
Served hot over a bun, it's a fresh take on a comfort-food classic.
"You've got a pretty good hint of pumpkin in it," says Ruff, who serves the dish at the festival's Booster Club stand. "It's actually very good."
— FK

Pumpkin Burgers
From
A Collection of Pumpkin Recipes
, compiled by Circleville Pumpkin Show
INGREDIENTS
1 1/2 pounds ground beef
1 medium onion, chopped
1 12-ounce jar chili sauce
1 can tomato soup
1/2 cup pumpkin
1 teaspoon salt
1 teaspoon pepper
1 teaspoon pumpkin pie spice
DIRECTIONS
In a large pan, brown ground beef and chopped onion together. Stir in all other ingredients and bring to a simmer. Let the mixture cook for 1 hour, stirring occasionally. Serve on buns. Serves 4–6.
***
Farm Fun
From zip lines to corn cannons, a trip to the pumpkin patch is so much more than it used to be.

The traditional farm stand is quaint and enjoyable, but it's not quite as engaging as a corn maze. Farmers across Ohio transform their fields into family-fun destinations this time of year, and Charla Devine of Devine Farms in Hebron says it was a natural evolution. "People are removed from the farm experience," she explains. "People want to get into nature ... and just have that family experience." Lots of farms offer such activities, but here are nine to get your autumn rolling.
— Nathan Havenner

*Note: These are experiences for Fall 2015. Each farm may offer different options for this year. Visit websites to verify information before visiting.

CENTRAL

Leeds Farm:
A 400-foot-long zip line runs across the pasture for adults, while several slides and mini zips will give the kids a thrill. Plus, there are hayrides and pig races.
8738 Marysville Rd., Ostrander 43061, 740/666-2020, leedsfarm.com
Devine Farms:
This 96-acre farm features a corn maze, hayrides and a plastic-barrel train ride for kids and adults. Inside, take part in make-your-own scarecrow and pumpkin-painting workshops.
672 National Rd., Hebron 43025, 740/928-8320, devinefarms.com
NORTHEAST
Honey Haven Farm:
A horse-drawn wagon takes visitors to the pumpkin field. After that, check out the corn maze, pumpkin slingshots and air-powered corn cannons.
1327 County Rd. 1475, Ashland 44805, 419/289-3384, honeyhavenfarm.com
Kingsway Pumpkin Farm:
Pick a pumpkin from the patch, enjoy the elaborate 25th anniversary corn maze and feed the goats and sheep at the petting farm.
1555 Andrews St. NE, Hartville 44632, 330/877-6241, kingswaypumpkinfarm.net

NORTHWEST

Fleitz Pumpkin Farm:
The three corn mazes here range from miniature options for kids to a 5-acre challenge. Enjoy homemade doughnuts and apple cider before picking out your pumpkin.
7133 Seaman Rd., Oregon 43616, 419/836-7613, fleitzpumpkinfarm.com
Furry Tail Farm:
Choosing your pumpkin and mastering the corn maze are just the start. There are two 25-foot rock climbing walls and a massive, pillow-like jumping pad for the little ones.
19407 St. Rte. 117, Waynesfield 45896, 419/516-2122, thefurrytailfarm.com

SOUTHEAST
Libby's Pumpkin Patch:
This farm offers a variety of different pumpkins from which to choose. You can also fuel up on pumpkin chili or a scoop of pumpkin ice cream before taking on the corn maze.
41251 State Farm Rd., Albany 45710, libbyspumpkinpatch.com

SOUTHWEST
Barn-N-Bunk:
A corn maze and ice cream are among the draws here. Visit Oct. 24 and 25 to experience a Civil War encampment demonstrating how soldiers cooked, bunked and entertained themselves.
3677 Wayne Madison Rd., Trenton 45067, 513/988-9211, barnnbunk.com

Shaw Farms:
This 165-acre farm features hayrides, a 12-acre corn maze, face painting and two interactive playgrounds. October weekends bring bluegrass music as well.
1737 St. Rte. 131, Milford 45150, 513/575-2022, shawfarms.com
***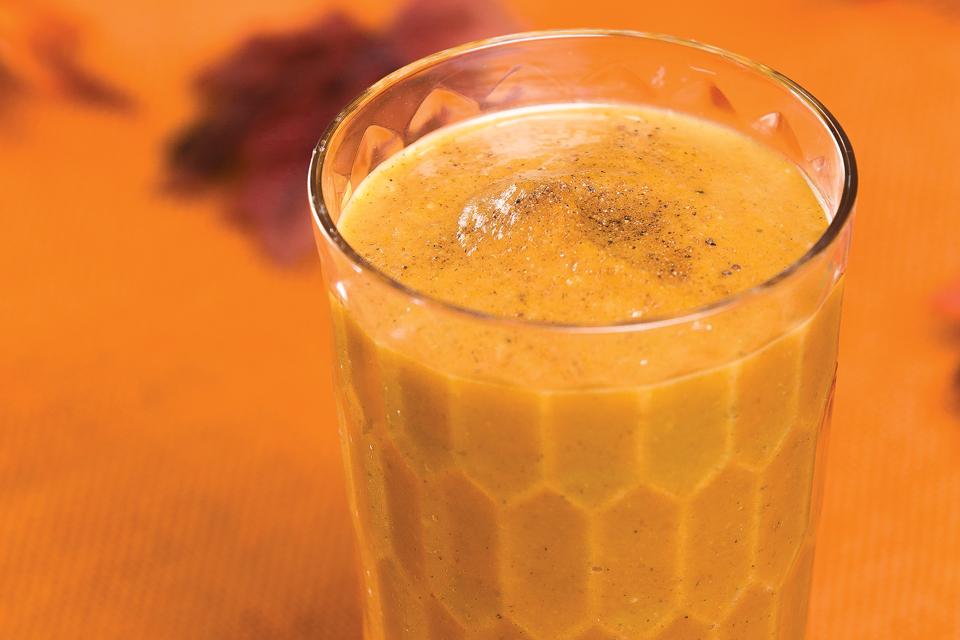 Spice Whirl

Columbus blogger Jessica Efird offers a seasonal smoothie to replace that morning latte.
Popular pumpkin-spiced beverages have a captive audience that looks forward to autumn all year long, and Columbus blogger Jessica Efird of Sweet Peas & Pumpkins is no different.
"Like so many people, I love pumpkin spice lattes this time of year," she says.
But, as a food blogger with training in health-care policy, the empty calories from fat and sugar gave her pause. "I came at the food blog from an interest in cooking, but also an interest in helping my children learn to eat healthy food," she says.
Her idea to create a pumpkin drink with some nutritional value led to her pumpkin spice smoothie. "[I wasn't] really trying to re-create [pumpkin spice latte], but take those flavors and introduce them in a more healthful way."
sweetpeasandpumpkins.com — FK
Pumpkin Spice Smoothie
Courtesy of Sweet Peas & Pumpkin blogger Jessica Efird
INGREDIENTS
1 cup canned pumpkin
1 medium banana or 1/2 cup unsweetened applesauce
1/2 teaspoon ground cinnamon
1/4 teaspoon ground ginger
1/8 teaspoon ground allspice
1/8 teaspoon ground nutmeg
1 tablespoon honey, agave nectar or maple syrup
1/2 teaspoon vanilla extract
1 cup soy, almond or dairy milk
DIRECTIONS
Place all ingredients in a blender. Blend for 1 minute. Scrape sides, add more milk if you wish to make it thinner, and blend again. Serves 1–2.