Home + Garden
Fresh Brewed
It's time to dress up that after-dinner cup of joe. Baristas from the Columbus Coffee Trail offer some ideas.
November 2014 Issue
BY Hallie Rybka | PHOTO COURTESY OF Istock
November 2014 Issue
BY Hallie Rybka | PHOTO COURTESY OF Istock
Our capital city has been home to serious coffee professionals for years. Stauf's Coffee Roasters opened in 1988 and has influenced a new generation of Columbus shops ready to show that the time-tested beverage is anything but ordinary.
"Coffee is more complex than wine, and we've seen how much wine connoisseurship has spread through the world," says Erik Fenstermacher, store manager at Boston Stoker on The Ohio State University campus. "Coffee is going to be one of those next things."
Boston Stoker is one of 14 shops included on the Columbus Coffee Trail. Launched this fall, the consortium of businesses rewards savvy sippers who visit four or more spots on the list with a T-shirt for their efforts. Although it's tough to replicate what these places do in your own kitchen, we asked a few baristas along the trail for ideas about how to freshen up the traditional after-dinner pot of coffee this holiday season.

Honey and Maple
Keep those sugar cubes in the cabinet and shelve the Sweet'N Low. When it comes to sweetening a cup of coffee, switch out the sugar and substitutes for Ohio-made dark honey or dark natural maple syrup.
"It just creates a whole different body and mouth feel but a very similar sweetness," explains John Justice, director of operations at Cafe Brioso in Columbus' Uptown District. "But they're not as overall sweet, and they become a lot richer."
Add a teaspoon of the honey or maple to the bottom of the cup before pouring the coffee, which Justice says allows the natural sweeteners to quickly melt so they can be more easily stirred into the drink. Going with a less-processed product provides health benefits, too.
Ohio maple contains calcium magnesium, so your body can absorb calcium from it, and consuming Ohio honey can actually help with your allergies, according to Justice.
Cafe Brioso buys its honey and natural maple syrup from Brenneman's Farm in Ashland, but an all-Ohio and from-scratch theme runs throughout the cafe's food menu of breads and baked goods as well. The staff is also trained to help customers choose a coffee that fits their craving. "They'll navigate you to what tastes best," Justice says.
14 E. Gay St., Columbus 43215, 614/228-8366, cafebrioso.com
Perfect Irish Coffee
During his quest to concoct the ultimate Irish coffee, Dublin, Ohio, bartender Chris Manis turned to the men behind One Line Coffee on North High Street for their expertise.
Their collaboration matched Powers Gold Label seven-year-aged Irish whiskey with a dark roast Finca Santa Teresa, which has notes of cane sugar, baker's chocolate and nectarine. The coffee is brewed on a French press, sweetened with a teaspoon of organic cane sugar and topped with lightly whipped half and half from Snowville Creamery.
"Think about what the whiskey tastes like. Is it fruity? Is it peaty? Is it a nice, sweet whiskey?" says Mick Evans, One Line Coffee's director of retail operations. "Match that with the coffee and you will end up with a much better product than just throwing any random whiskey into any random coffee."
This kind of education is at the core of One Line Coffee's approach. The shop shares information about the farms that grow its beans and offers Cupping Labs, similar to beer and wine tastings.
A good rule of thumb for perfecting Irish coffee at home is matching the hotness of the whiskey with the darkness of the bean, according to Dave Forman, One Line Coffee's director of wholesale and green coffee buying. "The more intense or the hotter the whiskey is, the darker the roast you should use to balance it."
Mix three parts coffee and one part whiskey in a heated glass, leaving room for cream. Hold a spoon upside-down near the surface of the cup and pour the cream steadily on the back of the spoon instead of straight in. "That's a bartender trick," Evans says. "That will slow the fall into the cup … and lends this nice creamy, almost cloud-like, soft texture on the top." (Cane sugar can be added to taste. A teaspoon is a good guideline.)
A French press is ideal for Irish coffee because the metal filter allows more oils to enter the drink than a drip coffee maker's paper filter, providing more body. But you can replicate those taste benefits with a drip coffee maker.
"In order to get the coffee flavor to actually stand against the whiskey, use twice as many coffee grounds as you would usually use [and] grind it coarser," Foreman says.
745 N. High St., Columbus 43215, 614/564-9852, onelinecoffee.com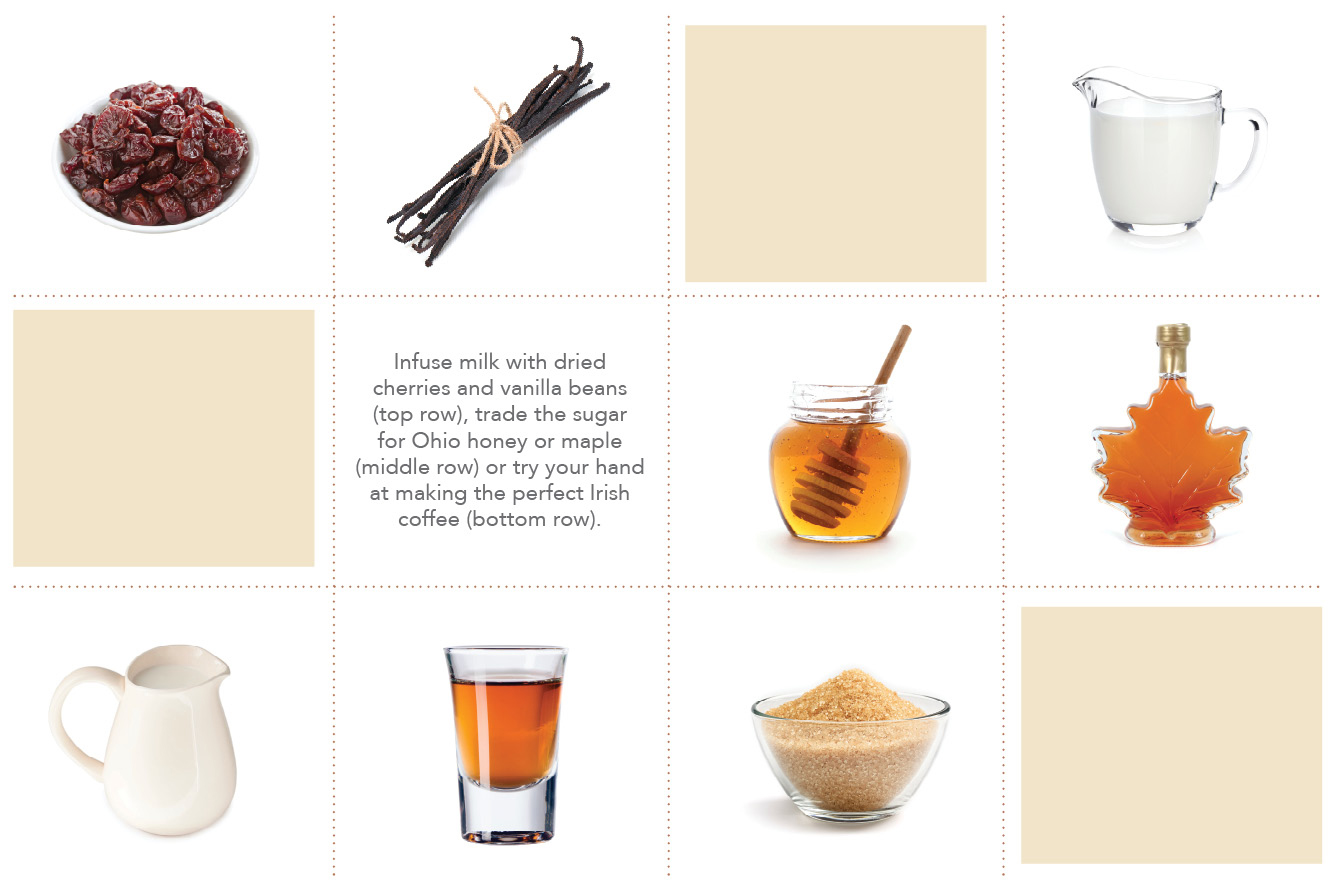 Fruit Flavors
Artificially flavored beans and creamers are easy to find in the grocery aisles, but Boston Stoker store manager Erik Fenstermacher suggests taking flavor into your own hands by freshly infusing your own coffee creams.
A memorable cherry-and-vanilla ice cream inspired Fenstermacher to create his own flavored creamer by infusing cherries and vanilla bean into non-homogenized local milk. The goal, he explains, is to create a cream that enhances the bean's natural traits. "Especially freshly roasted, freshly ground and freshly brewed, there's flavor in beans," Fenstermacher says.
His cherry-and-vanilla creation calls for adding half a cup of dried cherries and three vanilla beans into a half-gallon jug of whole milk and letting it soak overnight. Then, mix in a quarter cup of sugar and cook on the stove over very low heat for 5 to 10 minutes, until hot but not boiling, stirring throughout. Finally, strain the milk and serve.
For this recipe, Fenstermacher suggests brewing Central or South American coffees, which tend to have a heavier body and less acidity, making them ideal for adding spices or flavors. Also, use lighter-roast beans rather than darker, stronger tasting ones. "You don't want to cover up those brilliant flavors," he says.
Infusing milk takes a bit more preparation, but it's well worth the time — just like coffee at Boston Stoker.
"We make everything fresh to order every time," says Fenstermacher, adding that the shop uses French press, pour-over and Chemex brewing processes. "If you want a cup of coffee, it'll be a few minutes, but it'll be the best possible one I can serve you."
1660 Neal Ave., Columbus 43201, 614/564-9219, bostonstoker.com

For information about the Columbus Coffee Trail, visit cbuscoffee.com.