Food + Drink
Veggie Tale
Cara Mangini of Columbus' Little Eater illustrates the power of produce in cookbook.
March 2016 Issue
BY Frances Killea | Photos by Matthew Benson
March 2016 Issue
BY Frances Killea | Photos by Matthew Benson
It's lunchtime at Columbus' North Market. Every table at the city's prepared foods and specialty spot is jammed with diners perched along the second-floor seating area.

Below, vendors work the steaming serving lines like poker tables amid the din of customer chatter, whirling blenders and hissing espresso machines.

Tucked among the colorful maze of food stalls is Cara Mangini's Little Eater, an arrestingly simple concept that revolves around vegetables, drawing inspiration from — and making main courses of — seasonal produce. A soup-and-sandwich menu celebrates seasonal favorites: butternut squash, poached beets, apple crostini, black bean chili. For the breakfast crowd, there's frittata and quiche and house-made granola, all highlighting Ohio ingredients.

Mangini explains each of her creations as she fills deli containers with black bean and sweet potato salad, apple and cabbage slaw, and quinoa with kale and butternut squash. Everything vegetable is the star here, backed by a recipe full of supporting flavors. Her small eatery and adjacent grocery opened at the market in 2015, and her cookbook, The Vegetable Butcher, will be published next month. In it, she teaches how to give vegetables the mealtime spotlight they deserve and how proper cutting and preparation techniques bring out the best in them.

"I'm from a big Italian family, where food was always the center of the universe," says Mangini, a California native who moved to Columbus nearly four years ago. "It almost didn't even have to be an interest, because it was just so much a part of my life."

Although her grandparents and great-grandparents owned butcheries and fish shops and peddled vegetables in San Francisco and Los Angeles, Mangini left California in 1997 to study journalism at Northwestern University near Chicago, before moving to New York City for a job with cosmetics company Estée Lauder. But despite her success there, something wasn't quite right.

"I always felt like I was in that career not by design, but by default — it had found me, but I wasn't driving it," Mangini says. "At a certain point … I realized that as much as I loved my career in business, I didn't want to run that company someday. I wanted to explore a life and a career in food."

During her almost 10 years working for Estée Lauder, Mangini began developing her own business ideas. She kept a kitchen knife at work in a bag under her desk and took recipe-writing and cooking classes to hone her skills. Travels to Italy, Croatia, France, Spain and Turkey helped provide direction.

"I realized that when I traveled to different countries, vegetables were much more intuitive and second nature," she says. "Vegetables aren't naturally a part of our culture the same way that they are in other cultures, and that really stuck with me."

Then, after nearly a decade of white-collar work, Mangini rolled up her sleeves in pursuit of a chef's coat at the Natural Gourmet Institute — a New York culinary school that she chose in part because of its appreciation for healthy, plant-focused diets. She also started working at Eataly, a New York City restaurant, market and cooking school.

"When I got the job, something really clicked for me," Mangini says. "It was everything that I was interested in: working with vegetables … and getting to talk to customers, getting to understand their challenges with vegetables and helping them overcome them."

But working behind the counter wasn't enough. Although she thrived on daily prep work and interactions with patrons, Mangini wanted a deeper connection to and understanding of the ingredients she worked with. To find that, she traded skyscrapers for vineyards, moving to Napa Valley to work at Farmstead, a combination farm and restaurant.

"I wanted to get to know vegetables at their source," she says. "All these questions I had at Eataly, I would be able to dig even deeper into answers."

Mangini had long known that she wanted to write a cookbook, but it wasn't until she started working at Farmstead that she really began composing pages. She loved how Farmstead bridged the gap between farm and table. She worked in the field in the morning, and by afternoon, she was in the kitchen preparing her harvest.

Understanding that connection not only helped her solidify her idea for the book but also her business.

"I knew I wanted to make a vegetable-based business," Mangini says, "and help make vegetable-based foods more convenient."

For nearly a year, Mangini drafted her business plan and crafted the recipes featured at Little Eater and in The Vegetable Butcher. Her plans to launch in California, however, were diverted when she met her now-husband, Tom Bauer, at the Fancy Food Show, an annual specialty food and beverage expo in San Francisco.

Bauer, who is a founding member of the Columbus-based Jeni's Splendid Ice Creams, acquainted Mangini with Ohio's agricultural and food communities.

"On my first trip here, he brought me to The Chef's Garden [in Huron] and introduced me to the farmers," Mangini recalls. She quickly realized that California isn't the only place where farm-to-table concepts can prosper. "What I've been amazed by is the incredibly supportive community that helps the business flourish. I really believe that Ohio was the missing link."

Just a few months after moving to Columbus in June 2012, Mangini launched her first pop-up restaurant, and in February 2015, she opened Little Eater at the North Market. While the wealth of produce in California meant a constant supply of ingredients, Mangini has adapted to the Midwest's seasonality.

"It's made me even more excited for each season and appreciate the ingredients I have in front of me at any given moment," she says. "It also gives me a real scarcity complex in the fall."

Seasonally available fruits and vegetables drive Little Eater's menu, as well as Mangini's hope that, as people learn where their food comes from, they will begin to appreciate the crisp flavors of springtime after a winter of earthy storage crops.

"The season guides you through the year and helps direct a menu," she says, "whether that's at home or in a restaurant, and I find a lot of comfort in that."

It's this redefinition of what we know about what's on our plates that seems to motivate Mangini the most. She's seen how other cultures treat their produce in their cuisines and spent years learning how to reconnect herself to some of the most basic handling of vegetables, demystifying everything from squash to avocados. She is realistic about the fact that Americans have access to many foods year-round but doesn't believe that disconnect between harvest and mealtime will endure.

"What's important is to have real purpose behind what you do," she says. "I think that's what helps us stay relevant and will continue to. I want to help people cook and love vegetables … and experience what it is to come together around seasonal food."

Note: This story originally ran in the March 2016 issue
***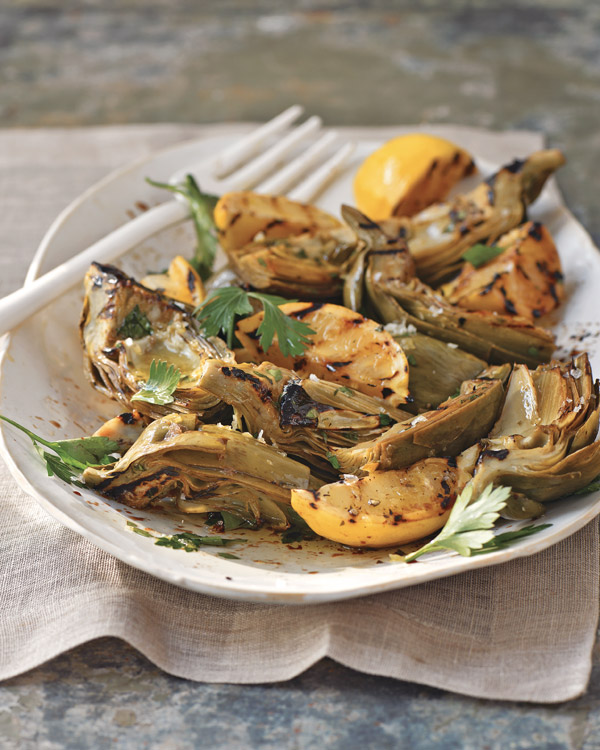 Grilled & Smothered Artichokes
| Serves 2 to 4
Excerpted from
The Vegetable Butcher
INGREDIENTS
3 medium artichokes (stems attached),
trimmed, peeled, quartered and choke removed
Zest of 1 lemon
2 large lemons,
1 halved and juiced, 1 quartered
1 tablespoon balsamic vinegar
1/3 cup extra-virgin olive oil
2 garlic cloves,
minced
1/2 teaspoon fine sea salt
1/8 teaspoon freshly ground black pepper,
plus extra to taste
1/2 cup loosely packed fresh flat-leaf parsley leaves,
coarsely chopped
Coarse or flaked sea salt to taste,
for finishing
DIRECTIONS
Set a collapsible steamer basket in a large pot and add enough water to skim the bottom of the basket. Bring the water to a boil over high heat. Place the artichokes in a shallow layer in the basket. Steam, covered, adding more water as needed, until the leaves release easily when pulled and the hearts are tender when pierced with a paring knife, 15 to 20 minutes.
Meanwhile, in a large bowl whisk together the lemon zest, lemon juice, balsamic vinegar, olive oil, garlic, fine sea salt, 1/8 teaspoon of pepper and three quarters of the parsley.
Add the steamed artichokes to the lemon marinade and toss to distribute the marinade evenly. Let stand until the marinade has infused the artichokes, at least 30 minutes or up to 3 hours. Alternatively, cover the bowl and refrigerate overnight.
About 10 to 15 minutes before you plan to cook, heat a grill to medium-high heat.
Use tongs to transfer the artichokes, cut-side down, to the grill. Keep the bowl of marinade next to the grill. Cook the artichokes until golden grill marks appear, 5 minutes, then flip them.
Place the lemon quarters flesh-side down on the grill. Cook the artichokes and lemons until they are lightly charred and the artichokes are completely tender, 3 to 5 minutes. Transfer the lemons to a serving platter. Return the artichokes to the bowl of marinade and toss to coat evenly. Arrange the artichokes on the serving platter, and sprinkle all with the remaining parsley, coarse or flaked sea salt and additional pepper. Serve immediately.