Food + Drink
5 Holiday Recipes to Make Together This Season
From simple gingerbread cookies that leave lots of room for creativity to a beautiful Buche de Noel that is sure to grab attention, these creations offer fun baking projects.
Nov./Dec. 2023
BY Sarah Miller | Photos by Megann Galehouse, food styling by Katy Hale, set styling by Megan McLaughin
Nov./Dec. 2023
BY Sarah Miller | Photos by Megann Galehouse, food styling by Katy Hale, set styling by Megan McLaughin
Warm holiday gatherings start in the kitchen, and making these recipes courtesy of bakeries across Ohio is a fun way to spend time together. From traditional recipes like gingerbread cookies to a beautiful and tasty Christmas focaccia to an elegant Buche de Noel cake, these baking projects promise to spruce up your holiday celebrations.

Fresh Start Cafe and Bakery • Delaware
Sometimes you need a fresh start. That's what Todd Daughenbaugh decided after working in accounting for 25 years. His wife, Leigh, mentioned that the city of Delaware needed a bakery, and today it has one in Fresh Start Cafe and Bakery.

Its bakery cases are filled with cinnamon rolls, Danishes, muffins, scones and even "Pop-Starts," or homemade Pop-Tarts. Rotating gluten-free desserts like Buckeye Bars are a favorite. The holidays bring specialty treats that must be ordered ahead, including Christmas-cookie trays, sugared-cranberry cakes and ganache-covered cheesecakes.

The Daughenbaughs have recipes they hold close to their hearts that you won't find in their bakery, but they are more than happy to share.

"We do have a special-order focaccia at our shop, but our family Christmas focaccia is pared down for the home cook, and it comes out beautifully every time," Leigh says, noting that she recommends adorning it with basil and pomegranate arils to resemble holly.

"It's a great recipe for people to play with," Todd adds. "They can make it their own."

Mom's Cherry Squares are treasured Christmas treats in the Daughenbaughs' home as well. Leigh says her mother had these cherry-topped bars waiting for her any time she returned home, and she has since passed the recipe on to her daughter-in-law. 24 N. Sandusky St., Delaware 43015, freshstartcafeandbakery.com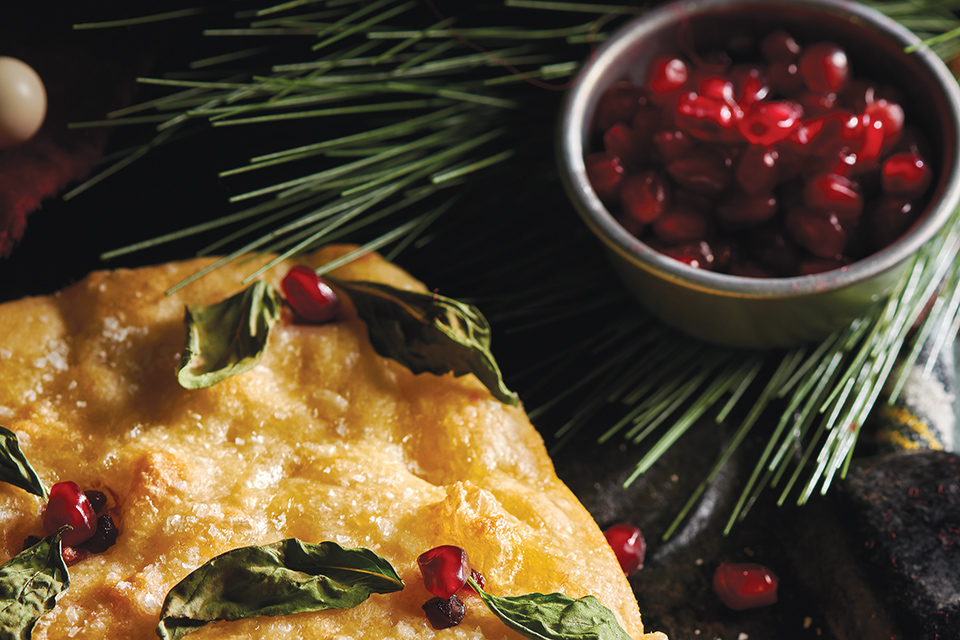 Christmas Focaccia
Courtesy of Fresh Start Cafe and Bakery in Delaware

Makes a 9-by-13-inch pan

INGREDIENTS
1 3/4 cups lukewarm water
2 teaspoons yeast
4 cups bread flour
1 teaspoon table salt
2 tablespoons olive oil
Fresh basil leaves
Pomegranate arils
1/3 tablespoon sea salt

DIRECTIONS
Combine flour and salt in a bowl and set aside. Combine yeast and water in a mixing bowl. Let sit for 5 minutes to get frothy. Add the flour and salt mixture and combine well. (The dough will be very sticky.)

Form into a rough ball. Drizzle with 1/2 tablespoon olive oil and cover with plastic wrap. Let rise in a warm space until doubled in size (about an hour, depending on room temperature).

Coat your 9-by-13-inch baking dish with 1/2 tablespoon olive oil. Pour the dough into the baking dish and stretch it into the corners, making it as even as possible. Cover the dough with 1 tablespoon olive oil and spread with a spatula or your fingers. Cover with plastic wrap and let it rise in a warm space until doubled in size, about an hour.

Preheat oven to 400 F. Remove plastic wrap. Use your fingers to make dimples all over the dough. (Press down until touching the bottom of the pan.) Arrange your basil leaves and pomegranate arils to look like holly bunches. Sprinkle with sea salt. Bake for 22 to 25 minutes.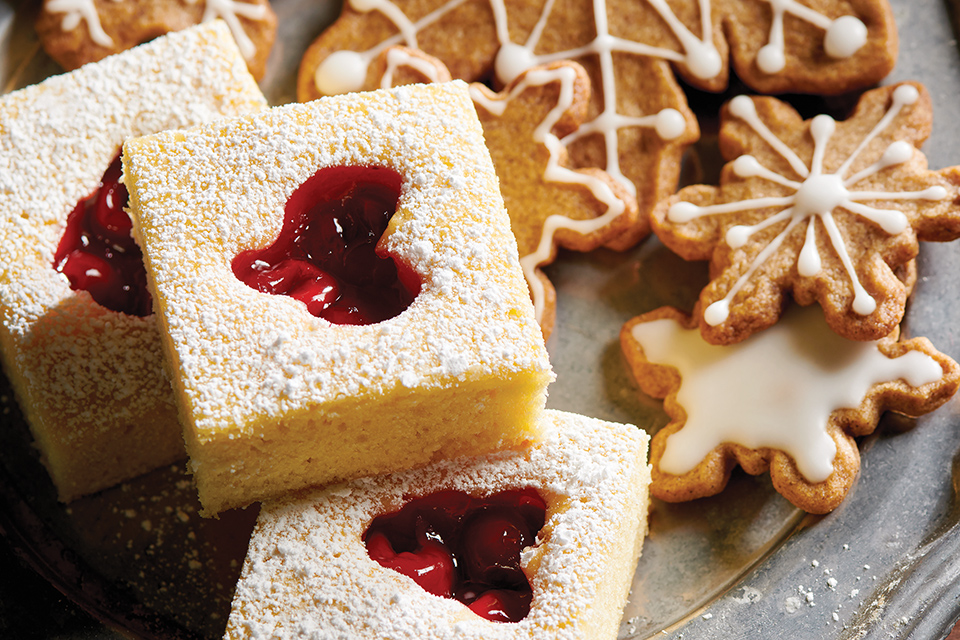 Mom's Cherry Squares
Courtesy of Fresh Start Cafe & Bakery in Delaware

Makes 12 cherry squares

INGREDIENTS
1 1/2 cups sugar
8 ounces margarine, softened
4 eggs
1/2 teaspoon baking powder
2 cups all-purpose flour
1/8 teaspoon iodized salt
1/2 teaspoon vanilla extract
1 can cherry pie filling
Powdered sugar for dusting over the top

DIRECTIONS
Preheat oven to 350 F. In the bowl of a stand mixer, combine all ingredients except for the cherry pie filling and powdered sugar. Grease and flour a 10-by-15-inch rimmed sheet pan. Pour the batter into the pan. With a knife, score the batter into 12 squares. Place a spoonful of 3 cherries from filling in the center of each square. Bake for 35 minutes. Let cool. Sprinkle with powdered sugar.

---

Sur Le Pouce & 7 Little Cupcakes
Perrysburg

Croissants, cupcakes and camaraderie are the secret ingredients behind Perrysburg bakeries Sur Le Pouce and 7 Little Cupcakes. These separate businesses under one roof share kitchen space, creative ideas and coffee — lots of coffee — to get through busy baking days.

On one side, Sur Le Pouce makes baguettes, croissants and pain au chocolat — a croissant-like dessert with dark chocolate bits. On the other side, 7 Little Cupcakes' shelves are filled with beautifully frosted cupcakes and perfectly decorated cutout cookies.

Nathalie Cottier, owner of Sur Le Pouce (which translates to "on the go"), came to the United States from France, and her gingerbread cookie recipe is inspired by her background.

"This recipe I developed is French, with some adjustments," she says, adding that it is easy to make with kids. "Be creative with decorating, and eat a few while they're still warm from the oven."

Erin Liedigk, owner of 7 Little Cupcakes, named her bakery for her seven nieces and nephews. The northwest Ohio native studied art education and now creates memories for life's big moments: smash cakes for first birthdays, celebration cookies and bridal cakes. Her chocolate peppermint cake recipe is a perfect baking project for the holidays.

"You can also use this recipe for cupcakes," she says. "Crushed candy canes make great sprinkles." 122 W. South Boundary St., Perrysburg 43551; facebook.com/SurLePouceOhio, 7littlecupcakes.com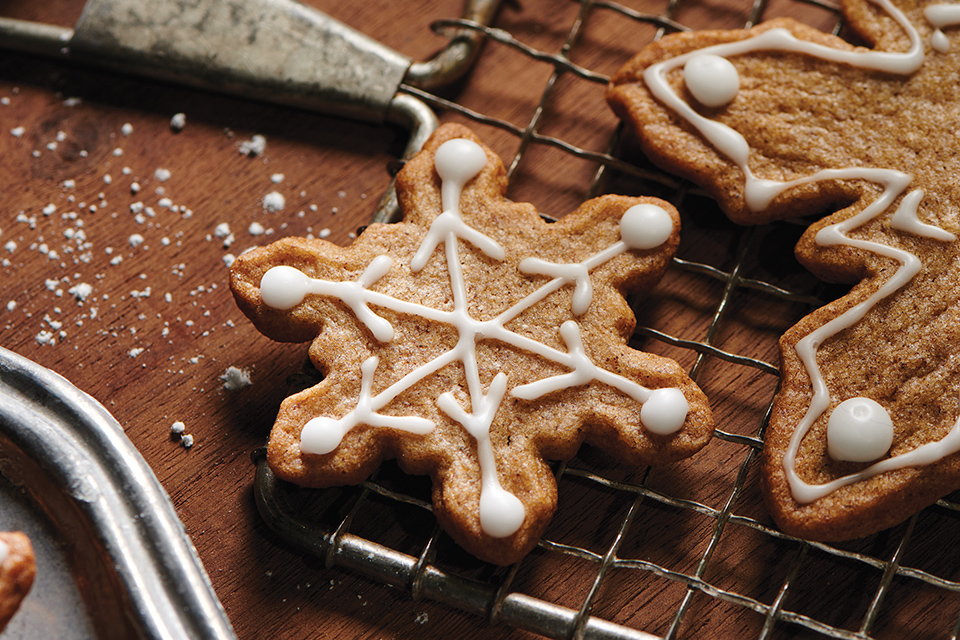 Gingerbread Cookies
Courtesy of Sur Le Pouce in Perrysburg
Makes 12 to 24 cookies, depending on size
INGREDIENTS
1 cup of brown sugar
1/2 cup of almond flour
2 tablespoons of pumpkin spice
1 stick of butter, at room temperature
1 egg
1 1/2 cups of all-purpose flour
1 teaspoon of baking powder
1/2 teaspoon of baking soda
DIRECTIONS
Mix the sugar, almond flour and pumpkin spice in a bowl. Add the butter and mix by hand. Add the eggs and whisk together. Add the flour, baking soda and baking powder and mix by hand. Wrap the dough and chill for at least an hour.
Spread some flour on a clean, flat surface and roll out the dough (1/4-inch thick). Cut out the cookies and place them on a baking sheet. Put the baking sheet in the refrigerator to chill for another hour before baking. Preheat oven to 350 F. Bake for 12 to 15 minutes (conventional oven) or 6 to 8 minutes (convection oven). Let cool. Decorate.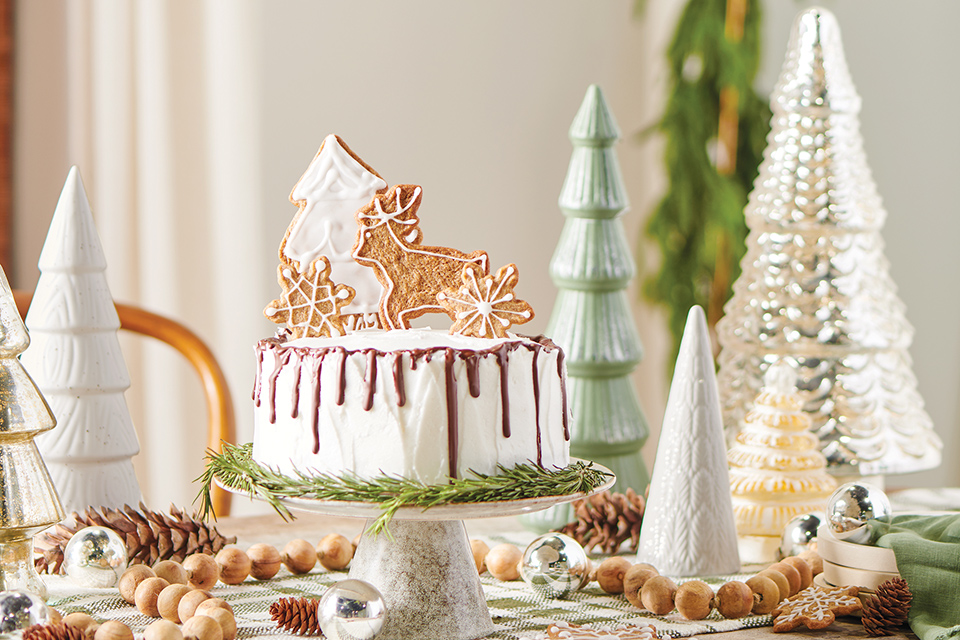 Chocolate Peppermint Cake
Courtesy of 7 Little Cupcakes in Perrysburg

For the Cake:
INGREDIENTS
10 ounces chocolate bar (we use Hershey bars), finely chopped
2/3 cup dark cocoa powder
2 teaspoons instant espresso powder
1 cup warm water
1 3/4 cups all-purpose flour
1 cup granulated sugar
3/4 cup packed light brown sugar
1 teaspoon salt
1 teaspoon baking soda
1 cup sour cream, at room temperature
1/2 cup vegetable oil
4 large eggs, at room temperature
2 large egg yolks, at room temperature
1 tablespoon white vinegar
2 teaspoons vanilla extract

DIRECTIONS
Beat oil, sour cream, eggs, vinegar and vanilla in a stand mixer at slow speed until incorporated. Slowly add remaining ingredients until incorporated.

Preheat oven to 325 F. Spray two 8-inch round cake pans with vegetable spray and evenly distribute batter into each. Bake for 20 to 25 minutes, rotating halfway through baking time. Let the cake cool before popping it out of pan. Cover the bottom cake layer with buttercream frosting (recipe below). Add a second cake layer and cover with frosting. Decorate with melted chocolate using a piping bag (instructions below).

For the Buttercream:
INGREDIENTS
3 pounds Crisco
4 pounds powdered sugar
1 cup water
1/2 teaspoon peppermint extract
DIRECTIONS
Beat Crisco in stand mixer for approximately 1 minute. Add powdered sugar and water and beat on low while periodically scraping the sides. Turn mixer to medium for approximately 1 minute. Add extract by hand.

(Note: Buttercream beyond what is needed for the cake can be frozen. Home bakers can also halve this recipe if they do not wish to have so much frosting.)
For the Chocolate Drip:
INGREDIENTS
2 1/2 ounces semisweet or bittersweet chocolate chips, finely chopped
2 1/2 ounces heavy cream
DIRECTIONS
Melt chocolates in the microwave in 30 second intervals until melted. Stir in heavy cream until desired consistency is reached. Decorate using a small-tipped piping bag.

---

High Five Cakes Bakery & Tea House
Chillicothe

Sarah Myers traded the corporate world for cakes, and her career has been an adventure ever since. After binge-watching celebrity bakers Duff Goldman and Buddy Valastro on the Food Network, she found herself on the channel in the 2015 series "Duff Till Dawn."

"It was serendipitous," she says. "I ended up filming on the Food Network with people that inspired my start."

In 2019, she opened High Five Cakes Bakery & Tea House in downtown Chillicothe. Myers, the bakery's lead cake artist, co-owns the shop with head baker Shauna Shanks. The duo's cakes and teas are playful and sophisticated, just like the shop itself.

"My business partner is a genius," says Myers. "She created the Kerfluffle — the turducken of the dessert world."

The seven-layer dessert is built on a base of brownie or blondie and features different types of cakes, cheesecakes, creams, ganache and fruit fillings. Plan to order the holiday Kerfluffle or the shop's signature Buche de Noel (Yule Log) in advance. Myers offers some advice on attempting her home-baker's version of the latter.

"[The trick] is to roll the cake when it's warm and let it set up once it's rolled," she says, adding that the nature-inspired appearance should help ease any intimidation. "There's lots of room for error. It's organic looking." 81 N. Paint St., Chillicothe 45601, 740/775-2253, highfivecakes.com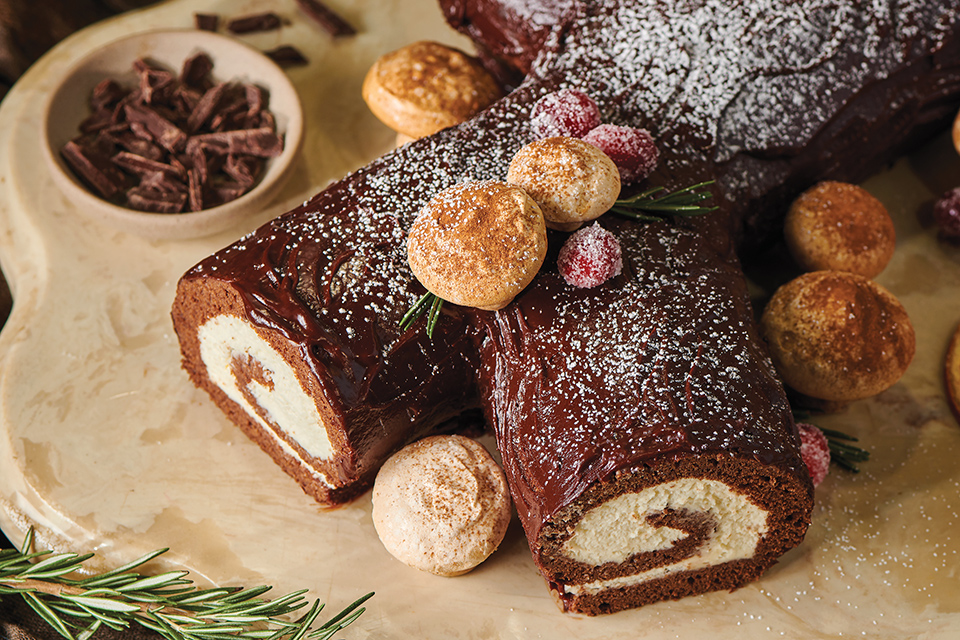 Buche de Noel
Courtesy of High Five Cakes Bakery and Tea House in Chillicothe

INGREDIENTS
Chocolate Sponge Cake
3/4 cup all-purpose flour
1/3 cup Dutch cocoa powder
1 teaspoon baking powder
1/2 teaspoon salt
4 large eggs, divided
3/4 cup granulated sugar
1/3 cup sour cream
1/4 cup butter, melted
1 teaspoon vanilla extract

Whipped Cream Filling with Mascarpone
1 1/4 cups cold heavy whipping cream
3/4 cups powdered sugar
1 teaspoon vanilla extract
8 ounces mascarpone cheese softened but not warm

Chocolate Ganache
10 ounces semi-sweet chocolate (chips or chopped)
1 cup heavy whipping cream
2 tablespoons salted butter

DIRECTIONS
Preheat oven to 350 F. Line a 17-by-12-inch jelly roll sheet pan with parchment paper. (It helps when removing if the parchment paper sticks up about an inch on the sides.)

Whisk the flour, cocoa, baking powder and salt together in a medium bowl.

In a large bowl, combine the egg yolks and sugar and whisk together until well combined. Add the sour cream, melted butter and vanilla extract and whisk together until well combined. Add the dry ingredients and gently whisk together until well combined.

In a large mixing bowl, whip egg whites on high speed until stiff peaks form. Gradually fold the egg whites into batter, roughly a third at a time. Spread the cake batter evenly into the prepared pan and bake for 10-12 minutes or until the top of the cake springs back when touched and an inserted toothpick comes out clean.

Remove the cake from the oven and immediately flip from the pan onto another sheet of parchment paper. Keep the parchment that was baked with the cake attached as well.

While the cake is hot, use the parchment paper the cake was baked in and start at the shorter end to slowly roll the cake up. Set the cake aside to cool completely.

While the cake is cooling, begin making the filling. Add the heavy whipping cream, powdered sugar, vanilla extract and salt to a large mixing bowl and whip on high speed until soft peaks form. Add the mascarpone cheese to the whipped cream and whip until stiff peaks form.

Unroll the cake roll very carefully. Watch for areas where it may stick, being careful to keep the cake intact. Remove parchment paper from inside. Spread the filling evenly onto the unrolled cake, then roll it back while removing the exterior parchment paper. Wrap it in plastic wrap with the seam side down and refrigerate for at least an hour until it firms up.

Once cooled and firm, you can make the chocolate ganache. Add the chocolate to a medium-sized bowl. Heat the cream in the microwave just until it begins to boil. Pour the cream over the chocolate. Cover with a plate to keep the heat in.

Allow the chocolate and cream to sit for a few minutes, then whisk until smooth. Let the ganache cool to about room temperature or cooler. You do not want it to be too thin. (It should be close to the consistency of peanut butter.)

To decorate, use a large, serrated knife to gently cut off a piece of the log about 3 inches in length. Make the cut on a slight diagonal. Use some of the chocolate ganache to attach the small log to the side of the larger log.

Spread the remaining chocolate ganache all over the cake. Use a fork to create lines resembling tree bark or woodgrain. Top with sugared cranberries, meringue mushrooms and fresh rosemary. Refrigerate until ready to serve.

Sugared Cranberries

INGREDIENTS
Fresh cranberries
1/2 cup water
1 1/2 cups sugar

DIRECTIONS
Heat 1/2 cup sugar and water on medium heat in a saucepan until the sugar is completely dissolved and just comes to a low boil. Reduce heat to low and simmer for 3-5 minutes to thicken syrup. Remove syrup from heat.

Add the cranberries and stir until coated. Do not stir too long as the cranberries will begin to pop from the heat. Using a slotted spoon, remove the cranberries and spread on a sheet of parchment paper. Let them dry for approximately an hour.

Roll the sticky cranberries in the remaining cup of sugar. (You will need to do this in small batches.)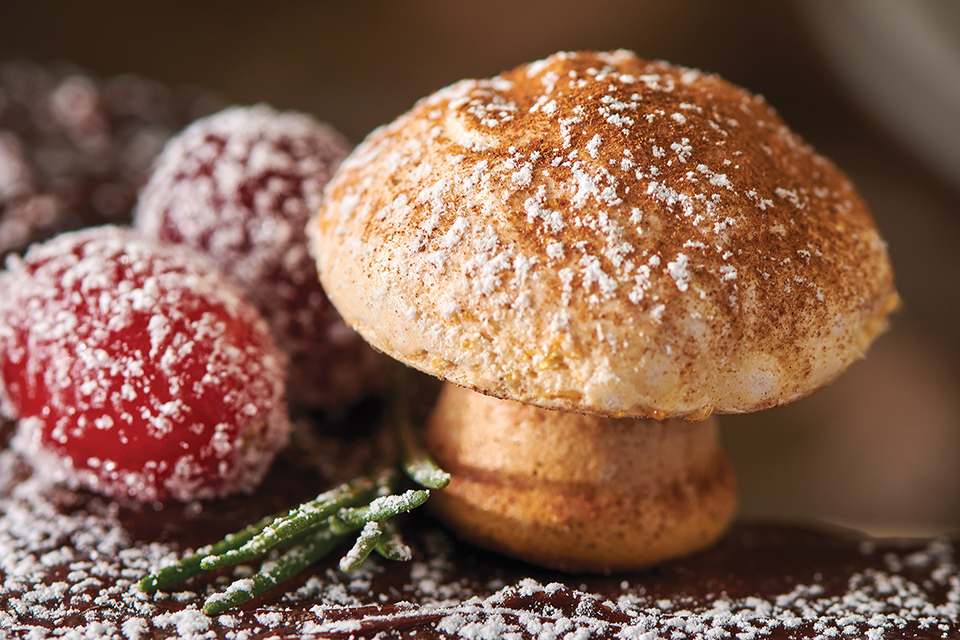 Meringue Mushrooms

INGREDIENTS
1/2 cup egg whites (can use pasteurized egg whites)
1 teaspoon vanilla extract
1/4 teaspoon cream of tartar
1/4 teaspoon salt
1 cup white sugar
1 tablespoon unsweetened cocoa powder or ground cinnamon
4 ounces chocolate or chocolate confectioner's coating

DIRECTIONS
Preheat oven to 225 F. Line two cookie sheets with parchment paper.

Beat the egg whites in a large, glass or metal bowl with an electric mixer until foamy. Add vanilla, cream of tartar and salt. Continue whipping until soft peaks form. Gradually sprinkle in the sugar so that it does not sink to the bottom. Continue whipping until meringue holds stiff, shiny peaks.

Place a large round tip into a pastry bag and fill the bag halfway with the meringue.

To pipe the mushroom caps, squeeze out circular mounds of meringue onto one of the prepared cookie sheets. Pull the bag off to the side to avoid making peaks on the top. If you have peaks on the tops of your caps, lightly wet a clean finger and smooth. Refill the bag with meringue as needed.

To pipe the mushroom stems, pipe a small amount of meringue onto parchment and then pull straight up. It will look similar to a chocolate kiss. (Do not worry about the stems being uniform as different shapes and sizes lend to the organic nature of mushrooms.)

Using a small sifter or strainer, lightly dust mushroom caps with cocoa powder or ground cinnamon. (Either will work, so it depends on personal preference.)

Bake until meringues are dry enough to be easily removed from the cookie sheets, about one hour. Cool completely.

Melt chocolate in bowl over simmering water or in the microwave. Stir until smooth. Rotate the tip of a paring knife in the bottom of a mushroom cap to create a small hole. Spread chocolate over the bottom of the cap. Dip the tip of a stem in chocolate and press lightly into the hole.

Set mushrooms upside down on their caps to cool. When the chocolate sets, the cap and stem will hold together. Repeat with remaining meringues. Store at room temperature in an airtight container.