Food + Drink
The Pompadour, Fairport Harbor
Rusty James Phillips' unassumingly hip restaurant embraces innovation in both its food and cocktails, adding up to a spot that shines brightly with both.
July/August 2022
BY Ruth Corradi Beach | Photo courtesy of The Pompadour
July/August 2022
BY Ruth Corradi Beach | Photo courtesy of The Pompadour
Depending on your preference, The Pompadour may draw you in with its small plates and hook you with its cocktails, or it may be the cocktails that get you in the door and the small plates that keep you coming back. Either way, this cozy, welcoming spot in historic downtown Fairport Harbor manages to balance its offerings in a way that consistently ups its overall game.

"Food is the priority at Pompadour, but we've also got a pretty amazing cocktail program, which is pretty unique since most places specialize in one or the other," says chef and owner Rusty James Phillips.

A quick glance at the menu shows some expected offerings, like short rib or a tomato-based vegetable dish. But read the description and you're in for something unexpected: the rib features a rum-infused banana mash, and the Humble Veg is anything but.
"It's a vegetable dish that isn't just a side dish," explains Phillips. "[It's] tomatoes we roast down almost to the point of sundried — but still juicy — topped with spiced, grilled mushrooms; garlic French green beans; pickled, spiralized chayote Mexican squash; toasted sesame seeds. The tomatoes are cold, the chayote is cold, the mushrooms and green beans are hot. When you have hot and cold sensations in your mouth, it makes your taste buds do something you're not used to."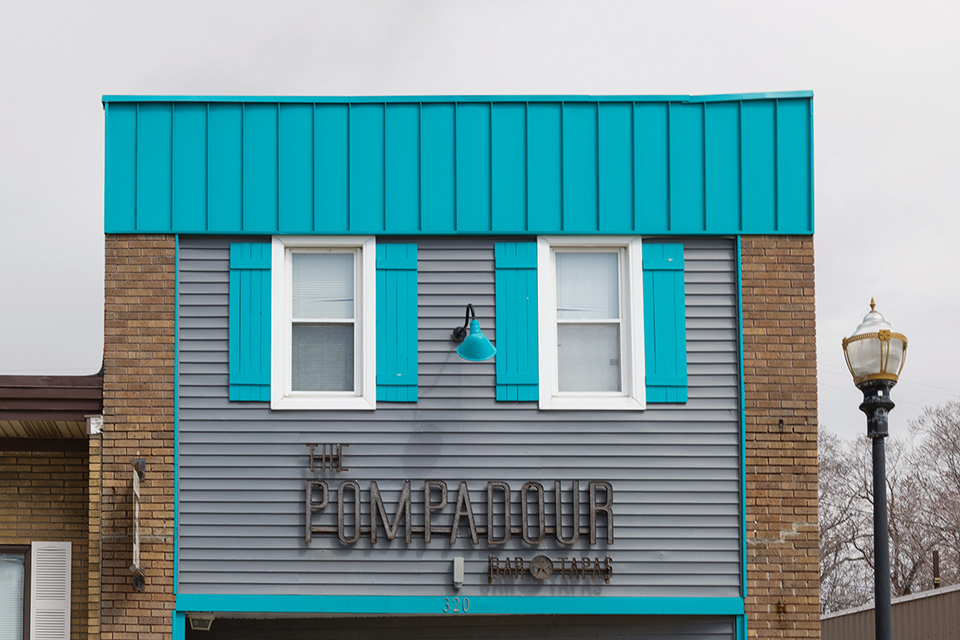 Creating sensations your taste buds aren't used to is what drives Phillips. Ingredients are tools, he explains, and he's not limited to a certain set.
"Not everything I try works," he says. "I try to take my first idea and throw it out. If I arrived at it too easy, it's probably something I've already experienced. When I experience a dish, I want this feeling that it's new."

The same goes for the house cocktails, which are precise in a way that makes them consistent from glass to glass, visit to visit. Janessa Flowers, former bar lead who is now with the Diageo hospitality group, continues to create cocktails that, like the food, "have a foot in the classics," as Phillips describes them, but with a twist. You'll encounter salted honey instead of plain, for example in the Sunday Morning, or a Coca-Cola reduction instead of a simple syrup in the Li'l Pick Me Up.

"With both the food and the cocktails, we keep a focus on creativity and great ingredients," Phillips says. "That's the main goal. As long as you approach them both that way, it's never one pushing or pulling against the other."

320 High St., Fairport Harbor 44077, 440/639-0263, thepompadourbar.com