Food + Drink
The Crest, Columbus
This longtime Clintonville neighborhood spot has a new look and approach, presenting a menu of Appalachia-inspired fare that highlights an overlooked American cuisine.
June 2022
BY Nicholas Dekker | Photo courtesy of The Crest
June 2022
BY Nicholas Dekker | Photo courtesy of The Crest
The Crest in Columbus' Clintonville neighborhood has lived several lives. For decades it was a dive bar with dim lighting and dartboards. Then in 2013, local restaurant group A&R Creative transformed it into a gastropub. Now it has taken on another life under A&R, with a stunning renovation and a focus on modern Appalachian cuisine.

Co-owner Justin Wotring describes The Crest's updated menu as "what your grandma cooked but with the eye of an executive chef." That would be Jon Gruseck, who developed the restaurant's dinner and brunch fare.

"His family is all tied to Appalachia," Wotring says. "That region has all the things we love: being sustainable, getting local ingredients and preserving them by pickling."

Wotring directs newcomers to Gruseck's pierogies, which align with the chef's Polish heritage (the pierogies and hand pies are both crafted using his grandmother's recipes). The Crest's menu also includes several unique offerings: quail and dumplings, rabbit hash, country ham.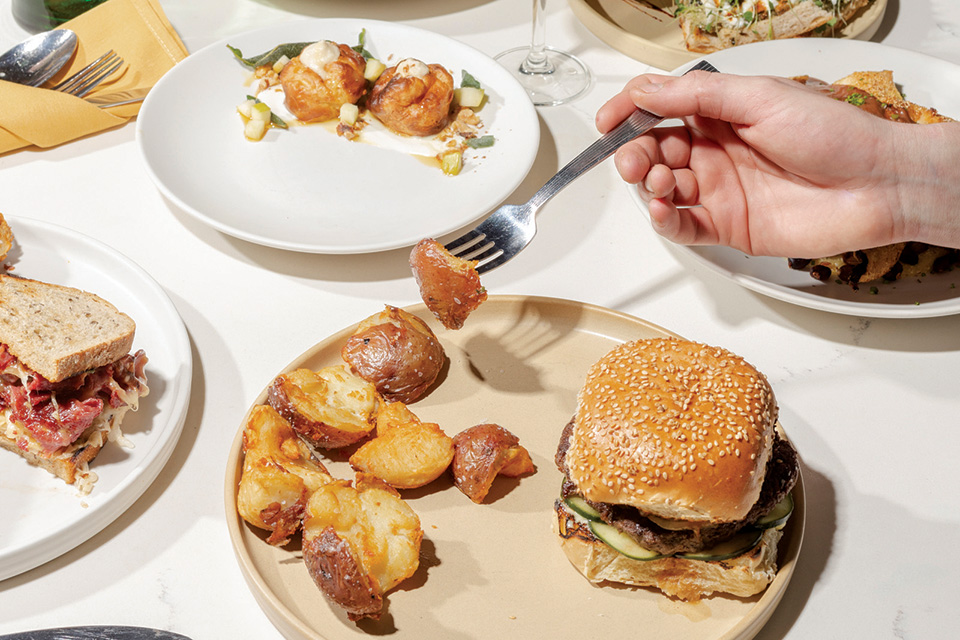 The hearty burgoo is a rich stew made with a rotating selection of local meats simmering in gravy and topped with a buttermilk biscuit. The Crest's walleye dish balances the delicately seasoned fish with a refreshing crisp of redbud capers, lemon and rhubarb pickle. The Crest's menu is rounded out with familiar favorites: burgers, Reubens, pork chops, eggs Benedict and pancakes. True to its origins as a dive bar, the spot maintains a solid beer list and Instagram-worthy cocktails.

Large windows flood the space with natural light, showcasing the cool greens and natural woods, the intricate tiled floor and the U-shaped bar in the center of the space.

In line with The Crest's focus on rural Appalachian fare, Wotring and his team are building out a greenhouse attached to the restaurant. They are also partnering with the agricultural school at Hocking College for a seed-saving program. So, despite the restaurant's big-city location, it brings much-deserved attention to the flavors of the country.

"A big part of Appalachian fare is overlooked but amazing," Wotring says. "It's a lost piece of cuisine that no one was focusing on, but everyone is familiar with if you think about it."

2855 Indianola Ave., Columbus 43202, 614/261-7128, thecrest614.com