Food + Drink
Dog Days
The folks behind four high-end hot dog joints discuss their inventive versions and share how to get creative at home.
August 2014 Issue
BY Vince Guerrieri | Photo by Kevin Kopanski
August 2014 Issue
BY Vince Guerrieri | Photo by Kevin Kopanski
The hot dog is a staple of cooking-impaired bachelors, backyard cookouts and, thanks to former Niles resident Harry Stevens, ballpark concessions. But in some corners of Ohio, the humble frankfurter has taken on a different identity, becoming, dare we say it, trendy. Across the state, hot dogs are being slung not by carhops, but bartenders, along with a pint of microbrew or a craft cocktail. And we've gone beyond mustard, relish and chopped onions. Whatever you can think up — from fried eggs to Froot Loops to peanut butter — can be ordered on a hot dog these days.
***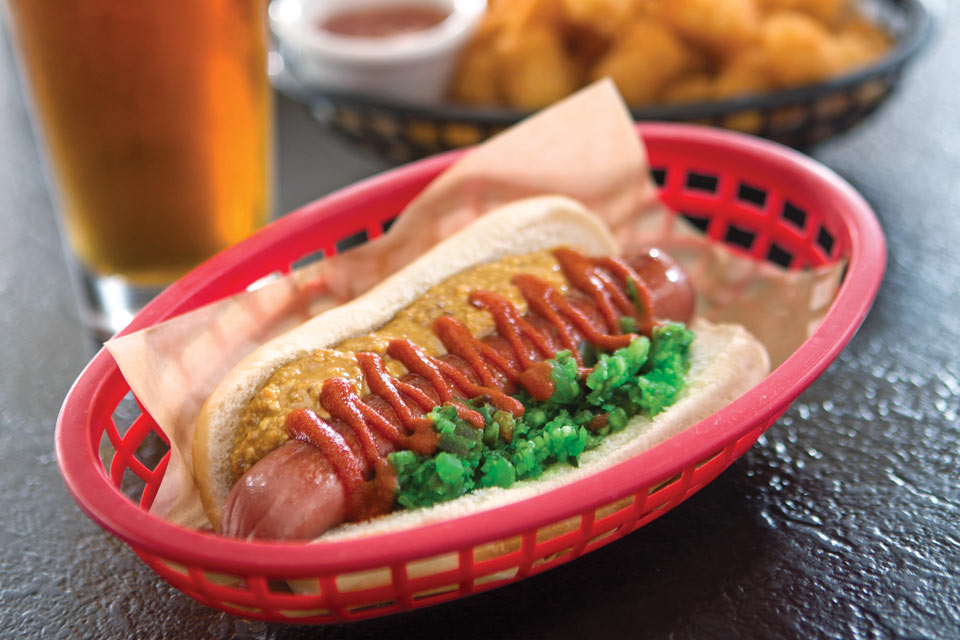 Happy Dog
To most people, it's a hot dog, a simple, self-contained meal. But to Eric Williams, executive chef and co-owner of Happy Dog in Cleveland's Detroit Shoreway neighborhood, it's a blank canvas. "It's a bun, it's a hot dog," he says. "Let's just put toppings on." Williams' first job was at a pizza parlor and his slice-the-bread-before-you-put-it-in-the-bag moment was when he realized that the hot dog, like pizza, is primarily a delivery system for toppings. And if you can think of it, there's a good chance it's available on Happy Dog's 50-topping menu. Patrons are free to design their own dog or choose from a menu of favorite combinations. Options range from Froot Loops and Andy Capp's Hot Fries to garlicky escarole and Caribbean coleslaw, and 43 of the 50 toppings are made in-house. "I don't like buying things," Williams says. "If you put ketchup on it, we made it. If you put chorizo chili on it, we ground our own sausage and made that too."
5801 Detroit Ave., Cleveland 44102, 216/651-9474, happydogcleveland.com
Order This:
Michael Symon's Favorite ($5)
. The Cleveland native and chef praised Happy Dog on Food Network's "The Best Thing I Ever Ate." It's got chunky house-made peanut butter, Sriracha hot sauce and bright green "alien" pickle relish.
Try This at Home:
Don't be afraid to make your own relish. Doctor it up to make it hot or sweet. "It's not hard at all," Williams explains. "It's probably five ingredients [pickles, onions, peppers, sugar, vinegar and water], and it goes in a blender."
***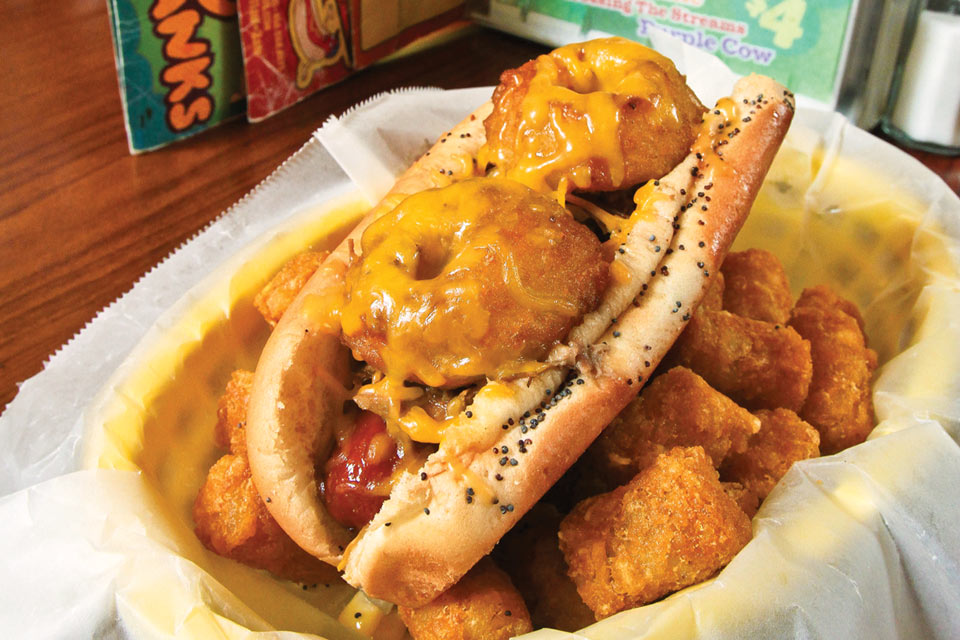 Dirty Frank's Hot Dog Palace
When Elizabeth Lessner opened Dirty Frank's Hot Dog Palace in July 2009, it was strictly to fill a need in downtown Columbus. There were plenty of places for the city's business and political leaders to have a power lunch, but no places to grab a quick bite. Since then, Dirty Frank's has become known not only for fast food but comfort food, with a menu that includes 30 creative dogs as well as root beer floats, macaroni and cheese and slushies. "For grown-up palates, it's kind of fun," says Lessner. "There are few things that don't go well on hot dogs." A Chicago native, Lessner made sure that the first thing on her menu was a Chicago-style dog with tomatoes, onions, sport peppers, relish, pickle and celery salt on a poppy seed bun. Since then, she's added other flavors of the Midwest. Lara's Pittsburgh Princess is topped with coleslaw, fries and malt vinegar, and the West Virginia Slaw Dog mixes coney sauce with coleslaw and onions.
248 S. Fourth St., Columbus 43215, 614/824-4673, dirtyfrankscolumbus.com
Order This:
Ohioana Dog ($3.50)
. Since Ohio has no official style of hot dog, Lessner created one with a spicy corn relish (a blend of sweet corn, pickle relish and jalapeno) and a dash of celery salt.
Try This at Home:
Finely chop your favorite herb or veggie and mix it with cream cheese. Lessner says the mildness of the cheese complements the salty hot dog. "We do a lot of stuff with cream cheese," she adds.
***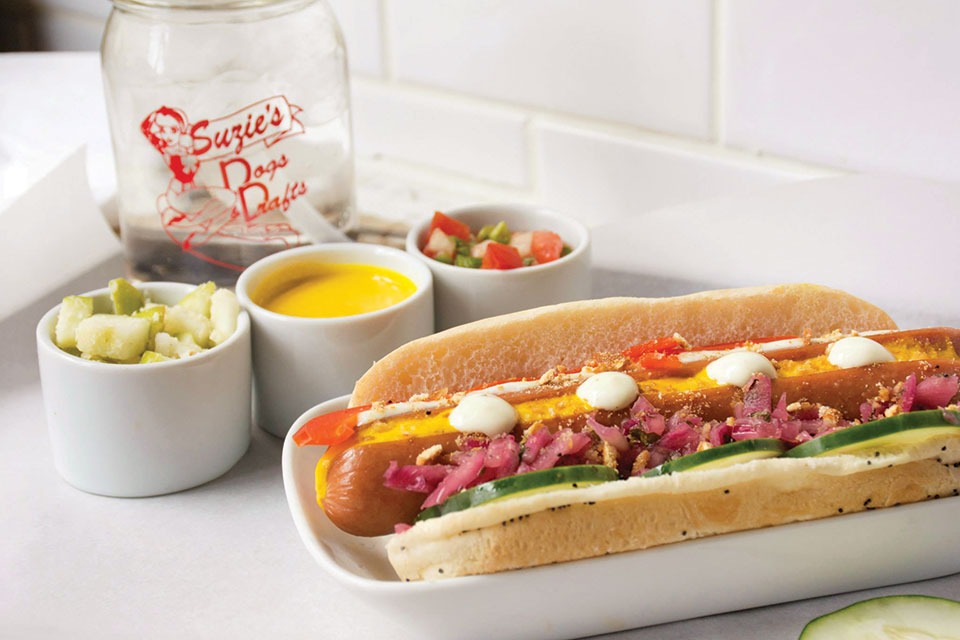 Suzie's Dogs & Drafts

With its courthouses and government buildings, downtown Youngstown is always busy during the day. But when Suzie's Dogs & Drafts opened last February it brought something different to the city — a quick midday meal with a touch of panache. "We'll fill up in five minutes around noon," says general manager and executive chef Brad Miller. "And it's like another dinner rush at 2:30 a.m." The hot dog joint, which is open until 4 a.m. Thursday through Saturday, is located near the bars in the city's nightlife district along West Federal Street. It serves locally produced hot dogs and a choice of 50 different toppings that range from ultra-traditional to really unusual. "You get the chili-and-cheese crowd and the foodies," Miller says. Although the traditionalists are winning for now (chili and cheese have been among the top requests since the place opened), Miller is serious about getting inventive. Yet he admits there is one topping that still eludes him: a fresh spin on SpaghettiOs. "I've been playing with recipes," he says. "I'm getting close."
34 N. Phelps St., Youngstown 44503 234/228-9158, suziesdogsdrafts.com
Order This:
The Number 9 ($4–$6, depending on the type of dog)
. It's a twist on a classic, with banana ketchup, blueberry mustard and a house-made fluorescent green relish.
Try This at Home:
Top your dog with chutney. It's similar to salsa, but the mixture of fruits, veggies, vinegar and juice is cooked down instead of served raw. "It's a slow-cooking process, so it builds a lot of flavor," Miller says. Adding aioli or mayonnaise helps cut the tartness.
***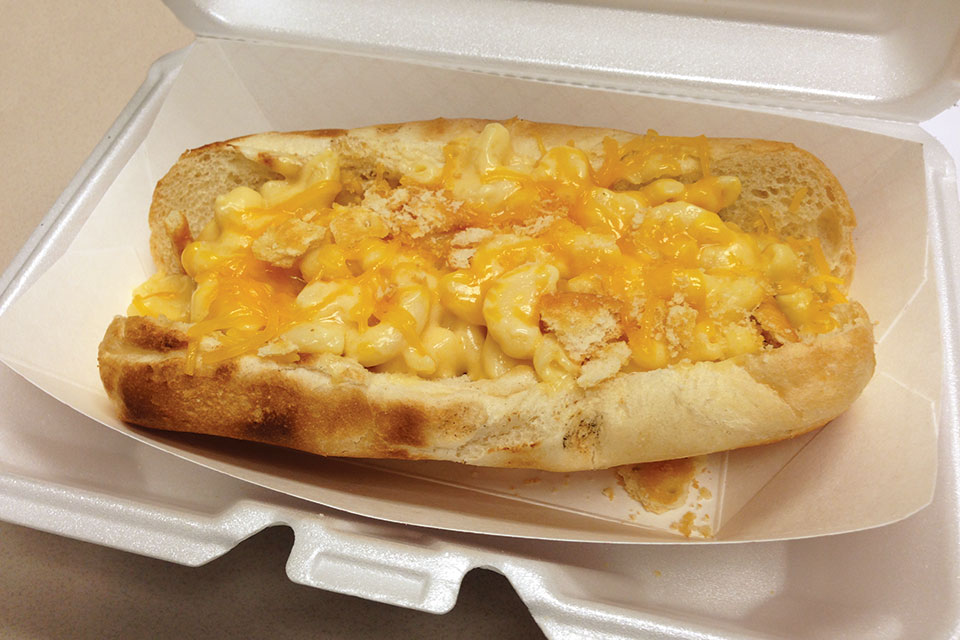 Zombie Dogz
Although the idea of a hot dog cart is not a new one, Zombie Dogz has turned the concept on its ear. Dave and Lee Ann VanArtsdalen's popular food truck roves suburban Dayton, serving as many as 1,000 hot dogs in a five-hour span. "We try to get orders out quickly," Dave says. Zombie Dogz starts with a hoagie roll and an all-beef Nathan's hot dog — a nod to the food's origins and Nathan Handwerker's 1916 hot dog stand at Coney Island, New York. Menu options range from a hot dog topped with bananas and cashew butter (an homage to Elvis' favorite sandwich) to a tofu dog. (It's named The Undead, get it?) The VanArtsdalens, who both have experience in the food-service industry, got rolling in 2013 and haven't looked back. "It took off extremely fast," Dave says. "It was supposed to be part time, and my wife and I had to quit our jobs to do this."
937/416-1065, zombiedogzdayton.com
Order This:
Carnivore of Crack ($5)
. With toppings of bacon and shaved, pan-fried prosciutto, it's a vegetarian's nightmare. An egg fried in white truffle oil, cheddar cheese, hot sauce and salt and pepper top off this monster.
Try This at Home:
Heap some macaroni and cheese on top, be it the simple box mix or a homemade family recipe. One of Zombie Dogz's most popular offerings features truffle oil mac and cheese. "It's an adult twist on a childhood favorite," Dave says.