Food + Drink
6 Ohio Breweries With Great Food
These six Ohio breweries are as serious about their eats as they are about the beers on tap.
February 2016 Issue
BY Staff & Contributors | Photo by Eric Wagner
February 2016 Issue
BY Staff & Contributors | Photo by Eric Wagner
Craft Fare
Wolf's Ridge Brewing focuses on food as much as it does beer, with a menu of carefully constructed American favorites.

Beams of natural light fill the dining room, reflecting off the long tables that seat chatty, eager brunch patrons by the dozen. Artistically presented and exotic versions of beloved standards are the order of business here. Beautifully built bacon and eggs appear in the morning and a gorgeous rib-eye served with fingerling potatoes, mixed vegetables and leek butter is among the dinner options.

"Every plate that goes out to a table, we want our customers to say, 'Wow, this looks too good to eat,'" says Seth Lassak, executive chef at Wolf's Ridge Brewing. "First impression is everything."

The atmosphere at Wolf's Ridge Brewing is equally appealing, with brick walls and original wood floors meeting sharp-yet-subtle modern decor. When father and son co-owners Alan and Bob Szuter and their wives gutted the century-old space in downtown Columbus in 2013, they were strict about preserving the building's rustic charm.

"We wanted to make what we were doing fit the space, not the other way around," Bob says. "We wanted to keep it simple and maintain a natural feel."

The Szuters collaborated with the brewery's neighbor, the Columbus College of Art and Design, which made a project out of the interior layout. The goal was to pay homage to the days when breweries and beer gardens were meeting places. Customers are encouraged to engage one another thanks to the communal tables and absence of televisions in the main dining area.

A longtime enthusiast and avid home brewer, Alan was inspired to open a craft brewery while traveling the country for his previous job as a consultant. He enlisted Bob, who originally worked in finance, to oversee the restaurant side with the help of Lassak, a childhood friend. Brewmaster Chris Davison leads the beer-making team.

The restaurant serves up to 20 beers at a time from its rotating lineup of craft brews. Although the brewery's style of experimentation doesn't meet the German brewing traditions of using only hops, barley, water and yeast, recipes are kept as authentic as possible by incorporating ingredients local to the region of each beer, which includes using malts native to Germany's Bamberg region for the brewery's Buchenrauch Lager.

"Our focus is ... brewing authentic, true-to-style beers with a lot of creativity," Alan says. "You can expect to see a lot of infusions and experimentations."

The same attention applies to the cuisine. While Wolf's Ridge Brewing serves a variety of American brunch, lunch and dinner favorites, Lassak also offers modern interpretations of Mediterranean, Chinese and Latin dishes. Because his menu changes every three months, Lassak plans ahead on a large dry-erase board in his office. Unlike wine pairing, where flavors are often meant to contrast, Lassak favors beer pairings where the food and drink complement the other's dominant qualities. For example, he will pair a salmon topped with lemongrass and an orange ginger gel with a white IPA to cut through the fat of the salmon and bring out the citrusy and bitter components of the beer and fish.

"Both our brewer and our chef are true artists and craftspeople," Alan says. "Sometimes there's a little hesitation, but we have to trust them and give them their freedom." — Andrew Poulsen

215 N. Fourth St., Columbus 43215, 614/429-3936, wolfsridgebrewing.com

***

Order This
Chef Seth Lassak shares a few of his favorite food-and-beer pairings at Wolf's Ridge Brewing.

Bacon and Eggs + Buchenrauch Lager:
"[The beer] complements the applewood smoke on the bacon and goes well with the minerality of the root vegetables," says Lassak, who pairs thick slabs of pork belly with two sunny-side-up eggs, root vegetable slaw and honey-poached cranberries.

Mussels + Gold Standard Helles Lager:
These wild-caught mussels are steamed in lager, wrapped in bacon and smothered in Gorgonzola cheese sauce with garlic and herbs. "It's a heavier dish, so that crisp lager really helps make it a little lighter," Lassak says.

Peanut Butter and Banana + Dire Wolf Russian Imperial Stout:
"This one was inspired by childhood memories of being raised on peanut butter and banana sandwiches," Lassak says, adding that the dessert brings out the sweet, chocolate notes in
the stout.

----
Famous Flavor
Willoughby Brewing Co.'s Peanut Butter Cup Coffee Porter is no gimmick. The Lake County brewpub's delicious beer also shows up in some of its most popular dishes.

Rick Seibt took over as Willoughby Brewing Co. brewmaster in 2011, after new owners bought the place and asked him to head up the beer menu. The Lake County brewpub had been around since 1998, and Seibt was inspired by the former brewmaster's work with chocolate, peanut butter and coffee flavors. "I adapted that to my porter recipe, and that's when things took off," he says.

Seibt's Peanut Butter Cup Coffee Porter is now Willoughby Brewing Co.'s most popular beer, delivering a perfectly balanced combination of coffee, peanut butter and chocolate.

Chef Lucas Monasky found that the porter worked as an ingredient, too. He uses it in his braised short ribs, as well as in the caramel sauce for the Bavarian pretzel.

Seibt oversees the production of more than 40 beer varieties (up to 12 are on tap at a time). Lighter options such as the Kaiserhof kolsch go best with salads and appetizers, Monasky says, while the Cosmic IPA is a great companion to the short ribs. He adds that even a beer as complex as Peanut Butter Cup Coffee Porter can be paired with dishes on his menu.

"As its temperature changes, the flavor profile changes," he says. "If you get it right away, it goes well with the Potato Cup Trio. As it warms up, it's more of a dessert beer." — Frances Killea

4057 Erie St., Willoughby 44094, 440/975-0202, willoughbybrewing.com

----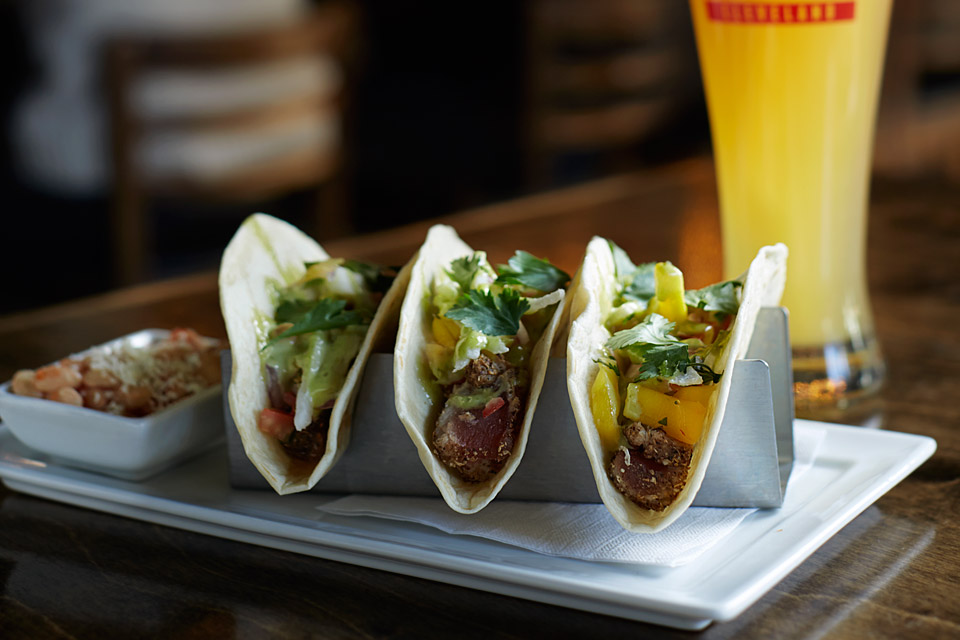 Old Meets New
Market Garden Brewery creates fresh versions of classic beer styles that go well with executive chef Andrew Bower's high-quality pub fare.

Cleveland's West Side Market hums with hardworking vendors, curious tourists and determined shoppers — all common sights at the more than 100-year-old landmark. But walk next door, and the scene is a bit more relaxed.

Long tables and large booths are perfectly suited for group gatherings, and three bars serve nighttime crowds. The place feels warm in spite of its size (the main level covers 11,000 square feet) and a fireplace makes the outdoor beer garden a three-season spot to hoist a pint.

Open since 2011, Market Garden Brewery is a place to slow down and enjoy brewmaster Andy Tveekrem's labors. The Akron native worked at Great Lakes Brewing Co. in Cleveland and Dogfish Head Brewery in Milton, Delaware, before returning home to oversee Market Garden's more than 40 varieties.

"The real test of beer, for me, is the three-pint test," he says. "Can you drink three pints of that in one sitting? You go to Hamburg, Germany … they say it takes three liters to get acclimated to a beer."

While some craft brewers push the limits of their customers' palates with hops and huge flavors, Tveekrem explores the nuances of lagers and hefeweizens to create drinkable, refreshing beers.

"Sessionability is important," he says, referring to the practice of brewing beers with lower alcohol levels so more than one can be enjoyed in a sitting.

A food menu that complements and makes use of the brewery's beer list accompanies that easy-drinking attitude. Executive chef Andrew Bower incorporates local and seasonal ingredients as often as possible and makes nearly everything from scratch. "We don't do any freezer-to-fryer nonsense," he says.

And while there are lighter options, Bower's kitchen prowess shines in his high-quality takes on classic pub fare: a braised brisket burger, cheddar and potato pierogies and the Scotch egg (a soft-boiled egg dressed with chorizo, mustard and pickles) are favorites. The flatbreads are perfect for meals with friends.

Lighter dishes like the Market Salad go well with the brewery's crisp Prosperity Wheat, while bigger meals such as the brisket burger stand up to dark and bold beers like the Wallace Tavern Scotch Ale. Beer shows up as an ingredient in dishes such as the stout-bathed sauteed mussels and hearty beer-and-cheese soup.

"[Tveekrem] celebrates the classics, which lend themselves well to food," says Bower, who had a holiday-season favorite in pairing Market Garden's Festivus Ale with an apple tart dessert.

For other desserts, Market Garden co-founder Sam McNulty favors the Progress Pilsner. "I've always thought a pilsner plays very much like a champagne," he says. "You can pair champagne with just about anything."

Light, fresh and sippable, Progress Pilsner is the sort of beer Tveekrem and Bower like to work with and one that embodies the atmosphere McNulty prizes.

"We're excited that people come and enjoy conviviality, conversation," he says. "There's something special about that social experience of sitting around for three hours with your friends or family ... reveling in the moment." — FK

1947 W. 25th St., Cleveland 44113, 216/621-4000, marketgardenbrewery.com

***

Order This
Chef Andrew Bower shares a few of his favorite food-and-beer pairings at Market Garden Brewery.


Ham and Cheese Sliders + Citramax IPA:
"Tasso ham is a Cajun ham. It's rubbed with [spices] and it sits for four to six days curing, and then we smoke it," Bower says. He adds that it goes well with IPAs, which often have a spiciness of their own.
Roasted Pork Flatbread + Progress Pilsner:
"It's got a lot of pineapple, cilantro — a sweet and spicy kind of thing," says Bower, who finishes the dish with lemon zest and arugula. "Pilsner is so refreshing. The arugula and that go together well."

Coriander-Crusted Yellow Fin Tuna Tacos+ St. Emeric's Stout on Nitro:
"[This stout] is a little lighter," says Bower. "It has a little bit of a give … the fish is going to go well with it. It's going to be able to support the sweetness of the mango [salsa], too."

----

Vintage Variety
Dayton's Carillon Brewing Co. delves into the food and drink of the 1850s, making its beer the old-fashioned way: cooked in kettles and fermented in barrels.


Tanya Brock oversees the brewing and kitchen operations at Carillon Brewing Co. — and she does all of it in a petticoat. As a food preservationist, Brock found her dream job at Carillon Historical Park, an open-air museum in Dayton dedicated to preserving the region's heritage, right down to the beers people drank.
"I researched to find original ingredients: species of grain they would have used, species of hops and yeast," she says.
Brock uses period-appropriate equipment, cooking her brews in open kettles and fermenting them in oak barrels. Ambient yeast creeps into the mix just as it did in the 1850s, creating a sour tinge to the beers. Even the traditionally nutty porter delivers a bit of a pucker.
And while Brock serves chilled and carbonated versions of her brews, she is happy to cater to those who want a truly authentic experience with a glass of "historically flat, warm beer." As far as food, schnitzel and wurstels were popular in the region during the mid-19th century. Brock suggests pairing them with the Coriander Ale, a citrusy beer that highlights the meats' earthy flavor.
"We serve our schnitzel with a lemon wedge," she says. "So, having that kind of starter of citrus on your palate and then washing it down with citrus from the coriander tastes really good."
1000 Carillon Blvd., Dayton 45409, 937/910-0722, carillonbrewingco.org — FK


----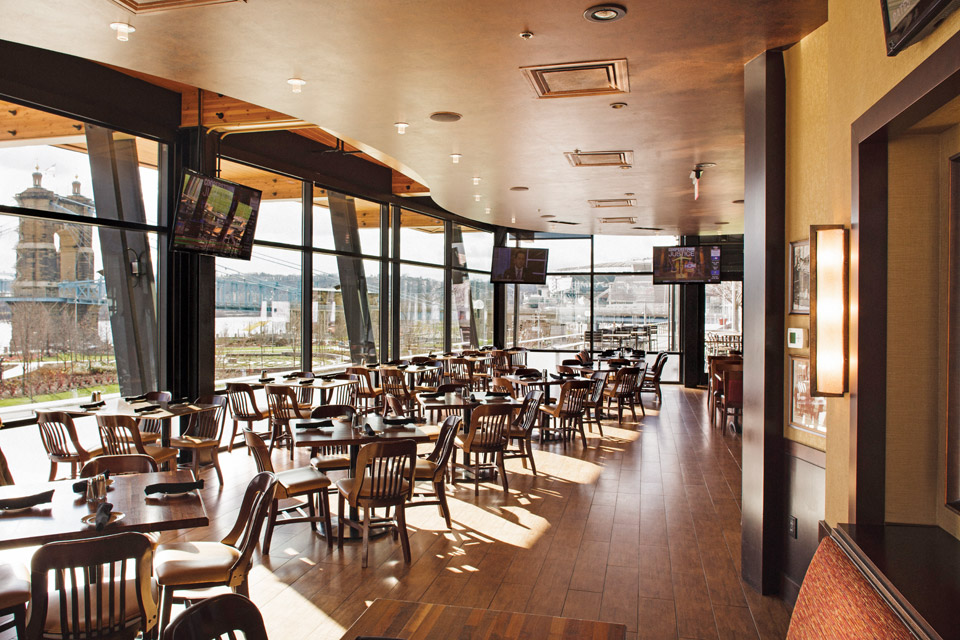 Historic Spot
Moerlein Lager House celebrates Cincinnati's brewing past at a location that serves up innovative food and scenic views.

Nathan Whittington, executive chef at Moerlein Lager House, admits it's sometimes hard to tell where the beer tasting ends and the drinking begins. And while the idea of sampling suds sounds like an enviable task, Whittington says it is also vital to the Cincinnati brewpub's commitment to great food and drink.
So, when Christian Moerlein Brewing Co. vice president of brewing Eric Baumann introduces a new beer, Whittington will sit in the lager house's Beer Baron Hall banquet room overlooking Great American Ball Park and repeatedly taste the brew until he decides if he's going to use it in a dish or create menu items to pair with it.
"When you start getting into some of the craft beers, there's notes that you start with, there's notes you get from the smell, there's notes you get in the middle and then the finishes," says Whittington, illustrating the range of flavor options.
He uses Barbarossa — a double-dark lager with a smooth finish — for braising and finishing richer meat dishes, such as short ribs and pork shanks, and Whittington drizzles his rotisserie chicken with beurre blanc made with the malty and slightly bitter Over-the-Rhine Ale.
"It works out well because it's got a little bitter finish to it, and then you take it and smooth it out with butter," he explains. "So it gives a nice contrast of flavors."
Such unusual-but-satisfying juxtapositions can be found in the riverfront brewery's decor as well. Built in part to mimic the historic beer tunnels in the city's Over-the-Rhine neighborhood (including sandstone walls lining the staircase), the lager house's nod to the past is smoothly contrasted with two levels of bar space surrounded by intimate booths and floor-to-ceiling windows showcasing panoramic views of the Roebling Suspension Bridge, Paul Brown Stadium and northern Kentucky.
"Every room in the restaurant has a different Cincinnati beer theme," says Baumann, who explains that it was all part of owner Greg Hardman's plan to revive Cincinnati's brewing history along the revitalized riverfront, and bring the city's original brands — bought out or closed down by national competitors — back to town.
A mural of Cincinnati's original beer barons from the 1800s — including Christian Moerlein — look out over the bar area, not far from a plaque indicating the location of first base when Riverfront Stadium stood where the restaurant and brewery does now. The spot is a tribute to Pete Rose's record-breaking 4,192nd hit in 1985.
The food menu changes with the seasons and always includes a few items representing the brewery's German heritage, like roasted Brussels sprouts in a garlic herb butter and white wine sauce and the Beer Baron Brat made with a blend of finely ground chilies and pork.
Whittington showcases offerings not found on the regular menu during beer dinners on the third Wednesday of each month, and new beers are tapped on the first Monday of the month. February's beer, the Emancipator Doppelbock, delivers hints of caramel and toffee.
"We like to have fun down here and come up with a lot of different recipes," says Baumann, who has a tart plum wheat beer and a blood orange radler in the works for 2016. "At the end of the day, it's great to sit down and enjoy your product but also to see other people enjoy the work that we put into things."
— Jessica Esemplare
115 Joe Nuxhall Way, Cincinnati 45202, 513/421-2337, moerleinlagerhouse.com

***

Order This
Chef Nathan Whittington and brewer Eric Baumann share a few of their favorite food-and-beer pairings at Moerlein Lager House.
Angry Mac & Cheese + Northern Liberties IPA:
"It's kind of a spicy mac and cheese, so it plays well with the bitterness and fruity hops you get out of the IPA," says Baumann.
Herb-Crusted Salmon + Golden Helles Lager:
"The Helles is a lighter-drinking beer to go with the crabmeat and the butter sauce we use on the actual salmon itself," says Whittington. "It pairs
well with the seafoods of the entree."

Pork Shank + Barbarossa:
"[Barbarossa] has a lot of dark fruit notes," says Baumann, "which plays well with the richness of the pork shank."
----
Pond Hopping
From chicken wings to Bavarian pretzels, both sides of the Atlantic influence Barley's Brewing Co.'s menu. But the Columbus pub's roots are tied to the beers of the British Isles.
Two decades ago, before microbreweries were sprouting up across Ohio, the beers Angelo Signorino favored were from the British Isles: names like Bass, Guinness and Newcastle. A British-style pale ale was the first beer Columbus' Barley's Brewing Co. put on tap in 1992. A year later, Signorino's own Scottish ale recipe was added to the lineup.
"It's been on tap ever since," says Signorino, the pub's brewmaster. "We have a yeast that came from a London brewery … that gives the beer a distinct British flavor."
Barley's Brewing Co.'s food menu also draws inspiration from European cuisine and British alehouses, with choices such as Bavarian pretzels, sauerkraut balls and a pierogi and sausage entree. And while the burgers, sandwiches and appetizers may seem like typical pub grub, they are creatively prepared. Barley's Unconventional Wings, for example, are chargrilled twice (once before and once after sauce is added), which keeps them from becoming soggy.
The brewery's beers appear as ingredients in the pale ale mustard and the IPA-brined pork chop, while the Russian imperial stout is a base for the Imperial Stout Brownie Bash's Ghirardelli chocolate mixture.
"You get a lot of the roasted coffee and toasted malt flavors in the brownie," explains executive chef Joe Colburn. "We serve it hot with ice cream."
467 N. High St., Columbus 43215, 614/228-2537, barleysbrewing.com
— Hallie Rybka