Arts
Spin Cycle
The Columbus Museum of Art teams up with Spoonful Records to celebrate the album cover.
March 2016 Issue
BY Linda Feagler | Album covers courtesy of Columbus Museum of Art
March 2016 Issue
BY Linda Feagler | Album covers courtesy of Columbus Museum of Art
It happened 30 years ago, but Brett Ruland, co-owner of Spoonful Records in Columbus, still chuckles at the memory of the ruse he devised to listen to his favorite rock bands: After making sure the coast was clear — meaning his older sister wasn't home — he'd sneak into her bedroom, quietly close the door and switch on her turntable.

But it wasn't only the music that mesmerized him.

"As a record played, I'd stare at its cover," the 43-year-old Ruland recalls. "Heather had stuff like Iron Maiden with this real wild artwork that seemed dangerous. Quiet Riot's 'Metal Health' album had a man on it wearing a mask and a straitjacket. As a kid, you're just like, 'Wow, this is so cool.' "

Although he went on to earn a bachelor's degree in advertising design at the Columbus College of Art and Design and work as a graphic designer at the Columbus Museum of Art, the impact of LPs made a lasting impression. Six years ago, Ruland surrendered to that passion and opened Spoonful Records with his wife, Amy.

"How does the art on the record's sleeve complement the music and vice-versa? How many people have held this record in their hands? What were they thinking about as they listened to the music? I find all of it fascinating," he says.

Through Aug. 21, Ruland is sharing selections from his favorite medium with the Columbus Museum of Art. He's joined forces with the museum's creative producer Jeff Sims to present "Spin Art," an exhibition featuring 90 record-album covers created between 1941 and 2015.

"[It] is designed to shake up folks' expectations about what belongs in a museum," says Sims. "Album covers don't fall into the traditional realm of fine art, but they're still all about creativity. Since vinyl has made a strong comeback, this is the perfect time to explore records as an intersectional medium where visual art and music cross-pollinate to create innovation."

To make the cut with Sims and Ruland, albums had to define the visual identity of a musician, record label or music genre; represent a close collaboration between graphic designer and musician; and exemplify an exchange between music and visual culture.

"Remember, we couldn't include everything," Sims says in good-natured defense following a query about why the Beatles' iconic "Sgt. Pepper's Lonely Hearts Club Band" is not in the mix. "When I tell people about the exhibit, they ask why isn't this album cover in the show or why isn't that album cover in the show. As part of the exhibition, visitors will have a chance to tell us what they think should have been included. We're looking forward to seeing those suggestions."

***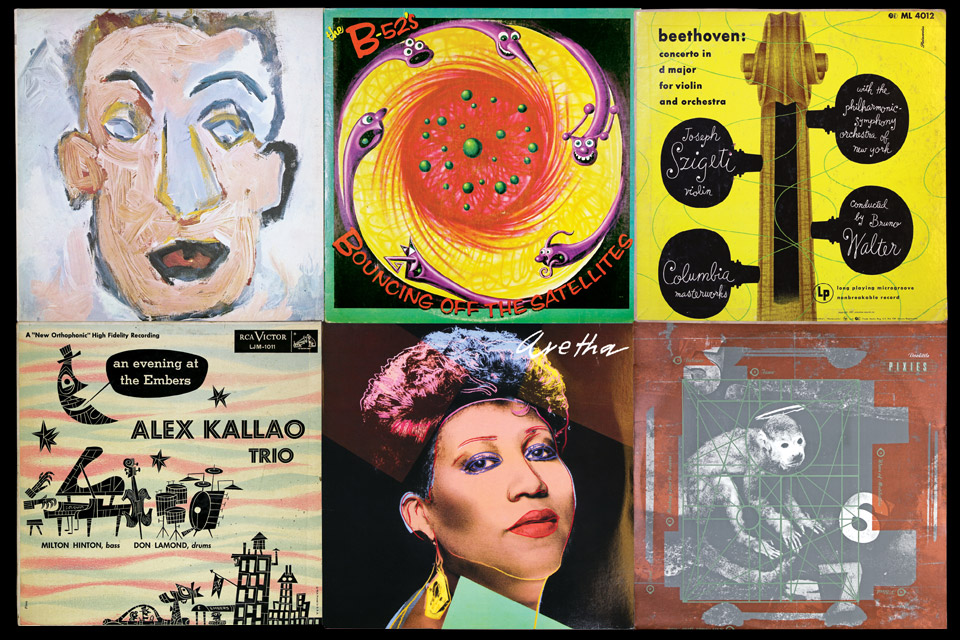 When records were first mass-produced in the early 20th century, they came shrouded in paper packaging with little more than the song title and the name of the artist printed on the sleeve. But that changed dramatically in 1938, when Columbia Records hired Alex Steinweiss to create ads for the label. It didn't take long for the graphic designer to see the artistic potential record covers offered.

"Imagine you're in a store, and there are 20 records on the shelf that all have plain paper covers. And then all of a sudden you see this," Sims says, referring to "Beethoven: Concerto in D Major for Violin and Orchestra" performed by the Philharmonic Symphony Orchestra of New York. Designed by Steinweiss in 1947 and included in the exhibition, the cover features the caricature of a stringed instrument's fingerboard and tuning pegs set against a brilliant yellow backdrop.

"It's a classic example of the use of musical and cultural symbols Steinweiss became famous for," Sims says. "No wonder he's credited with setting the stage for all the designers who came after him."

Steinweiss' protégé, Jim Flora, helped define the 1950s with an eclectic sense of style Sims describes as "reminiscent of cartoon characters such as 'Gerald McBoing-Boing' " — an animated short that won an Academy Award in 1951.

Flora's cover for the RCA Victor LP, "Inside Sauter-Finegan," released in 1954 and included in the exhibition, portrays orchestra leaders Eddie Sauter and Bill Finegan as raucously animated, and the music performed by the American swing jazz band on the disc as a guarantee that life will be transformed into a happy-go-lucky bash once stylus meets vinyl.

"So many of the shapes artists used to create the covers during this decade remind me of the boomerang prints that were popular on countertops and barstools [of the
time]," Ruland says.

Although rock 'n' roll began in the '50s, it came into its own a decade later, and with it came the idea that indelible links could be forged between artists and musicians.

"During the '60s, artists tried to outdo one another. They were all about pushing boundaries," Ruland says.

He cites the album cover Andy Warhol created for "The Velvet Underground & Nico" as a titillating case in point.

Record sales for the album were marginal when it was released in 1967, but the famous fruit emblazoned on its cover achieved pop-icon status. And for good reason: Warhol's cover concept allowed fans to peel back the banana, which was fashioned as a sticker, to reveal a suggestive, flesh-colored one underneath.

"As you can imagine, there aren't many albums left with the yellow sticker intact," Ruland says with a laugh. He was able to get one for the exhibition that has the original banana still on it with a bit of the flesh- colored fruit peeking out.

Pink Floyd achieved international acclaim with its progressive and psychedelic music, and the band's relationship with the London design group Hipgnosis helped cement that renown. Using photo-editing techniques that were innovative at the time, Hipgnosis created record covers based on stories directly related to an album's music and lyrics.

The firm's illustration of a beam of light breaking into a rainbow as it passes through a prism for Pink Floyd's 1973 release, "The Dark Side of the Moon," led to sales that exceeded 50 million copies. It is Pink Floyd's most commercially successful album.

"'The Dark Side of the Moon' contains some of the most evocative and mysterious imagery that's ever been used in pop music," Sims says. "It's mind-bending."

Although more than 9 million albums were sold during the first half of 2015 — a 52 percent jump over the first half of 2014 — there's no threat of them replacing music-streaming services any time soon. But for Sims, those figures speak to the allure of the LP record.

"Nothing can beat the whole experience of making the commitment to listen to an entire album, pulling it off the shelf and searching for meaning in the cover," he says. "I know this exhibit will be nostalgic for many visitors. But we're speaking to the future, too."

Columbus Museum of Art
480 E. Broad St., Columbus 43215
614/221-6801, columbusmuseum.org
Hours: Tues.–Sun. 10 a.m.–5 p.m., Thur. 10 a.m.–9 p.m.
Admission: Adults $14, students over 18 and seniors over 60 $8, students $5. Free on Sun.