Arts
Ohio in Photographs
Photographers Ian Adams and Randall Lee Schieber offer a fresh look at the history, energy and geographic diversity of the place we call home.
May 2017 Issue
BY Jill Sell | Photo by Ian Adams
May 2017 Issue
BY Jill Sell | Photo by Ian Adams
In one photograph, farmer Rick Moore shears a Merino sheep inside his Harrison County barn. Another shot captures weathered gravestones at Mound Cemetery in Marietta — the largest final resting place of American Revolutionary War officers in the United States.

They're just two of the 288 images that show the many sides of Ohio — surprising, nostalgic, energetic, beautiful — depicted in Ohio in Photographs: A Portrait of the Buckeye State. The coffee-table book, which was published in March 2017 by Ohio University Press, features the work of photographers Ian Adams and Randall Lee Schieber, with accompanying text by Cincinnati writer John Fleischman and a foreword by Ohio Gov. John Kasich.

"I love Ohio and knew it would be fun to work with Randy [Schieber]," says Cuyahoga Falls resident Ian Adams, whose photos have appeared in 15 other books about the state, as well as in Fine Gardening, Horticulture, Country Gardens and Ohio Magazine. "I'm also glad that all 88 counties are represented."

Gillian Berchowitz, director of Ohio University Press, explains the idea for the book was sparked after Gov. Kasich visited the Ohio Statehouse Museum Shop in search of a gift-worthy book about Ohio and couldn't find one.

"We wanted to create a forward-looking picture of Ohio that captured the energy of now," says Berchowitz.

Schieber, whose work has been published in six books, as well as The New York Times, Midwest Living and Ohio Magazine, was attracted to the project because of its scope of subjects.

"Ian concentrates on landscapes and gardens. I stay on that path, too, but I also like to photograph people, festivals and events," says Schieber, who lives in Columbus.

The photographers allowed us a peek inside their camera cases to discover the secrets behind eight photos featured in the book.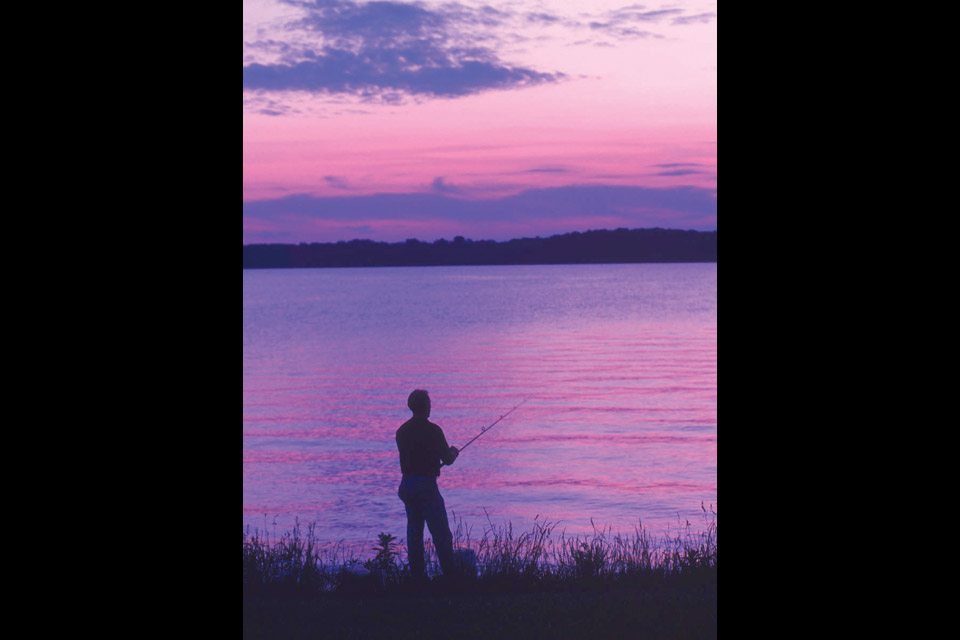 "Fishing at Buck Creek State Park, Springfield. Clark County" by Randall Lee Schieber: "This was taken before digital, when I would occasionally use filters to bring out colors," Schieber says. "A filter brings out more of what your eyes see. Otherwise, because of the limitations of film, a photo of even great color can look all washed out. The fisherman was perfect. I did have to take several shots to make sure the pole angle was right. Sometimes a little detail can make a photo work."

"Buurma Farms, near Willard. Huron County" by Ian Adams (top of page): "I visited one of the largest produce farms in Ohio, went out with one of the owners in his pickup truck, and we got bogged in one of the fields," Adams recalls. "I had permission to take pictures of migrant workers, but I did it discretely. This farm provides free schooling for all the children of the workers, as well as rent-free apartments."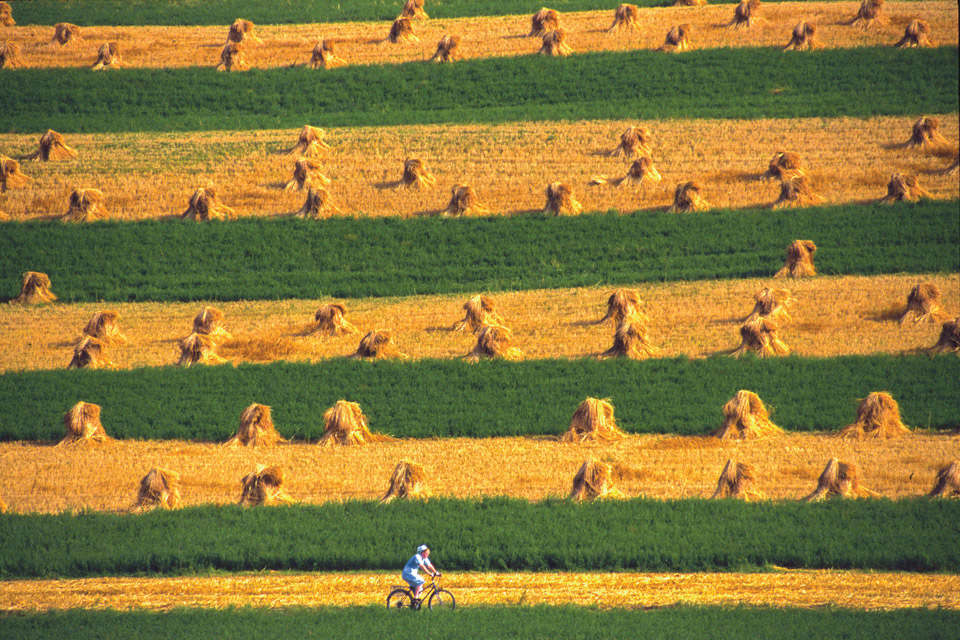 "Amish Girl on Bicycle. Holmes County" by Randall Lee Schieber : "Shooting in Amish country can be a little frustrating because of the way the Amish feel about photos," says Schieber. "But you have to respect that. A lot of what I shoot there is not up close. The landscape is beautiful on its own, but you can spend hours waiting to be in the right place at the right time. Then this Amish girl on the bicycle came down the road. She came out of nowhere. I thought, This is perfect."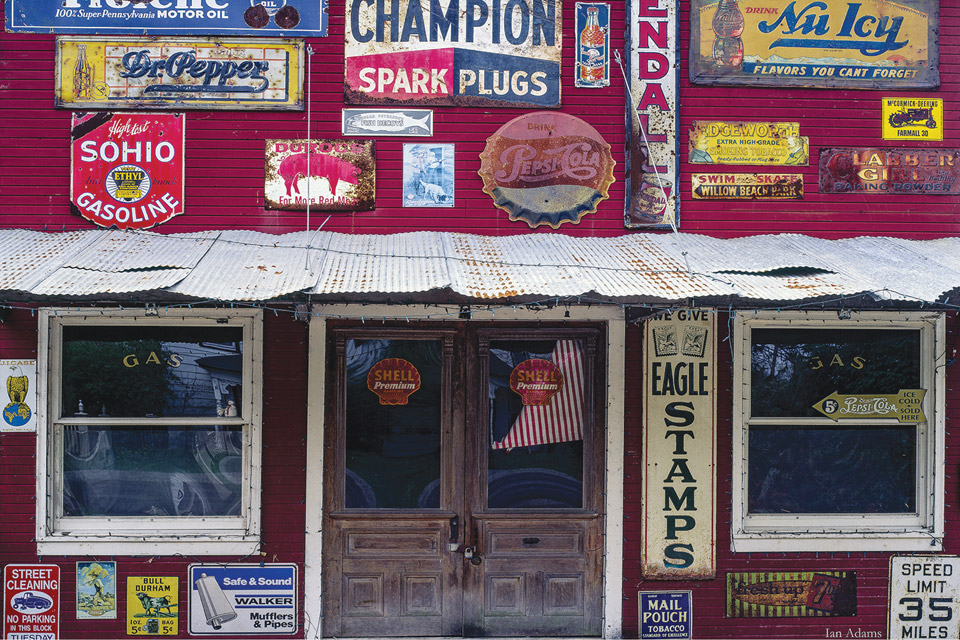 "Clifton Mill Gas Station Museum, Clifton. Greene County" by Ian Adams: "I discovered the Clifton Mill about 30 years ago," Adams says. "It's picture-postcard perfect for any photographer or artist — red building, paddle wheel, waterfalls. But right when you pull into the parking lot, there's also this little building covered with gas station signs. It's a slice of Americana. I can't resist the roadside stuff."


"Monarchs, Wendy Park, Cleveland. Cuyahoga County" by Ian Adams: "From time to time, in mid-to-late September in a few places along the Lake Erie shoreline, we get a large concentration of monarchs headed south," says Adams. "I saw this group, which was 45 feet up in trees ... I took a couple hundred photographs, of which only two were sharp and useful. Monarchs are declining and we have lost about 90 percent worldwide."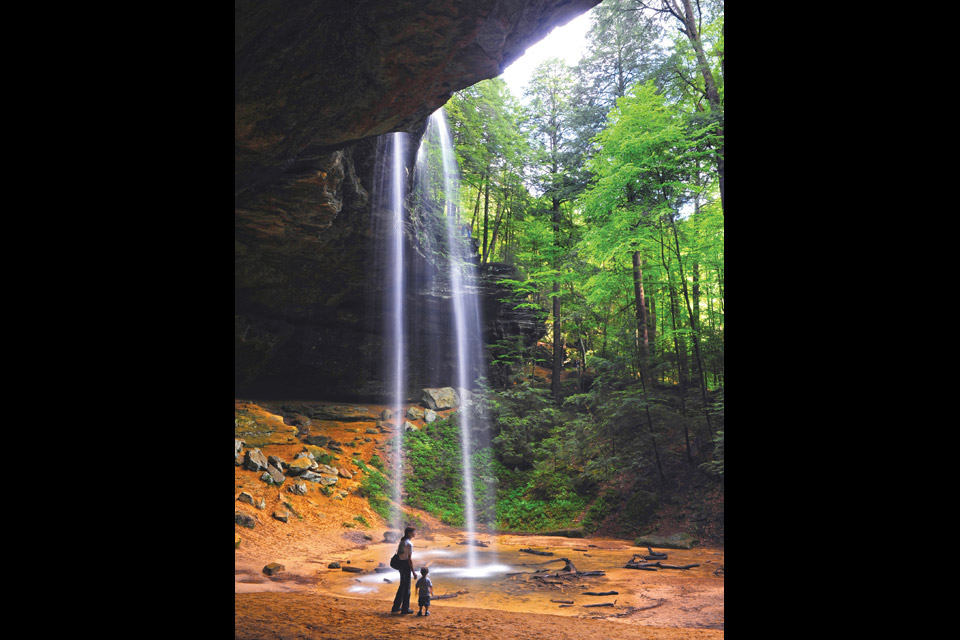 "Ash Cave, Hocking Hills State Park. Hocking County" by Randall Lee Schieber: "Hocking Hills is great in the summer, but the best time is spring after heavy rains," says Schieber. "I had photographed the falls before and it's beautiful. But a mother and her child came into this scene, and it was almost like there was a director — someone saying, 'Just move a little over to that mark.' She stopped like she knew exactly what to do for my photograph. It was absolute serendipity."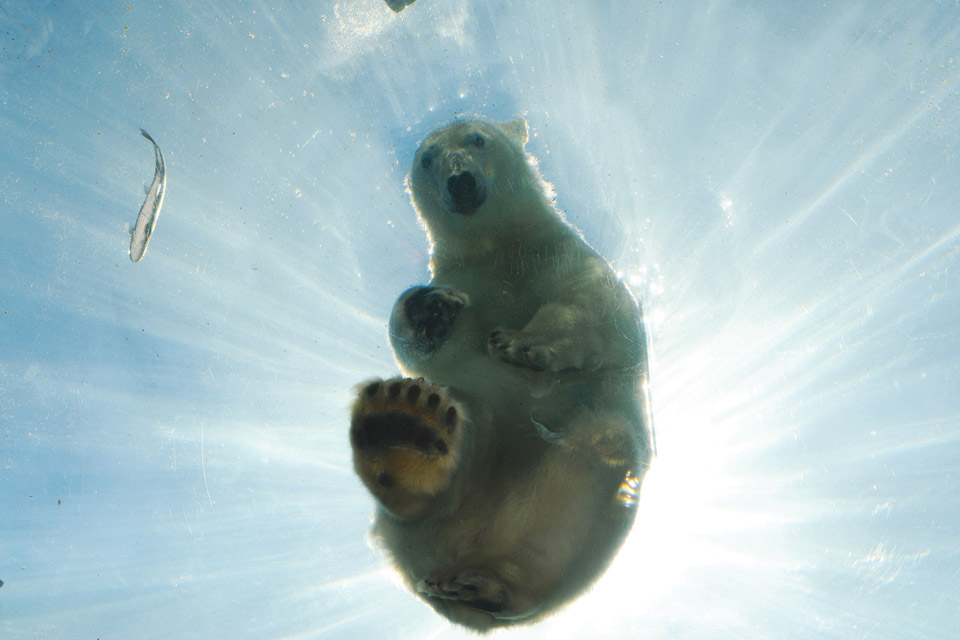 "Polar Bear, Columbus Zoo and Aquarium. Delaware County" by Randall Lee Schieber: "I was outside shooting through the big glass window of the polar bear aquarium," says Schieber. "It was midmorning and the sun was directly behind the polar bear. It was also feeding time. The backlighting was important. It's dramatic and not flat. You see the big paw and the single fish — it tells a little more about the story. Polar bears can be fierce, but this one is looking right at you and looks like a big teddy bear. You don't know it's a zoo."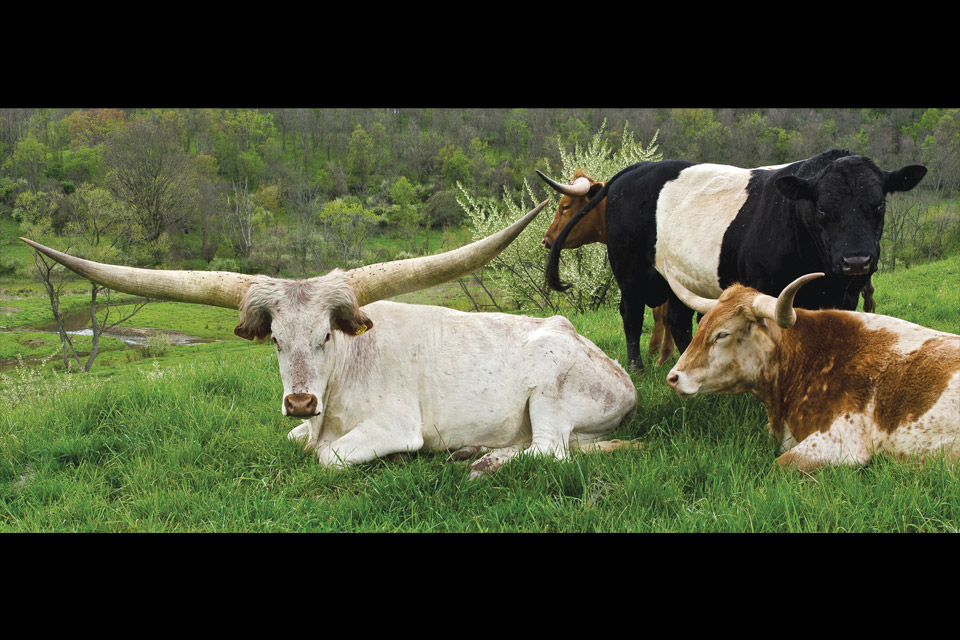 "Dickinson Cattle Company, near Barnesville. Belmont County" by Ian Adams: "I was driving along Muskrat Road when I saw all three species of the cattle on this ranch — Texas longhorn, Watusi and Buelingo — together," says Adams. "I couldn't have posed them for a better shot. It looks staged, but it isn't. I screeched the car to a halt, grabbed my camera and walked slowly closer thinking, Guys, don't move."

For more information about Ohio in Photographs: A Portrait of the Buckeye State, visit ohioswallow.com.