Travel
| Romantic Getaways
Gifting Getaways
From a hip downtown Columbus hotel to a 200-year-old historic inn, these spots offer a great preholiday escape.
November 2014 Issue
BY Staff & Contributors | Photo courtesy of The Lofts
November 2014 Issue
BY Staff & Contributors | Photo courtesy of The Lofts
Capital Comfort
Unwind at an intimate boutique hotel located in the heart of Columbus.

Hip yet historic. Urban chic with a touch of Old World ambiance. General manager Dirk Bengel grins as he recalls the ways his guests describe The Lofts Hotel, a 44-suite boutique lodging spot in Columbus' Arena District.

"To think the building used to be a factory is mind-boggling," says Bengel. "The Lofts is an excellent example of the fact that a century-old building can indeed be repurposed and given a new life."

Located near Nationwide Arena and the city's Short North neighborhood, the hotel is replete with 19th-century architectural charm. Constructed in the late 1800s, the structure went through several reincarnations — including serving as headquarters for the Aler Wallpaper manufacturing company from 1898 to 1945 and business offices after that — until it was converted into a hotel in 1998.

Photos displayed in the lobby and hallways chronicle the building's origins, as do such decorative touches as floor-to-ceiling windows, ductwork and wood and steel beams. Suites feature private sitting rooms furnished with plush leather couches and chairs, made to complement the exposed red brick walls. White subway tiles in each bathroom lend an art deco flair.

But the amenities are thoroughly modern, from sumptuous Frette linens and L' Occitane toiletries to a private concierge service ready to procure theater tickets or restaurant reservations. Guests also have access to the fitness center and indoor pool at the Crowne Plaza hotel, which is connected to The Lofts.

"Each room speaks to the building's rich history while maintaining a contemporary aesthetic," Bengel says. "If you want an experience outside of the usual hotel stay, you'll find it." 55 E. Nationwide Blvd., Columbus 43215, 614/461-2663, 55lofts.com

---

Shopping Trips
From neighborhood shops to designer labels just a few miles away, Columbus offers a wealth of retail options.

Easton Town Center: An indoor/outdoor shopping complex, Easton Town Center is a city unto itself. Anchored by Macy's and Nordstrom, it's filled with a diverse mix of 240 stores, ranging from the tried and true (Gap, Eddie Bauer, Crate & Barrel) to the distinctly different (American Girl, Lush, Tiffany & Co.). Relax at Mitchell's Ocean Club, known for prime steaks and seafood, or take in a movie on the AMC Imax screen. 160 Easton Town Center, Columbus 43219, 614/337-2200, eastontowncenter.com

Short North Arts District: Art galleries and specialty shops lend a Bohemian vibe to this neighborhood. Create your own taper at Candle Lab, which stocks more than 100 fragrances, or browse upscale kitchen gadgets and cutlery at Cookware Sorcerer. Gallery Hop is held the first Saturday night of each month. When it's time to eat, head to the Northstar Cafe, known for its local and organic ingredients. Lincoln Avenue and North High Street, Columbus 43215, 614/299-8050, shortnorth.org

German Village: Settled by immigrants in the mid-1800s, the homes and businesses here reflect the architecture of the district's founders. Bibliophiles love The Book Loft, a 32-room emporium. Caterina Ltd. specializes in exquisite European wares, while Helen Winnemore Craft Gallery sells American-made art. South Third and West Beck streets, Columbus 43206, 614/221-8888, germanvillage.com

***

Lush Living
Find inner (and outer) peace and plenty of pampering at this pastoral oasis.
More than 1,000 acres of forest filled with maples, pines and plenty of white-tailed deer surround rolling pastures where horses roam. Henry David Thoreau would have loved this place.
"Nature definitely surrounds you here, along with the simplistic ideas of balance, harmony and serenity Thoreau believed in," explains Kate Dobrzeniecki, general manager of Walden, the Aurora spa and lifestyle community named after the 19th-century writer's famous book about the great outdoors.
Nature's bounty, however, is only part of the picture. A championship 18-hole golf course, five-star dining, an opulent spa and a slate of classes that include yoga, cooking and horseback riding make Walden a popular destination no matter the season.
"Many of our guests want to get away before the holiday rush and the stress that accompanies it," Dobrzeniecki says. "There's nothing like ordering a drink, sitting by the fireplace and letting your cares melt away."
Walden makes that goal easy to achieve. The inn's 22 spacious suites are made for relaxation. Most feature fireplaces and Jacuzzi tubs, and all have a private patio or balcony.
Walden's full-service spa and salon offers a variety of treatments, ranging from a chakra-balancing massage to a hot- and-cold-stone facial. Each spa guest is assigned a private suite with a filled bubble tub and multihead steam shower.
Dining options are available for every palate. The Barn — Walden's signature gourmet dining room set in a 200-year-old elegantly restored outbuilding — features filet mignon, goat cheese and fresh herb ravioli and sauteed scaloppini of veal tenderloin. The Clubhouse offers casual fare ranging from stone oven-baked pizzas to chicken potpies
"We want our guests to leave Walden feeling rejuvenated by their stay and to love the experience of being here as much as we do," Dobrzeniecki says.
1119 Aurora-Hudson Rd., Aurora 44202, 330/562-5508, yourwalden.com.
---

Shopping Trips
From a quaint downtown to an expansive outlet, buying options abound within a 15-minute drive from Walden.
First & Main: This pedestrian-friendly district offers a slice of Americana and an impressive lineup of stores. National brands such as Chico's and Jos. A. Bank are mixed in with a host of locals. Nicky Nicole offers fashionable clothing and accessories for girls, while Heather's Heat & Flavor boasts more than 400 spices and hot sauces. Great dining options abound, including 3 Palms, a pizza shop that features a wood-fired oven from Italy.
State Routes 303 and 91, Hudson 44236, 330/653-9530, firstandmainhudson.com
Downtown Chagrin Falls: Chagrin Fall's Main Street looks as if it would be at home on a movie studio backlot. From the historic Popcorn Shop to the cozy Fireside Book Shop, the place oozes nostalgia and small-town charm. Natural home fragrances and bath products fill the Village Herb Shop, while Artful Yarn offers ideas on how to stay warm this winter by carrying fibers supplied by female- and family-owned companies.
Main Street, Chagrin Falls 44022, 440/247-6607, yourhometownchagrinfalls.com
Aurora Farms Premium Outlets: Michael Kors, Ann Taylor, Calvin Klein, Brooks Brothers, Tommy Hilfiger — they're all here at this 70-store shopping spot. In addition to clothing stores, visitors will find Longaberger, the Ohio-based company that made collectible baskets famous, and Kitchen Collection, which carries a large assortment of pots, pans, utensils and spices for the home.
549 S. Chillicothe Rd., Aurora 44202, 330/562-2000, premiumoutlets.com/aurora

***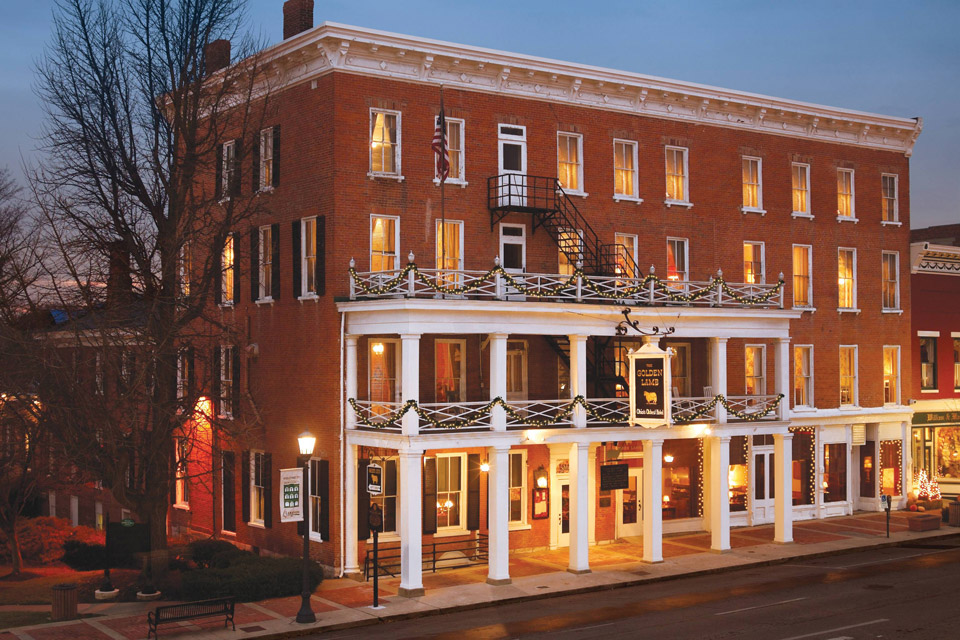 Historic Stop
Rest your head at a 200-year-old spot visited by U.S. presidents and a host of political dignitaries and literary icons.
In the waning days of 1803, Jonas Seaman obtained a license to open the Golden Lamb — a "house of public entertainment" — in the young village of Lebanon for a mere $4. No one would have guessed then that his modest inn and carriage station would evolve into a landmark that now stands as the state's oldest continually operating business.
"If you're someplace else and you mention Lebanon, Ohio, if the person knows the town at all, they know The Golden Lamb," says John Zimkus, the inn's historian and lecturer. "I've heard it from people in Gettysburg, Mackinac Island and all over the country."
An impressive list of political and literary notables have walked the halls of inn over the years, including 12 sitting and former U.S. presidents, stretching from John Quincy Adams to George W. Bush. Samuel Clemens (before he was known as Mark Twain) and Charles Dickens visited as well. Due to its location midway between the National Road and Cincinnati, the inn was a natural stop for those passing through Ohio during the 1800s.
Each of the inn's 18 rooms bear the name of one of The Golden Lamb's famous guests, and its restaurant serves traditional and seasonal dishes.
The feel of the place has changed relatively little over the past two centuries. Rooms and hallways are furnished with original Shaker and Victorian-era furniture, including a 10-foot rosewood headboard that's believed to be crafted by the same furniture maker who made a similar piece for the White House's Lincoln Bedroom. Thankfully, that sense of historical authenticity doesn't apply to everything. Each guest room is equipped with Tempur-Pedic mattresses, flat-screen televisions and Wi-Fi.
"At the end of the day, people don't want to sleep on a straw bed to take in the experience," says Bill Kilimnik, The Golden Lamb's general manager. "We provide those comforts while maintaining the charm and quaintness."
27 S. Broadway, Lebanon 45036, 513/932-5065, goldenlamb.com
---

Shopping Trips

Browse the shops of historic downtown Lebanon or find great deals on designer names just a few minutes down the highway.

Cincinnati Premium Outlets:
Conveniently located along Interstate 75, Cincinnati Premium Outlets is home to a wealth of top brands, including Banana Republic, J. Crew, Michael Kors, BCBG Max Azria and Polo Ralph Lauren. But that's just the start of the list of big names at this 100-store destination. There's also an indoor food court filled with casual fare when it's time to grab a bite and an outdoor playground for the kids.
400 Premium Outlets Dr., Monroe 45050, 513/539-0710, premiumoutlets.com/cincinnati


Ikea:
Anyone who has ever been to an Ikea store will attest to the fact that the Swedish furniture retailer offers an experience alongside its vast variety of low-priced and easy-to-assemble home furnishings. West Chester is the home of Ohio's only Ikea showroom, and the retailer's intricately designed display areas offer customers plenty of inspiration when thinking about how to furnish and arrange their own living spaces. Hungry shoppers can also pick up some of the store cafe's signature Scandinavian fare, including Swedish meatballs and lingonberry juice.
9500 Ikea Way, West Chester 45069, 888/888-4532, ikea.com
Historic Downtown Lebanon:
Antique shops line the streets, and the Village Ice Cream Parlor & Restaurant (the second-oldest business in town behind The Golden Lamb) has been serving guests since July 4, 1969. But two new stores are adding to the district's draw as a shopping destination. Green Country Market offers a mix of gifts ranging from kitschy to chic, including handmade soaps, candles and jewelry. Next door, the Rose & Remington stocks local and international designer clothing brands for women of all ages while embracing a hip and creative vibe.
Broadway and Main streets, Lebanon 45036, historicdowntownlebanon.com
***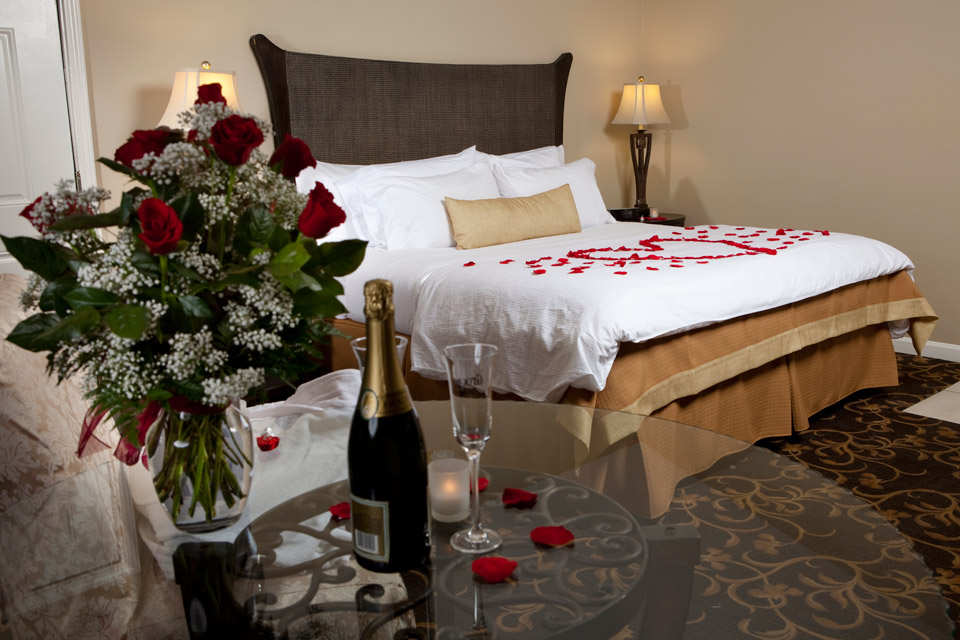 Romantic Escape

With private pools and garages, Belamere Suites offers a stay that's different than anything you've likely encountered before.
A trail of rose petals leads the way to a room filled with glowing candles and a flickering fireplace — not your typical hotel-room entrance. But what's going on at Belamere Suites is anything but the usual overnight accommodations.
That attention to all the romantic details, combined with a Jacuzzi tub, a two-person walk-in shower and a private parking garage for each room all help set the mood for couples looking for a special getaway.
The complete lack of windows as well as private swimming pools in 23 of the 25 rooms help create an immersive and comforting experience that owner John Kranjec sees as the ultimate in privacy.
"We want the cocoon they are in to be fantastic," explains Kranjec, who owns Belamere Suites with his wife, Teresa.
They built the place 11 years ago as an out-of-the-ordinary couples' retreat. Part of that approach is their rule that no one under the age of 21 is permitted to stay.
Located at the end of what today is, oddly enough, a bustling industrial park, the hotel is located on a tree-filled and beautifully landscaped property just a few minutes away from the Levis Commons outdoor shopping center.
Continental breakfasts are delivered to rooms every morning, and 15 local restaurants will bring meals in, so guests can relax in seclusion. The 24-hour staff will even supply fresh-baked cookies and milk to those who want an evening snack.
That attention to detail has paid off, too. TripAdvisor ranked Belamere Suites the 20th most romantic hotel in the United States in its 2014 Travelers Choice awards — the only Midwest hotel included on the list.
"The point is to have a memorable stay here, and we'll do anything possible to ensure that," Kranjec says. "We have hosted more than 70,000 couples in the last 11 years and it's very, very rare that guests are not 100 percent pleased."
12200 Williams Rd., Perrysburg 43551, 419/874-2233, belameresuites.com

---
Shopping Trips

A stay in Perrysburg offers a wealth of retail options within a 6-mile radius, whether you're looking for favorite brands or the ultimate in outdoor gear.

Levis Commons:
Trendy names such as J. Jill and Francesca's are intermixed with independent retailers at this outdoor shopping center that boasts nearly 100 stores. The locally owned Fiddle Stix Boutique and Gallery carries a large selection of Vera Bradley, Coton Colors and Mud Pie lines, while Lily's features an array of handmade housewares and gifts. When it's time for a break, shoppers can choose from nearly a dozen places to grab a bite, including the Funny Bone Comedy Club and Restaurant, which hosts stand-up comedians five nights a week.
3201 Levis Commons Blvd., Perrysburg 43551, 419/931-8888, shopleviscommons.com
The Shops at Fallen Timbers:
This outdoor shopping center offers a wealth of mainstream names, from anchors such as Dillards and J.C. Penney to beloved brands such as Gap and Victoria's Secret. Specialty finds among the nearly five-dozen businesses include Lullaby Lane Baby Boutique and Learning Express Toys. Chain favorites Red Robin and Granite City Food & Brewery are among the dining options.
3100 Main St., Maumee 43537, 419/878-6255, theshopsatfallentimbers.com
Bass Pro Shops:
This sprawling, two-story space covers three football field's worth of outdoor gear, whether one wants to camp, fish, hunt, boat or waterski. The store carries a wide variety of clothing and shoes, including popular outdoor brands such as Columbia, Carhartt and The North Face. The adventure outpost even stocks bigger-ticket buys, from canoes to boats.
10000 Bass Pro Blvd., Rossford 43460, 419/891-3900, basspro.com