Travel
| Long Weekends
Western PA: City & Country
Whether you want to take in a ballgame, revisit your childhood or shop with friends, here are seven western Pennsylvania attractions to get you started.
June 2018
BY Vince Guerrieri | Photo courtesy of Heinz History Center
June 2018
BY Vince Guerrieri | Photo courtesy of Heinz History Center
Mister Rogers' Neighborhood

In 1968, a 40-year-old puppeteer and Presbyterian minister named Fred Rogers premiered his show on Pittsburgh's PBS station. "Mister Rogers' Neighborhood" became a television institution, and even today, the Latrobe, Pennsylvania, native's message of friendship and kindness resonates throughout Pittsburgh's Heinz History Center.

There had always been pieces associated with Rogers and his show on display at the museum, but in 2015, a large exhibition opened featuring Rogers' ever-present sweaters and sneakers and set pieces from his living room and the Neighborhood of Make-Believe. Museum curator Emily Ruby says the exhibits have been learning experiences for her, too, as she found out details about the show's characters — such as how X the Owl used a printing press because children learn in school that Founding Father Ben Franklin did as well.

"Knowing how thoughtful Fred Rogers was, I'm sure he had those core characteristics thought out," Ruby says. "He wanted to represent different personalities that children would relate to." 1212 Smallman St., Pittsburgh, Pennsylvania 15222, 412/454-6000, heinzhistorycenter.org

---

Lawrence County's Wine and Brew Trail

Home to 15 dry municipalities, Lawrence County seems like an unlikely place to celebrate fermented grains and grapes. All six stops along its Wine and Brew Trail are owned by Pulaski, Pennsylvania-based Nova Destinations, but each has a distinctly different atmosphere.

"It's shocking to people that the same company owns all of them," says operations supervisor Capri Mateer. "The only thing we want these places to have in common is great service."

Nova Cellars offers a traditional winery experience, while Brew 32, located upstairs, serves craft beers in a sports-bar atmosphere. Fractured Grape is focused on philanthropy, with wine sales benefitting local charities, and Knockin Noggin uses local apples and flavorings such as chocolate, cherries and limes to make hard cider. Visit nova.wine for more information about these Nova Destinations locations. For more information about the Wine and Brew Trail, go to visitlawrencecounty.com.

---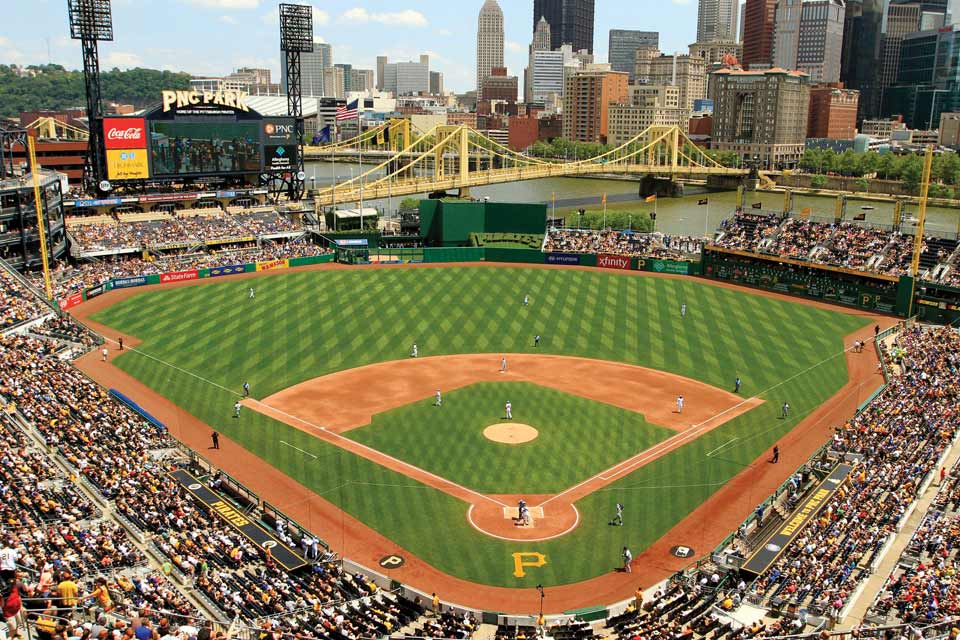 PNC Park & The Clemente Museum

PNC Park offers a memorable ballpark experience, no matter how the Pittsburgh Pirates fare. The Jim Beam Left Field Lounge provides a place to kick back, while Pennsylvania-based food favorites such as Quaker Steak & Lube wings and Primanti Bros. sandwiches are among the concessions. For the ballpark's best views of the downtown skyline, buy seats on the third-base side.
Any baseball-themed trip to Pittsburgh should also include a stop at The Clemente Museum, located in a former firehouse in the Lawrenceville neighborhood. The museum, which offers tours by appointment, honors the life of Pirates Hall of Famer and humanitarian Roberto Clemente.
"He meant a lot to a lot of people," says Elizabeth Harrison, the museum's assistant director. "He's still very present in people's thoughts and in the game of baseball." 115 Federal St., Pittsburgh, Pennsylvania 15212, 800/289-2827, pirates.com; 3339 Penn Ave., Pittsburgh, Pennsylvania 15201, 412/621-1268, clementemuseum.com

---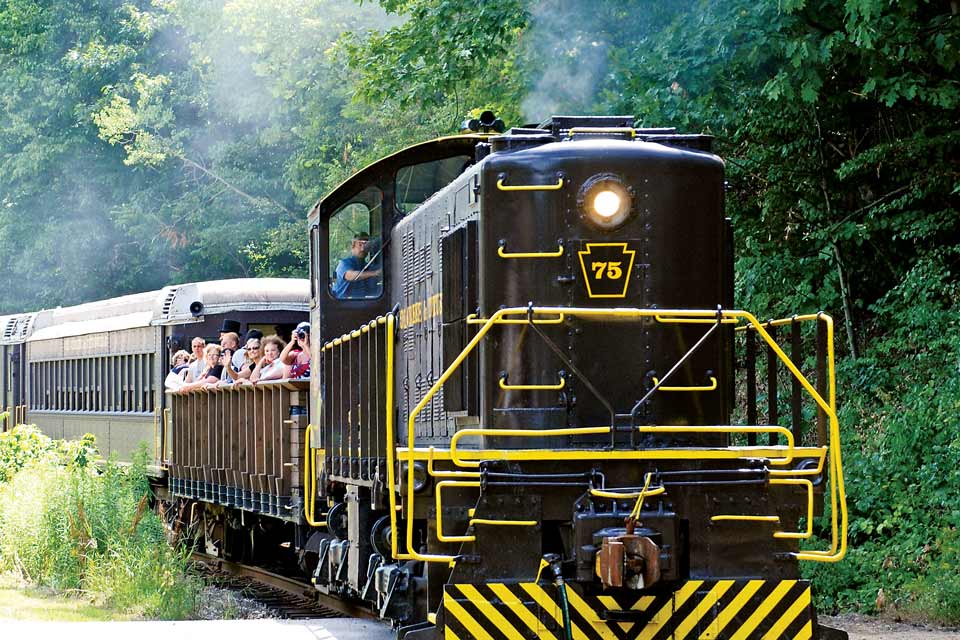 Oil Creek & Titusville Railroad

In 1859, Edwin Drake drilled an oil well near Titusville, Pennsylvania, setting off the United States' first oil boom. That oil history remains omnipresent in excursions offered by the Oil Creek & Titusville Railroad in Crawford County.

The three-hour, 27-mile train tours aboard vintage 1930s passenger cars pass through Oil Creek State Park. There's a boarding platform at Drake's Well, a reproduction of the well Drake himself drilled, and a restored 1892 Perry Street Station museum details local oil and railroad history.

"Drake's Well really kick-started modern technology," explains Joe Stahlman, an Oil City native and the railroad's operations manager.

The rail line also offers special excursions, including murder mystery dinners, a fall foliage tour and Santa's train in December. Lodging is available next to the Perry Street Station at the Caboose Motel, which has 21 rooms — each a vintage caboose. 409 S. Perry St., Titusville, Pennsylvania 16354, 814/676-1733, octrr.org

---

Grove City Premium Outlets

Grove City Premium Outlets manager Carmen DeRose sees shoppers using this popular Mercer County outlet mall as the jumping-off point for a weekend full of activities in western Pennsylvania, but a visit can also be an event unto itself. The outlets are particularly popular for out-of-state shoppers because clothing is sales-tax-free in Pennsylvania.

Some stores have been part of Grove City Premium Outlets since the shopping destination opened in 1994, including Bass, Timberland and Brooks Brothers, while other popular brands such as Nike, The North Face and Coach have opened since. Francesca's and Kate Spade New York are new for 2018.

"We're always changing our amenities," DeRose says. "It's an evolution."

There's a children's play area as well as a food court. Other dining options include western Pennsylvania staples Primanti Bros. and Eat'n Park and even a Nova Winery. New this year is Burgerz and Dogz. 1911 Leesburg Grove City Rd., Grove City, Pennsylvania 16127, 724/748-4970, premiumoutlets.com/outlet/grove-city

---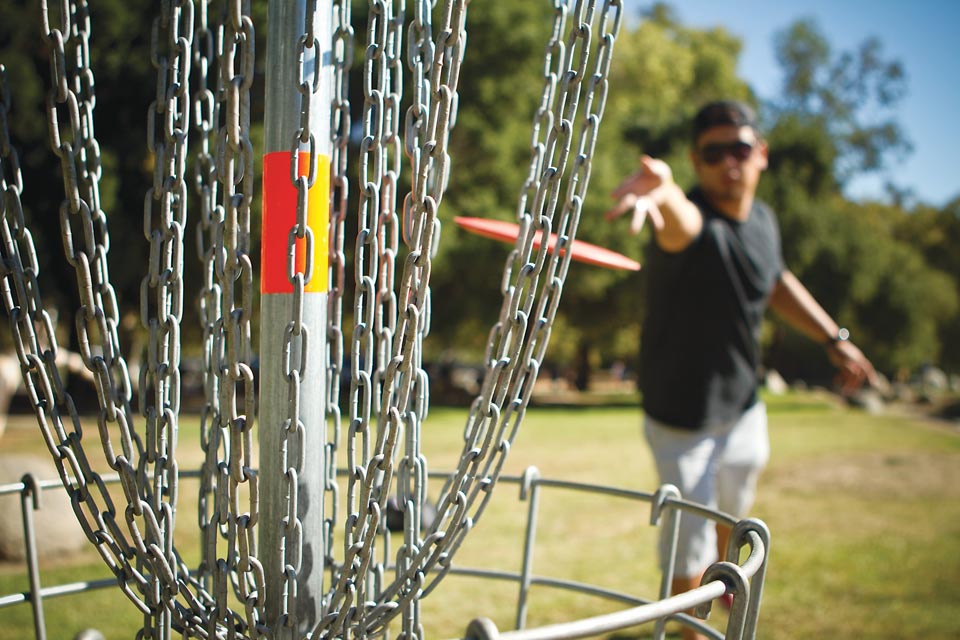 Disc Golf in Butler County

Mark Twain once said golf is a good walk spoiled. The sport of disc golf is just the opposite for Eden Gonano of Pittsburgh Flying Disc, an organization that oversees and promotes the sport in western Pennsylvania.

"If you're into getting outside and exploring and hiking but want a little bit of a twist, throwing discs at a target makes it a little more interesting," he says. "It's an activity you do with your friends or if you're trying to meet new people. … Plus, it's easier to get a hole-in-one on a disc-golf course."

Butler County is home to two disc-golf destinations: a 5,470-foot course at Slippery Rock University, and a 6,441-foot course at Moraine State Park, each with their own challenges.

"Moraine State Park is more of a wooded course," Gonano says. "Slippery Rock is more open. You're navigating distance, not trees and other obstacles."

There will soon be a third disc-golf course, this one in Cranberry Township. Ground was recently broken for the 10,700-foot North Boundary Park Disc Golf, which when it's completed this fall, will be one of the longest courses in the country. Go to visitbutlercounty.com for more information about these Butler County attractions. For more information about disc golf in western Pennsylvania, visit pfds.org.

---

Air Heritage

More than 80 years of aviation history are housed inside a hangar at Pennsylvania's Beaver County Airport, where Air Heritage owns and maintains about a dozen aircraft in various states of repair. Or, as Air Heritage board president Bill Schillig says, "We've actually got more projects than we've got people to work on them."

The museum, which was established in 1990, concentrates on aircraft of the World War II and Vietnam War eras, and its collection includes a Douglas C-47 used during the Battle of the Bulge, and a C-123 cargo plane nicknamed the Thunder Pig — one of Schillig's personal favorites. "I flew a lot of those when I was in the military," he recalls.

The hangar also houses a small museum, which includes a collection of model planes donated by aircraft aficionados. 35 Piper St., Beaver Falls, Pennsylvania 15010, 724/843-2820, airheritage.org