Travel
| Long Weekends
Western PA Breweries
Check out seven inviting brewpubs and taprooms in Pittsburgh and the surrounding area.
June 2016 Issue
BY Hallie Rybka | Photo courtesy of Church Brew Works
June 2016 Issue
BY Hallie Rybka | Photo courtesy of Church Brew Works
Church Brew Works | Pittsburgh

From the original stained-glass windows to the cathedral ceilings to the Pious Monk Dunkel and Pipe Organ Pale Ale on tap, this century-old building's roots are evident. Opened in 1996, Pittsburgh's Church Brew Works saved the structure from a possible demolition.
"We try to be respectful, but we play a little tongue and cheek with the religious theme in beer names," says brewery manager Justin Viale.
At least 12 beers are offered at any time, and the brewery serves American cuisine and pub staples. The beer makes its way into the kitchen, too. The dunkel is used in the barbecue sauce and the brewpub teams up with Pittsburgh's Dave & Andy's Homemade Ice Cream to create an exclusive malted flavor.
Seasonal Star:
The Coconut Stout is one of Church Brew Works' popular summer varieties. "It's an American stout, but brewed with a lot of coconut," says Viale, "about 100 pounds per batch."
3525 Liberty Ave., Pittsburgh, Pennsylvania 15201, 412/688-8200, churchbrew.com
***

Spoonwood Brewing Co. | Bethel Park


Of the eight to 12 beers on tap at Spoonwood Brewing Co., the Killer Diller IPA is the only one that's always there. "We average a new beer every week," adds Spoonwood Brewing Co. owner Steve Ilnicki.
Open since 2015, this brewery in the Pittsburgh suburb of Bethel Park also serves wine, mead and cider, and its food menu features seven wood-fired oven pizzas, such as the Rolls Royce topped with prosciutto, arugula, cherry tomatoes, house-made mozzarella, smoked provolone and Parmesan.
On Tap: Cold Drip City, a popular light amber ale infused with cold-brewed espresso coffee, shows up on tap two to three times a year. "This is actually a lighter beer," says Ilnicki, "but it has a really strong coffee aroma and flavor."
5981 Baptist Rd., Pittsburgh, Pennsylvania 15236, 412/833-0333, spoonwoodbrewing.com


***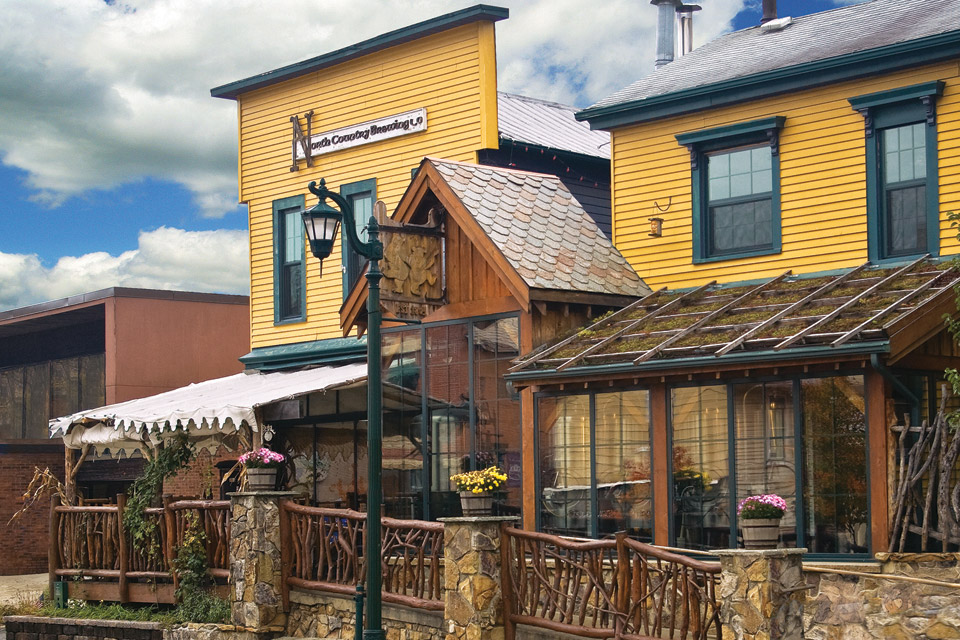 North Country Brewing Co.
|
Slippery Rock
Spent brewing grains help feed the Scottish Highland and Angus cattle at North Country Brewing Co.'s farm, and ingredients grown there show up on the brewery's menu. But the real treasure at this 11-year-old spot is its historic structure.
Built in 1805, the cabin and barn became a public tavern in 1835 and then a coffin- and cabinet-making business in the late 19th century.
"We put it back to its original status as a public tavern," says co-owner Bob McCafferty. "There are some booths that are finished off with curly maple and black walnut that was left over from when they built coffins."
Among the brewery's flagship beers are the Station 33 Firehouse Red — a rich, malty, ruby-colored ale — and the Slimy Pebble Pilsner. "It's a different take on the Slippery Rock name," says McCafferty.
Tune In:
North Country Brewing Co. features live music and entertainment daily, from bluegrass to folk, and there's an open-mic night every Tuesday.
141 S. Main St., Slippery Rock, Pennsylvania 16057, 724/794-2337, northcountrybrewing.com
***
Voodoo Brewery
|
Meadville

This Crawford County brewery offers six year-round beers and a range of seasonal varieties. Open since 2012, the brewpub features a rotating weekly lineup of dishes made with local and organic ingredients. "We've taken American pub fare and English pub fare and added a southern flair," says owner Matteo Rachocki.
Roasted red pepper hummus and soft pretzels with beer cheese are recurring favorites, as well as the margherita pizza. "It's my wife's great-grandmother's old pizza dough recipe, and we use spent grain to make it," says Rachocki.
Hop Monster:
Try the Killa Pilz, a Czech, German and Polish-style pilsner. "It lays the smack down with eight varieties of European hops," says Rachocki.
215 Arch St., Meadville, Pennsylvania 16335, 814/337-3676, voodoobrewery.com
***

Penn Brewery
|
Pittsburgh
Penn Brewery opened in 1989, but the space it calls home has been making beer since 1848. It's located in Deutschtown, an area of Pittsburgh settled by German immigrants. That heritage lives on in Penn Brewery's flagship varieties.
"We're definitely a German-style brewery," says co-owner Linda Nyman. The beer list here includes the Vienna-style lager Penn Pilsner, the characteristically northern-
German Kaiser Pils and the Penn Weizen Bavarian-style wheat beer. Oktoberfest and St. Nikolaus Bock are among the seasonal offerings, while summer brings Tangerine Swirl, a light beer with hints of tangerine and vanilla.
The food menu blends German specialties with modern pub fare and regional dishes such as pierogies and kielbasa. "We try to give a nod to our Pittsburgh customs and traditions," says Nyman.

Historic Notes:
The long, wooden tables in the beer hall serve as a reminder of the building's brewing history, as does the cobblestone biergarten. "That used to be the area where the horse-drawn wagons would come up and pick up the barrels of beer," says Nyman.
800 Vinial St., Pittsburgh, Pennsylvania 15212, 412/237-9400, pennbrew.com

***
Rivertowne Brewing
|
Export
Drive east from Pittsburgh, and you'll find the rural oasis of Rivertowne Brewing. This taproom at the brewery is one of the beer-maker's five Pennsylvania locations, which also include three restaurants and a brewpub.
Tour the production facility before sampling a beer flight chosen from the 16 varieties on tap, such as the popular Hala Kahiki pineapple ale and the Grateful White, a hazy Belgian wit that delivers a coriander and orange finish.
Lead brewer Andrew Maxwell and the Rivertowne team dream up nearly 100 beers a year, which rotate throughout the five locations. "We always have something at the brewery that isn't available anywhere else," says founder and CEO Christian Fyke.
Fun in a Can:
The brewery's beer-can designs feature its mascot, Wylie the fish, named after the family's German shepherd. "We give [Wylie] a different character and a different personality to represent the flavor that's inside the beer," says Fyke. "Wylie is there to remind you that you should be having fun."
5578 Old William Penn Hwy., Export, Pennsylvania 15632, 724/519-2145, myrivertowne.com
***
Reclamation Brewing Co.
|
Butler
What began as a home-brewing hobby became a business for John Smith, his son and their longtime friend in 2015.
The spirit of Butler County's Reclamation Brewing Co. is reflected in the brewery's rustic, industrial space, where the bar top is made of repurposed scaffolding boards and the 100-year-old floors were refinished. "We're about the beer and the idea of reclaiming the dignity of beer drinking," says Smith.
He pays homage to his Ohio roots with a Cincinnati-style chili spaghetti, and the rest of the menu is heavy in comfort foods, including the rich, hearty Irish stew served in a bread bowl and made with Egan's Stout and burgundy wine.
Irish Influence:
The partners traveled to Ireland and became smitten with Irish pub culture. "The folks were so friendly, and it was a gathering place for the community," says Smith. "We wanted to try to create a microcosm of that here."
221 S. Main St., Butler, Pennsylvania 16001, 724/282-0831, reclamationbrewing.com