Travel
| Long Weekends
West Virginia Train Trips
These four Mountain State train excursions cater to a range of tastes and experiences, whether you're a casual sightseer or an outdoor adventurer.
April 2017 Issue
BY Nathan Havenner | Photo by Chase Gunnoe
April 2017 Issue
BY Nathan Havenner | Photo by Chase Gunnoe
Ever since arriving in West Virginia in the 1850s, the railroad has become an essential part of the state's industry and culture. We sought out some of the Mountain State's best tourist train excursions, whether you're looking for a romantic date night, a secluded camping adventure or a lengthy sightseeing trip. The Durbin and Greenbrier Valley Railroad's Mountain Rail Adventures, based in Elkins, West Virginia, operates three of the excursions, while a fourth is offered in the southern portion of the state by the Collis P. Huntington Railroad Historical Society in Huntington, West Virginia.
GOLDEN AGE
Wisps of cigar smoke swirled around the parlor car cabin as the Baldwin locomotive churned its way up the mountainside. The men wore suits and fedoras and the ladies sported mink coats and stoles during the 300-mile trip from Huntington, West Virginia, to Washington, D.C.'s Union Station — an excursion that epitomized the class and elegance of mid-20th century rail travel.
For the past 50 years, the Collis P. Huntington Railroad Historical Society has been giving train enthusiasts a way to relive those glory days by offering New River Train Excursions that travel within and beyond the borders of the Mountain State.
"We are trying to preserve railroad history," says Joe Rosenthal, assistant general manager for the Collis P. Huntington Railroad Historical Society. "It allows people to be able to experience how people traveled by rail in the 1940s and '50s."
The railroad historical society teams with Amtrak, which attaches classic rail cars to a modern train. Popular trips include the Cherry Blossom Express to Washington in early April, a Fourth of July trip to our nation's capital, (this year's excursion runs July 2 through 5) and fall color tours of the New River Gorge each October (this year's excursions are Oct. 21, 22, 28 and 29).
The Cherry Blossom Express departs from Huntington, West Virginia, before winding its way through the New River Gorge and into the Blue Ridge Mountains before pulling into Union Station in Washington. This four-day, three-night trip takes place around the National Cherry Blossom Festival — an annual celebration of the blooming of 3,000 cherry blossom trees Japan gifted to the U.S. in 1912. A similar multiday excursion is offered to celebrate Independence Day in Washington.
New River Train Excursions' one-day, 300-mile round trip from Huntington to Hinton, West Virginia, allows October riders to take in the beauty of the New River Gorge as fall foliage is peaking. The domed observation car provides the ultimate in unobstructed views. Call for pricing and excursion dates; 1323 Eighth Ave., Huntington, West Virginia 25701, 304/523-0364, newrivertrain.com
***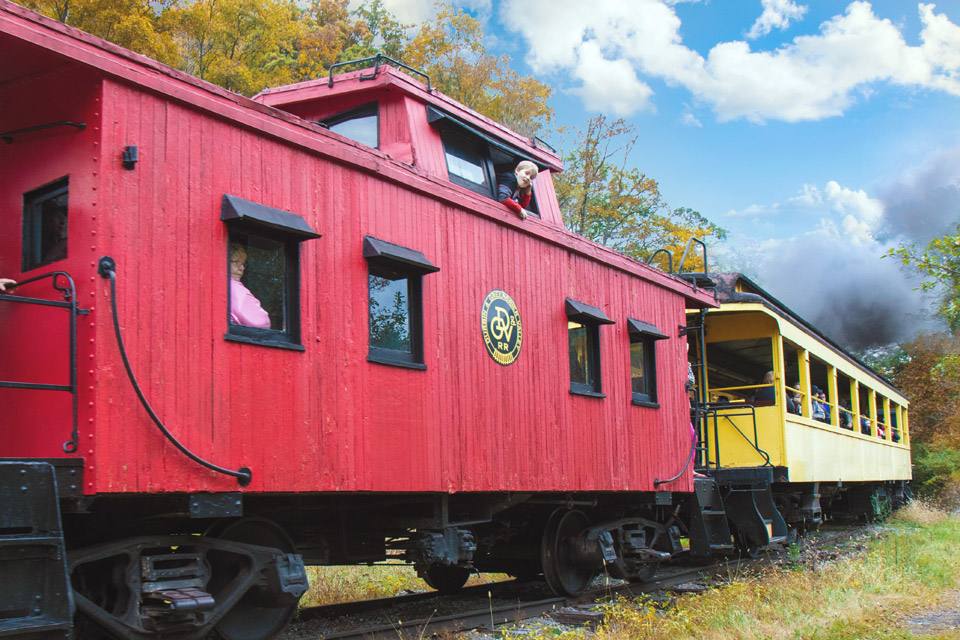 CAMPING TRIP
The rugged wilderness of West Virginia's Appalachian Mountains has served as a home for generations of mountaineers, but it is also a playground for outdoors enthusiasts from across the nation. While hiking, rock climbing and whitewater rafting are local favorites, camping is also a popular West Virginia attraction.
Mountain Rail Adventures has combined this with the state's rich railroading history to create the Castaway Caboose train excursion. Campers spend the night in a vintage caboose, disconnected from the modern world.
"It's very popular," says Matt Scott, manager of group sales and marketing for Mountain Rail Adventures. "We generally always have a waiting list a year in advance."
Campers begin their journey with a ride on the rare 1910 Durbin Rocket. Durbin and Greenbrier Valley Railroad operations manager Mark Smith says the Climax geared locomotive was one of three steam engines specifically created for logging in West Virginia. Charles Scott designed the machine during the late 1870s.
"The Climax was [Scott's] version of how to take a steam engine and make it more powerful to go into the locations that we have here," says Smith.
During the Castaway Caboose scenic railroad tour, campers are left stranded in a secluded location with only the trip's namesake rail car for shelter. Mountain Rail Adventures uses two retrofitted cabooses originally created for the Wabash Railroad to provide a modern camping experience. Each comes with indoor plumbing and a kitchenette and accommodates up to four people.
Stays range from one to multiple nights, and Scott makes a point to let campers know these locations are so remote they are accessible only by rail and have no mobile phone service. "Once people go out there, they seem to love it so much that it doesn't seem to matter," he says. Visit website for pricing and availability; 4759 Staunton Parkersburg Turnpike, Durbin, West Virginia 26264, 877/686-7245, mountainrailwv.com
***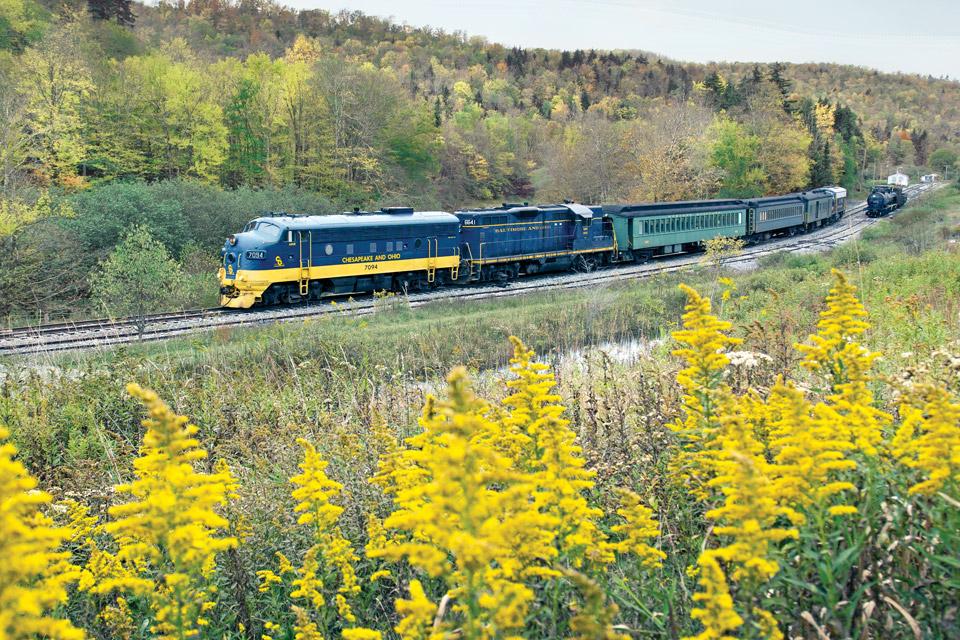 SCENIC ROUTE
Perched atop Cheat Mountain at an elevation of 3,853 feet, the town of Spruce, West Virginia, was created out of necessity. It once served as home to the men who processed the area's trees for the paper mill, and between 1905 and 1925 more than 600 people resided in what was known as the highest settlement east of the Mississippi River.
"There is no one buried at Spruce because of the permafrost," says Mark Smith, operations manager for the Durbin and Greenbrier Railroad. "If you died in Spruce you had to go to either Cass or Elkins to be buried."
Eventually, business slowed and the town regressed off the map and into history. The site of the former town is one of the stops the Cheat Mountain Salamander makes as it winds its way through 128 miles of West Virginia wilderness over the course of an eight-hour excursion.
Named after a small amphibian species found only on Cheat Mountain, the vintage diesel locomotive travels through the S-shaped tunnel that runs below Cheat Mountain and was built during the 1800s.
The site of an 1861 Civil War battle that saw Gen. Robert E. Lee make his first offensive attack of the war, Cheat Mountain has long been a part of West Virginia history. The locomotive also makes a stop at the High Falls of Cheat, located in the 919,000-acre Monongahela National Forest.
"Folks can ride in segments," explains Matt Scott of Mountain Rail Adventures, which operates the Cheat Mountain Salamander excursions. "Elkins is its starting point, but then it goes into the neighboring Pocahontas County, where people can get on and do a shorter duration [trip]." Visit website for pricing and dates; 315 Railroad Ave., Elkins, West Virginia 26241, 877/686-7245, mountainrailwv.com
***
DINNER TRAIN
The table is set with linens and china, but the views offered by the Mountain Explorer Dinner Train are just as inviting. Powered by a vintage diesel locomotive, this excursion invites riders to enjoy a four-course meal in the climate-controlled comfort of a retro dining car.
"It is more of a date night getaway for a lot of folks," explains Matt Scott of Mountain Rail Adventures, which operates the dinner train. "We see a lot of couples and they range from young couples in their twenties all the way up to senior citizens."
Guests board the train at the depot in Elkins, West Virginia, and enjoy an appetizer while they take their seats for the 5:30 p.m. departure.
"Instead of going out to eat at a restaurant, you are on a moving train with a destination," Scott says. "It is kind of like stepping back in time in a sense."
Diners then enjoy a salad and bread course before choosing their entree. Scott says the complete menu for 2017 has not yet been set, but a beef, chicken and fish option are always available. While there is not a vegetarian option on the menu, Scott says special requests can be accommodated.
Although primarily a dinner excursion, the 48-mile round trip also includes a sightseeing stop at the High Falls of Cheat.
"At that point the train stops and folks have about a 30-minute layover," Scott says. "It's a lot of unspoiled wilderness that is really only accessible by rail." Visit website for pricing and dates; 315 Railroad Ave., Elkins, West Virginia 26241, 877/686-7245, mountainrailwv.com