Travel
| Long Weekends
West Virginia: 6 Food-and-Drink Spots
When traveling through West Virginia, make sure these popular stops along the Ohio border are part of your plans.
August 2019
BY Frances Killea | Photo courtesy of North End Tavern
August 2019
BY Frances Killea | Photo courtesy of North End Tavern
Black Sheep Burritos

When Jeremiah Bowen and his friends Patrick Guthrie and Jessica Bright decided to open a restaurant, they bucked the trend. In a world where Mexican-restaurant menus are dominated by hot peppers and chunky salsas, their eatery, Black Sheep Burritos, was built to fold more global flavors into a tortilla.

"A burrito is basically a vessel for the food you want to eat," Bowen says. "You can wrap anything in the world up in a tortilla and call it a burrito."

Black Sheep Burritos opened in 2011, after Bowen met Guthrie and Bright through a mutual friend and they decided to launch a restaurant. Bowen had operated several taco spots in his home state of South Carolina, so the trio decided to take a no-boundaries approach to burritos.

"We didn't know if it was going to be popular or not. We just wanted to do what we thought would be amazing," Bowen recalls. "I guess other people agreed."

Within a few years, Black Sheep Burritos' menu — with fillings ranging from Korean bulgogi to falafel and hummus — was bringing diners in from an hour away. Then, when the owner of the Charleston Brewing Co. wanted to get out of the business, Bowen and his team moved in, opening their own brewery, Bad Shepherd Beer Co. Diners at Black Sheep Burritos' Huntington and Charleston locations can sip brews like The Loud (an IPA) or The Only Hotel Bar in Town (a farmhouse ale) alongside a lineup of creative dishes.

And while the sign outside says "burritos," the most popular item on the menu is actually the Flock of Tacos, which allows diners to choose three from a list that includes cornmeal-fried catfish, roasted beet, Thai shrimp and more. 279 Ninth St., Huntington, West Virginia 25701, 304/523-1555; 702 Quarrier St., Charleston 25301, 304/343-2739, blacksheepwv.com

21 Club at the Frederick

The lobby at the Frederick no longer operates as a hotel commons, and the rooms have long since been converted to office space and apartments. But to the side of a central staircase, a wood-paneled arch welcomes visitors to a dining room rich in history and character.

"The owner of the hotel was sort of a raconteur," says Mark Cross, current owner of the 21 Club, once known as The Elephant Walk. "He was a hunter and skeet shooter. ... He and a friend of his who was an artist drew up the plans for this restaurant when they were out on the Ohio River on his boat."

Inside, a parade of elephants is plastered above exposed brick walls and the curve of the bar resembles an elephant's trunk. The place is a steakhouse at heart, with a menu full of meat and seafood dishes with a side of old-school swank.

"I've had the same guy playing piano in my bar for eight years," he says. "We create a unique atmosphere on the weekends with him playing." 940 Fourth Ave., Huntington, West Virginia 25701, 304/529-0222, 21atthefrederick.com


PARKERSBURG, WEST VIRGINIA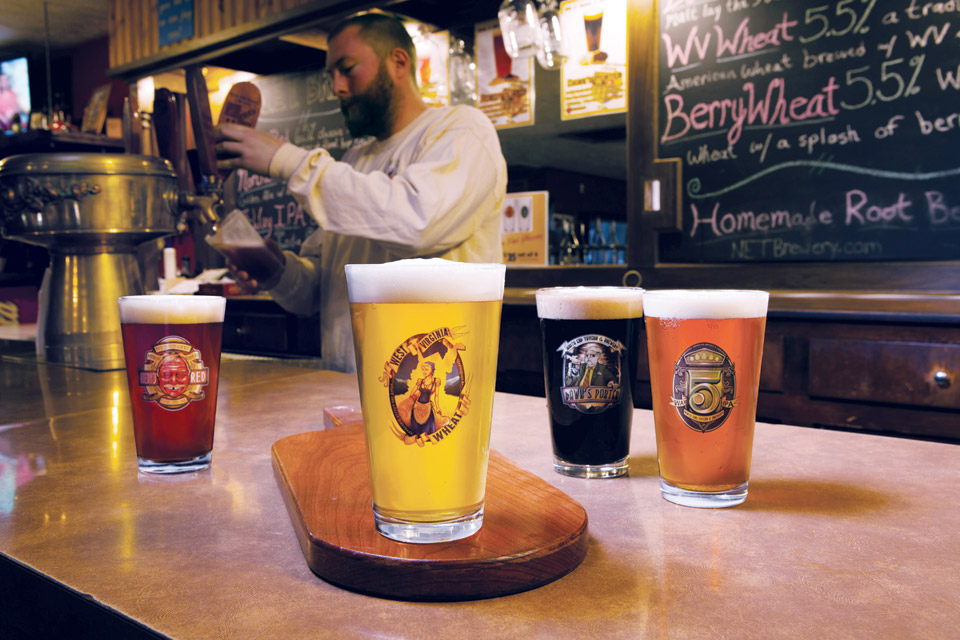 North End Tavern + Brewery

Parkersburg's North End Tavern has long been a neighborhood cornerstone. Founded in 1899, the restaurant claims the title of the state's oldest restaurant. Owner Joe Roedersheimer first got to know the place as he passed it on his walk to school, and it's been part of his life ever since.

"I started working here when I was 18 years old," he says. "[I] went to college, got my teaching degree [and] started teaching for a while."

Several years into his teaching career, the then-owners of the tavern decided to sell, and Roedersheimer bought the place in 1978 at the age of 28. Since then, he has balanced teaching, coaching, even working part-time for Budweiser with putting a new face on the spot. He removed the old pool tables to create a more open atmosphere and offered a new menu focused on hearty servings. Business picked up, which allowed Roedersheimer to make another big change.

"When craft brewing started pounding around, that's when I decided to try my hand at that," he says. "I thought it would be a great marriage."

Roedersheimer started the brewery in 1997, after buying out Cardinal Brewing Co. Soon after, he brought on brewmaster Chris Hopkins, who stocks the tavern's beer list with favorites like the 5-Way IPA and Roedy's Red, an American amber ale.

Roedersheimer still offers domestic beers, too. It's all part of creating a place that welcomes everyone. The food menu does the same with appetizers, salads and nearly two dozen sandwiches, ranging from burgers to German bologna.

"We get a lot of people from out of town because of the craft brewing … but also because of our reputation," Roedersheimer says. "This town lends itself to that. It is just a friendly place to live." 3500 Emerson Ave., Parkersburg, West Virginia 26104, 304/428-5854, netbrewery.com

McHappy's Bake Shoppe

Not all doughnuts are created equal. Wayne Waldeck knows that well. Not only does he co-own four locations of his family business, McHappy's Bake Shoppe, he also spent his childhood waking up to the smells of sugar and fried dough.
"My mother used to get up at 2 or 2:30 in the morning, and fry glazed doughnuts, which she sold on a restaurant run to help supplement [my father's] income." says Waldeck.
His mother also provided recipes for the family's Napoli's Pizza franchise, which he and his brother William started in 1966 following the death of their father. Six years later, the Waldeck brothers involved their mom in another venture.
"We grew up knowing our mother had the best recipes in the world for pizza, spaghetti and doughnuts," he says, "So we thought, Let's get mom in the business."
Now, McHappy's bakes all kinds of cake and yeasted doughnuts as well as muffins and cookies.
"We still make everything from scratch," says Waldeck, noting everything is made without additives, GMOs or preservatives. "Our doughnuts, in about 18 to 20 hours, will become stale. And, of course, that's what you want." 1619 Dupont Rd., Parkersburg, West Virginia 26101, 304/424-9226, mchappys.com


WHEELING, WEST VIRGINIA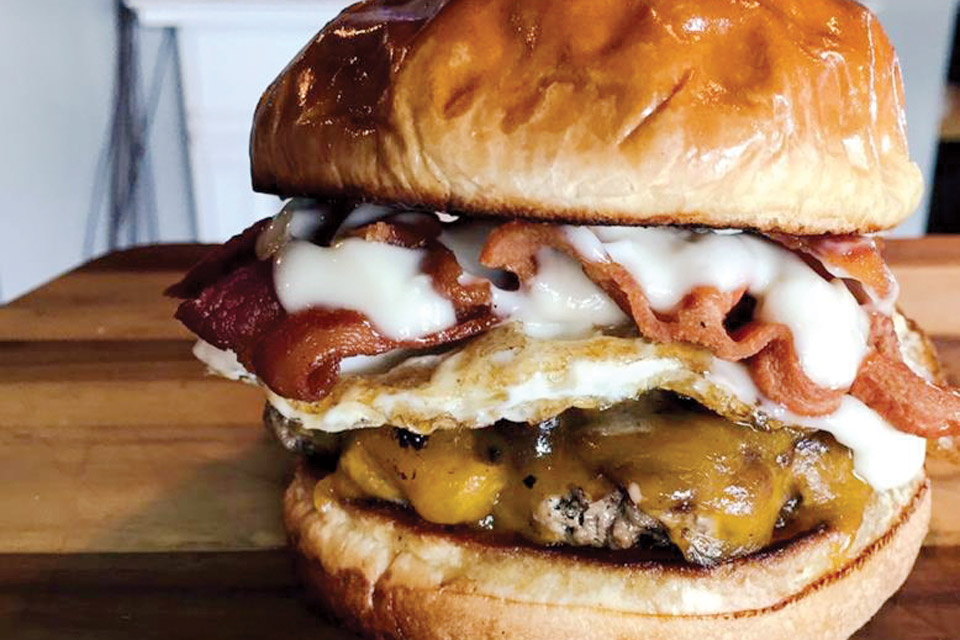 Avenue Eats

Lara Graves and her husband, Phillip Kendall, are Wheeling natives — both born and raised and quick to return after going to college. When they began to discuss opening a restaurant in their hometown, they knew that, above all, they wanted to make diners feel at home. In 2013, they did just that by opening Avenue Eats, a local favorite that serves up sandwiches, salads and burgers inside an old house.

"The house was built back in 1942," says Graves. "I got to meet someone who played there when they were a kid."
A custom porch on the side of the residence offers outdoor dining, while a series of two-tops fills the space in front of the fireplace inside. The menu offers options for both meat eaters and vegetarians, and Graves says she and her husband pride themselves on the variety and their ability to suit dishes to a customer's tastes.
"What really separates us out is that we do customize a lot of stuff," she says. "People love that they get that flexibility in our menu. We're one of the few places that's like, "Right on, yeah. We can do that."

Before opening Avenue Eats, Graves traveled a lot for her job in design, and she and Kendall enjoyed discovering each city's low-key restaurants. Their favorites were always places that didn't mind special requests and felt — from setting to service — like a neighborhood spot. After six years in business, Graves is happy to share that she and Kendall have achieved just that.

"People ask us all the time, 'When are you going to get a bigger place?' ... We're not," she says. "If we go big, you're not going to know us, we're not going to know you ... and I don't want to be that." 1201 Valley View Ave., Wheeling, West Virginia 26003, 304/905-8300, avenueeats.com

Ye Olde Alpha

If the modern food-and-beer scene ever seems too shiny, too trendy or a bit too impersonal, take comfort in the fact there are still places like Ye Olde Alpha.

Born the Alpha Globe Theater in 1919, the landmark blossomed into a bar around the time of Prohibition and the same family operated it until 2005, when current owner Charlie Schlegel purchased the place.

"We literally have generations of customers," says Schlegel. "We have people who work here now whose grandparents used to work here."

He still meets people who had their first drink at the Alpha (under the huge moose head that still hangs on the wall), but he's excited to make first-timers welcome, too.

"We want to do whatever we can to get people to want to come back," Shlegel says.

He also wants to make sure every meal is delicious, from the hearty weekend brunches to the Alpha's bestselling bar-food original: the Greek wing, which involves a toss in olive oil, Greek spices, and feta cheese.

"Food is the No. 1 most important thing," he says, "and we have really, really great food and great people cooking it." 50 Carmel Rd., Wheeling, West Virginia 26003, 304/242-1090, yeoldealpha.com