Travel
| Long Weekends
Summer Fun: Erie, PA/Western NY
A trip to Erie, Pennsylvania and New York's Chautauqua Lake region promises plenty of thrills.
June 2017 Issue
BY Colleen Smitek | Photo courtesy of Ellicottville Chamber of Commerce
June 2017 Issue
BY Colleen Smitek | Photo courtesy of Ellicottville Chamber of Commerce
Follow Lake Erie into Pennsylvania and carry on to Chautauqua Lake and the foothills of the Allegheny Mountains. Along the way, you'll be able to dine along the water's edge, swim in a spring-fed lake, soar through the air, take in the sounds of Grand Funk Railroad and maybe even win some cash. So grab your bathing suit and your hiking boots, and let's get going.
Ellicottville Adventure
This tiny village in New York's Cattaraugus County is home to the well-known ski resort Holiday Valley, but Ellicottville is quickly becoming a four-season destination, with new opportunities for outdoor adventures popping up each year.
This summer, visitors can ride Holiday Valley's chairlift to the top of the mountain, before setting off on one of hundreds of miles of hiking trails. For a more relaxing afternoon, take a dip in the pristine, spring-fed Spruce Lake.
"The lake overlooks the entire village of Ellicottville," says Emily Tingue-Arena, an instructor for Adventure Bound, which offers stand-up paddleboard and kayak rentals at the lake, as well as yoga classes on the boards. "It's quiet and peaceful up there."
One of the village's biggest events of the season is the Ellicottville Summer Music Festival, held at Holiday Valley June 30 through July 2. The main act this year is the classic rock band Grand Funk Railroad, known for hits such as "We're an American Band" and "Some Kind of Wonderful." Adventure Bound, 16 Washington St., Ellicottville, New York 14731, 716/217-4047, adventureboundonthefly.com; Holiday Valley, 6557 Holiday Valley Rd., Ellicottville, New York 14731, 716/699-2345, holidayvalley.com. Tickets for the music festival can be purchased from the Ellicottville Chamber of Commerce by visiting ellicottvilleny.com or calling 800/349-9099.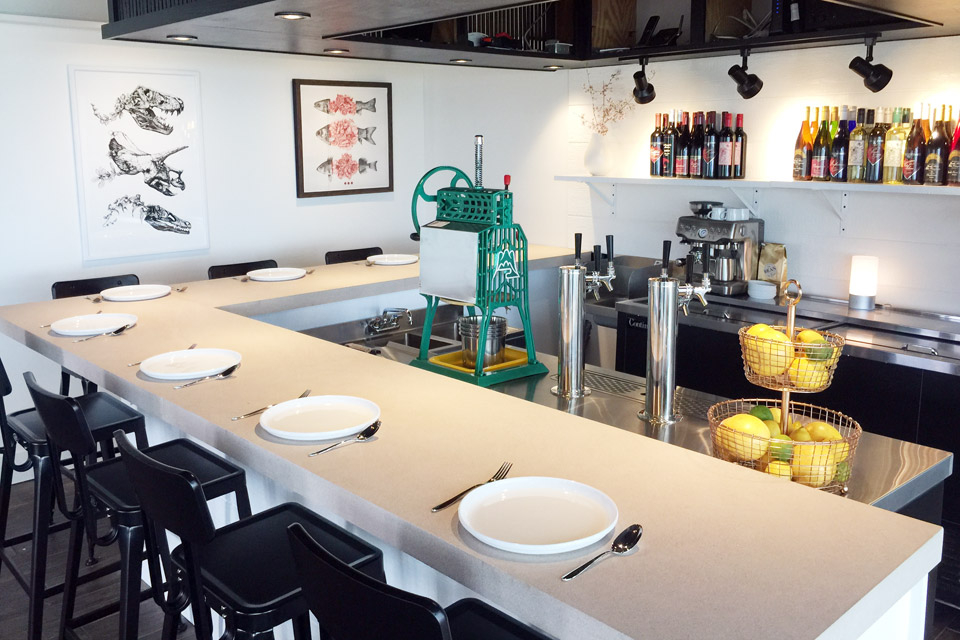 Waterfront Dining

Chef Dan Kern's Noosa is currently one of the most exciting places to grab a table with a lake view and also one of the newest. Kern's first restaurant, 1201 Kitchen in Erie, Pennsylvania, is still thriving, and his newest spot builds on that success at the North East Marina, just east of Erie.
The food is "really simple, really fresh, really straightforward," says Kern, who cites small plates such as hummus burrata and smoked salmon and smoked trout on toast among the menu options. But as inspired as the food is, it gets competition from the view.
"It's probably one of the most panoramic views of the lake you can find," Kern says, adding that the restaurant's 100-seat outdoor patio sits on a bluff 30 feet from the water.
Those looking for additional on-the-water dining options should try Bird, a three-season patio restaurant also helmed by Kern that is part of Five & 20 Spirits in Westfield, New York. Or, head to Chautauqua Lake, where both The Watermark and The Italian Fisherman are on the water. Noosa, 11950 E. Lake Rd., North East, Pennsylvania 16428, 814/347-5376, noosanortheast.com; Bird, 8398 W. Main Rd., Westfield, New York 14787, 716/793-9463, fiveand20.com/bird; The Italian Fisherman, 61 Lakeside Dr., Bemus Point, New York 14712, 716/386-7000, italianfisherman.com; The Watermark, 188 S. Erie St., Mayville, New York 14757, 716/753-2900, watermarkrestaurant.net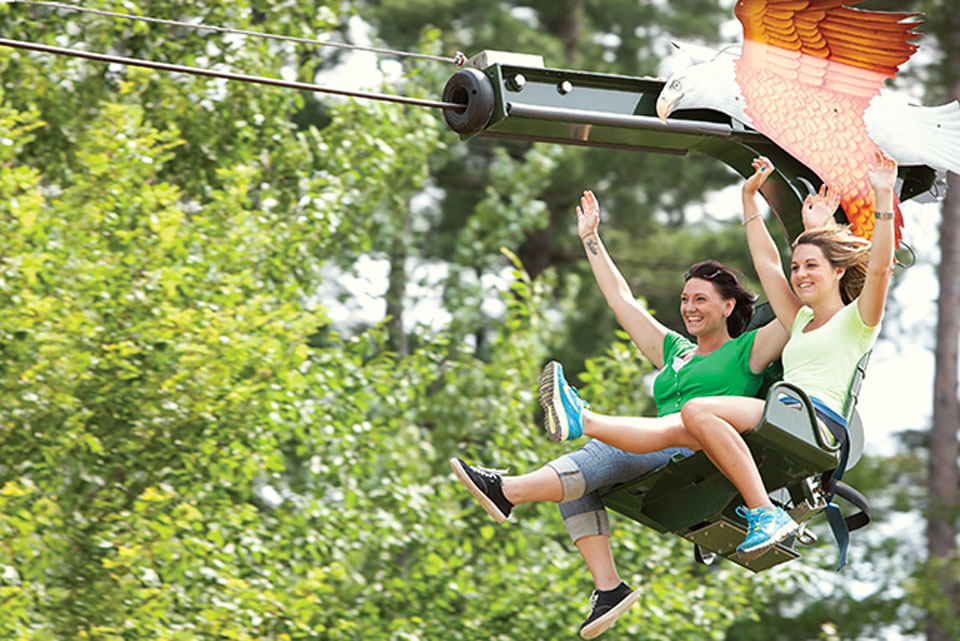 Air Time

Peek'n Peak Resort already has an aerial adventure course, Segway tours, an archery range, 18 holes of championship golf and a 2,000-foot zip line, but this summer brings a new adrenaline-packed experience: Soaring Eagle Zipline.
Unlike traditional zip lines that require a harness, this new attraction invites riders to sit in a two-person seat, buckle the lap belt and get ready for liftoff. The ride, which towers above Peek'n Peak's chairlift, hotel and outdoor pool, pulls the seat holding the riders back 700 feet before launching it forward. Riders don't have to worry about jumping off a platform, slowing themselves down or landing properly. "Anyone can do it," says Brad Gravink, the director of mountain operations. "But it's still going to be a very exciting ride."
Soaring Eagle Zipline, which reaches speeds of about 30 to 35 mph, is part of a plan to turn the ski resort into a true four-season destination. "We're always trying to keep the resort fresh and add new stuff," Gravink says.
The only restriction is that riders must be at least 48 inches tall. The ride is scheduled to open in early June and the plan is for it to operate year-round — even when the snow falls — providing incredible views of the slopes below for winter visitors. $10 per ride; Peek'n Peak Resort, 1405 Olde Rd., Clymer, New York 14724, 716/355-4141, pknpk.com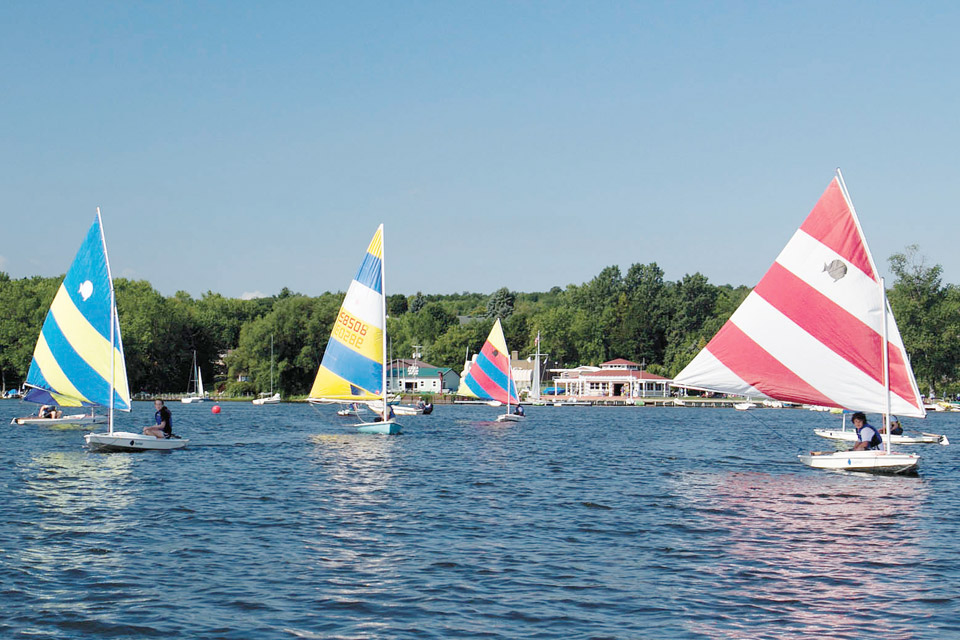 Lake Living

At 17 miles long and just under 2 miles wide, western New York's Chautauqua Lake is a fraction of the size of Lake Erie, but what it lacks in size it makes up for in charming towns, shops and restaurants, as well as opportunities for both intellectual growth and fun.
At the heart of it all, of course, is the Chautauqua Institution, where programing is built around four pillars: arts, religion, education and recreation.
Aretha Franklin performs on June 24 and sacred music from the 125-voice Chautauqua Choir fills the amphitheater every Sunday night at 8 p.m. Ann Patchett, the author of Commonwealth, and Jane Hamilton, the author of The Excellent Lombards, will discuss their new books on Aug. 24, and guests can take a one-week instructional sailing course between June 24 and Aug. 27.
On July 29, visitors can take part in the Chautauqua Lake Association Poker Run by boating, driving, biking or walking to nearly two dozen businesses, where they pick up a card in hopes of having the winning hand at the end of the event.
"There's so much that this little lake offers," says Debi Clementi, who owns Chautauqua Marina with her family. "It would be a wonderful day trip; a wonderful weekend trip." Sign up for the poker run at chautauqualakeassociation.org; The Chautauqua Institution, 1 Ames Ave., Chautauqua, New York 14722, 716/357-6200, ciweb.org

-
Side Trips
Make these destinations and events part of your travels this summer.
Seneca Allegany Resort & Casino: Located in Salamanca, New York, this casino is known for its entertainment as well as its gaming. A few acts to consider getting on the calendar include George Benson and Kenny G. (June 3), Boz Scaggs (June 23), Hank Williams Jr. (July 1) and Donny & Marie Osmond (Aug. 26). 777 Seneca Allegany Blvd., Salamanca, New York 14799, 877/873-6322, senecaalleganycasino.com

Lucille Ball Comedy Festival: This annual tribute to Lucille Ball, the hilarious redhead who was born and raised in Jamestown, New York, happens Aug. 3 through 6. Comedian Jim Gaffigan will headline the festival, but the lineup also includes comedy classes and outdoor screenings of "I Love Lucy." All events at the festival are priced individually; 2 W. Third St., Jamestown, New York 14701, 716/484-0800, lucycomedyfest.com
Presque Isle Downs & Casino: This Erie, Pennsylvania, attraction has both casino games and live horse racing. There are four on-site food options ranging from a casual cafe to fine dining. The upstairs Brew Brothers bar offers pizza, burgers, wraps, ribs or steak. 8199 Perry Hwy., Erie, Pennsylvania 16509, 866/374-3386, presqueisledowns.com

Presque Isle State Park: This 3,200-acre sandy peninsula stretches out into Lake Erie from the city of Erie, Pennsylvania. It offers miles of pristine beaches and opportunities for biking, hiking, birding, fishing and boating, as well as educational hikes and classes. 301 Peninsula Dr., Erie, Pennsylvania 16505, 814/833-7424, visitpaparks.com