Travel
| Long Weekends
Scenic Drives in West Virginia
The twists and turns of the Mountain State's scenic roads have long promised the thrill of adventure and plenty of rugged beauty. Here are four routes to tackle this season.
July/August 2021
BY Nathan Havenner | Photo courtesy of West Virginia Department of Tourism
July/August 2021
BY Nathan Havenner | Photo courtesy of West Virginia Department of Tourism
Route 32 through Canaan Valley

This 20-mile trek begins in the town of Thomas and winds through some of north-central West Virginia's most iconic scenery, including Canaan Valley Resort State Park, Blackwater Falls State Park and the towns of Davis, Harmon and Thomas, featuring a variety of artisan shops, art galleries, antique stores and locally owned restaurants. Located just off the route in the small mountain town of Job, Still Hollow Spirits has been preserving West Virginia's distilling history with farm-to-table spirits, one small batch at a time.

"This area has a long history of moonshining dating back to the original farmers who came through here," says distiller Athey Lutz. "Growing up around here, it was always a part of the culture. People made moonshine, drank moonshine, and the people who come here to visit want to try moonshine and learn about it."

Travelers will enjoy the scenic drive as well as the farm setting once they arrive at the two-still distillery. Visitors can get an up-close look at the distilling process, ask questions and sample Still Hollow Spirits' unique lineup of whiskies. In addition to traditional corn liquor — best known locally as moonshine — there are also innovative spirits made from local products, such as the Maple Syrup Barrel Rested Whiskey that's the result of a partnership with a neighboring maple syrup producer. There are also cranberry- and ginseng-flavored whiskeys, made with ingredients that can locally be harvested in the wild. For more information about Route 32 through Canaan Valley, visit wvtourism.com. To learn more about Still Hollow Spirits, visit stillhollowspirits.com.

***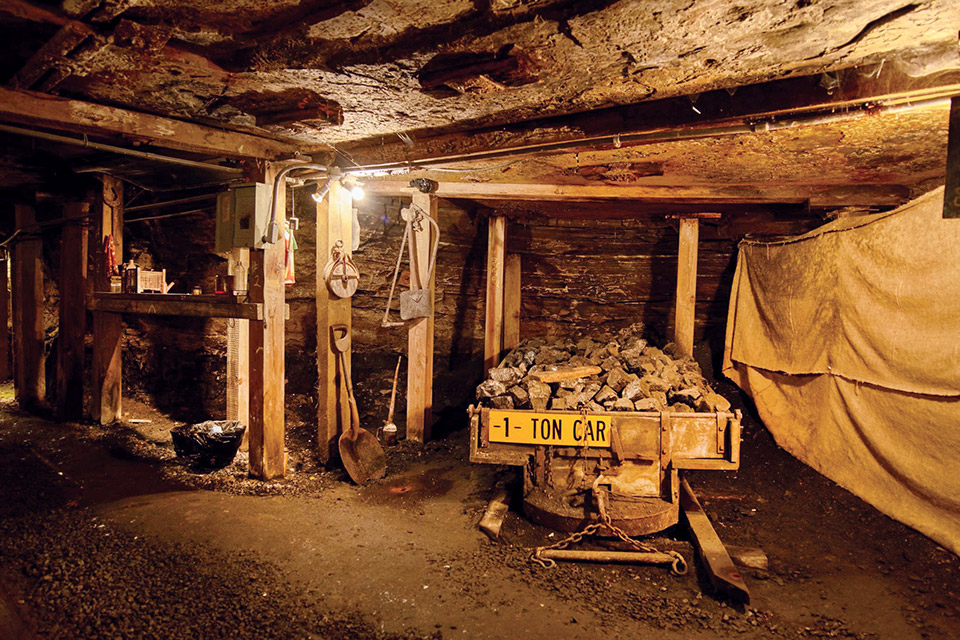 Coal Heritage Trail

For those interested in the industrial history of not only West Virginia but also the United States, the 187-mile Coal Heritage Trail offers a combination of history and hands-on experiences, all surrounded by the spectacular scenery of southern West Virginia's rolling terrain. The Beckley Exhibition Coal Mine offers day-trippers a good understanding of what life was like in a turn-of-the-century coal camp.

"In 2008, several of our federal legislators got together and they were developing the Coal Heritage Authority and the Coal Heritage Trail, and they felt like they needed a trailhead," says museum director Leslie Baker. "Someplace where everybody could go to get oriented about all that they were going to see and how important it all is."

In addition to a real, formerly active coal mine, visitors can also experience the 14,000-square-foot Company Store, which houses a small museum and gift shop. Additional buildings on-site include a re-creation of a typical coal miner's home, mine superintendent's house, school and church.

"A coal camp was very indicative of the way people lived in southern West Virginia during the height of the coal industry," Baker says.

In addition to the Beckley Exhibition Coal Mine, other points of interest along the drive include the Tamarack Marketplace, also located in Beckley, which features products for sale made by West Virginia artisans as well as an art gallery and restaurant, and the Coal Heritage Trail Interpretive Center in Bramwell. For more information about the Coal Heritage Trail, visit wvtourism.com. To learn more about the Beckley Exhibition Coal Mine, visit beckley.org.

***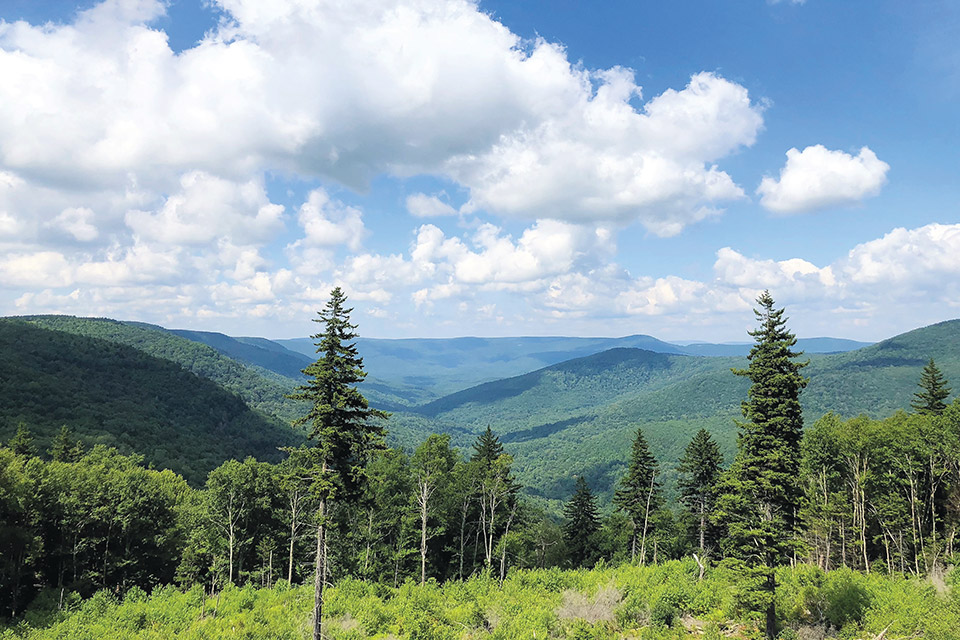 Highland Scenic Highway

Winding 43 miles through Monongahela National Forest, West Virginia's Highland Scenic Highway offers everything from waterfalls to bogs as well as four scenic overlooks that showcase the beauty of the Allegheny Mountains.

Beginning in Cranberry Glades and concluding at U.S. Route 219, just north of Marlinton, the two-lane highway has a 45-mph speed limit, allowing for a leisurely drive through the heavily wooded area.

"The Highland Scenic is kind of interesting in that the eastern segment of it is a National Forest road," says Julie Fosbender, natural resource specialist for Monongahela National Forest. "There are a number of overlooks … you are way up high, and the views are open so you can see out across the landscape."

The 750-acre Cranberry Glades Botanical Area in Pocahontas County provides a great opportunity to pull off the road and enjoy a half-mile, accessible boardwalk that takes travelers out into the bog. Keep an eye out for vegetation native to the Mountain State along with the possibility of spotting wildlife such as white-tailed deer, the American black bear and the West Virginia northern flying squirrel.

Located about 7 miles west of the Cranberry Glades Botanical Area, the Falls of Hills Creek is another must-see spot when traveling the Highland Scenic Highway.

"There is a paved, accessible trail that takes you to see the top fall," Fosbender says, "and then people who are a little bit more adventurous can take the wooden steps down to see all three of the falls." For more information about the Highland Scenic Highway and Monongahela National Forest, visit fs.usda.gov/mnf.

***

Midland Trail National Scenic Byway

Covering 180 miles and stretching from the Kentucky border to the Virginia border, the Midland Trail National Scenic Byway follows U.S. Route 60, passing by serene state parks, resort towns and local shops along its curving roadway.

Taking the shape of a sideways question mark, the trail covers six counties and begins in the town of Kenova. It then follows U.S. 60 through the state capital of Charleston before continuing on to White Sulphur Springs near the Virginia border.

Those looking to stretch their legs can stop at Babcock State Park, located just a few miles off the Midland Trail. Covering 4,127 acres, the park offers a variety of outdoors activities, including nonmotorized boating on its 19-acre Boley Lake, where visitors can rent rowboats, canoes or paddleboats or enjoy the 15 trails.

"We have got miles and miles of trails, both hiking and biking trails," says park superintendent Clinton Cochran. "And of course, we have the famous Glade Creek Grist Mill."

Constructed in 1976 from multiple existing gristmills, the structure not only makes for one of the most photogenic spots in the Mountain State, but it is also fully functioning.

"When the creek level is up, we can turn the wheel and grind cornmeal," Cochran says. "We sell it in a two-pound bag on site, so folks can buy it and take it home to make cornbread, corn pone or whatever they want to make." For more information about the Midland Trail National Scenic Byway, visit midlandtrail.com. To learn more about Babcock State Park, visit wvstateparks.com.