Travel
| Long Weekends
Outdoor Adventures in West Virginia
Spring in the Mountain State offers a multitude of ways to enjoy the outdoors, from hiking and rafting to fishing and bird-watching.
March/April 2023
BY Macy Kile | Photo by Christopher Kent Weisler
March/April 2023
BY Macy Kile | Photo by Christopher Kent Weisler
Tucker County

Those who want to see Tucker County's adventurous side this time of year should book a whitewater rafting excursion on the Cheat River.

"Spring rafting is bigger and better," says Patrick McCann, owner and operator of Blackwater Outdoor Adventures in Parsons. "There's more excitement. Spring is the best time because of the higher water that comes with an influx of rain."

Blackwater Outdoor Adventures is the closest outfitter to Canaan Valley and Blackwater Falls State Park. It's also just a short drive away from the towns of Davis and Thomas, making for convenient access to restaurants and shops. McCann adds that these charming towns are a great place during spring and summer, and the area is ideal for outdoor explorers due to its variety of experiences for adventurers of different skill levels.
In addition to rafting, Blackwater Outdoor Adventures offers stand-up paddleboarding, tubing, canoeing and flatwater kayaking. Those looking to spend a night under the stars can visit the outfitter's primitive riverfront campground that has direct access to the water.

For those looking for a quieter day on the water, fishing in Tucker County offers a tranquil way to connect with nature while enjoying the state's scenic beauty. The West Virginia Department of Natural Resources stocks local rivers with rainbow, brown and golden trout. Head to the Dolly Sods Wilderness to fish Red Creek.

River access begins at the entrance to Dolly Sods, where a mix of native brook trout and stocked trout species are abundant. Other popular spots for anglers include Dry Fork, located in both Randolph and Tucker counties. Dry Fork caters to those who are looking for a wide river and accessible fishing experience.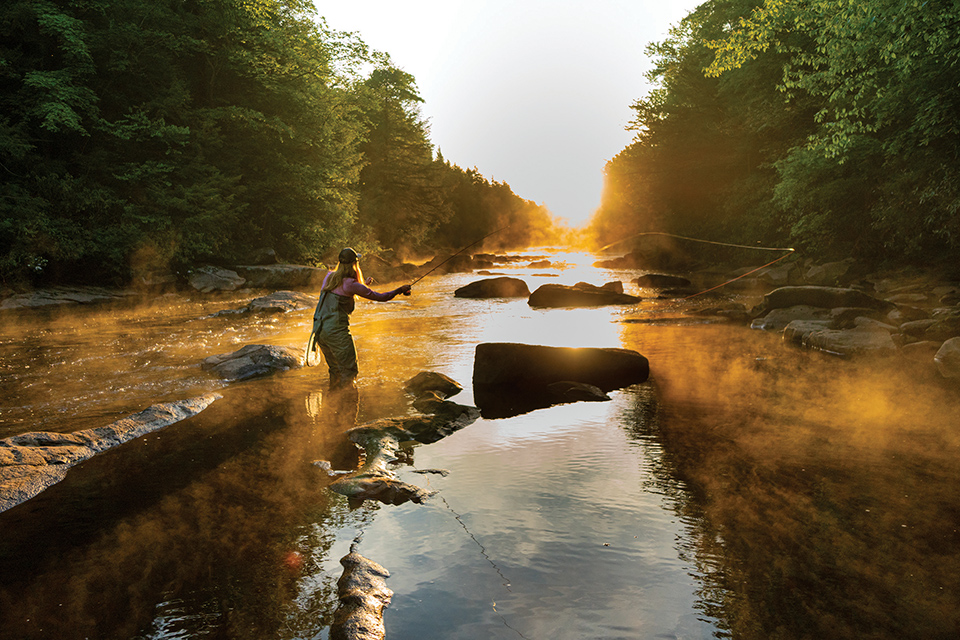 Horseshoe Run is best fished in early spring and provides access to a nearby campground. Red Run is a paradise for fly fishermen looking to catch and release one of the abundant native brook trout. (To learn more about when and where stocking of fish occurs, visit the West Virginia Department of Natural Resources' website.)

Those looking for a relaxing day trip in West Virginia can head to Blackwater Falls State Park, a more than 2,300-acre natural area with rushing waterfalls, serene trails and access to some of the more leisurely outdoor pursuits the Mountain State has to offer.

Check out Elakala Falls and Blackwater Falls, both located within the state park's boundaries. The hike to Elakala Falls is about a half mile, and the one to Blackwater Falls is a quarter mile, although you do have to climb stairs down to the waterfall. The Balanced Rock Trail offers another scenic experience. It takes about an hour to complete, and hikers are surrounded by rhododendrons (West Virginia's state flower), hemlock forests and the sights and sounds of local wildlife.

Flower fans can even plan their trip around the West Virginia Wildflower Pilgrimage that takes place in early May each year. It's an experience that draws wildflower enthusiasts and bird-watchers alike.

--


Jefferson County
Harpers Ferry sits a little over an hour's drive from our nation's capital, but it feels like it's a world away. The natural beauty and opportunities for outdoor recreation draw people from throughout the region and far beyond.

The Appalachian National Scenic Trail — the legendary hiking route that stretches across 14 states from Georgia and Maine — travels along part of Jefferson County, with 2.4 miles of it passing through the heart of historic Harpers Ferry.

"The [Appalachian Trail] brings thousands of visitors each year to experience this walk of history," says Jordan Bowman, director of communications for the Appalachian Trail Conservancy. "It's not just a backcountry path. You feel like you're walking through a Civil War-era town because of the way Harpers Ferry has been preserved."

Abolitionist John Brown's famous 1859 raid on the armory that once stood here in the hopes of prompting an armed revolt of enslaved people is what most of us know about Harpers Ferry, but there is plenty more to learn and see.

Harpers Ferry National Historical Park offers 22 miles of hiking trails and 4,000 acres of natural beauty. There are incredible overlooks, great bike paths and opportunities for more rugged pursuits like rock climbing. Hiking in the area provides options for travelers of all ages and skill levels. Trails range from casual strolls to more strenuous treks. Routes with mountain and river views include the Bolivar Heights Trail, Murphy-Chambers Farm Trail and Loudoun Heights Trail. One of the more popular hikes in the area is the Maryland Heights Trail, which can be experienced via a 4.5- or 6.2-mile round trip, depending how far you want to go.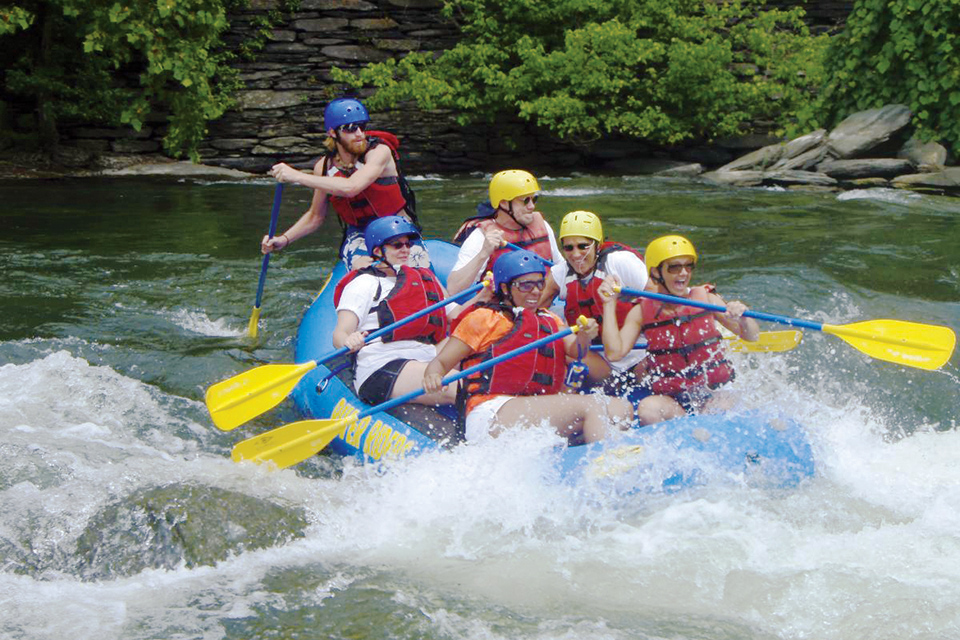 "[It] makes you work, but provides unbelievable views," says Leah Taber, public affairs specialist for Harpers Ferry National Historical Park. She also recommends visiting Camp Hill, an area of the park that shares stories of the Civil War and the battle for civil rights.

Spring in Jefferson County also means whitewater rafting, as snow melt and higher rainfall accumulations bring the river levels up, resulting in a more intense on-the-water experience.

River & Trail Outfitters in Harpers Ferry is the longest active guide in the area, having taken visitors out on the Shenandoah and Potomac rivers since 1972.

Guided whitewater rafting trips allow paddlers to enjoy the tumultuous river experience safely, while catching views of birds such as bald eagles and herons that are often seen along the waterways.

Because of how this area of the state is situated geographically, rafters can pass through West Virginia, Virginia and Maryland all over the course of a single trip. River & Trail Outfitters also offers tubing adventures, unguided canoeing and kayaking excursions and access to the Brunswick Family Campground.

--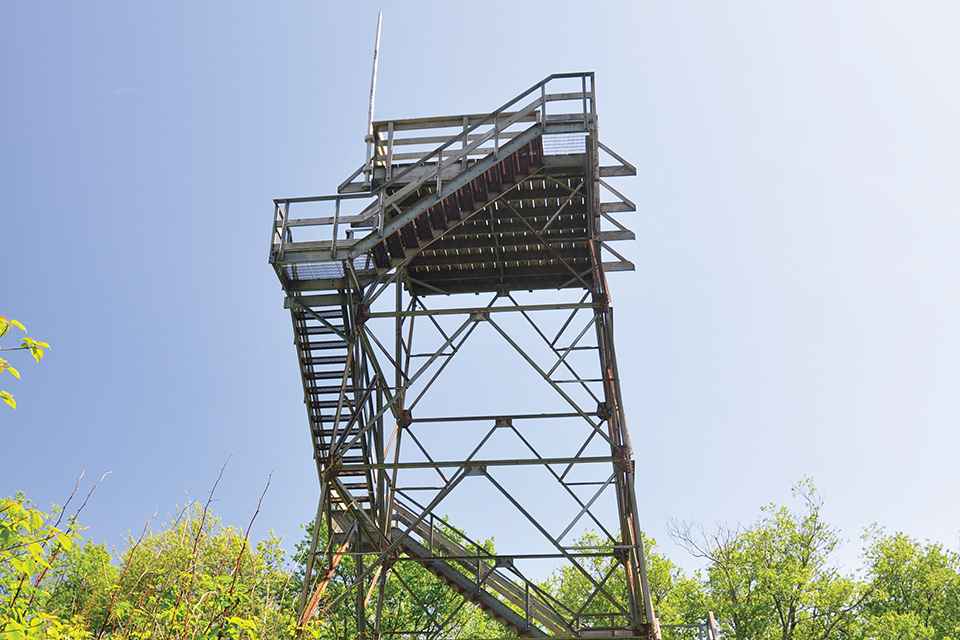 Randolph County

In 1986, an abandoned coal and timber railroad was given a greater purpose and turned into the West Fork Rail Trail. Travelers can experience these 22 miles of solitude on a trail that turns from grass to ballast to crushed stone. Extending through parts of Randolph and Pocahontas counties, the route runs alongside the West Fork River. The West Fork Trail attracts mountain bikers, hikers and horseback riders, and wildlife such as deer, wild turkey, beavers and turtles can be spotted along the route.

About one-fourth of the 919,000-acre Monongahela National Forest is in Randolph County and that expanse of nature provides plenty of ways to experience the outdoors, including the High Falls Trail, which is directly accessible from the West Fork Rail Trail. The nearly 8-mile, out-and-back trail leads to the High Falls, one of the best waterfalls in Monongahela National Forest.

"You have to hike the High Falls Trail in its entirety to see the waterfall, but it's totally worth it," says Morgan Keck, North Zone recreation planner for the U.S. Forest Service.

Ten miles east of the small town of Elkins sits the perfect spot to take in a sunrise or sunset. Built in 1933 by the Civilian Conservation Corps and originally used to spot fires in the mountains, the Bickle Knob Observation Tower is an easy way to get some great views and photos of Randolph County's natural beauty.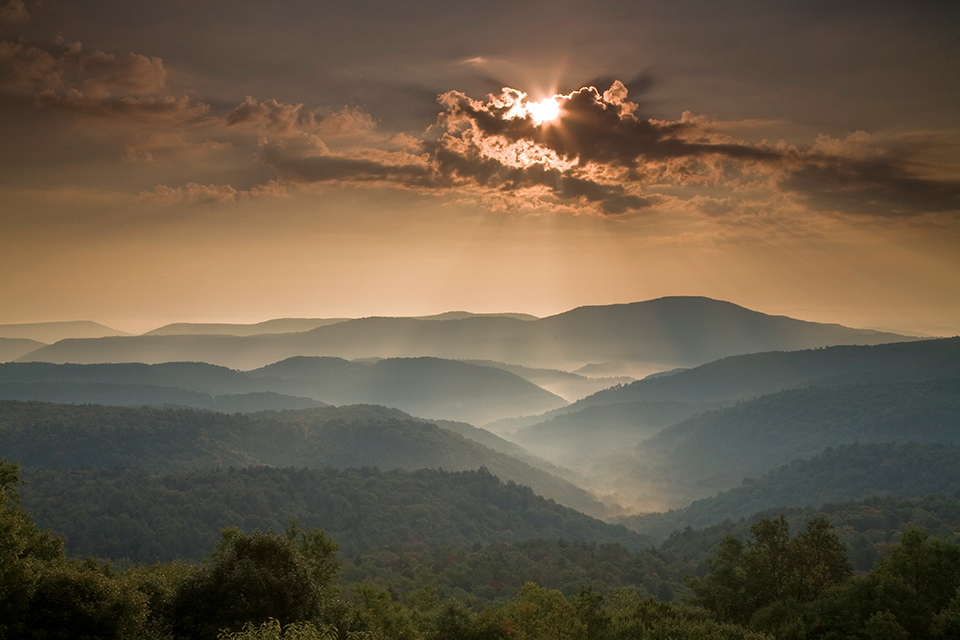 To get to the tower, travelers must drive up a narrow gravel road (four-wheel drive is recommended) and walk up a small hill to the tower. Once the climb has been made, hikers are treated to rewarding panoramic views of the Monongahela National Forest. Bring binoculars to take a closer look at the bird species that call the area home.

While you're there, visit the Otter Creek Wilderness, where you can enjoy stream fishing, a variety of hiking trails and backpacking experiences. Or stop by the town of Elkins, home to museums, shops and restaurants.

West Virginia's Dolly Sods Wilderness is also accessible from Randolph County (portions of it are also located in Grant and Tucker counties). The more than 17,000-acre wilderness is part of Monongahela National Forest and offers a terrain that is reminiscent of southern Canada.

Containing more than 47 miles of trails, primitive campsites and extraordinary wildlife, it offers a remote experience that is suited to more rugged adventurers. Rare wildlife species found here include the endangered Cheat Mountain salamander and the northern saw-whet owl.

The 477-acre Bear Rocks Preserve — part of Dolly Sods Wilderness that is separately protected and owned by The Nature Conservancy — is a popular spot for photographers, nature enthusiasts and bird-watchers due to its unique landscape.

--

More Outdoors
Check out these three other Mountain State destinations for those who love spending time outside.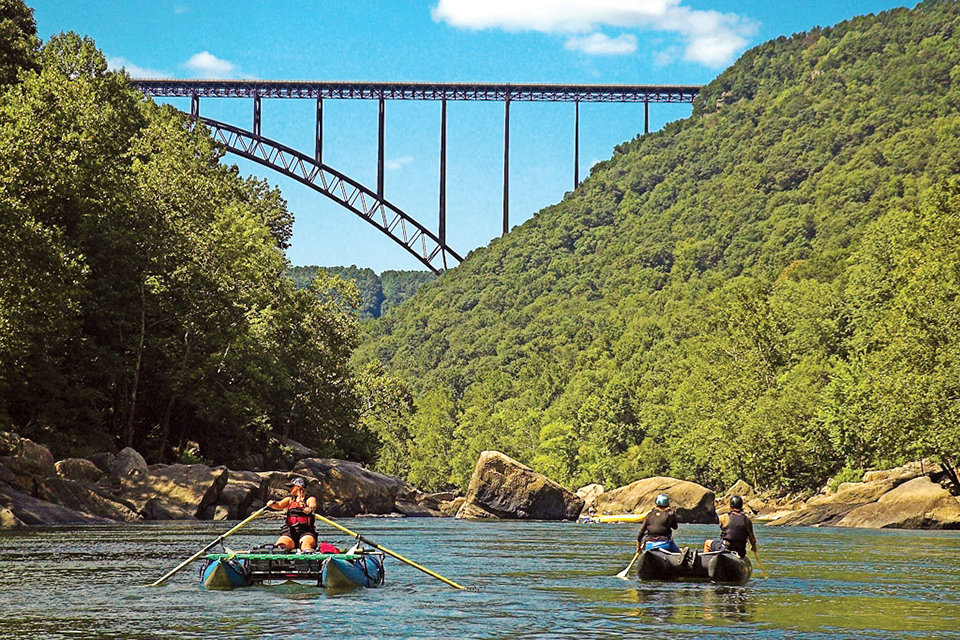 New River Gorge National Park & Preserve
Fayette, Raleigh & Summers Counties

Deep canyons and rushing rivers create a dramatic landscape fitting of one of the nation's newest national parks. Although they have been protected since 1978, these 72,000 acres along the New River Gorge received the national park designation in 2020. From whitewater rafting and rock climbing to hiking and mountain biking, this park delivers. Those looking for a slower-paced experience can walk along the river on the Glade Creek Trail or visit the fascinating Nuttallburg coal-town ruins. nps.gov/neri

Sleepy Creek Wildlife Management Area
Berkeley & Morgan Counties

The Sleepy Creek Wildlife Management Area offers a haven for outdoor enthusiasts with 23,000 acres of terrain that draws hunters and trappers in search of large and small game. Sitting along two parallel mountain ridges in West Virginia's eastern panhandle, the area is also a destination for fisherman who visit to cast a line for largemouth bass, bluegill, crappie and northern pike. There are primitive camping areas in the park as well as opportunities for canoeing, kayaking and birdwatching. wvdnr.gov

Stonewall Resort
Lewis County

Golf lovers will want to take a swing at Stonewall Resort's The Palmer Course, designed by legend of the game Arnold Palmer. Tucked away among the Appalachian Mountains and hugging the shoreline of Stonewall Jackson Lake, the 18-hole course is beautifully landscaped and promises a fun and relaxing experience for players of every skill level. (Multiple tee selections at each hole allow golfers to choose how much of Palmer's design they think they can handle.) The resort offers lodge, lake house and cottage accommodations as well as three on-site restaurants. stonewallresort.com

---

WHEN YOU GO

Appalachian National Scenic Trail
nps.gov/appa
appalachiantrail.org

Bear Rocks Preserve
nature.org

Blackwater Falls State Park
1584 Blackwater Lodge Rd., Davis, West Virginia 26260, 304/259-5216,
wvstateparks.com

Blackwater Outdoor Adventures
60 Location Rd., Parsons, West Virginia 26287, 304/478-3775,
blackwateroutdoors.com

Dolly Sods Wilderness
fs.usda.gov/mnf

Harpers Ferry National Historic Park
171 Shoreline Dr., Harpers Ferry, West Virginia 25425, 304/535-6029,
nps.gov/hafe

Monongahela National Forest
fs.usda.gov/mnf

Otter Creek Wilderness
fs.usda.gov/mnf

River & Trail Outfitters
99 Cary Lu Circle #108, Harpers Ferry, West Virginia 25425, 301/834-9950
rivertrail.com

West Fork Rail Trail
wvrailtrails.org

West Virginia Department of Natural Resources
wvdnr.gov